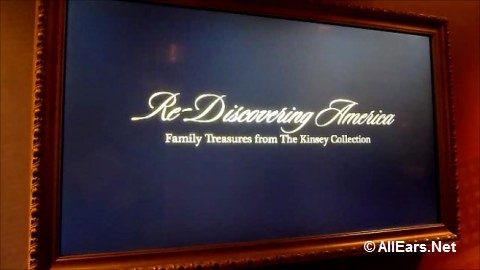 Friday, March 8, marked the grand opening of the newest exhibit to be housed in Epcot's American Heritage Gallery — "Re-Discovering America: Family Treasures from the Kinsey Collection."
This exhibit of rare African-American art, documents, books and other artifacts from the personal collection of philanthropists Bernard and Shirley Kinsey will be on display in the gallery for the next three years. The current exhibit, which consists of about 40 items, is only a fraction of the approximately 300 pieces that the Kinseys have gathered over the past 30 years. Every six months, the exhibit will be refreshed with different pieces.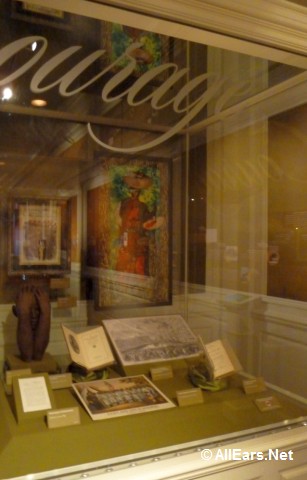 Here's an overview video of the collection:
According to Bernard Kinsey, the exhibit traces 400 years of African-American achievements from 1600 to the present in an effort to showcase the significant contributions of people many of us have never heard of.
"We were here one year before the Mayflower, not as slaves, but as indentured servants, just like the English," Kinsey noted. "And that's the part of history we are trying to get at. Not just to get people to understand, but to really write black people into the narrative of America. Once we do that we can get over race, which is also what we want."
The Kinseys began their search for these historically important pieces about 30 years ago, when their son Khalil, who now oversees the collection, expressed a curiosity about his heritage.
"He was in third grade and he wanted to know about his history," recalled Shirley Kinsey. "Other kids could trace back to Europe — his story only went back as far as Florida," she explained, adding that she and her husband are both Florida natives (she's from St. Augustine). "The kids wanted to know more about their own personal history."
The search for these pieces led Bernard and Shirley all over the world.
"We've been to 91 countries," Bernard Kinsey noted, "and we've selected these pieces with a great deal of care… And we continue to look for pieces that will bring the story to bear, and give a more complete picture. We want to show that we were there [throughout history], and we mattered."
Bernard noted that among his favorite items in the collection is a page from the 1796 almanac of Benjamin Banneker, who is also reported to have assisted in the initial survey of the District of Columbia.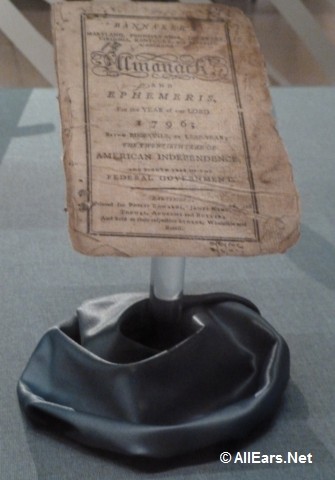 Shirley Kinsey stressed that this collection is not just about the horrors of slavery, although several pieces, such as the Harriet Jacobs' book, Incidents in the Life of a Slave Girl (1862), do recall that era: "This is about American history, and about people whose story has never been told."
She noted that her favorite piece of the items currently displayed is an untitled painting by Huey Lee Smith.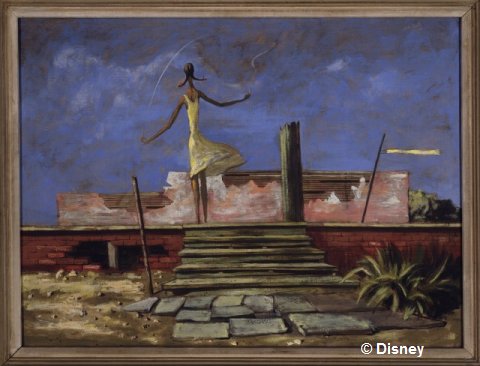 "The girl in the picture is jumping rope with her back to you. I like to say that little girl is me, and in it I'm looking to the future."
Appropriately enough, that painting can be found in the display case marked "Hope." The exhibit is actually divided into five sections, reflecting the various themes of the pieces on display: Hope, Belief, Courage, Imagination and Heritage.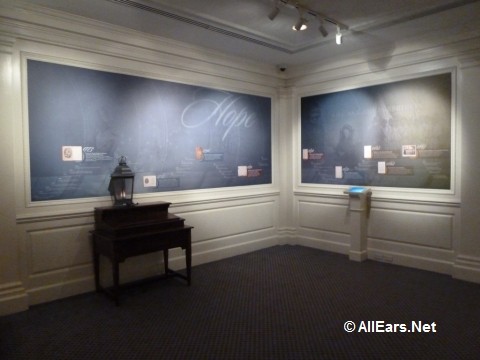 In each section, a timeline mural calls out key events, and there are interactive touch screens that provide more details on displays.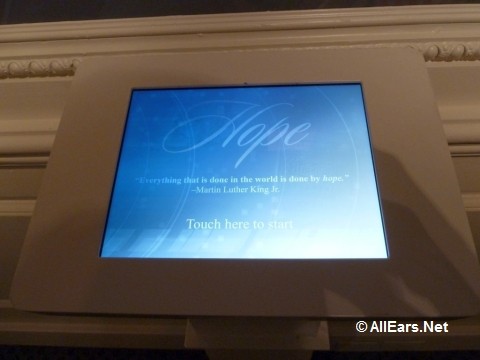 In each section also, a flickering lantern beckons, ready to "cast some light" on the artifacts nearby. By simply depressing the lantern's handle, a guest can watch a holographic video narrated by a number of popular celebrities, including: Academy Award-winning actress Whoopi Goldberg, Diane Sawyer, Chandra Wilson and James Pickens, Jr. from "Grey's Anatomy," Kerry Washington of ABC-TV's "Scandal," and Disney Channel stars Zendaya Coleman and Roshon Fegan ("Shake It Up"), China Anne McClain ("A.N.T. Farm") and Tyrel Jackson Williams ("Lab Rats").
Both "Grey's Anatomy" actors were on hand for the gallery's grand opening ceremony, which also featured remarks from the Kinseys, as well as Jim MacPhee, senior vice president of Walt Disney World parks, and Carmen Smith, vice president at Walt Disney Imagineering, whose vision drove the project that led to the collection's installation at Epcot.
"We are truly honored to have been able to lend our voices along with the other performers to the interactive storytelling portion of the installation," Wilson noted, as she talked about the significance of her participation in the project. "As an actress in New York City, voiceover work is what would get me through the lean years, and I actually once did a campaign called, '20 Reasons to Come to Disney World.' It paid my rent for a year! So it's come full circle to be working for Disney on Grey's and then to have our voices present in this exhibit."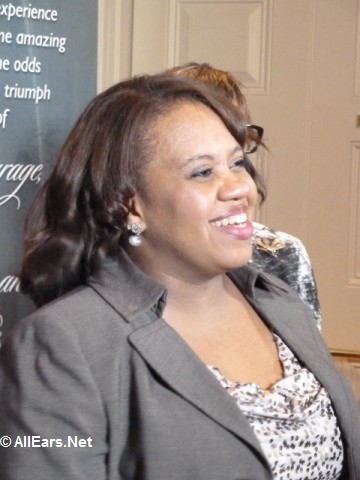 "To appreciate art and what it means in terms of its translation of culture and our history, I think they [the Kinseys] have done more for that than the average American, and we appreciate that," Pickens noted. "I was glad to lend my voice to that."
"This gives us a better sense of self and says how valid our participation is and was," he added. "It can only help our education process."
"We [the collection] were at the Smithsonian," observed Bernard Kinsey. "And about 2 million people saw us there. Here at Epcot over the next three years, about 40 million people will see us. You know, from a pure museum standpoint, nobody beats the Smithsonian. But from a pure storytelling standpoint, nobody beats Disney. And the Kinsey Collection is more about storytelling."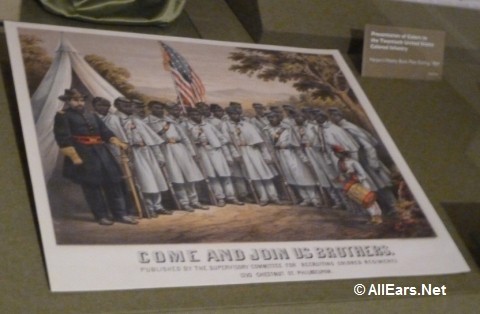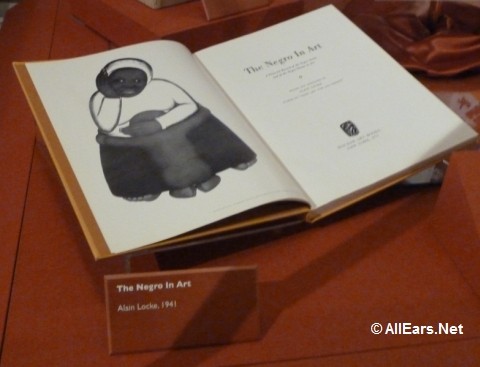 Kinsey concluded. "We want you to leave with a simple comment: I didn't know that. If we can get everybody to come to say, 'I didn't know that,' we will have accomplished what we set out to do."
AUTHOR'S NOTE: The rotating exhibit "Re-Discovering America — Family Treasures from the Kinsey Collection," will be on display at Epcot's American Heritage Gallery until 2016. It is open daily, 11 a.m.to 9 p.m., or normal park operating hours. Admission to the gallery is included with your admission to Epcot — there is no additional entry fee.