To celebrate National Engineers Week, one of the sponsors at Epcot is offering short and entertaining demonstrations that teach kids the physics behind roller coasters. Though National Engineers Week has a focus of calling attention to the importance of math, science and technical skills, the goal of these sessions is to show that math and science can be a lot of fun.
Raytheon, an aerospace and defense contractor that employs state-of-the-art electronics and communications systems for government and commercial projects, sponsors Sum of All Thrills in the theme park. This attraction allows guests to digitally design their own roller coasters and then experience a simulated ride in them.
But this week, the company is taking a more basic approach to illustrating physics for Epcot's guests. In Raytheon's 15-minute Coaster Crafters sessions, teams of children use plastic hoses and marbles to learn some of the principles behind designing such a thrill ride.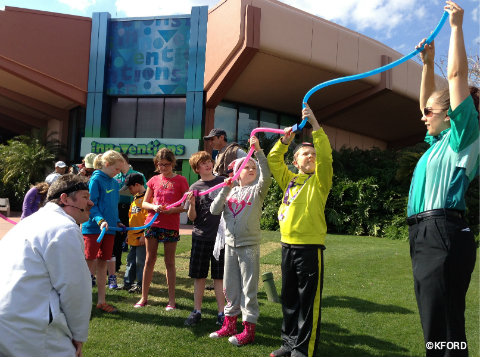 Dr. Norman Norman and his assistant, Speed, take the kids (and their parents) to a grassy area outside Innoventions East, where they explain how velocity and acceleration affect the cars on a track. This is where having some tall kids in the group comes in handy! The children are asked to hold the length of hose at different heights to create acceleration downhill and an increased velocity. In turn, this builds the kinetic energy of the marble.
The kids are invited to make their coaster track twist and turn — wrapping up one of the teammates — to see how the design affects the speed. Then the two teams of children race their marbles against each other. Of course, Dr. Norman Norman and Speed cannot resist making jokes about losing their marbles. When all is said and done, the participants receive Sum of All Thrills buttons that feature Crash, Raytheon's robot.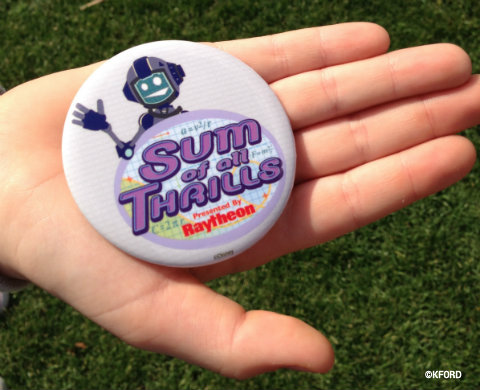 Coaster Crafters sessions take place at 11:15 a.m. and 1, 2:30 and 3:45 p.m. each day this week through Friday. Participants must sign up in front of Sum of All Thrills and sign several releases, but there is no additional charge for the demonstrations.
In another community effort to nurture interest in math and science, Raytheon also hosts the MATHCOUNTS national competition at Walt Disney World each spring. The contest brings together the nation's top middle school students who have excelled at math. (You can read more about it in my blog post about last year's event.) Raytheon's educational efforts are grouped under the MathMovesU initiative, which includes scholarships, competitions, interactive learning programs and tutoring.