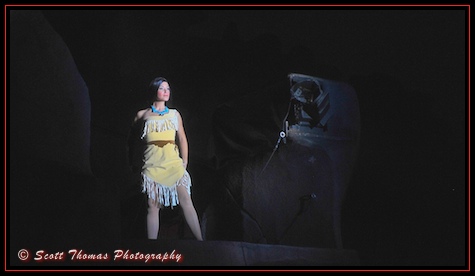 Pocahontas appears during Fantasmic!.
Nikon D700/28-300VR, 1/25s, f/5.6, ISO 1600, EV 0, 300mm focal length.
As the fighting between the settlers and her American Indian tribe escalates, Pocahontas appears high up on the mountain to the music of Colors in the Wind to stop the conflict. One of many breathtaking scenes during Fantasmic!, the nighttime water and fireworks show at the Hollywood Hills Amphitheater in Disney's Hollywood Studios and is my Disney Pic of the Week about Fantasmic!.