Last Wednesday I wrote about our experience at Disney's Animal Kingdom
Magic Kingdom was going to be the one that would strike comparisons against Disneyland. It happens to me on every visit so I knew it would undoubtedly do the same to Yoli. While other people trump one park over the other, Yoli said it best repeatedly, "It's different but the same," a statement that might sound inexplicable to those who haven't been to both Magic Kingdoms.
Today's surprises were matching long sleeve black Newbie and the Geek Take Walt Disney World T-shirts and matching white baseball hats with the logo, as well.
I gave Yoli the rundown on transportation options; Disney bus that drops us off near the park's entrance, we drive, park, take the tram to the Ticket and Transportation Center and then hop on either the ferry or the monorail. She chose the ferry, a wise decision that enabled her to take advantage of what Walt Disney World has to offer.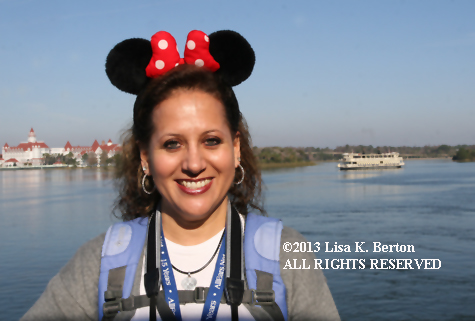 Yoli comes complete with her own Minnie ears headband. Comprela ya!
She was off and running, taking photos, exploring the ferry, and when she held still, I pointed out the nearby resorts. Back on land, I tutored Yoli on how Guests differ from coast to coast. Disneyland has more locals while Walt Disney World has more tourists and that one fact makes for how the parks are visited. The first exhibit of this behavior was at bag check. Californians know to form two separate lines on either side of a table unless told otherwise. Florida tourists tend to form one very long line. I found a short line beside a long line and asked the lady standing in the middle which one she was in. She said there's only one line. I pointed out that security wants lines on either side of the tables and gave her the option of going ahead. She felt that would be cutting the line. It wasn't, as I explained there were two lines. She stayed put, Yoli and I got in the short line and so did others who heard me.
Inside the gates, Yoli posed for the PhotoPass photog in front of the floral Mickey head. I was handed camera after camera by other tourists wanting to have their photo taken as well. Too bad I didn't count how many times this occurred during our stay, I'm just curious.
We spent a lot of time in Town Square partly due my need, not desire, need, to see and photograph all of the Long Lost Friends. January 27th was the last day of appearances so we had our photo taken with The Three Little Pigs and Big Bad Wolf. I suggested that the 4 of them star in a new show on HGTV. Follow me here, each pig builds a house for potential new homeowners in a competition. The Big Bad Wolf serves as both the host and home inspector. Whosoever home sells, is the winner. Brilliant, right?! Self-high-five.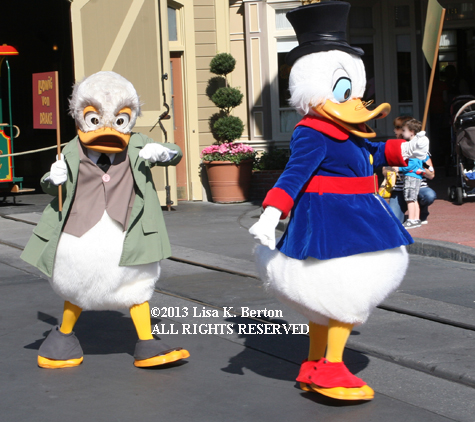 Ludwig Von Drake and Scrooge McDuck would make for an interesting team on The Amazing Race.
Yoli went shopping and I waited until the characters came back around and grabbed some quick snapshots. The plan was to photograph them going backstage but I was told the wrong location. Oh well. It wasn't as if Yoli couldn't find something to do. In fact, I called her when I was done and she told me which shop she was in. I got completely turned around because 1.) I mentally switched store locations over to Disneyland and 2.) Move It! Shake It! Celebrate It! Street Party came along. I couldn't find Yoli so I shot the parade. She couldn't find me so she shot the parade. We discovered we were only about 20 feet away from each other during the parade.
Just before turning right towards Tomorrowland, Yoli stopped for the required Cinderella Castle shot by Ruben, a PhotoPass Cast Member. He was super friendly and when I read his name tag, a light bulb popped up over my head. Yes, it was glowing. Ruben is the name of one of the 32 ex-Menudo members. We should find as many Cast Members with the same names as the guys from the group thus creating a spectacular new game for Menudo fans who visit Walt Disney World. Of course Yoli was 100% on board and we spent the rest of the trip examining name tags and taking photos.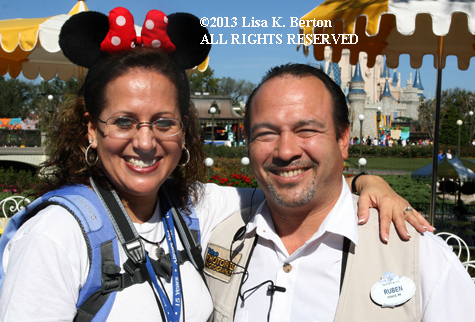 It would have been hilarious if we saw one of the guys who was actually in the group. Believe me, I was on the lookout.
Ticking off nearly every attraction in Tomorrowland, we did in no particular order, Monsters Inc. Laugh Factory, Stitch's Great Escape (I'm a really good friend), Buzz Lightyear Space Ranger Spin (I can't believe I won), Carousel of Progress (Yoli misses it greatly, so much so that she's forgotten the lyrics and created her own), People Mover (aka TTA), and Space Mountain, which Yoli took on by herself. I went off and grabbed photos for future blogs. As soon as Yoli found me after exploring space, Stitch showed up. We each posed for photos Elvis style and I had him sign my hat. Let me point out that the Elvis pose was my idea and a certain Newbie copied me. Just sayin'.
Lunch was on our minds so I brought Yoli to Cosmic Ray's and delivered the news that each bay had different choices. That came as a surprise to her. So many choices! While she read every menu board, I found a manager and read thru the almighty book of ingredients. I went with something new, a kid's turkey sandwich sized for an adult. It's nice when you find someone who thinks outside the box. Yoli got a chicken nuggets meal that she couldn't finish. Unfortunately, I discovered later that their deli meat was a one-time trial for me. We ate and watched Sonny Eclipse and then I forced Yoli to pose by the stage. Oh, she's so shy. Not.
As we headed towards the hub, the 3 o'clock parade came at us. Finding a decent place to stand was tough but then again we just happened upon the parade because a certain tour guide forgot all about it. Whaaat? We enjoyed what we saw, waited for it to pass by and were held behind a rope for a few minutes while the floats cleared Liberty Square.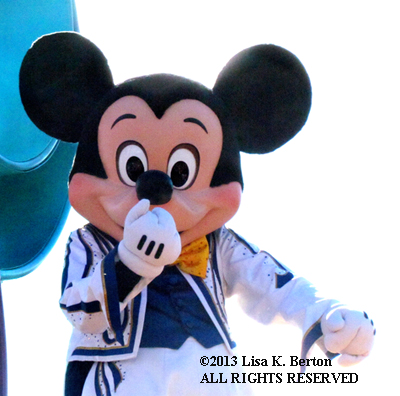 Blowing kisses in the wind.
Yoli works for a presidential library, making Hall of Presidents a top priority. She enjoyed it very much and the matching gift shop. Before it started getting dark we sailed on the Liberty Belle where Yoli saw that Tom Sawyer easily occupied more land in Florida than in California. Uh oh.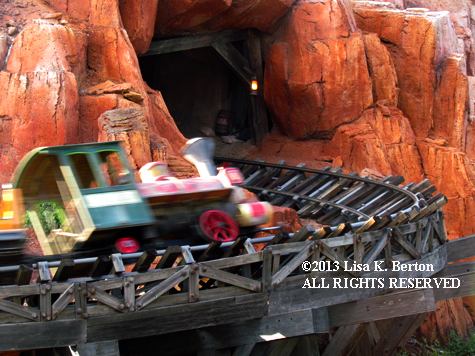 "Woo woo." Billy "Dennis" Hill
Additionally we visited the Haunted Mansion where I got to point out one of the very few Hidden Mickeys I know and where Mr. Toad is remembered. Direction reversed, we walked out of Liberty Square and into The Hub where Move It! Shake It! Celebrate It! Street Party was once again in action. This time they stopped for the party portion and we took more photos from different angles.
Dinner was filling at The Plaza Restaurant. I had a substantial cheeseburger and my friend had the meatloaf meal. Stuffed and rested, there was more to see and do. Off to Fantasyland via the path left of Cinderella Castle, we braved the dark and flew with Peter Pan, watched Donald Duck chase down Mickey's sorcerer hat and sailed among singing children and animals. She was mesmerized by it's a small world's facade because not only is it indoors but looked almost like a bad knock-off of Disneyland's attraction.
Yoli asked me, "Where's Snow White's Scary Adventure?" They tore it out, I said, to make way for a princess meet and greet. "Where's Pinocchio's Daring Adventure?" He doesn't have an attraction here, I sadly stated.
My Disneyitis had been itching all day to see the New Fantasyland or really, the Fantasyland expansion. As I approached Yoli sitting on the new wall-length bench guarding Beast's castle, she announced, "I'm done!" The poor thing was beat and couldn't function any longer. I called her kaput at 9:47 PM.
The next installment will post this Saturday, February 23rd. See you then!
Do you want to see bonus photos, videos, and recaps from Newbie and the Geek? "Like" my Facebook page.