In ancient Greece, the term "emporion" (plural "emporia") represented a portion of land set up by one nation, within the borders of another, to sell and trade their goods. The Greeks established numerous emporia in Egypt and other North African locales.
In medieval Europe, the term "emporium" (plural "emporia") referred to trading settlements usually found on the shores of North-Western European seas and the Atlantic Ocean. These settlements lacked any real infrastructure or government. This marketplace arrangement lasted until about the year 1000 when structured towns and cities took their place.
In both cases, a large variety of goods and merchandise were traded at the emporia. The word "emporium" survived over the centuries and had a resurgence during the Victorian era. The term was used to describe a large retail store that offered a vast selection of commodities and goods.
On Main Street U.S.A., Osium "Osh" Popham built one of the first structures along this thoroughfare and opened his Arcade in 1863. The store wasn't particularly large, but it exuded elegance and charm. He also believed that the recently installed tracks and horse-drawn trolley would bring customers directly to his doorsteps.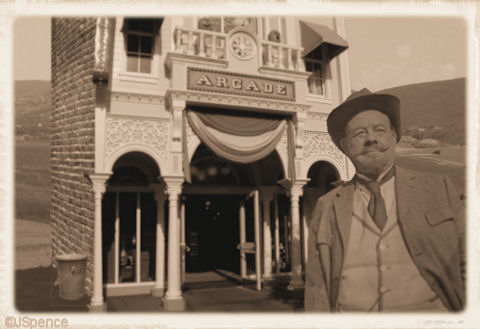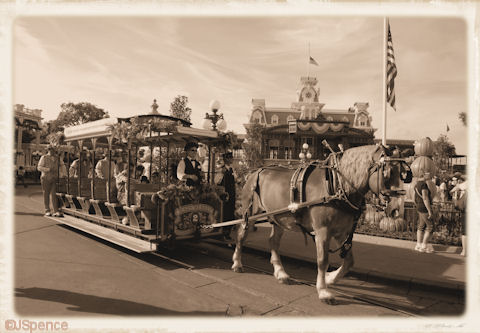 Osh was correct and both country and townsfolk soon found their way to his establishment. Entering the store, his patrons encountered an octagonal room. Stained glass and elaborate molding lined the ceiling. A gas chandelier hung above the center of the room.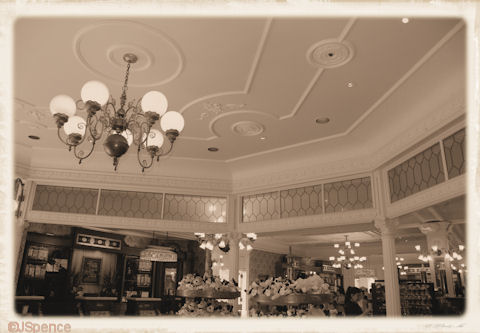 Although Osh insisted that his workers call him by his nickname, he still ran a tight ship and required that his employees offer first-class service. To drive this point home, each morning, Osh asked his workers to line Main Street and greet shoppers with a friendly wave and hello.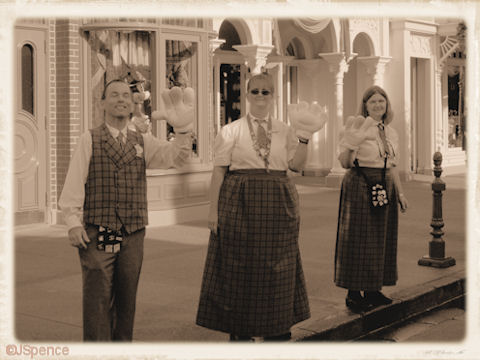 This attitude was not lost on his customers. In the years that followed, Osh's store grew and expanded on both sides of the original building. Eventually, his Emporium took up an entire city block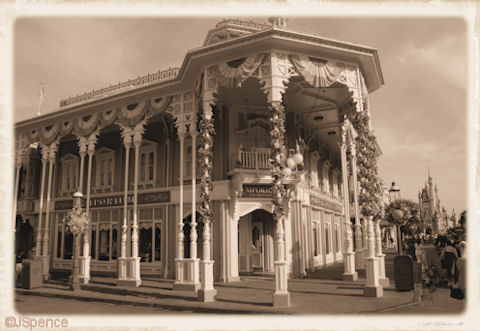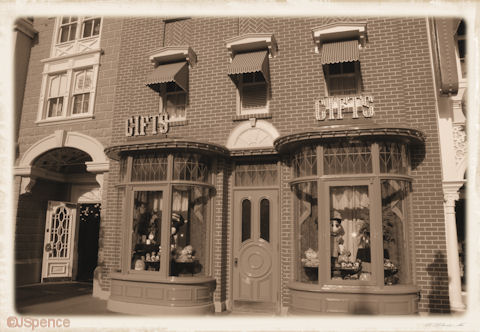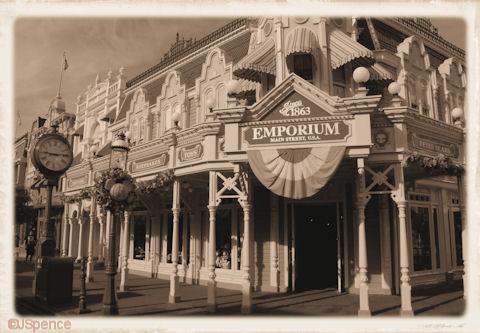 Osh Popham's name can be seen near the main entrance of the store painted in gold leaf at the bottom of the two display windows. He also commissioned a beautiful medallion to greet customers as they entered a side door.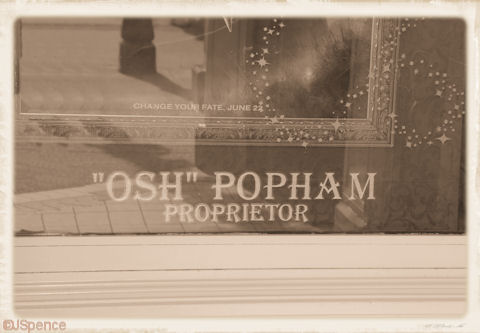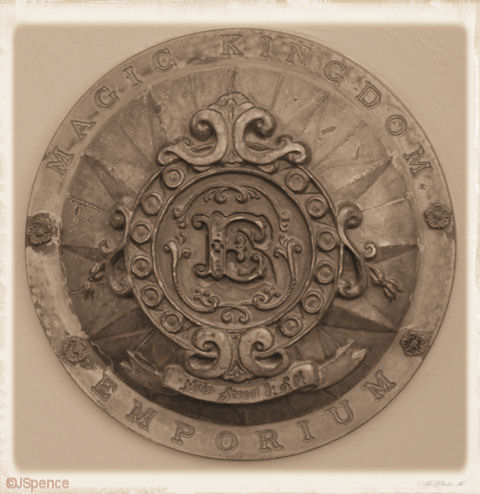 With this expanded space, Osh could now offer a wide variety of goods to his customers. He also insisted that only quality merchandise be offered.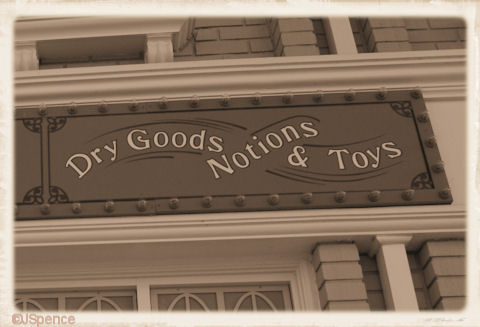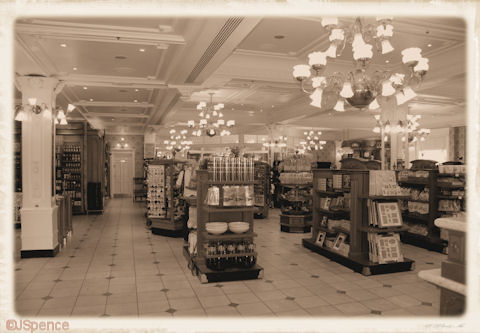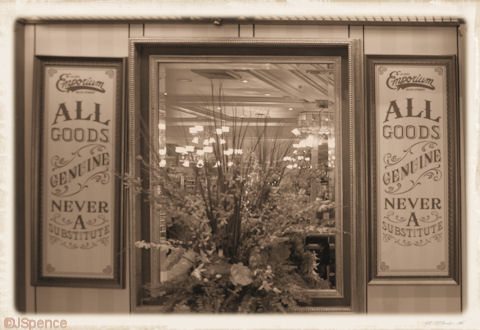 Always being one to keep up with the times, Osh had his later buildings wired for electricity. However, this new power source was unreliable and he couldn't afford to have his store shrouded in darkness should the lights go out. So he had his chandeliers hand crafted in Italy to support both this newfangled energy and the reliable gas. On this combination fixture, the electric lamps point downwards and the gas fixtures up.
Osh never got around to updating his original shop and the gas-only lamp still hangs there today.
In an effort to offer his customers the finest shopping experience available, Osh decorated his store with all the elegance and charm that Victorian architecture would allow. Stained glass signs, wood carvings, ornate ceilings and cornices all added to the effect. Even the tile flooring was carefully crafted to dazzle his customers.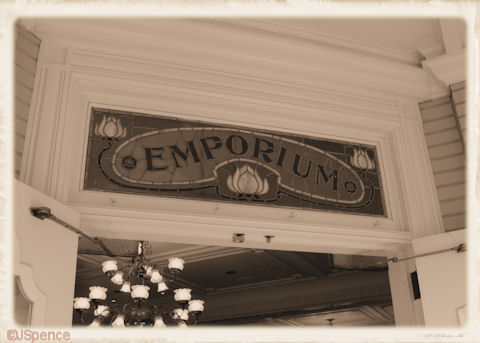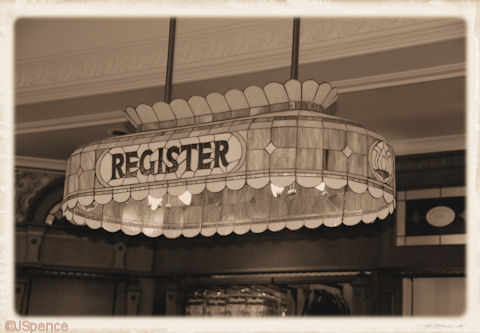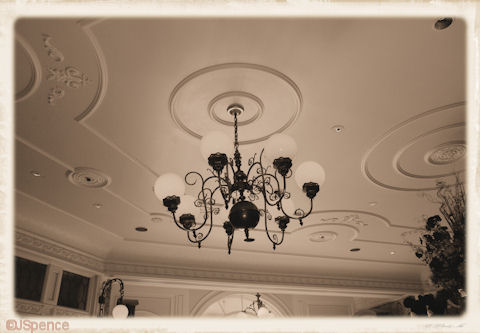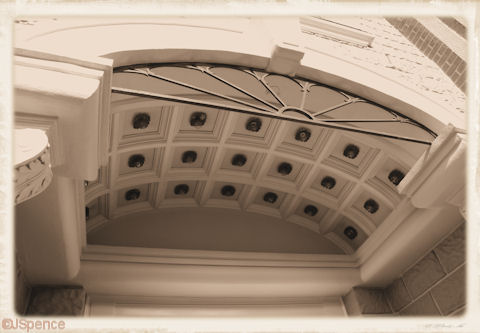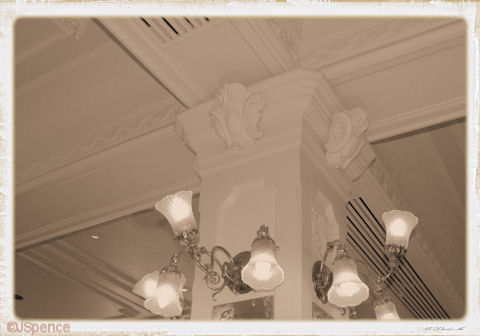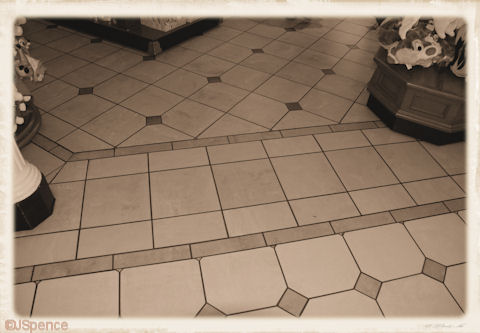 Osh also expected his employees arrive each day on time, pressed and dressed in proper attire.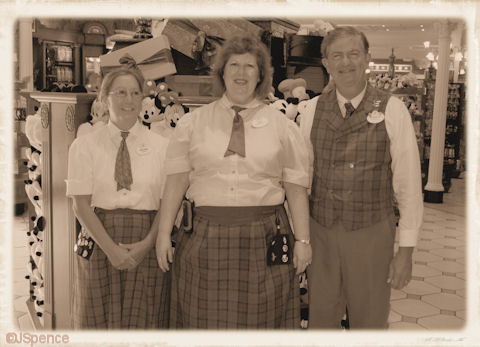 With his new-found wealth, Osh decided to travel and booked passage to Europe. While there, his horizons were broadened and he became acquainted with the new Edwardian style of design that was becoming in vogue. Upon his return, he found that business had been brisk during his absence. Once again, he decided to expand his shop; however, there was no place else to grow as he had already purchased and built on all of the available land. Not to be deterred, he made arrangements with the city and bought a portion of Center Street to enlarge is beloved Emporium. His latest expansion debuted in 1901 and was called the Emporium Gallery.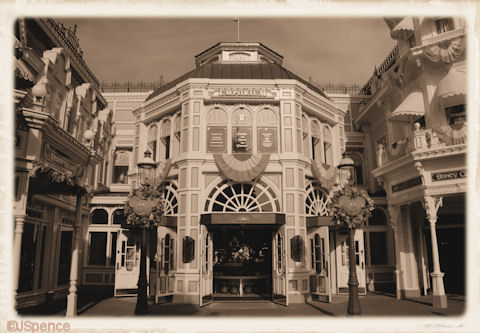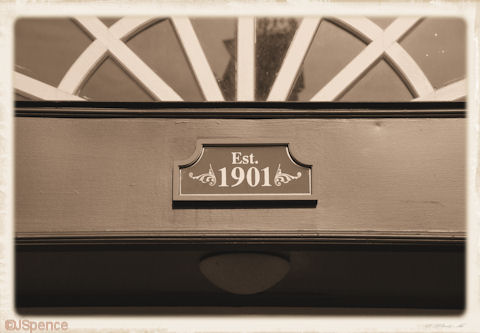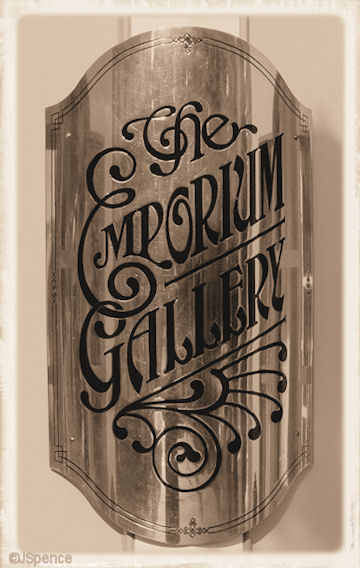 With this new floor space, Osh was able to offer even more goods to his eager customers. As the gold lettering on a window announces, the following items were now available to better people's lives.
Electric Lamps
Gramophone Talking Machines.
Edison Kinetoscopes
Imported Glassware
Ladies' Wearing Apparel
Finest House Furnishings
Children's Toys and Novelties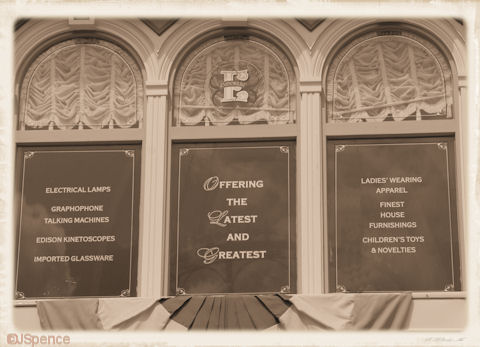 Inside the Emporium Gallery, the Edwardian design is obvious. Lighter woods and a pastel color scheme replaced the heavier and darker Victorian tones found in his adjacent shop. The feeling was bright and airy.
When arriving through the Gallery entrance, customers found themselves beneath a massive dome of intricate design. Perched high on a display table, two stately mannequins stand guard. Beyond, a stained-glass ceiling and four massive chandeliers light the floor space.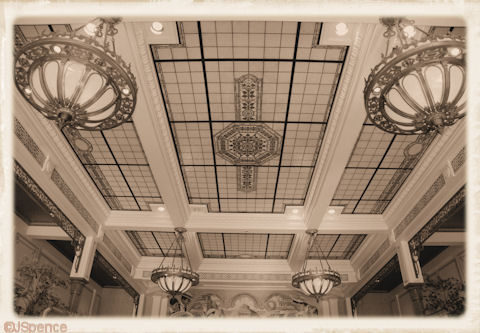 Tucked away at ceiling level on the two side walls are display niches, showcasing the latest fashions and goods from home and abroad.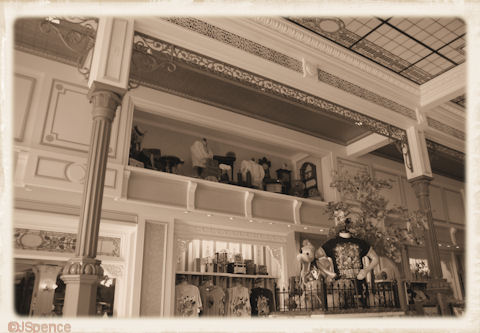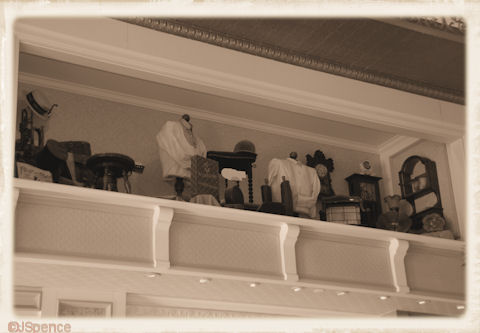 On the back wall, a large mural displays Osh's happy customers and employees enjoying their shopping experience at the Emporium Gallery. In the background, a rendering of his new addition can be seen. The following words are printed on the flowing ribbon of the mural: Shopping in the Grand Style – Personal Luxuries – Finest Fashions.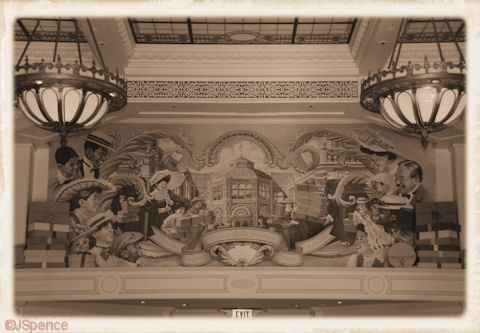 Osh Popham is no longer with us, but his store continues to delight and entertain. The Emporium greets literally millions of people each year and takes in millions of dollars each month. So now it's time to pull back the curtain and take a look at the realities of this fixture that anchors Main Street.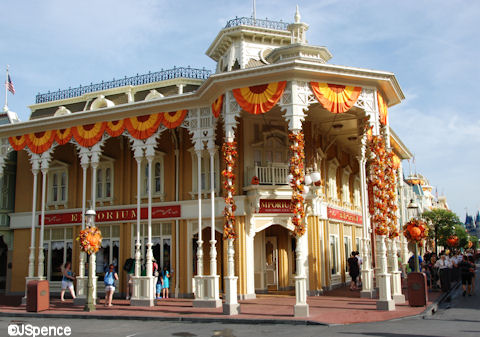 Let's start with the question, "Who is Osh Popham?" He was a character in the 1963 Disney movie "Summer Magic." Played by Burl Ives, Osh Popham was the local postman who also ran the general store in the town of Beulah, Maine. Although Disney has created other "citizens" of Main Street to mix and mingle with the guests, Osh Popham has never been one of them. I guess he's too busy running his store and doesn't have time to lollygag with the street people.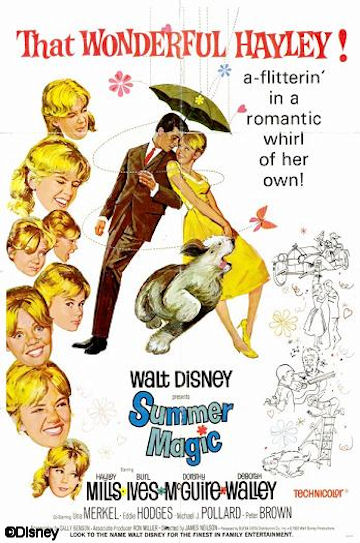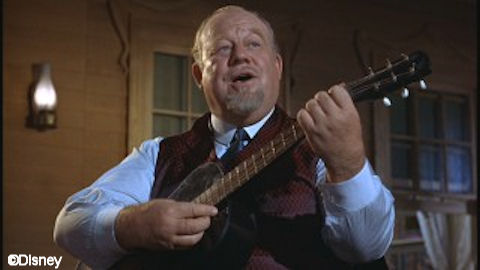 Two of the songs from the movie were "Summer Magic" and "Flitterin'." Both of these can be heard in the background music loop played up and down Main Street.
A tradition that started years ago at Disneyland's Emporium was carried on at the Magic Kingdom Emporium for a time. With the opening of each new animated movie, a number of 3D tableaus were created, depicting scenes from the story and displayed in the store windows. With each new movie came new tableaus. Guests would delight at these simple, but oh so intriguing displays and looked forward to new characters on subsequent trips. It was a great way to advertise Disney's latest films.
Unfortunately, this tradition is no longer observed in the Magic Kingdom. Instead, six classic movies are on permanent display. Each movie receives one window. Beneath the tableau is a brief description of the story. Viewing them from left to right we have "Snow White and the Seven Dwarfs," "Cinderella," "The Little Mermaid," "Beauty and the Beast," "Aladdin," and "Pocahontas."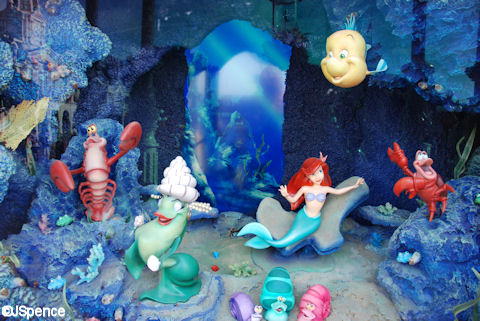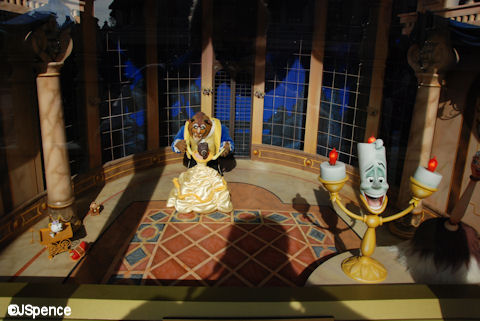 Even though these scenes do not change from year to year, they are still worth your attention. I realize that when you arrive at the Magic Kingdom, your intent is to race down Main Street to your favorite attraction. But later in the day, when you need a breather, be sure to venture back to the Emporium and check them out. You and your kids will get a kick out of them.
You might also want to do some shopping during this time of day. One thing to keep in mind, the worst time to shop at the Emporium is right after a parade and at closing. Everyone puts off this activity until they're ready to leave as they don't want to carry bags. Remember, if you're staying at a Disney resort, they will deliver your purchases to your hotel. And if you're staying off property, there are lockers located at the entrance to the park.
As we know, theming is everything to Disney. But sometimes modern inventions can ruin the atmosphere. Such is the case with today's electronic cash registers. As quaint as the old fashioned hand-cranked machines were, they would never do in 2012. So Disney has had to cleverly mix the old with the new. In order to make these modern wonders less conspicuous, the Imagineers have built partitions around the machines to hide them from the public's view.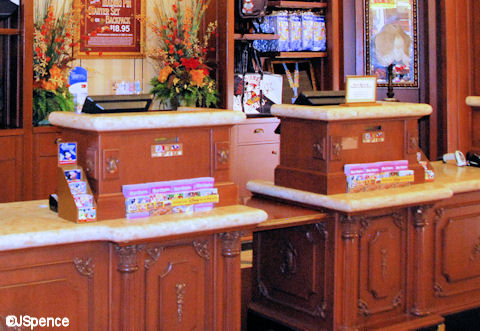 Disney has also incorporated another modern shopping technique into the Emporium that I'm sure Osh would have approved of. They have created a "single line" for multiple registers. If you're like me, you always pick the "wrong" line and are stuck behind the individual with a hundred questions and the inability to make up their mind. The single line eliminates this problem. However, beware! The Disney team is genius at marketing. They have placed numerous impulse items along the line to seduce you into one more purchase. Maybe you will be able to resist the temptation, but your children will bug you until you give in.
While talking with a cast member about this new line arrangement I was told that the new system isn't foolproof. Many guests do not realize there is a single line and will walk up to a register ahead of those waiting. If this happens to you, politely inform the naïve shopper that you were ahead of them.
For the most part, this article is not about the merchandise sold at the Emporium. However, I do want to make you aware of some items not out on display. "Behind the counter" merchandise includes aspirin (and other pain relievers), Pepto Bismol, sun screen, bug repellant, feminine products, deodorant, Band-Aids, and more. If you need something special, don't assume it's not available. You'd be surprised at all the specialty items Disney stocks to take care of their guests. Always ask. The counter where these items are sold is located just to the left of the main entrance off of Town Square. Note, tobacco products are not sold anywhere within the Magic Kingdom.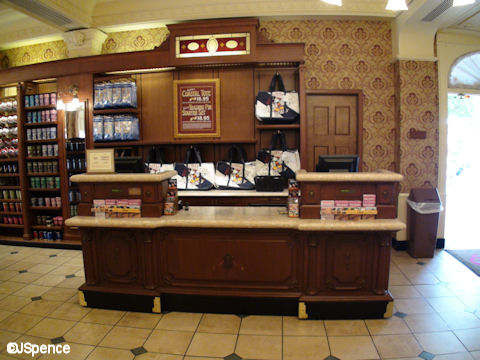 The Emporium Gallery was a controversial addition to Main Street. Although I recounted the romantic, Disney version above, many were not happy with this change. Disney claimed they were answering guest needs by adding more shopping opportunities, but most saw this expansion as another way to make a buck. It was argued that the same merchandise was already available in store after store and many saw no reason to destroy Center Street just to add additional merchandising floor space.
Personally, I miss the flower carts that were once located on West Center Street. And at Christmas time, Donald's Tree Farm was a wonderful holiday treat. Yes, I know, Disney has moved Donald's Tree Farm to other areas since then, but it's just not the same. This dead-end street offered a simple, uncomplicated spot that added realism to the area.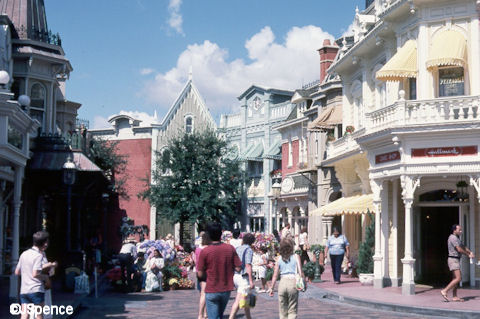 Controversy aside, The Emporium Gallery still offers some interesting details. Let's start with the date this addition was established, 1901. It's no accident that this is also the year Walt Disney was born (December 5). But there is more to it than just that. This is also the year Queen Victoria of England died (January 22).
With her death, the Victorian Era ended and the Edwardian Era (in honor of King Edward VII) began. Most of the buildings on Main Street reflect the decorating styles of this earlier time whereas the Disney Gallery sports the less ornate style of the Edwardian Era.
The Emporium Gallery mural I mentioned earlier actually depicts a number of Imagineers, not happy customers and employees. These Imagineers were responsible for the design, story, and execution of this addition. Although I could list their names, the information would be tedious and soon forgotten. However, there is one portrait here that demands your attention, Joyce Carlton. Her likeness can be found in the lower left corner of the painting.
Joyce is credited with creating the attraction "it's a small world" for the 1964 New York World's Fair. She also worked on the animated movies "Cinderella," "Peter Pan," "Sleeping Beauty," and "Lady and the Tramp." In 1982, Joyce moved to Central Florida where she could concentrate her efforts on Disney World as a Senior Show Production Designer. She is also the first female Disney cast member to reach the 50 and 55 years of employment milestone.
Joyce officially retired in 2000, but continued working part-time through 2006/7. Most of these "retirement" years were spent mentoring other Imagineers. She was honored as a Disney Legend in 2000. She also has a window on Main Street that reads: "Dolls by Miss Joyce, Dollmaker for the World"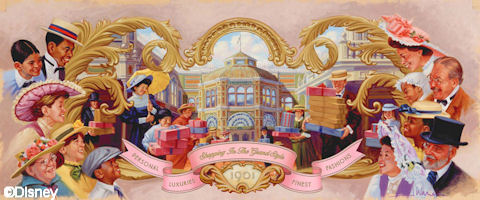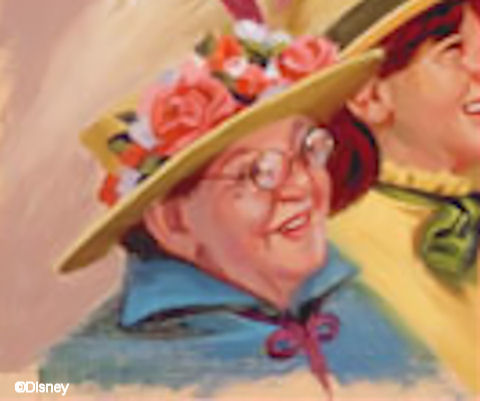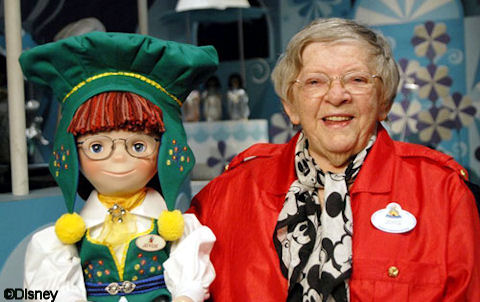 Is it the Emporium or not?
Disney really tries to confuse guests when it comes to the Emporium. Technically, the Emporium ends with the Emporium Gallery. However, with this latest addition, it is now possible to walk from Town Square all the way to Casey's Corner through a maze of merchandise without ever venturing outdoors. In reality, the west side of Main Street is one humongous shop. Throughout the "stores" are a number of signs entitled "Emporium Store Guide." Included on this guide are Disney Clothiers, Main Street Fashion & Apparel, and Hall of Champions. Nevertheless, these stores are not listed by name on the map and fall under the general term of "Emporium." Yet outside, their names beckon proudly to the passing throngs. So are these, or are these not, a part of the Emporium?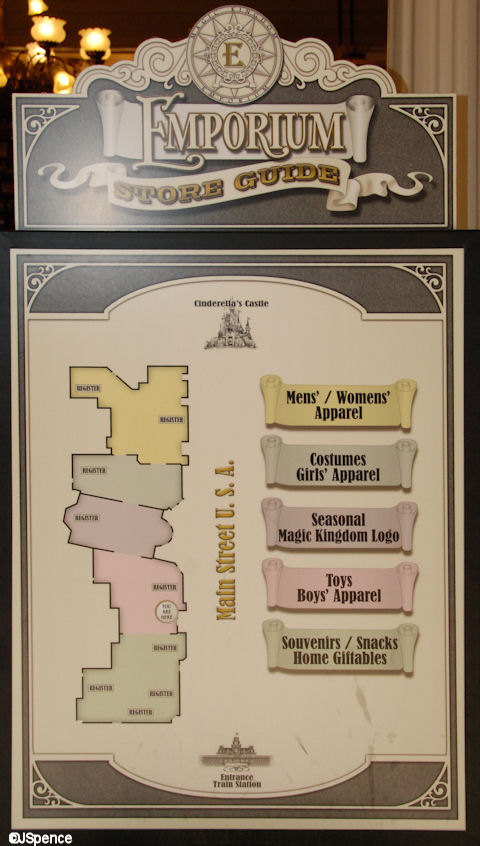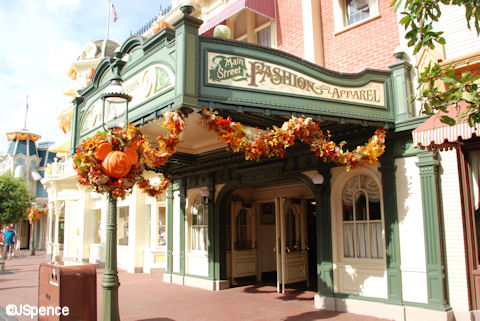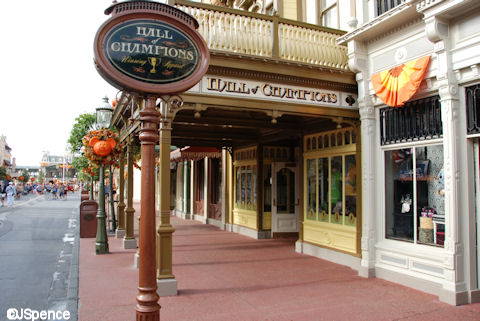 I asked a supervisor about this incongruity and I was told that the west side of Main Street is known as the Emporium "complex." I guess ol' Osh purchased a few more stores when nobody was looking.
Since I personally don't consider anything past the Emporium Gallery to be part of the Emporium, I won't be covering these other shops at this time. Besides, if I did, I would start lamenting the passing of the Penny Arcade and the House of Magic. So it's better I stop here. We don't want to get me started on this hot topic. LOL.
If you're in search of a Disney souvenir, either useful or impractical, the Emporium is a good place to start. Good ol' Osh Popham would be proud of the current proprietors and how much merchandise they've offered for sale here. For a diehard shopper, the Emporium is paradise. For the adamant non-shopper, the Emporium can still be a great place to visit if you slow down and smell the roses. Try looking at the details rather than the Mickey Mouse plush.