I enjoy music of all types, and the British Revolution group at Epcot's United Kingdom Pavilion adds a new dimension of rock and roll to Walt Disney World. They debuted in May of 2011 and have delighted audiences since with British rock music from over the decades since the 1960's. This year, my sister Donna visited WDW over Christmas and we sang along with a music set from this great band.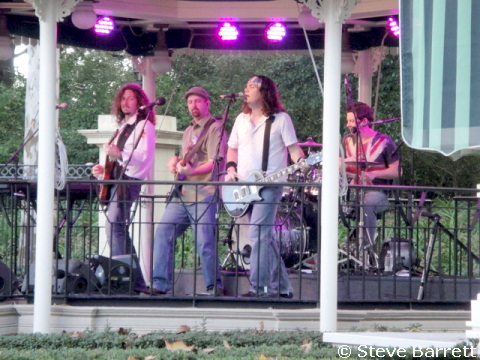 After their performance and when my heart had stopped pounding, I posed with the guys.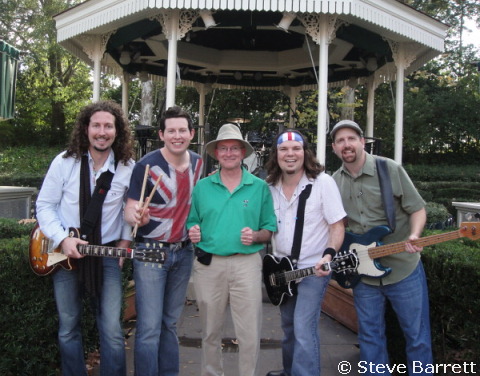 Each year, WDW manages to improve the Osborne Family Spectacle of Dancing Lights, including the Hidden (and decorative) Mickey images. Michelle Scribner-MacLean, esteemed member of our own All Ears cast, found a tiny classic Hidden Mickey at the end of the Streets of America, next to the door to the Sporting Goods store.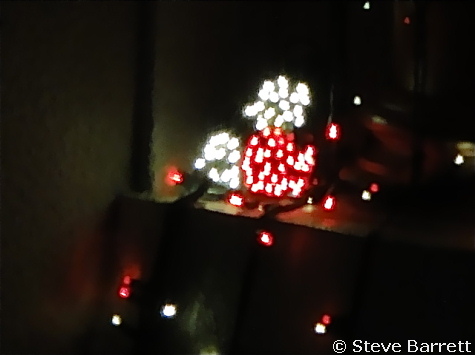 My sister Donna found more of these small classic Hidden Mickeys in lights in several other areas; this one is above the "News" sign along the Streets of America.
My wife Vickie and our son Steven, along with Donna and I, had a wonderful Christmas day dinner at Shula's Restaurant at WDW's Dolphin Resort. Even though the restaurant was busy, everyone seemed to be in an upbeat holiday mood. It's been a festive season for me, and I hope for you as well!
From our family to all of you, merry Christmas season, Happy Holidays, and raise your glass to a promising New Year!