Guest blogger Andrew Rossi continues to explore the dining options available aboard the Disney Dream with a look at Cabanas as well as many other locations to get something to eat or drink.
One thing about cruises, there is never a shortage of food. Not matter which way you turn, there always seems to be something to eat. This is especially true of the Disney Dream. Of course, the three restaurants that comprise the dinner rotation receive the most notoriety: Royal Palace, Enchanted Garden, and Animators Palette. In addition to these restaurants, however, there is a plethora of dining options available throughout the ship offering a wide variety of choices ranging from a quick snack to a full-course meal. Here are some of the dining locations found aboard the Dream:
Cabanas:
Cabanas can be most closely associated with the Beach Blanket Buffet on the Wonder and the Topsider Buffet on the Magic, but major improvements and enhancements have been made on the Dream.
Located on deck eleven, the theme of the restaurant is meant to evoke images of a California beach, complete with palm trees, Adirondack-style chairs, tables topped with seashells, and decorative surf boards. The dining room has a very light, open, airy feel with large windows allowing in plenty of natural sunlight and showcases beautiful views of the ocean below.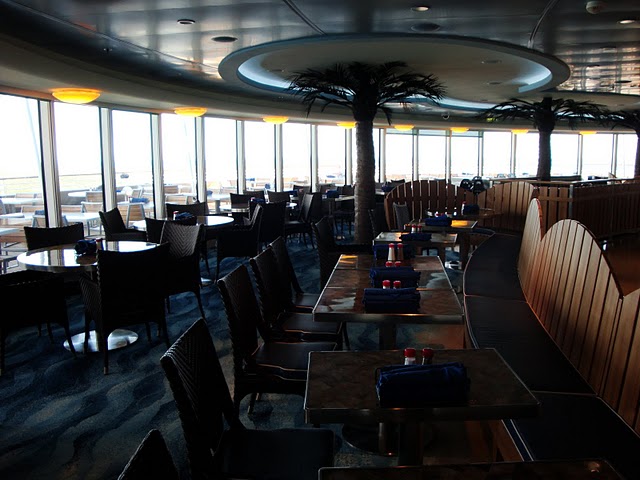 There are also some uniquely "Disney" touches with appearances from some of the characters from Finding Nemo.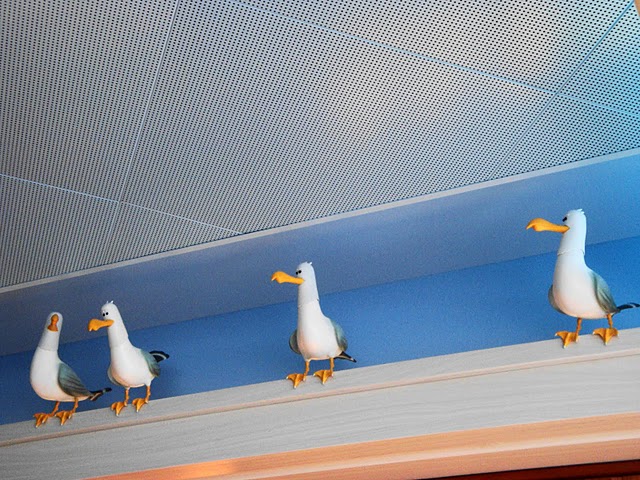 In addition, the restaurant also has outdoor seating, allowing diners to take advantage of the warm Caribbean sun and cool ocean breezes.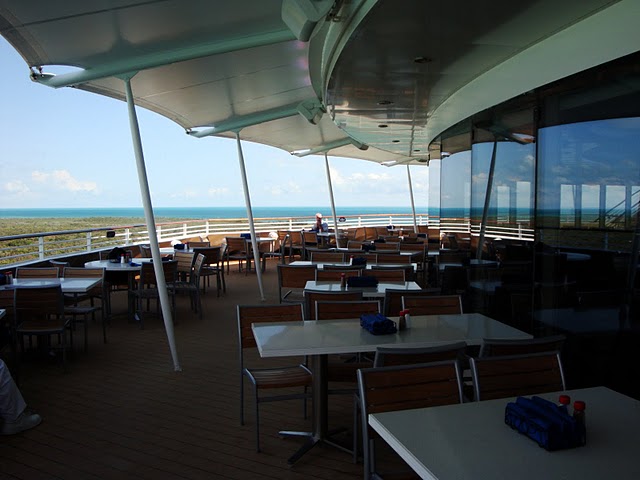 Two really nice artistic touches in the restaurant are a 30-foot mosaic depicting a scene of a coral reef complete with characters from Finding Nemo in addition to another piece of art depicting the various Disney castles from around the world in sand.
Cabanas features a buffet breakfast and lunch, but rather than being one long counter, the food selections are divided into different stations meant to resemble beachside cabanas. As opposed to the setup on the Magic and Wonder, where diners have to wait in one long line, this new design allow diners to pick and choose which sections to visit and allows them to skip past those that don't interest them.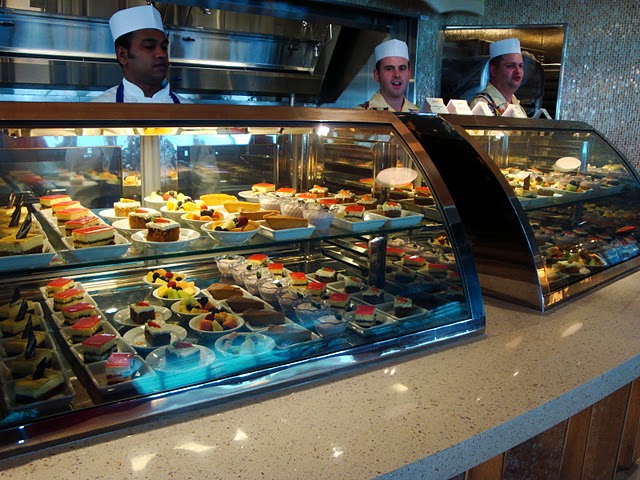 It also seemed to me that this new format allows for a wider variety of food choices than what can be found at the Topsider or Beach Blanket Buffets. The various food stations offer everything from soups and salads to pizzas, pastas, sandwiches and wraps, a carving station, and delicious desserts. I also noticed the food quality on the Dream to be higher than that of the Magic and Wonder (not saying that it is poor on the other two ships) with more gourmet and refined offerings.
Another improvement is that the drink station has been moved away from the end of the food line, with multiple locations throughout the restaurant. On the Magic and Wonder the buffet line would frequently get backed up as people were pouring their drinks.
Another difference with Cabanas comes at dinner where the restaurant is transformed from a buffet to a table-service dining experience where meals are cooked to order. This offers cruisers a more casual alternative to dining in the main restaurants and offers the option of being able to dine outside under the stars. The dinner menu features a full four-course meal that includes some of the signature items from the main rotational restaurants as well as some unique items that can only be found here. This is a great option for cruisers who do not necessarily want to be locked in to either an early seating or late seating dinner time, allowing them to eat at a time of their own choosing.
Flo's V-8 Café:
If you are relaxing by the pool and looking for a quick bite to eat, then Flo's V-8 Café is the place for you. It is basically the equivalent of Goofey's Galley, Pinocchio's Pizzeria, and Pluto's Doghouse from the Magic and Wonder all located in one convenient location. Themed after the movie Cars, there are three separate counters from which you can order.
Luigi's features an assortment of pizzas ordered by the slice.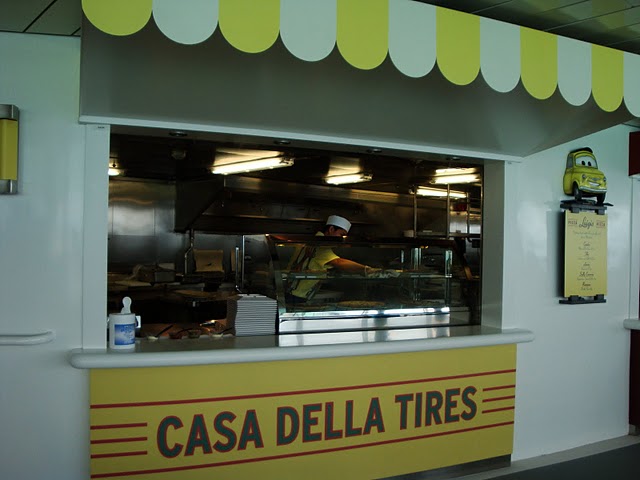 Tow Mater Grill has traditional favorites like hamburgers and cheeseburgers, grilled chicken sandwiches, hotdogs and bratwurst, and chicken tenders.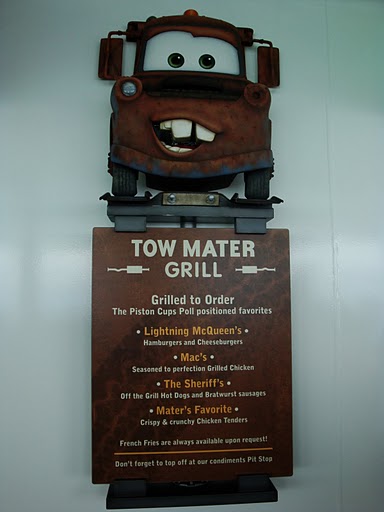 Fillmore's Favorites has a lighter fare of sandwiches and wraps, freshly made paninis, and salads.
While it is convenient to have all three stands located right next to each other, and so close to the pools, I did find that this area became very crowded, especially during the afternoon lunchtime hours.
Cove Café:
One of my favorite spaces on the entire ship was the Cove Café located adjacent to the Quiet Cove Pool. Even though it is more of a place to get something to drink than something to eat, the Cove Café does have some food offerings during the course of the day with muffins, Danishes, and croissants in the morning and an assortment of pastries throughout the rest of the day, in addition to delectable chocolate covered strawberries that became on of my favorite snacks on the cruise.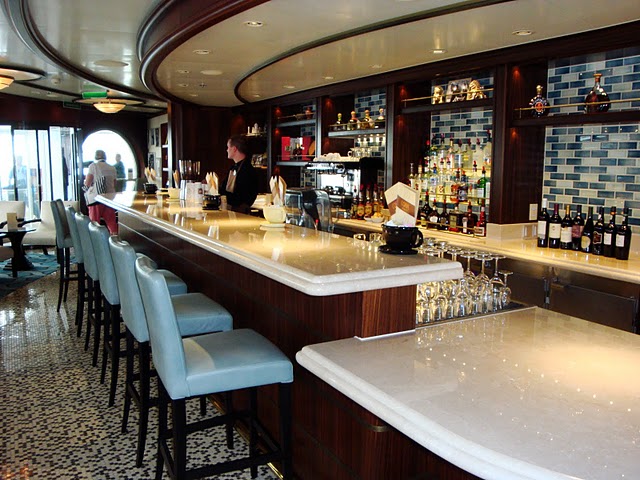 The Café's furniture and artwork are inspired by the Art Deco era of the 1920s and 1930s, giving the interior a sense of luxury and refinement. Take time to look at some of the black and white photographs hanging on the walls as they feature many images of Walt Disney travelling with friends and family. With its comfortable chairs and couches, the Cove Café is the perfect place to relax, its quiet atmosphere great for grabbing a drink and enjoying a good book.
Bars and Lounges:
I was astonished by the number of bars and lounges to be found throughout the ship. It will be very difficult to go thirsty on this ship because wherever you are there is a bar nearby. While The District, the adults-only nightclub area, features a variety of differently themed bars and lounges, there are many others located throughout the ship. Here are just a few and where they can be found:
Located on deck 13 just above the Quiet Cove Pool, Currents offers ample outdoor seating where cruisers can enjoy the sun and a refreshing frozen drink by day or a cocktail sitting under the stars by night.
One thing that really impressed me about the Dream was that the lounge chairs and other furniture out on deck was of much better quality than found on the Magic or the Wonder.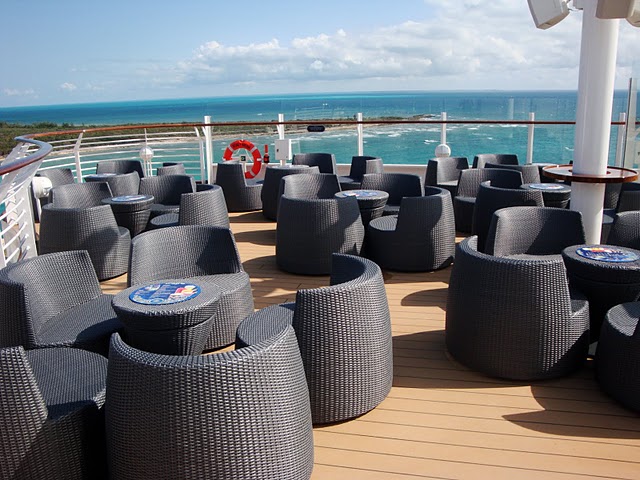 Meridian is situated between Palo and Remy on deck 12, offering the perfect spot to enjoy a pre- or post-meal cocktail while enjoying the beautiful ocean views. Featuring both indoor and outdoor seating, Meridian's comfy leather chairs and dark-paneled walls give the lounge a feeling of luxury. In fact, the lounge actually has a dress code with a dress shirt or jacket required for men and a dress or pantsuit for women; no jeans are allowed.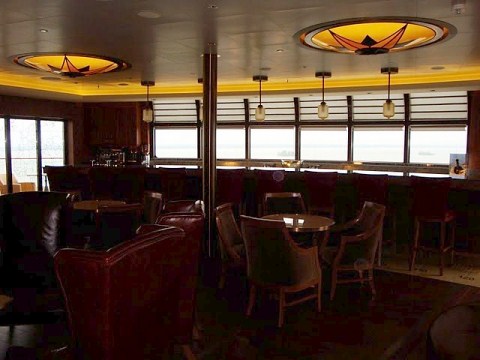 The décor of the lounge pays tribute to world travel, specifically the early days of sea travel. There are many little details to be found here, from the navigational tools embedded in the floor, leather maps featuring passport stamps from around the world, and even a constellation map lit up with twinkling stars covering the ceiling.
Also on deck 12 is Waves, tucked just behind the aft funnel. Its location just below Goofey's Sports Deck makes it a convenient location for grabbing a cold drink after playing a game of basketball or finishing up a round of miniature golf. It is located in an out-of-the-way area, which makes it another nice quiet spot to relax.
The Quiet Cove Pool on deck 11 features the Cove Bar, which offers a Disney Cruise Line first. Cruisers are able to walk up or swim up to the bar, allowing the convenience of ordering drinks without even having to leave the pool. I noticed this to be one of the busiest bars on the ship, primarily because of its location, but Currents (located just above the Quiet Cove Pool) offers the same drinks while having less of a wait to get them.
Overlooking the ship's atrium on deck 4, the Vista Café is very similar to the Cove Café, just in a less secluded setting. It still features comfy chairs and coaches and offers beautiful views of the atrium that make it a perfect place to sit and relax. In addition, its large portholes allow for great ocean views. The Café specializes in coffee drinks and also features an assortment of pastries throughout the day.
Just off the atrium on deck 3 is Bon Voyage. Its centralized location makes it a great place to enjoy a cocktail before dinner or prior to seeing a show in the Walt Disney Theater. The bar's Art Deco feel ties in perfectly with that of the atrium, offering a refined yet relaxing setting.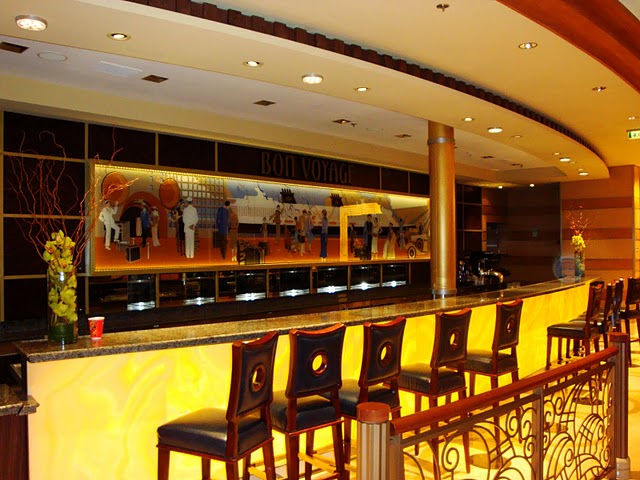 With a ship so large there are so many places to explore and things to discover. But, despite being so big, I found that the Disney Dream features many little, quiet places to sit and relax. These bars and lounges offer the perfect place to unwind and enjoy a refreshing drink. Then, if you get hungry, there are multiple dining options throughout the ship that make food readily available at nearly any hour of the day. It is safe to say that you will not go hungry or thirsty while on a Disney cruise.