I have multiple food allergies (nuts, shellfish and smoked cheese) but Disney does a fabulous job of making sure the food I eat is safe for me to eat. I'm not the most adventurous diner because of my allergies but I've learned that I can trust Disney. We have our favorite places to eat but we are slowly but surely trying new restaurants. One of the restaurants we have tried recently is Tutto Italia.
We ate at Tutto Italia for the first time in December for the Candlelight Processional package. We enjoyed it so much, we wanted to go back and had the perfect excuse to do so on January 24- the AllEars meet at Epcot! I was able to get an 11:30 reservation that day.
We checked in at about 11:25. The lobby is gorgeous and spacious. It was not crowded at all, even when we left the restaurant.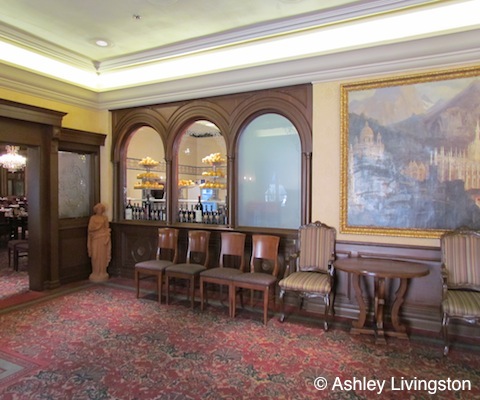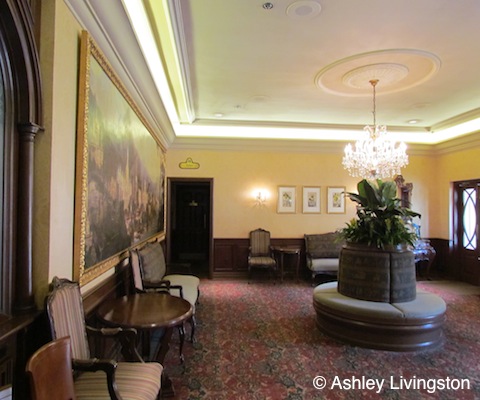 The main dining room is lovely.
We were seated next to a window overlooking St. Mark's Square.
We really enjoyed the view. It was very quiet inside the restaurant. Our server was very knowledgeable about the menu. The menu offers a variety of choices. I did not have it noted on this particular reservation but I did let my server know that I am allergic to nuts, shellfish and smoked cheeses (odd, I know) and he made a note of my allergies. He asked me what I what entree(s) I was interested in and I told him I was most interested in the Tagliatelle alla Primavera. He told me he would check with the chef and let me know.
At Disney World, I always have food options. I have yet to eat somewhere that I can't find something to eat or have something modified (take off a sauce, crust, topping, etc.). Dessert, though, can be another story but I'll get to that in a bit.
When our server brought the bread to the table, he let me know that the chef had said the Tagliatelle alla Primavera was okay for me to eat. I was very happy to hear this.
The bread came with the standard warning: They cannot guarantee that the bread has not come into contact with nuts at some point in time. Knock on wood, I have never had a problem in all the years/times I've eaten at Disney restaurants. The bread selection is excellent and the olive oil had a wonderful taste.
Our server was very engaging and while we were waiting on our entrees to arrive, he came over and talked to us about Italy, where we were from and Epcot in general.
Our food arrived piping hot.
Mom had the Farfalle:
I had the Tagliatelle alla Primavera: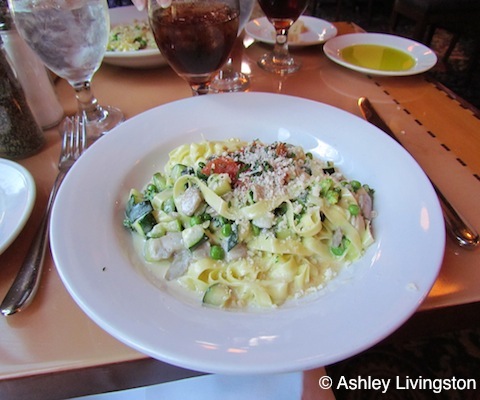 The portion sizes were very generous for both dishes. The main difference between Mom's and mine is that mine had vegetables in it while hers had prosciutto. Both dishes had cream sauce and it was surprisingly light but very flavorful. The vegetables in mine were nice and crisp. Mom loved her dish as well.
The dessert menu at Tutto Italia looked very good. However, I knew based on our December dinner there that my options would be limited. I already knew I couldn't have the Copette Sotto Bosco because it has nuts in the "cookie" that is served with the berries and gelato. I *really* wanted to try the lemon ricotta cheesecake so I asked our server about it. He asked the chef and it does have nuts in the crust of the cheesecake. I was a little disappointed because I had wanted to try something new. I knew I could have had the tiramisu (it's excellent) and Mom and I did discuss having it. In the end, we decided to forego dessert. I did not ask about other desserts but plan to when I dine at Tutto Italia again.
We really enjoyed our lunch. We're very happy to add this to our Epcot "list" of dining options. Our water glasses were never empty and anything we wanted or needed was promptly taken care of.
If you have food allergies, you can have it noted on the reservation(s) but be sure to let your server know when you get to the restaurant. You can also contact Special Diets ahead of time. I contacted them in December about another reservation and they sent me a form to fill out with a list of where I would be dining and all of my allergies. They also sent me several sheets with information about the counter service restaurants' food items. When in doubt, contact Disney! They have worked some magic for me in the past, both ahead of time and at the restaurant.