In Part One, I discussed the history of Spaceship Earth. Now let's take a ride on this attraction as it appears today.
Please note: Flash photography is prohibited on Spaceship Earth. The reason? It's very annoying to those around you. All of the pictures here were taken with a high-speed camera and enhanced with my computer.
Our 13 1/2 minute adventure begins as we travel through a time portal for a journey back in time. Just past the portal, your picture is taken for later use. Be sure to look at the monitor straight-on and smile.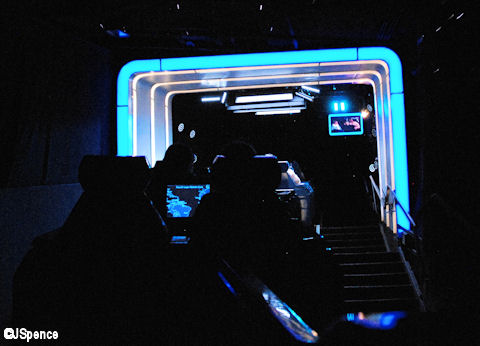 The first glimpse into the past is somewhere around 30,000 BC where we see several Cro-Magnon men hunting a wooly mammoth. Rudimentary communication skills will help them work as a team and down this ferocious creature.
The next scene brings us to a time when man lived in caves. A prehistoric shaman recounts a recent hunt to his fellow tribesmen and wall paintings help record his tale for future generations.
As we travel forward in time, we find ourselves in ancient Egypt. Here we see a man pounding papyrus reeds to create a crude paper. Nearby, the pharaoh dictates decrees which are copied onto scrolls by his scribe. The scribe (not pictured here) uses a simplified cursive form of hieroglyphics — a sort of ancient shorthand if you will. The hieroglyphics on the surrounding walls are authentic recreations from actual Egyptian structures.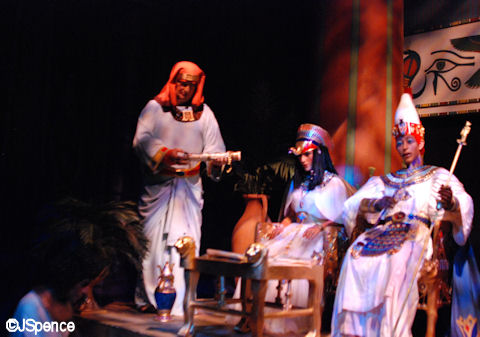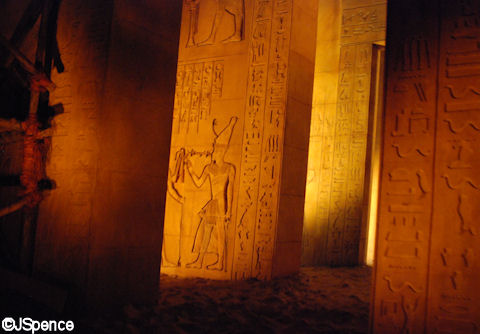 A new era in communications began with the Phoenicians. These merchants were once a dominate trading force in the Mediterranean and carried their twenty-two letter alphabet from port to port. With this new alphabet, most languages could be written using the same characters.
The ancient Greeks refined the Phoenician alphabet by adding vowels. Now the written word could be enunciated. With this improvement came philosophy, logic, and mathematics. The Greeks were also the first to create public schools, which is depicted in this next scene.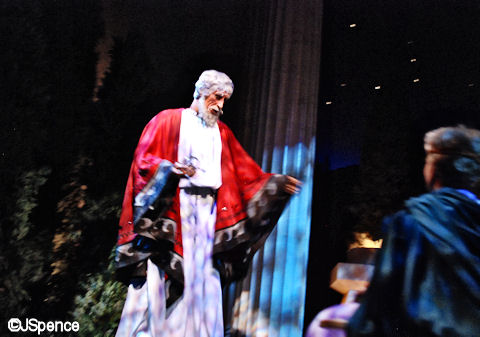 The Romans built a vast network of roads across the known world so their armies could maintain order and reach the most distant outposts of their empire. But these roads carried more than soldiers. Ideas and information also traveled along these ancient passageways. In this scene we see a Roman senator handing a message to a centurion with orders to rush the dispatch to Britain.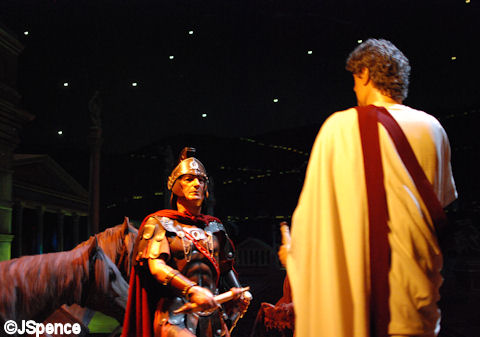 Much of recorded history was lost when Rome falls and the Library of Alexandria burns.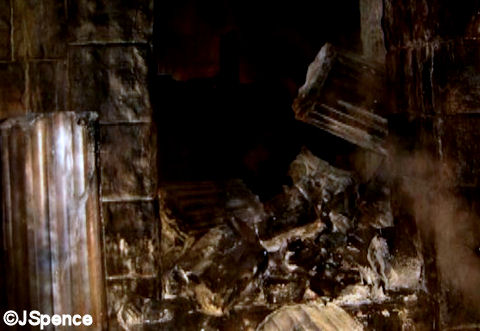 Fortunately, copies of many of these books and manuscripts were also kept in Middle Eastern libraries. To the right side of our vehicle we see Islamic scholars from various cultures discussing science, astronomy, medicine, and art. Standing on the observation tower is an astronomer with a quadrant probing the secrets of the heavens. And to the left we see a Jewish wise man studying in a great library.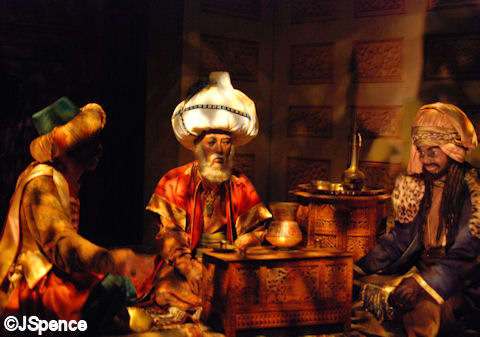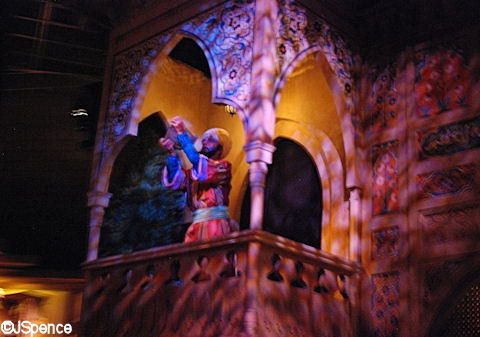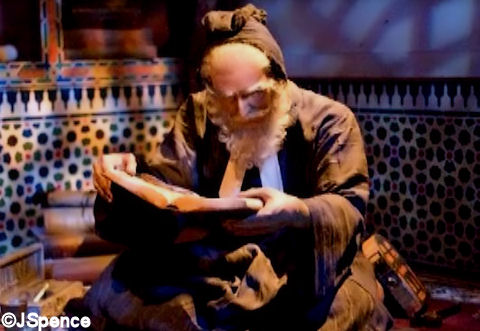 As we continue our journey, we enter a scriptorium. Literally translated, scriptorium means "a place for writing" and they were found in medieval European monasteries. Here we see monks toiling endlessly to keep up with the ever growing demand for books.
In the mid fifteenth-century, Johannes Gutenberg invented the movable type printing press. His new device now makes information available to the masses. In the background of this scene we see pressmen sorting paper and setting type while in the foreground, Gutenberg examines a page from the bible he is currently printing. This sheet is an exact replica from the Gutenberg Bible on display at the Huntington Library in San Marino, California.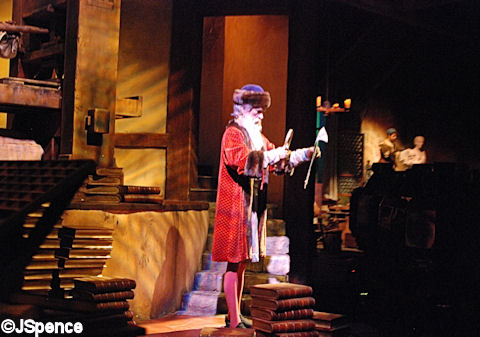 But religious manuscripts weren't the only documents created in mass. Literature, philosophy, music, and art also flourished in the years to come. The Renaissance rekindled man's pursuit of knowledge and a rebirth of education. Across the aisle from Gutenberg we see a mentor reading Virgil's "Aeneid" to a student and musicians performing a new piece of music.
Further signs of the Renaissance are seen as our journey progresses. First we see an artist's assistant mixing paint while he works on his latest masterpiece. And just beyond a sculptor chisels a statue from marble.
Commissioned by Pope Julius II, Michelangelo painted the ceiling of the Sistine Chapel between 1508 and 1512.
During the first portion of our journey, advancements in communications came slowly. Progress was achieved over a period of hundreds and hundreds of years. But as we turn the next corner, inventions arrive on the scene almost in a blink of the eye.
Next we find ourselves in 1865 and the American Civil War has just ended. Steam power has brought the printing press into the modern age and periodicals are common. On a street corner, we see a young boy hawking newspapers.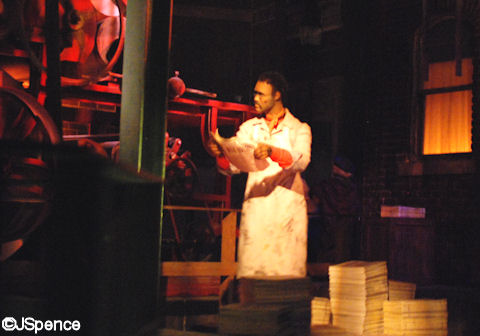 Marconi's telegraph is seen next as a reporter dispatches the following message: "MAY – 10 – 1869 – OFFICIALS – OF- THE – TWO – RAILROADS – HAVE – GATHERED – AT – PROMONTORY – POINT"¦." For the first time the Pacific and Atlantic Oceans are connected by railroad.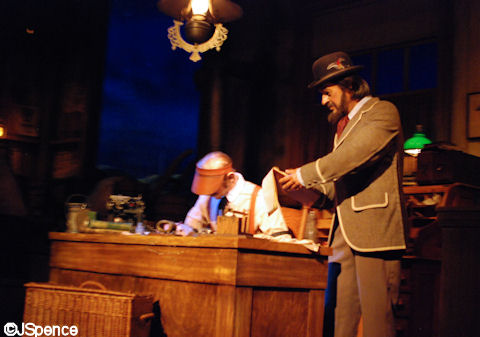 Less than a decade later, Alexander Graham Bell successfully transmitted the spoken word across a wire. By the early 1900's, telephones were becoming commonplace. For the first time, people could talk with their loved ones, even when physically far apart.
In the 1930's, citizens could keep abreast of the news at their local movie house. Movietone News presented audiences with a vast array of subject matter. Currently showing is a clip of Jesse Owens winning a race at the 1936 Berlin Olympics.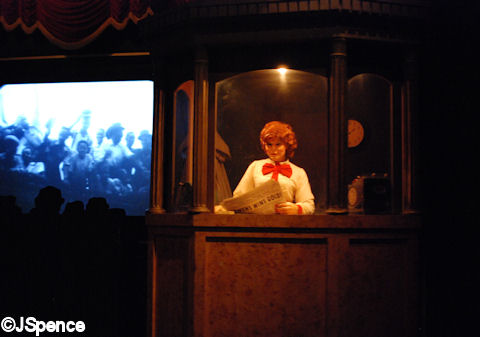 In 1928 an excited newscaster announces to his radio listeners that Amelia Earhart has just become the first woman to fly across the Atlantic Ocean.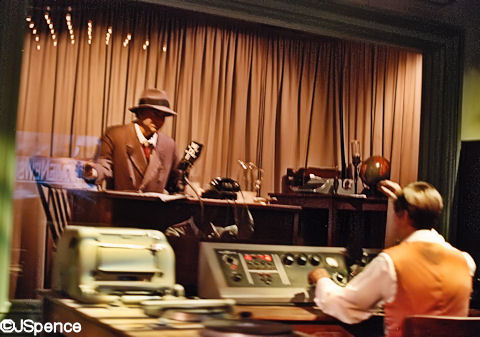 Fast forward to 1969. People all over the world were glued to their television sets as Neal Armstrong became the first man to walk on the moon. Walter Cronkite, who once narrated this attraction, can also be seen on this program.
The Imagineers poked a little fun at Mickey in this scene. Next time you ride, take a look behind the couch. The board game Mouse Trap is set up and waiting to be played.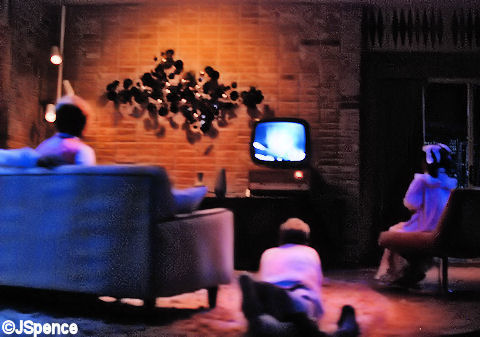 In the early years of computers, only governments and large corporations could afford them. And their binary language was known to only a handful of people. These large behemoths took up an enormous amount of space and required chilled rooms in which to operate.
It wasn't too long after the main-frame computer became common place in businesses that people started thinking about a home model. In this next scene we see a California garage in the 1960's and a studious young man working on a prototype "personal" computer.
Many people speculate whether this is Steve Jobs or Steve Wozniak. But it's neither. This gentleman represents all of the pioneers that helped bring this modern marvel into our homes.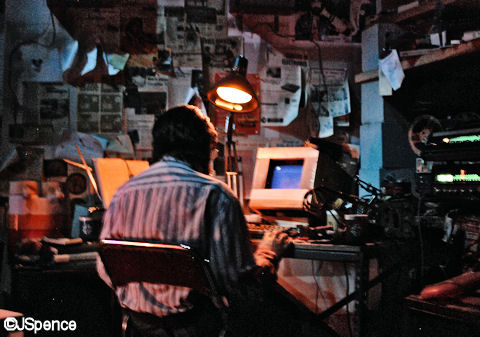 After traveling through the "Data-Flow Tunnel" we arrive near the top of Spaceship Earth. Here we see our blue and green planet floating in space. Our Time Machine then rotates 180 degrees for the descent back to earth.
Soon the touch-screen monitors on our vehicles come to life and we're asked to select what aspect of our future we'd like to see. The choices are Home, Work, Health, and Leisure. After several more selections, a humorous video transports "you" into the future.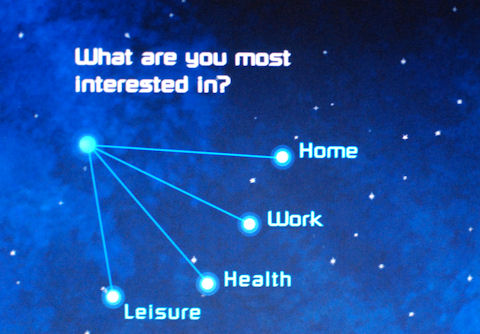 After exiting the Omnimover, you find yourself in "Project Tomorrow." Here you come face-to-face with a giant globe of the earth.
Shortly after arriving, your picture will appear somewhere on the globe and remain in sight for roughly a minute. Then with a swoosh, your photo is whisked to the hometown you selected at the beginning of the ride. A small white dot will appear on the globe to represent this location. The globe starts out "clean" each morning.
Since Central Florida becomes a mass of white dots early on, I often pick some other city as my hometown. It's fun to see my picture transported to Perth, Australia or Cape Town, South Africa.
Also found in Project Tomorrow are several games.
"Body Builder" is a 3-D interactive game that enables users to assemble a digital human body, simulating the Siemens technology developed to perform remote surgeries.
"Super Driver" is a simulation video game that showcases motor vehicle accident avoidance systems developed by Siemens.
"Power City" demonstrates how to manage power in a growing city.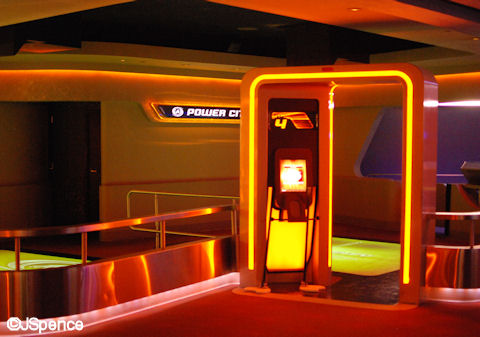 I have created a four and a half minute video of a journey through Spaceship Earth. Please note, the narration has been edited due to time constraints. In addition, lighting of the scenes is low, making a few of the sets difficult to see. However, I think you'll enjoy the trip. It's the next best thing to actually being there.
Well that's it for Spaceship Earth — my favorite Epcot attraction. I realize it's not as exciting as Test Track or Mission: Space. And it's not as inspiring as Soarin'. But I like it and never tire of it.