My last story left off in the late 1970s. After my 1975 trip, I wouldn't be able to get back to the World until 1986. It sat at the back of my mind to make a return trip, but things got in the way, like college, jobs, layoffs, moves, lack of funds and the like.
By the very early 80's, I had met Mr. Answer, and after a few years, we decided to get married. We originally wanted to go to Hawaii for our honeymoon, but just starting out, we didn't have much money, and Hawaii is expensive. We sat down with a travel agent to explore our [meager] options. "Well, how about Disney World?" he asked.YES!! Why didn't I think of that?
He set us up with a package that included 5 nights at the Howard Johnson on Hotel Plaza Boulevard, tickets, including the new park that had opened in 1982, EPCOT Center (Woohoo! A NEW PARK!), Discovery Island, and River Country, plus one lunch.
We couldn't afford to stay at any of the Disney resorts, which then consisted of the Contemporary, Polynesian Village, Fort Wilderness, the Disney Inn and the Village Resort. The Grand Floridian and Disney's first moderately priced hotel, the Caribbean Beach, were still under construction. As our wedding date approached, we found we were far more excited about the honeymoon trip than we were about the wedding and reception!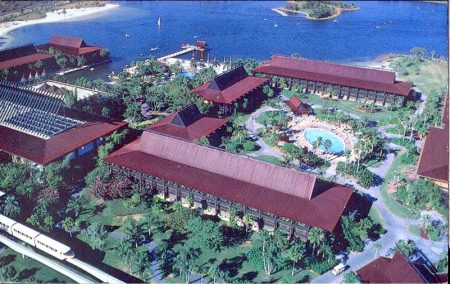 Finally, after months of planning, it was time to go to the World! Mr. Answer had never been, but was a fan of Disney's films, and of their technology and innovative techniques. We were both anxious to see them in action at EPCOT Center.
EPCOT stood for "Experimental Prototype Community of Tomorrow". Walt Disney's original concept was to build an actual community, but when all was said and done, EPCOT became more of a permanent World's Fair than anything else.
The "community" was built nearby in what was then called Lake Buena Vista Village. Model homes, townhomes, unique Treehouses, and apartments were built, but due to politics that I won't get into here, the homes were never sold or used for personal dwellings. Instead, for the first couple of years, they were rented out to corporate entities, and they later became The Disney Village Resort and were rented to guests.
Anyway, back to our first look at EPCOT. Entering the turnstiles, we were both completely blown away by what lay before us. The beautiful geosphere that towered over us! The fountains and gardens! The clean modern architectural lines!
We explored Futureworld pavilion by pavilion, savoring every detail. Somewhere, I had gotten a copy of a guide (Birnbaum's?) that advised us to tour the parks clockwise; and when given the choice, to always choose the left-hand queue. To this day I still tend to follow that advice, but now that I've shared it with all of you, everyone will do it and I'll have to learn to tour counter-clockwise and choose the right-hand queue. I'll have to break 25 years of habitual veering to the left.
My lasting impression of that first trip to EPCOT Center was how absolutely visually stunning the park was. It was artful and modern in Future World, yet tempered with gorgeous plants, trees, fountains and lagoons.
Spaceship Earth was majestic. It truly was an icon, so beautiful when seen from anywhere in the park. Now that the Millennium Wand is finally down, I can't tell you how happy I wias to see it a couple of weeks ago in it's original pristine state, and to view it the way it was meant to be viewed. Unfortunately, the granite monoliths will still stand in what was originally a more wide-open area blocking that wonderful fountain beckoning you to move toward it and into Future World. I hope against hope that someday, the plaza will be returned to something like it originally was, with that lovely plexiglass sculpture in the middle of the fountain and with flower beds instead of boulders which interrupt the entire flow of the plaza.
I think I miss the rows of palm trees that framed the geosphere the most, but I did read recently that the oak trees surrounding Spaceship Earth will be removed and replaced with palms. These days, the plaza is most definitely lacking in Feng Shui and sports a rather cold and uninviting look. Removing the Leave a Legacy kiosk at the bottom of Spaceship Earth, and the sales/photo area on the west side of the plaza is a huge start toward restoring it to it's original beauty and flow. With Epcot's 25th birthday coming on October 1, 2007, it looks like this park will finally be getting some much-needed attention,along with a re-dedication ceremony.
But that is now, and I want to talk about the early days. Besides the name and the entrance plaza being different in 1986, there were some other things that made the park differ from the Epcot of today.
For instance, Innoventions didn't exist. Those buildings were known as Communicore East and West. Spaceship Earth had a different show and a different narrator. The Universe of Energy also had a different show: There were dinosaurs, but no Ellen. The Wonders of Life didn't exist yet. I guess that pavilion has come full circle, since it pretty much doesn't exist today, either.
A pavilion called Horizons, featuring a trip through the possibilities of the future where you could choose your own ending, was located where Mission:SPACE now stands. In the space station area of the queue in Mission:SPACE, you can still see the Horizons logo.
The World Of Motion, a great "dark ride" about transportation with a track that went up the outside of the show building and a catchy theme song, stood where Test Track is today.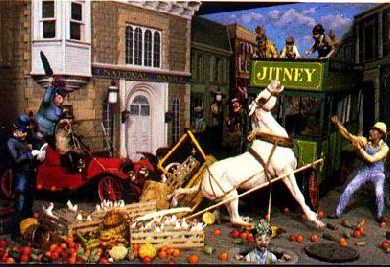 That strange looking building perched on the lagoon between Test Track and the Mexico Pavilion didn't used to be just a bathroom and first aid stop–It used to be a counter service restaurant called The Odyssey.
Meanwhile over in Future World West, a brand new pavilion called The Living Seas had a ride called the "Sea Cabs" that took you on a slow, very short ride around the aquariums. No one had yet found Nemo.
Next door at the Land, there was a fun show called Kitchen Kabaret, with an earworm theme song called "Veggie Veggie Fruit Fruit". Yes, my friend Flo and I can still do the entire show complete with song, even though it closed in 1994, when it was replaced by "Food Rocks". Flo, this one is for you: "He won't forget the lickin' he got from that big chicken, so now he gets his poultry from the store…" The Kitchen Kabaret theatre used to be where Soarin's queue is now.
And last, but by no means least, was my favorite Future World pavilion and ride, Journey Into Imagination.

Why in the world the original ride was gutted and destroyed is beyond me. The original ride with DreamFinder and Figment was such a wonderful sensory experience, filled with sounds, smells, and colors. The White Room featured an incredibly beautiful glass wall. When you were done with the ride, you could go upstairs and play in the Image Works. That rainbow neon tunnel was so much fun, as were the pin tables and giant kaleidoscopes.
As if that wasn't enough, you could then go see a 3D film called Magic Journeys in the attached theater, and then go outside and play in the leapfrog fountains. Today, we're on the third, better by light years than the second, but still lame version of the ride, the ImageWorks is now downstairs and features not much in the way of imagination, the theatre houses Honey, I Shrunk The Audience, which is possibly the strongest of the three attractions, and luckily, the fountains have all survived intact. Phew! The Rumor Mill has been buzzing lately with tales of a major overhaul for the whole pavilion, to which I say, "hurrah!"
Back to 1986. Leaving Futureworld and moving into World Showcase, each pavilion transported us to those far-away places we had not yet even dreamed of visiting. The only time I had been outside of the US was a car trip to Canada around the Niagara Falls area. Since then, I've been lots of places including Mexico, China, England, France and Canada, and World Showcase turns out to be a pretty darned good representation of these countries!
World Showcase in 1986, like Future World, was different from the one we know today. The Norway pavilion wouldn't debut until 1988. My favorite pavilion, Morocco, with its incredibly intricate tile work, had just opened in 1984.
The other pavilions have remained much the same, occasionally changing out displays, revamping old rides, updating films, and changing theater seats from lush and comfy to cheap, hard and easily broken. (You guilty pavilions know who you are!!)
Some of the restaurants have undergone changes as well. Le Cellier used to be a "buffeteria," for instance. This is where we chose to have our "free" lunch that came with our package. I had prime rib for lunch. How very decadent! Mostly what I remember about dining on this trip was how bad both the food and service were everywhere around Disney property!
Our best meals were at the HoJo coffee shop in our hotel. One really bad meal stands out for me: We ate dinner at Captain Jack's in the Disney Village. My steamed shrimp had been cooked into oblivion, and were served as tasteless mush. The service was worse than the food. My husband and I joked about how bad the restaurants were on that trip for years after that, even when they had vastly improved. Unfortunately, on our most recent visits, we're seeing a return to the bad food and service of the 80's.
In the entertainment area, there was a nighttime spectacular on World Showcase Lagoon called "Laserphonic Fantasy". This show was actually the third show on the lagoon since the park opened. The first two were "Carnival de Lumiere" and "A New World Fantasy". If we saw Laserphonic Fantasy, I have no recollection of it. I do have vague memories of airplanes trailing colored smoke over World Showcase Lagoon and some bizarre boats on the lagoon during a short-lived daytime spectacular called "Skyleidoscope".
It took us at least two full days to explore all that EPCOT Center had to offer, and I'm sure we still missed a lot. I still recall how much my feet hurt after pounding around the park for hours in flat sandals. What was I thinking?? Since then, I have never gone to the World without at least two pairs of tried and true comfy shoes or sandals. Lesson learned!
Of course, we thoroughly covered the Magic Kingdom as well, since my husband had never been before, but we seemed to concentrate our attention on EPCOT Center. We tried to use our River Country tickets, but the day before, a guest had run his rented boat aground on the berm that separated RC from Bay Lake, so it was closed, darn it! We never did get to RC until the 1990's just prior to its closing. At least we got there.
I don't think we made it over to Discovery Island either, with all there was to do at the bigger parks.
As we flew home from our first Disney adventure together, we mused about the things we had missed, so of course, we'd have to make another trip to see those things! It was then that I knew my husband had fallen in love with the World, much like I had a few years earlier. Our next trip would be in 1989, a few months after the Disney-MGM Studios opened.
Next time, a look at the World of the late 80's.
Anita
Special thanks to Brian Martsolf for the use of his extensive postcard collection!
Postcard Scans are courtesty of Brian Martsolf who has an online guide to WDW Postcards.