Deb recently asked me to start blogging, but I was having a hard time deciding just what to blog about. As you may have noticed, I love to talk and write about WDW, and could drone on and on about the minutiae of the parks and restaurants and resorts for days on end until everyone within earshot got that "glazed" look and their eyeballs rolled into the backs of their heads. It was hard to zero in on just one thing to talk about that wouldn't act as a sleeping aid.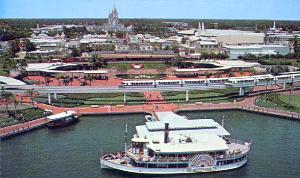 So there was my dilemma:
What to write about? Where do I begin? WDW is a big place and the Walt Disney Company is a huge and diversified company. Daunting! I hemmed and hawed and tossed ideas around with friends and relatives and still couldn't decide on a topic. Weeks went by, and still I had nothing. But, then I got some assistance from an unexpected source!
One of my weekly column's readers was trying to convince some skeptical friends that a trip to Walt Disney World would be the best vacation ever, so she wrote to me for advice. She wanted to know what it was about the World that keeps me coming back time after time. It turned out that my answer was far too big for the column, so here I am writing my first blog, and hopefully, no one will doze off out of boredom. Here goes…
What I Love About The World
Pt. 1, The 1970's: The Love Affair Begins
Over the years, many of my friends, co-workers and relatives have asked me why I love WDW so much, and why do I return there several times a year? The answer lies at the very beginning of my Disney fandom. Way back in the late 50's, my love of Disney started off with TV. (This also kicked off my lifelong love of TV, but that's another story for another day.) The Mickey Mouse Club came on every afternoon, and I watched it with my older sister. My favorite parts were the serialized stories, and my very favorite was "Spin and Marty". Even though Annette was something of a local girl, born and raised in a town nearby where I grew up, I thought she was a dork. In recent years, I've come to admire her, but back then Tim Considine was my idol.
In addition to the MMC, every Sunday evening was spent with Walt Disney and Tink and what eventually became The Wonderful World of Color. Even as a pre-schooler, my life's goal was to get to Disneyland and see Sleeping Beauty Castle and the Matterhorn in person! Growing up 3000 miles away in Central New York, it seemed a lofty and almost impossible goal, so I was forced to defer it until I was older. My parents were not "theme park types", so there was no use begging, whining or scheming for a family trip to Disneyland. If I was going to get there at all, I knew it would be under my own steam. OK, I can wait…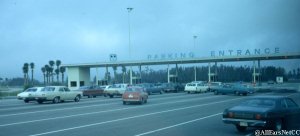 Fast forward a couple of decades. A jaded 17 year old hippie-type high school junior reads that they're building a Disney park in Florida!! OK! Florida is actually achievable! My grandparents (and later my parents) lived in Florida about 90 minutes away from Orlando, and so did my recently-relocated best friend. I could do this! I could finally get to a Disney park!! I began to save my money and to plan my trip.
The next year, 1973, I made my first trip to the World during spring break. My boyfriend, who was a college freshman, and I hopped on a train and went south, ostensibly to visit with my grandparents and my friend, but we all know the real reason, don't we? We wanted to visit Mickey! We were staying in Tampa, and Greyhound Bus (or was it Trailways?) had a package deal for day visitors to the World that included transportation, a ticket book, and lunch. I can't remember how much it cost, but I think it was in the $14-$15 range.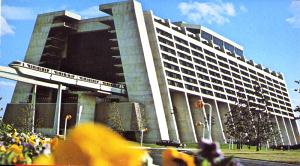 We took the bus over to WDW early in the morning. I remember that long drive up World Drive with nothing but trees on either side. Would we ever get there? The excitement mounted as we saw the TTC parking lot and bus drop-off area. At last! I have reached my goal (well, sorta…)! At last!
We hopped on the monorail (Oooh! Ahhh! Look, it actually goes through a hotel! How modern!) and sped toward the Magic Kingdom. The one thing that stands out in my mind from that first glimpse of a Disney park is not Cinderella Castle or any of the rides. Oddly, it was the Mary Poppins topiary along the monorail route and the serpent topiary that still resides in the Magic Kingdom, which is generally known as the oldest topiary at the World.
Now, mind you, I am not a gardener of any sort. House plants run away from me. The front lawn cringes when it sees me coming. I have no idea why those topiaries were important to me, but they were. I still have to tell the serpent "hello" on every trip. He never cringes, just looks benevolently over the lawn, but maybe that's because a fence separates us, keeping him safe from my Brown Thumb.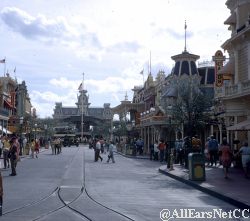 Once inside the turnstiles, it was like walking into a lovely dream. Suddenly, it was not 1973, there wasn't a Vietnam war, Richard Nixon wasn't the president, Watergate wasn't even a hotel yet, let alone a scandal, and our nation's college campuses were not in turmoil. I didn't have a paper due in History, and my English book report on Shakespeare was far from top of mind, nor was I doing miserably in Algebra. For that one day, I was in turn of the century mid-America, with flowers and music and charm and beauty. I fell instantly and hopelessly in love. As we moved through the park's attractions, streets and shops, we serious hippies lost that hardened shell we had developed, and were kids playing in a giant fantasy-filled playground. Today, in 2007, I see the same thing happen with my teen daughter as soon as she arrives on property. That's what I call "magic"!
The Magic Kingdom of 1973 was different from the Magic Kingdom of today, but fundamentally, they are the same to me because they retain the common foundation of fun, innocence and fantasy (and Utilidors…). There weren't many thrills like we've come to expect today. The 1973 version didn't have any "mountains", for instance. No Space Mountain, no Splash Mountain, no Big Thunder Mountain.

It had instead Dumbo, Peter Pan, It's a Small World, and best of all, the Haunted Mansion. Pirates wouldn't open until later that year. To this day, Haunted Mansion and Peter Pan remain my favorite Magic Kingdom rides. In that spring of '73, we didn't care that there were no roller coasters or bumper cars. This place was a thrill unto it's own. The colors, smells, designs, architecture…Pure excitement!
In 1973, every shop in the MK had different merchandise. If you didn't buy what you liked when you saw it, it involved a trek back to that particular store to get it. Now, just about everything is the same in every store in every park, resort or shopping area, but not back then. Each and every store was an adventure, and had to be explored shelf-by-shelf. When you had limited funds like we did, you had to see everything before making the all-important decision to buy! I can still remember the special souvenir I bought on that trip. It was a white china mug decorated with the Pooh characters. It had a gold rim and handle. I had to make a special trip back to the Emporium on Main Street to buy my special mug. I loved that mug, and still miss it to this day. It got lost somewhere when I left New York for Texas in the late 1970's. I expect that at the end of my life, that mug will prove to be my "Rosebud".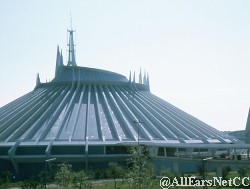 From that trip, I recall nothing about entertainment, characters or parades. I recall "atmosphere" more than anything else. We were so smitten with Walt Disney World, we shelled out another $15 later that week to come back again.
In 1975, we returned again, driving our 1969 VW Squareback down the east coast, and camping out along the way to save money. We had to experience Pirates and Space Mountain, after all! We waited 2 hours in the hot blazing sun in a line that stretched out across the plaza in front of Space Mountain, and you know what? It was worth it. I would do it again too, but thank goodness for Fastpass!
The 1975 trip would unfortunately prove to be my last trip until 1986. A cross-country move, college, and a career change got in the way of my Disney goals for awhile, but not forever. Next time, we'll explore the Walt Disney World of the 80's and why the 1980's big-haired, power-suited Anita loved it. Brew plenty of strong coffee!
Anita
Photographs are @AllEarsNetCC and may not be used or reproduced in any fashion without express written permission from AllEars®.
Postcard Scans are courtesty of Brian Martsolf who has an online guide to WDW Postcards.