NOTHING VENTURED, NOTHING GAINED
As you'll recall from an earlier blog, my best friend and partner in crime Flo Tographer and I read about Mike Scopa's 4 parks/1 day Challenge and decided to accept that challenge. What follows is a true and accurate account of our Challenge adventures. No columnists were harmed during the course of the Challenge — well, Flo had a cold and got a small blister and I caught said cold at the end of the day, but we soldiered on anyway.
The Date: Saturday, May 10, 2008.
Weather Conditions: Unseasonably warm (mid-90's,) sunny and humid, but luckily also very windy. The humidity dissipated by noon, thank goodness.
Clothing of Choice: Very light, sleeveless cotton blouses; cotton shorts, sunglasses. I wore an Animal Kingdom Villas freebee hat, sacrificing beauty for comfort. Hat Hair!
Footwear of Choice: Flo chose Naot sandals, I chose Disney Crocs with low profile moisture-wicking runner's socks. Minnie Answer would have died of shame at the sight of this, but she wasn't there now, was she?
Transportation of Choice: Rental car: Dodge Avenger. We thought it should have come with a cape and its own theme song.
Stuff We Schlepped: A small notebook, two pens, small digital camera, car keys, cell phones, an extra pair of glasses for me. Flo had a small wallet, and I had a lanyard for my pass, money, hotel key, etc. If it didn't fit in a pocket, it didn't go. The plan was to be able to use the Guests Without Bags entrance at each park and skip the long, time-munching security bag check.
Predicted Crowd Levels: On the high side of Moderate.
Actual Crowd Levels: With the exception of two attractions to be named later, the crowd levels were actually on the high side of Low; a pleasant surprise.
Things We Researched and took into account before deciding what to ride and in what order: Location of the ride; popularity; availability of Fastpass or Single Rider lines, duration of pre-show; duration of ride or show; slow or fast loading/unloading; likelihood of it going 101 and how long it takes to reset afterwards, and a million other variables we know from experience.

RISE AND SHINE…OR NOT
Pre-Challenge Early Morning — The Plan: Get up at 6 am (there's a 6 in the morning?? Who knew?) Eat breakfast in our villa, dress, leave for park #1 (Animal Kingdom) to arrive at 7:30 am.
Pre-Challenge Early Morning–What Actually Happened: I set the alarm for 6 am the night before… and unfortunately, I forgot to turn it on. Luckily I awoke at 6:15, so we were already a little bit behind schedule, but not much. Best laid plans, yada yada, etc. So anyway, I fixed and ate breakfast while Flo got ready, and vice versa. We left Old Key West at approximately 7:30 am.
LET'S DO THIS THING!!
NOTE: For all parks, "Time In" numbers were calculated from our entrance at the turnstile and "Time Out" was recorded at our exit of the turnstile. For attractions or rides, "Time In" numbers were recorded when we entered a queue, and "Time Out" numbers were recorded when we were clear of the attractions' actual exit. Restaurant times were calculated from when we entered the line to order, and exited the restaurant.
SAFARI, SO GOOD-Y
Park #1: Animal Kingdom
Advantages: Morning Extra Magic Hour; close-in parking allowing us to skip the tram, Fastpass and Single Rider lines available at many attractions.
Disadvantages: Crowded and bumpy walkways; no direct route to certain attractions.
We arrived at the DAK tollbooth at approximately 7:40 am, parked, walked to the park and using the Guests Without Bags line (which of course, wasn't a line,) were through Security in a matter of moments. By 7:55, we were standing about 5 people back from the rope on the right-hand margin, watching the opening ceremony, and waiting for the 8 am rope drop.
The Animal Kingdom Plan:
Head to Everest, get a Fastpass, head to Kilimanjaro Safaris, ride, head to Dinosaur, ride, head back to Everest and ride using Fastpass. Leave park.
Animal Kingdom: What Actually Happened:
DAK Time In: 7:53 am
EVEREST Time In: 8:07 am Time Out: 8:14 am
At the last minute, we decided to skip the safari as it is very time-consuming. Instead, we headed right to Everest for a Fastpass, but discovered, to our delight, that the Single Rider line was open already, so in we went. We were the first guests to make it to the loading platform, as the guests in the stand-by line hadn't even made it through the queue yet! We both made it onto the first train out of the station. Next stop, Dinosaur.
DINOSAUR Time In: 8:18 am Time Out: 8:28 am
Our luck held as we literally walked into the pre-show, which had just started. We were on and off the ride in record time, in spite of Carnotaurus attacks and a meteor shower.
Bonus Round! It wasn't on Mike's list, but we decided to ride Triceratop Spin, just because we could, and so we did.
TRICERATOPS SPIN Time In: 8:32 am Time Out: 8:35 am
We were on our way to the safari, when we noticed that Tough To Be a Bug only had a 5 minute wait. Onward to It's Tough To Be a Bug!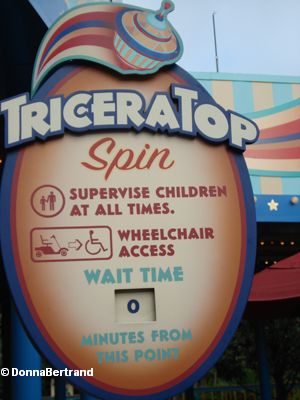 IT'S TOUGH TO BE A BUG Time In: 8:40 am Time Out: 8:50 am
We walked right into "Bug" just as the doors were closing. We moved all the way to the end of our row to make room for the guests behind us (zero, by the way…) We positioned ourselves at the very end of the bench to be close to the exit. After all, this was an exhibition game. We weren't there to see the show from the best vantage point. After the maggots and roaches left the theater, we did too.
We made a quick bathroom stop and then headed for the park exit. We had to chuckle as we went through the exit turnstile, as we had already done 4 attractions and the park didn't open to day guests for another few minutes. We cautioned ourselves to not be overconfident, however, as anything could happen during the day to throw us off. We knew from experience that the later into the day we progressed, the longer the lines would become, and Fastpass returns would become later and later, or possibly gone for the day.
DAK Time Out: 8:57 am
Into the car and on to Disney's Hollywood Studios, the second stop of the day.
HOORAY FOR HOLLYWOOD!
We arrived at the Studios tollbooth at approximately 9:15 am and were shocked to see that we were being directed into the front parking lot! I had expected large crowds for the Toy Story Midway Mania Annual Pass and DVC preview since it was Saturday, but you couldn't tell from the parking lot. We got a space fairly close to the tram stop, but missed the tram by a couple of seconds. The next one pulled up and we got on, but waited… and waited… and waited. We should have walked, but we were already on the tram, and there were others in the seat already who would have to move for us to get out. After finally leaving the parking lot, we breezed through the No Bags line (no wisecracks please…) and found a short line at the Cast turnstile. The Cast entrance can also be used by guests, but for some reason, guests don't choose to use them, which is an advantage if the line is short.
Park #2: Disney's Hollywood Studios
Advantages: Toy Story Midway Mania AP/DVC Preview, hopefully moderate lines there and perhaps everywhere else. Small, compact park. Easy to get around.
Disadvantages: Toy Story Midway Mania preview — Read on…
The Disney's Hollywood Studios Plan
Head directly for Toy Story Midway Mania and ride before the lines became impossible. Anita goes to Tower of Terror or Rock 'n' Roller Coaster to get a Fastpass for the one with the shortest return window. Anita and Flo ride The Great Movie Ride, then Star Tours, then Anita heads for her Fastpass attraction while Flo does something else.
Disney's Hollywood Studios: What Actually Happened:
Upon arriving at Pixar Place, after showing our APs and IDs, we went behind the barrier to find…about 9 million people in a very long line.
Turns out they were having technical difficulties and the estimated wait was at 1 hour and 45 minutes. We thought it over for about 2 seconds and left. Plan B: Go get a Fastpass for either Tower of Terror or Rock 'n' Roller Coaster, then go directly to the Great Movie Ride.
Disney's Hollywood Studios Time In: 9:22 am
THE GREAT MOVIE RIDE Time In: 9:35 am Time Out: 9:57 am
We walked into TGMR, through the queue, through the preshow, and directly into the ride vehicle. When does that ever happen? We were in and out in record time. Next up, a flight to the Endor moon. I hoped they had a more experienced pilot this time as Captain Rex almost got us killed the last time!
STAR TOURS Time In: 10:00 am Time Out: 10:14 am
Star Tours' queue was empty. We walked the queue, and were directed to our vehicle. We asked to ride in row 5, please. No problem ladies, right this way! This positioned us as first on and first off the ride. The safety film was already running, and the lady with the extremely animated eyebrows and a danish stuck precariously to the side of her head was giving us instructions. The countdown to launch was at approximately 2 minutes. Captain Rex was in charge again, and so we had our usual misadventures on the way to Endor, which of course, we never reached. They really need to hire a better pilot.
It was time for my FP ride, which turned out to be Tower of Terror. Both RnR and ToT had short FP return windows, but ToT is a shorter walk, so in the name of saving time, I chose the Tower . Flo, meantime, cannot ride either RnR or ToT, and was hoping to use Toy Story Midway Mania as her third attraction in this park. Since it was down, she decided to ride Star Tours again and hope that Mike would be understanding. We planned to take one more try at TSMM before we exited the park in hopes that it was back up and the lines had gone back to a manageable length. Alas, that was not to be.
Flo: STAR TOURS Pt. 2: Time In: 10:20 am Time Out: 10:33 am
Once again, no line, she rode in row 5 with no one else in the row.
Anita: TOWER OF TERROR Time In: 10:20 am Time Out 10:34 am
I was the only person in the Fastpass return. I was directed to the library on the right, and had enough time to peek into the directory board between the two libraries to see if Evil Tower U R Doomed was still there. Nope, gone again. Oh, well. Back to the library door. I was first in to the library, and positioned myself in the corner by the exit door to the inside queue. Most of the inside queue was empty, and a quick glance around told me that the queue that goes straight ahead to the left end of the load zone had a much shorter line than the one that goes to the right. I waited in that line for about 30 seconds before the bellhop called for a single rider, which I gladly took him up on. There was some confusion in the elevator's loading area, as people were standing on the wrong numbers. For a minute, I thought I might have to go back and wait again for another elevator, but the bellhop got everyone back on track, and I ended up in the row 6 jumpseat. I never did reach my room, and for some reason I never do. I'm going to have to ask my travel agent to book me into another hotel next time. Arriving back from the Twilight Zone, I hurried to meet back up with Flo at the fountain near the tip board. Another bathroom break, and we were heading for the tram to the parking lot. Next on the list: Epcot.
DHS Time Out: 10:41
BACK TO THE FUTURE
We arrived at the Epcot tollbooths and were able to find a very close-in parking space, enabling us to once again walk to the turnstiles. We went through the No Bags security line and located a short queue at a turnstile.
Park #3 Epcot Time In: 11:09 am
Advantages: Wide walkways, well-laid out park, long list of attractions, lots of dining options.
Disadvantages: Size. It's a long way from Spaceship Earth to the American Adventure!
The Epcot Plan: Try for Fastpasses for Soarin', play the rest of Future World by ear, have lunch near wherever we were. Ride Three Caballeros or Maelstrom to complete our World Showcase requirement.
Epcot: What Actually Happened:
Meal # 1: ELECTRIC UMBRELLA Time In: 11:13 Time Out 11:40
We had worked up an appetite running through DAK and DHS, so lunch was our current priority. we needed a breather, some AC and some sustenance before we could carry on with our mission. Did I mention that it was unseasonably hot that day? After a leisurely lunch and a bathroom break, we began our adventures again.
TEST TRACK Time In: 11:45 Time Out 12:10
Very short FP line, very short stand-by queue. Where was everyone?? Spoooky… We walked over to World Showcase via the Odyssey walkway, and headed to Mexico.
GRAN FIESTA TOUR/THREE CABALLEROS Time In: 12:17 pm Time Out: 12:30 pm
Once again, we literally walked right onto a boat. This is getting freaky…
We exited and started walking back toward Future World, stopping to browse the Flower and Garden kiosks, and making plans to come back on Sunday to buy some things we saw. While walking through the Rose Garden, we decided it was time for a Bonus Round! We strolled into Journey Into Imagination, which is not on Mike's list, but there was not much of a line, so we rode it.
JOURNEY INTO IMAGINATION WITH FIGMENT Time In: 12:42pm Time Out: 12:53pm
Around this time, I began to get overconfident again. Then, when I realized that we still had the most popular and therefore most crowded park ahead of us, I snapped out of it. OK, one step at a time, let's not get ahead of ourselves. We still had things to do here in Epcot. We walked toward the Land and rode Soarin' using a Fastpass.
SOARIN' Time In: 1:00 pm Time Out 1:25 pm
This one always has a long line, even when everything else is a walk-on. Today was no exception. Even so, I've seen much longer Fastpass and Standby lines, so we were lucky.
Our Epcot requirements completed, we made our way to the front of the park where we discovered it was Bonus Round! time again. Spaceship Earth had a very short line, and we knew we probably wouldn't be doing any bonus rides at the Magic Kingdom, so why the heck not?
SPACESHIP EARTH: Time In: 1:39 pm Time Out: 2:05 pm.
The software on the descent is finally working correctly, and we laughed out loud when our faces appeared in the animated short. This is also the first time we had seen the globe in the post show working correctly. Yay!
We walked to the parking lot and drove toward our 4th park of the day. At this point we were amazed that it was only a little after 2:00 pm. We had estimated that we would arrive at the Magic Kingdom sometime around 6:00 pm!
Epcot Time Out: 2:08 pm

THE MAGIC NEVER ENDS, BUT IT DOES SLOW DOWN A LITTLE
Park #4 The Magic Kingdom
Advantages: Long list of attractions, Open until 11 pm
Disadvantages: It's the most difficult park to get to. Parking is far away from the turnstiles. Most popular park, therefore it's always the most crowded. Long lines are the norm here.
The Magic Kingdom Plan: Upon arrival, go directly to the tip board and write down wait times for the attractions on Mike's list. Make decisions on the fly depending on those times, and if a parade, show or fireworks were being performed at the time.
The Magic Kingdom: What Actually Happened: We arrived at the turnstiles at 2:50 pm. (See note above about the disadvantage of the MK's parking situation.) It was almost time for the 3:00 parade. (What time is that parade performed, anyway?) People were lined up on both sides of Main Street, so we crossed to the left side and cut through the Emporium and Casey's. As planned, I headed for the tip board while Flo got a bottle of water. Surprisingly, everything on Mike's list had waits of 30 minutes or less(!) with the exception of Splash Mountain, which had a 70-minute wait. We had already discounted Splash since we didn't want to walk around in wet clothing for the rest of the evening. For our first MK attraction, we headed to Pirates.
PIRATES OF THE CARIBBEAN Time In: 3:10 pm Time Out: 3:25 pm
The wait time said 20 minutes, but it was really closer to 5 minutes. We took the left queue, which is considerably shorter than the right side. If both are open and it looks like the lines begin at about the same place, choose the left side. trust me on this one. We more or less strolled right into the load zone, and were in a boat sailing the high seas in no time at all.
Our next choice was Big Thunder. On the way to Big Thunder, we ran into All Ears Team Member Glo From Miami, and stopped briefly to chat. She wished us well on our mission, and we continued toward Big Thunder.
BIG THUNDER MOUNTAIN RAILROAD Time In: 3:29 pm Time Out: 3:55 pm
The posted wait time of 30 minutes turned out to be more like 20. We held onto our hats and glasses, and took off on the wildest ride in the wilderness. It was so wild, we were ready for an early dinner, so we set off to El Pirata for our second meal of the challenge. Unfortunately, El Pirata had just closed for the day, so we came back through Pecos Bill's and ran into Glo again. Nothing on Pecos Bill's menu sounded good, so we went over to Columbia Harbor House instead.
Meal #2: COLUMBIA HARBOR HOUSE Time In: 4:10 pm Time Out: 4:45 pm
After our early dinner, we took the very short walk over to the Haunted Mansion, where Master Gracey must have been expecting us, because we practically walked right into the foyer and stretch room. We positioned ourselves near the sliding door that leads to the inside queue, in order to save a few minutes once we got inside.
HAUNTED MANSION: Time In: 4:46 pm Time Out: 5:07 pm
The posted 20-minute wait was actually less than 5 minutes. We declined their kind invitation to join them for eternity, since we had now officially completed the challenge and we had data to compile! We decided not to press our luck, and left the MK without any bonus rides.
MK: Time Out: 5:23 pm.

OFFICIAL TIME OF CHALLENGE COMPLETION 5:23 PM
Number of hours it took to complete the challenge: 9 hours 30 minutes from DAK entry turnstile to MK exit turnstile.
AS WE SAY IN THE SOUTH, "A LITTLE LAGNIAPPE."
"Anita and Flo, you've just completed Mike's 4 Parks In One Day Challenge with 4 hours and 30 minutes to spare! What are you going to do now?"
Why… Play a Bonus Round of course! We got back to the car, looked at each other, and decided to give TSMM one more try. We drove back to DHS, to see if we could still ride during the AP/DVC preview, which ended at 7:00 pm. We were able to park in the front lot near the tram again, and could have walked, but decided to conserve the little energy we still had left. Good thing, because by the time we reached Pixar Place, I knew I was getting a cold. Ah-CHOOO!
DHS, Pt 2: Time In: 6:03 pm
TOY STORY MIDWAY MANIA:
Ride 1 Time In: 6:10 pm Time Out: 6:45 pm
Ride 2 Time In: 6:45 pm Time Out: 6:55 pm
DHS, Pt 2: Time Out: 7:00 pm
AND IN CONCLUSION
We had a great time doing the challenge. It made us think about things we generally take for granted in the parks, which added an element of excitement. I wouldn't recommend it for casual visitors, since you can't really take in a lot of the details of the parks or enjoy the attractions as much when you're concerned about time constraints and transportation issues. If you've been to the parks dozens of times like we have, it does put a different and fun spin on things, though. Is there anything we would have done differently? No, I think we made the best use of our time and resources. Would I do it again? Sure! Next time, I may add a degree of difficulty by only using Disney transportation, and of course, I'd prefer not to have a cold.
I've already heard from two readers who have done the challenge successfully, and would love to hear from anyone else who attempts it. Now I'm off to read Mike's account of how he's planning his own challenge in the near future, as I'm curious to see how our plans and adventures compare.
Anita