Parking at the Walt Disney World Resort
If you arrive at Walt Disney World by car — whether you've driven your own or rented on at the airport — you're going to be joining the masses who navigate parking in the World.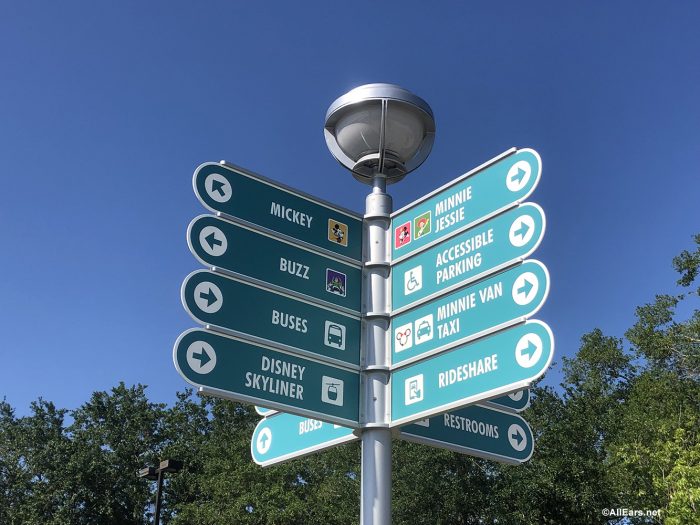 Whether you've got questions about
parking fees, trams and Monorail lines, or how not to lose your car

in a sea of shiny vehicles, we've got the info you need!

Are Electric Vehicle Charging Stations Available at Disney Resorts?

At present, Walt Disney World promotes ChargePoint stations at just two Resorts.
Disney's Coronado Springs Resort has six spaces near Gran Destino Tower's bus stop.
Disney's Wilderness Lodge has two stations near the handicap parking spaces and lobby.
Additionally, some Resorts have wall outlets available for charging. You'll likely need to supply your own cable as these are standard wall outlets not designated ChargePoint stations.
Kidani Village at Animal Kingdom Lodge, Timon level of the parking garage
Fort Wilderness Cabins
Old Key West, villa buildings
Dolphin Resort, near valet
To use ChargePoint stations, guests need a credit card or a pre-ordered ChargePoint card. The cost is $0.35 per kilowatt hour with a minimum charge of $1.50. ChargePoint stations stop charging when the battery is fully charged, and drivers receive a ping when their car is ready.
Who parks for free at the Disney theme parks?
As of May 2020:
Annual Passholders park at the theme parks during regular park hours free of charge. Have your pass or MagicBand and your photo ID ready when you approach the toll plaza.
All other guests pay to park at the theme parks.
WHICH GUESTS MUST PAY TO PARK at the Theme Parks and how much does it cost?
Non-Disney resort guests, or those staying off Disney property (with the exception of the above-mentioned passholders and program members), are charged to park a vehicle at the four major theme parks.
Guests pay for parking once per day and can move from park to park that day without paying again. Keep your parking receipt (received at the first park you went to that day) and show it to the cast member at the next park's toll booths. You'll be allowed to enter the parking lot without paying a second parking fee.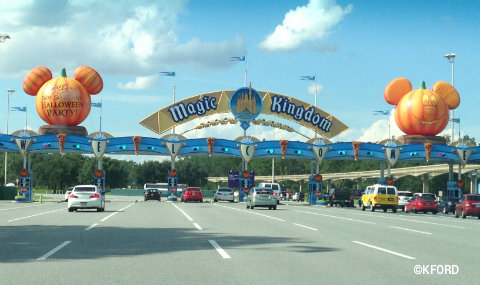 Daily parking charges for those required to pay for parking are:
Preferred Parking for Car or Motorcycle: $45-$50 (seasonal pricing)

Passholders and Resort guests with free parking only pay additional $20-$25 for Preferred Parking (seasonal pricing)

Standard Parking (Car or Motorcycle): $25
Oversized Parking (Shuttle, Limo, Trailer, Bus, Tractor Trailer, Camper, or RV): $30
Are there ELECTRIC Vehicle CHARGING STATIONS Available at the Disney Theme Parks?
A number of ChargePoint charging stations are available in parking lots at all four theme parks.
Magic Kingdom: Five spaces; one space at the front of the Medical Parking Lot and four spaces at the front of the Zurg Parking Lot
Epcot: Four stations in the Journey Parking Lot
Disney's Hollywood Studios: four spaces at the front of the Mickey Parking Lot
Animal Kingdom: Four stations in the Medical Parking Lot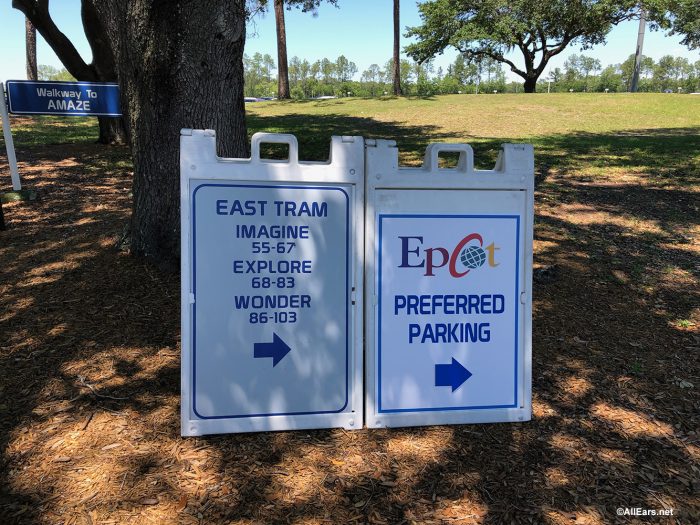 WHAT ABOUT PARKING AT OTHER DISNEY VENUES?
Parking at Blizzard Beach, Typhoon Lagoon, Winter Summerland Mini-Golf, Fantasia Gardens Mini-Golf, Fort Wilderness, Wide World of Sports and self-parking at Disney Springs is free to all guests, including those staying off-property.
Valet parking is also available at Disney Springs for a flat rate of $20. Note: Payment is collected at time of pick-up, and gratuity is not included in the cost.
Electric Vehicle Charging Stations (nine in total) are available at Disney Springs.
Three on the 5th floor of the Orange Garage
Three on the 5th floor of the Lime Garage
Three spaces on the 3rd floor of the Grapefruit Garage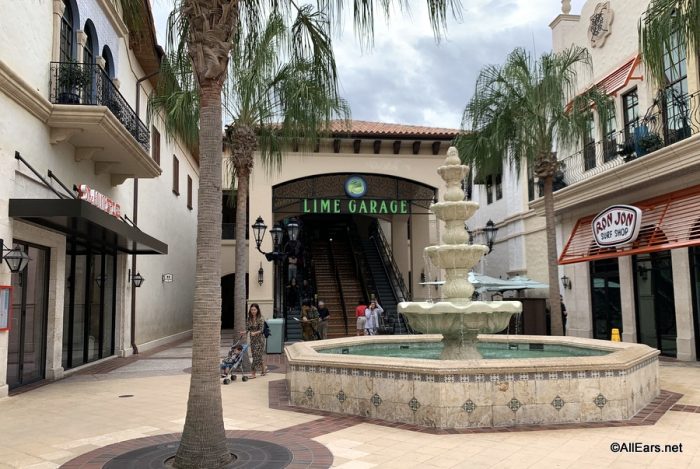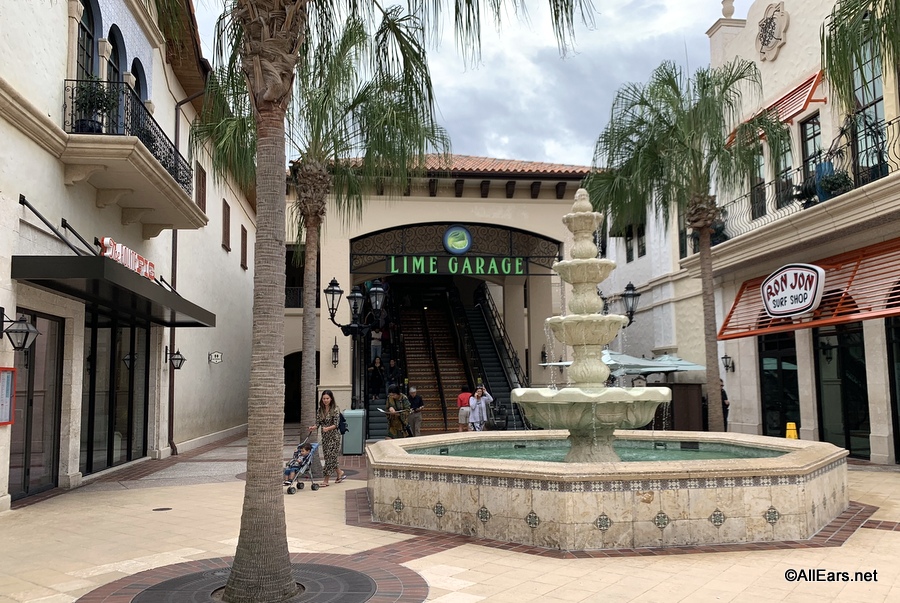 Self-parking for use of the entertainment and dining facilities at the BoardWalk's entertainment area is also free. Note during peak periods parking may be reserved for BoardWalk Resort guests only.
Self-parking at the Disney Resorts for day visitors (guests not staying at the Resort) is free to all guests; however some resorts have seasonal parking restrictions. Increasingly, day guests are not being allowed entry to Resorts without a reservation for dining or recreation at the Resort.
Parking at any of the Resorts to gain access to the theme parks (and thus avoid paying theme park parking fees) is not allowed. You must show a photo ID when entering any Disney Resort. Some Disney Resorts may also ask for an Advance Dining Reservation number (or scan your MagicBand) for guests who are dining at the Resort before allowing access to the Resort parking lot.
Shades of Green charges $20 per day to park at the resort.
The Swan and Dolphin self-parking rate is $23 (plus tax) per exit or overnight, and Valet is $33 (plus tax) per exit or overnight.
WHAT ABOUT VALET PARKING AT THE RESORTS?
Valet parking is available at the Grand Floridian, Polynesian Village, Contemporary, Yacht Club, Beach Club, BoardWalk, Wilderness Lodge, and Animal Kingdom Lodge Resorts.
The valet parking fee at Walt Disney World Deluxe Resorts is $33 (including tax). Once paid, however, you can use valet parking for the entire day at any Resort that offers it without paying the fee again. Show the day's valet receipt at the next Resort to avoid being charged again.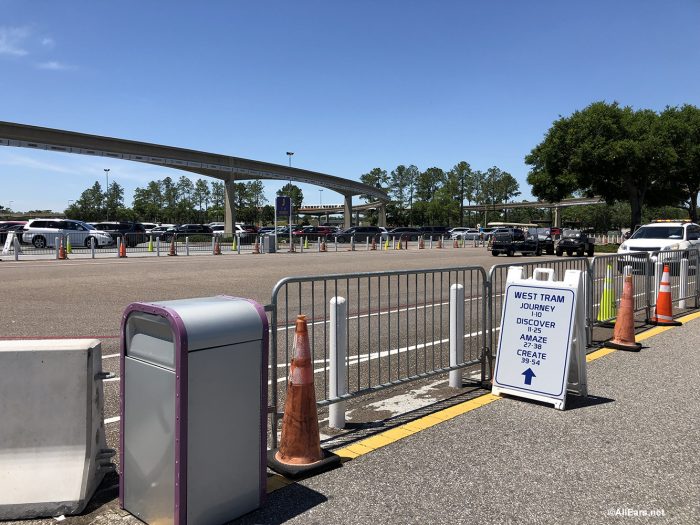 Tables in Wonderland Members may valet park free of charge when dining at any Disney Resort (and also the Swan and Dolphin) offering this service. Let the valet know you are parking with Tables in Wonderland. Upon return, show your card AND the receipt from the restaurant where you used the Tables in Wonderland card. Note: You may have to surrender the receipt to the valet, so be sure to ask your server for a duplicate copy if you need to retain one.
Valet parking is free of charge to all vehicles displaying a disabilities tag at Disney facilities offering valet service. Note: This does not apply at the Swan and Dolphin.
Valet parking at the Swan and Dolphin hotels is $33 + tax. If you are dining at one of the signature restaurants at the Swan and Dolphin request a validation from the hostess stand. Note: Valet parking at the Swan and Dolphin is not reciprocal with the Disney-owned Resorts. Disney Resorts' valet receipts will not be honored by the Swan and Dolphin or vice versa.
Whether you pay for valet parking or receive it free as a perk, remember to tip your valet for taking or retrieving your vehicle.
For more information about valet parking at Walt Disney World, please visit AllEars' Valet Parking page.
WHERE SHOULD GUESTS WITH DISABILITIES PARK?
Designated parking areas are available throughout Walt Disney World Resort for guests with disabilities. A valid disability parking permit is required.
Theme Park Parking
Guests with the ability to walk short distances and step onto courtesy trams should park in the main parking lots of Magic Kingdom park, EPCOT, Disney's Hollywood Studios, and Disney's Animal Kingdom. Courtesy trams transport guests to each theme park's main entrance.
Disability Parking Lots
Guests with mobility disabilities, including those traveling with personal wheelchairs, electric scooters, ECVs, or other mobility devices, should park in the Disability Parking Lots, located a short distance from the main entrance of each of the four theme parks. Note: Courtesy trams do not stop at these locations. You will need to drive or be pushed to the entrances from your parking space.
For further directions on parking options, inquire at the Auto Plaza located at the entrance of each of the Walt Disney World Theme Park Parking lots, or call guest services at (407) 824-2222.
Each of the four major theme parks, the water parks, Resorts, and all other Disney venues have special parking areas assigned for guests with disabilities. At the theme parks, ask for directions to those areas at the toll booths or ask the cast member directing parking in the lots. There is usually a blue stripe painted on the pavement that disabled guests can follow to the Disabled Parking Area. All other venues, Resorts, and restaurants have parking for disabled guests clearly marked with signs and symbols painted on the pavement.