Finger Scans For Park Passes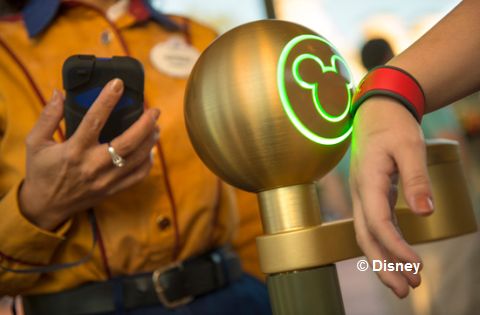 RFID park entrance with finger scanner 2013
A Little History
Finger scans. Just the mere mention of it suggests something out of a Star Trek movie. But finger scans at Walt Disney World are not evil. In fact, they are a necessity if you purchase any current WDW admission media. Hopefully this will take some of the fear of the unknown out of doing a finger scan for your park admission.
In early 1996, Disney began a new system to identify users of annual and seasonal passes. Abandoned was the barcoded laminated photo ID pass in favor of a new mylar paper one. This new pass had no photo and only contained minimal visual evidence of ownership – your name and the expiration date of the pass. What was new was the magnetic strip on the back.
This magnetic strip stored all of your pass information that the previous photo one had plus it would reference one new piece of information: your biometric finger scan or as Disney now calls it, your ticket tag.
Disney expanded the use of the ticket tag system in 2005 with the introduction of Magic Your Way tickets and then expanded it to include all tickets no matter when purchased.
The original 1996 scanners used two fingers inserted in a "V" shape into a reader that identified key information about the shape of the fingers. See the photo of the original two finger scanner below. In 2006, Disney upgraded their scanners with single finger scanners. See the photo of the original single finger scanner below. The single finger scanners scan one fingertip for some data points that are chosen and turned into a numerical value that is stored in the ticketing database linking that person to that ticket.
Beginning in December 2012, Disney started converting turnstiles at the theme parks to accept the new RFID (Radio Frequency Identification) admission media (single day tickets, Annual Passes and MagicBand bracelets). Eventually all turnstiles were converted to this new method of entry.
Finger scans are still required for admission. If you look at the photo of the new turnstile, you will see that there is a place to put your finger for scanning just below and to the right of the Mickey ears.
In its simplest terms, when a ticket is first used, your finger scan is read and tied to the ticket in the computer. Subsequent admissions then use that scan to compare against the original one. If there is a match, you are allowed in. If there isn't, your entry will be declined.
You must always use the same finger for the scan. It doesn't matter which finger you use (most people use the index finger on their right hand), but if for some reason you did not use that one, make sure you always use the same one. If you use a different finger, the system will not recognize it and your entry will be declined.
How to Use the RFID Touch-Point Turnstile
Step 1: Take your RFID admission media (Annual Pass, Magic Your Way ticket, MagicBand wristband, etc.) and touch it to the Mickey head on the round part of the turnstile. A white light will go around the outside of the Mickey head when this is done.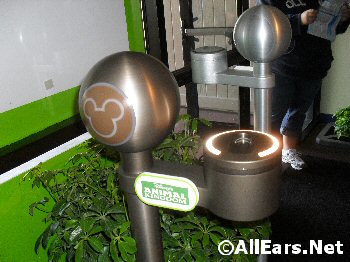 Step 2: The finger scan plate, located to the lower right of the Mickey head, will light up to signal you to put your finger on the scanner for verification. You then place your index finger from your right hand (or whichever finger you originally used) into the scanner holding it there until the scan finishes.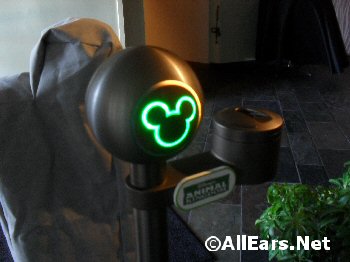 Step 3: When the finger scan has been successful, the Mickey head will light up green. You may then enter the park. If you are not successful, the Mickey head will light up blue and you will have to repeat the process. You are allowed three attempts before you are sent to a Guest Relations cast member to assist you further.

Can you get through the new RFID turnstiles faster than the old ones?
Yes and no. Under optimal circumstances (your RFID chip is read correctly and your finger scan matches) it should be quicker than the old scanners (called "legacy scanners"). But in some cases where the ticket has issues such as it can't locate the ticket record or the biometric ID fails, it can be slower than the legacy turnstiles. The Cast Member at the turnstile cannot do overrides on the key pad to speed up things on the touch-points. They have to send them to the Guest Relations person who is stationed behind the touch-points. It can take some time to get an available Guest Relations person if they are already working with someone else. The Guest Relations CM has to validate the ticket and the guest and their party must be held at the touch-points until one becomes available which holds up the lines.
Why does Disney need my fingerprints?
The admission system has nothing to do with your fingerprints. It scans your finger and uses a geometric formula to come up with a number that will identify your fingers. The calculated number is apparently something that is not totally unique, but is statistically significant in identifying you.
How long will Disney keep this information?
The data on the scans is kept independent of any other system and will be purged 30 days after the ticket expires or when the computer determines that it is fully used up.
What admission media require the use of ticket tag finger scans?
Effective January 2, 2005, all current WDW admission media will use the finger scans. Effective June 20, 2005, all WDW admission media including ones purchased prior to 2005 began using the finger scans.
Does everyone that has one of those passes have to use the finger scan system?
Yes. Originally all chilkd tickets were exempt from usibng the scanners but in 2016 Disney began requiring it for everyone. If you personally prefer not using the finger scanners, a photo ID can always override the use of biometrics. Just present the gate CM a photo ID and be admitted without using the scanner. Otherwise, you will have to use the finger scanners to get in.
How does the scanner know that it is my fingers, not someone else's?
Because the first time that you use the pass, your initial biometric reading will be recorded. This is the reading that all subsequent admissions will be compared to. The scanner uses six lasers to take a picture of the contours of your fingers. If you are wearing a ring the first time you scan and the second time you are without the ring, it will not recognize you. If you use the opposite hand, it will not recognize you. And if you wear gloves, it will not recognize you.
We went to a park opening one morning and they told us not to use the finger scans. What's up with that?
During times of the day when lines of guests waiting to get into the park are long, some parks will turn off the biometric scanners to allow faster entry for everyone. This is not always done and cannot be counted on to happen.
What happens if I try to use someone else's pass and it won't work?
Besides your not gaining admission to the park, you can have the pass confiscated.
What about my old pre-2005 park tickets? Will I have to use the ticket tag system for those now?
Yes you will. You will need to convert those tickets at a Guest Relations window to the new RFID tickets. The person that first uses or already used the old ticket with the finger scan will become tied to that old ticket and will be the only one who can use it in the future.
**************************************************
Reader Feedback on RFID Park Admissions
Nancy writes: Two of us had no problems entering with our RFID cards but my one son had problems at every park. He would scan his card and when he placed his finger, it always declined him. The Cast Members would ask him to try different fingers, or ask him what parks he had used the card at but it never worked. They always had to call over another Cast Member who would swipe his card through a hand-held device.
Bonnie S. writes: At Animal Kingdom, it would not read one of our cards. It took almost 15 minutes to get the problem straightened out. At Magic Kingdom, same thing but with different person each day. One of the days it was me. I had to wait while a cast member did something with my resort card and the apparatus they had in their hand. Then, later I couldn't use my card to get a fast pass, it said I didn't have a valid entry ticket into the park. So back to Guest Services all the way at the front of the park (we were trying to get FastPasses at Space Mountain). After fixing whatever was wrong with my card, they gave us 8 complimentary fast passes good at any ride so that was nice but what a pain.
Tricia S. writes: We traded in our annual passes for the new plastic RFID version this week. We asked how the fast passes will work in the future and were told we'd be able to book 3 per day for one park only up to 7 days prior to our visit. You even get to try out sample turnstiles as you leave. We've used the new entrances several times now and they are definitely faster if you know how to use them. Children need not finger scan but adults do-however, now you can do it while scanning your card and it definitely reads the info faster. The only place we have not seen new turnstiles is at the World Showcase entrance of Epcot.
Jennifer K. says: We bought annual passes and as soon as we got them, walked right to the entrance and used our cards for the first time. My daughter and I went up together and we both touched our cards at the same time. Her machine turned green and mine asked for me to put my finger in the reader. It was done and over with within 10 seconds! Awesome experience. Not once during our 5 day trip did we have a problem using them.
Cathy M. writes: My 6-year-old daughter and I visited the World in January of this year. We had minimal problems with using the new turnstiles. At the Magic Kingdom and again at Hollywood Studios the turnstile would not read my card. My daughters went through just fine. I had to wait for a Cast Member to come over and swipe my card in their handheld device. It didn't take that much longer to gain entrance into the park, and it was only those two times out of ten days that it did not work as it was supposed to.
**************************************************
Photos of the Original Legacy Finger Scanning Turnstiles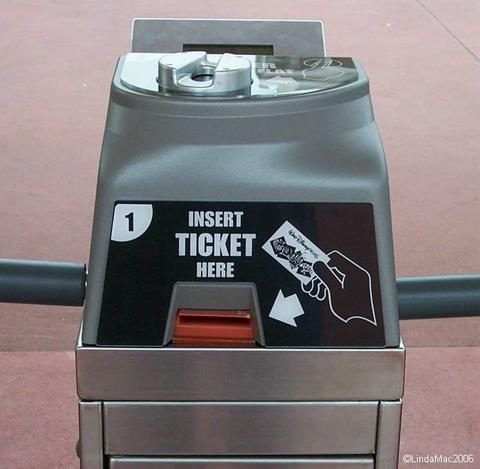 One of the legacy ticket tag scanners used at the Magic Kingdom from 2006 to 2013.
Sign over park turnstiles when finger scans began in 1996
Top view of the single finger scanner used at the parks 2006-2013.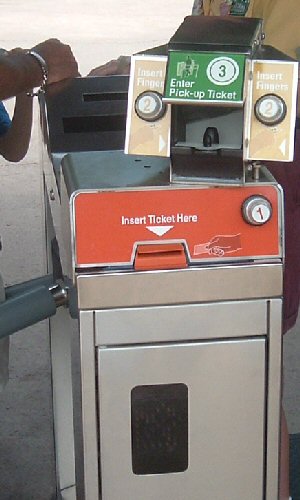 Original two finger scanner at
the parks 1996-2006.