Disney's Hollywood Studios Archives Toy Story Pizza Planet Arcade New York Street Disney's Hollywood Studios
Toy Story Pizza Planet Arcade closed along with Toy Story Pizza Planet on January 19, 2016
INTRODUCTION
Situated opposite Muppet*Vision 3D off of New York Street is the Toy Story Pizza Planet Arcade, a combination counter service restaurant and game arcade.
ATTRACTION
Toy Story Pizza Planet Arcade — Remember that scene in the original Toy Story movie? The one where Andy goes to the pizza restaurant/game arcade for a special treat? Well, this spot faithfully recreates that scene. The Pizza Planet counter service restaurant offers pizza and salad fast-food meals, while the arcade is a haven for kids looking for a brief respite from running around the parks. Old-time favorites like Skee-Ball are here, along with the latest video games and even "The Claw", where you can test your skill to see if you can grab a small stuffed toy.
Disney's Hollywood Attractions At A Glance
TOURING TIPS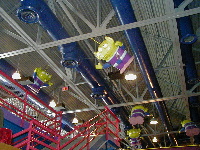 Bring lots of quarters to play these video and other arcade games! The games use tokens worth 25 cents each, and most games require between two and four tokens.
The arcade and counter service get very crowded at peak meal times. To avoid crowds, try going at off-times, either before or after the meal time rush.
Be sure to look up at the ceiling in the arcade to see the Little Green Men who are just "hanging around."
KIDS AND CHARACTERS
Occasionally, Buzz and Woody might stop by the Pizza Planet Arcade, but if your little ones really want to see the Toy Story characters, they'd do better to visit nearby Al's Toy Barn, located near the Backlot Theater. Check your daily Guide Map for times and locations of other character Meet and Greet opportunities in the Disney's Hollywood Studios.
Disney's Hollywood Studios Characters At A Glance
Character Meet and Greet FAQ!
If you have comments or tips to share with others about touring Disney's Hollywood Studios Pizza Planet Arcade, please email us. Thank you.