It's the most wonderful time of the year — the 2023 EPCOT Food & Wine Festival is in full swing!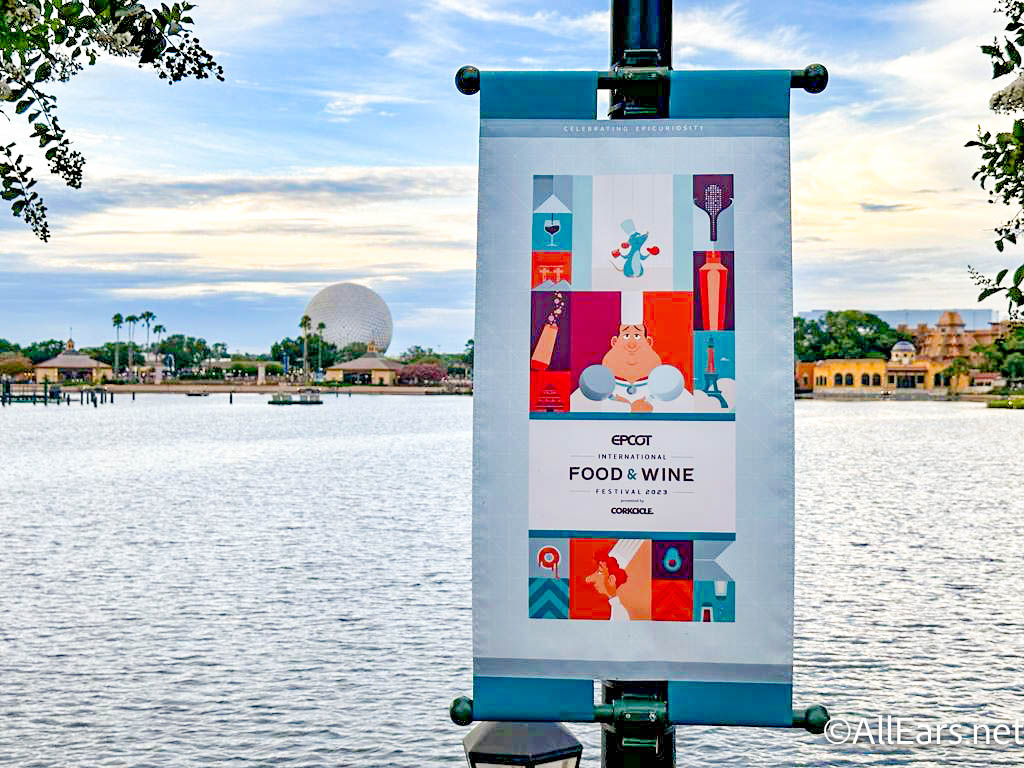 We were there on the first day of the fest checking out everything there was to see, do, eat, and drink, but not every food booth was open yet. Two more festival booths have now officially opened and we're bringing you with us to check them out!
Hawai'i
Hawai'i has been one of our favorite booths in the past, so let's see how it holds up this year!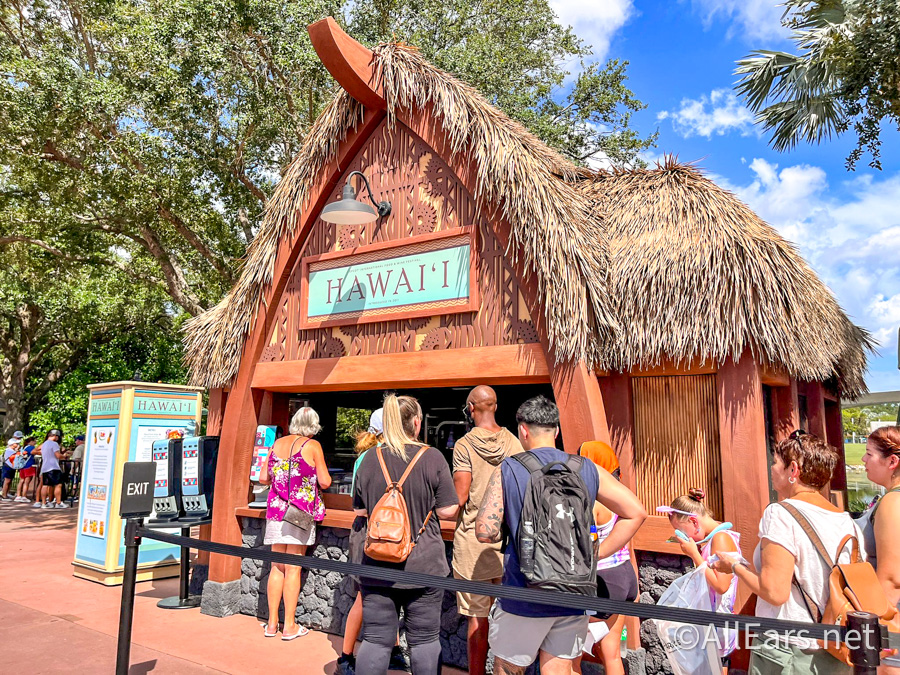 We snagged the Kālua Pork Slider with Sweet-and-Sour DOLE® Pineapple Chutney and Spicy Mayonnaise for $5.75.
This is one of our favorites at this booth and for good reason — it has a bit of a spicy kick but it's not overpowering. Our bun was loaded with pork and sauce, so it's a pretty decent little snack. Our only complaint is that the bottom bun got a bit soggy!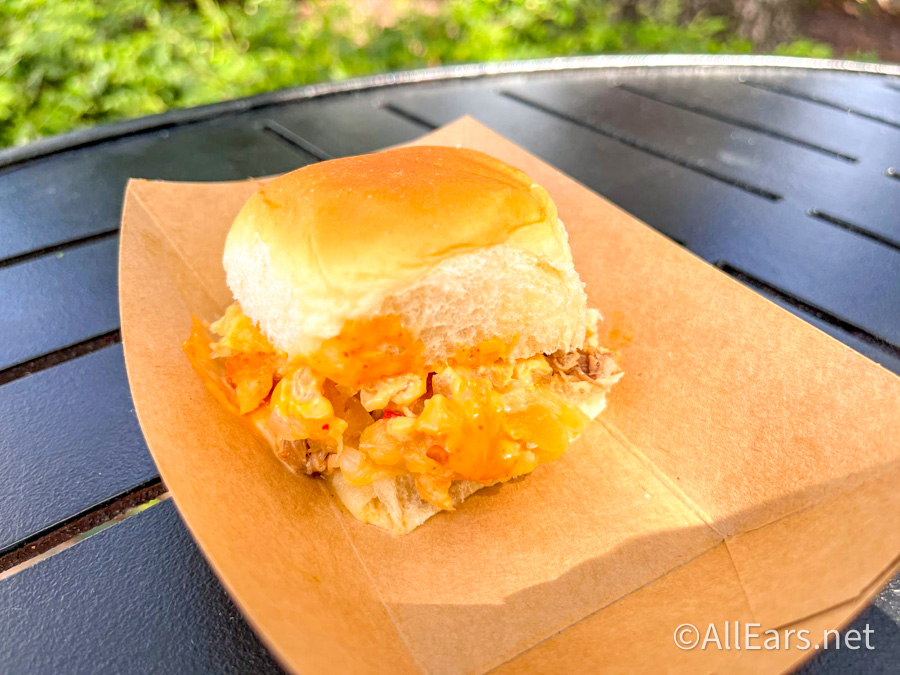 Next up was the SPAM® Sushi with Sushi Rice, Teriyaki-Glazed SPAM, Spicy Mayonnaise, Eel Sauce, and Nori for $6. The first thing we tasted with this dish was the spicy mayo, but then we got a good bit of that salty SPAM flavor as well.
The rice was nice and sticky and we got plenty of that sweet teriyaki glaze. The nori wasn't overpowering or too fishy either. This is another one of our favorites!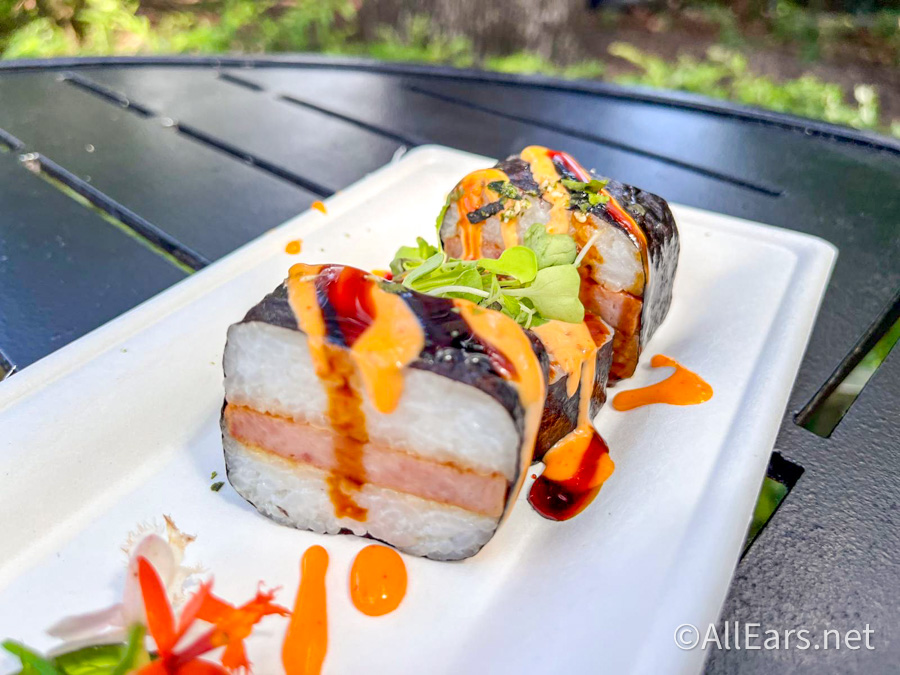 For dessert, we had the Passion Fruit Cheesecake with Toasted Macadamia Nuts for $4.75.
This was so thick and creamy! The nuts were a nice addition texture-wise and they added a nice earthy flavor that helped cut down on the sweetness. The passion fruit curd on top did melt a little bit, and it was less tart than when we've had it in the past.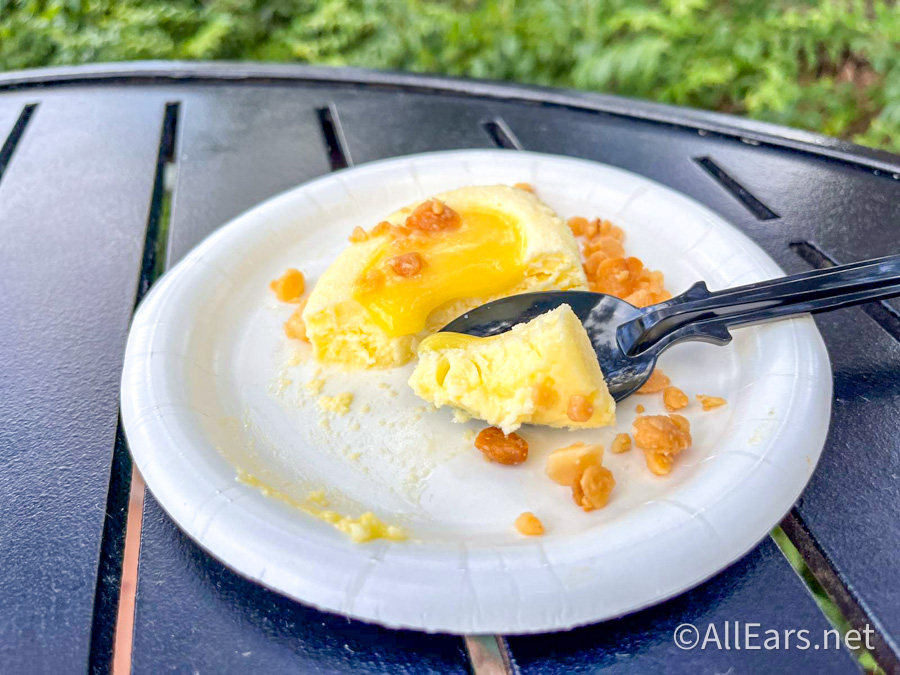 If you're looking for drinks at this booth, you can get the Kona Brewing Co. Hanalei Island IPA for $5.50 (6 oz) or $9.50 (12 oz).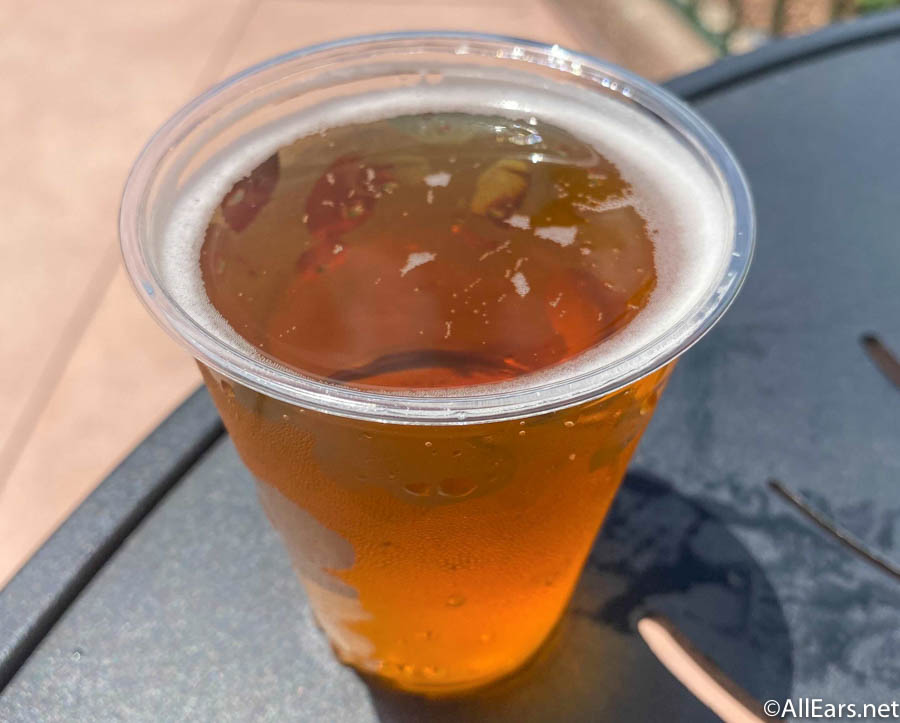 Or, grab the Florida Orange Groves Sparkling Pineapple Wine, St. Petersburg, FL for $10. Of course, there's the classic AULANI Sunrise made with Vodka, DOLE Pineapple Juice and Grenadine for $14.
https://x.com/allearsnet/status/1691484586730000385?s=46&t=PkA_kzZPWbRmN8Rwb7F41Q
But that's not the only booth that just opened!
The Noodle Exchange
The Noodle Exchange is where you'll find — you guessed it — noodles!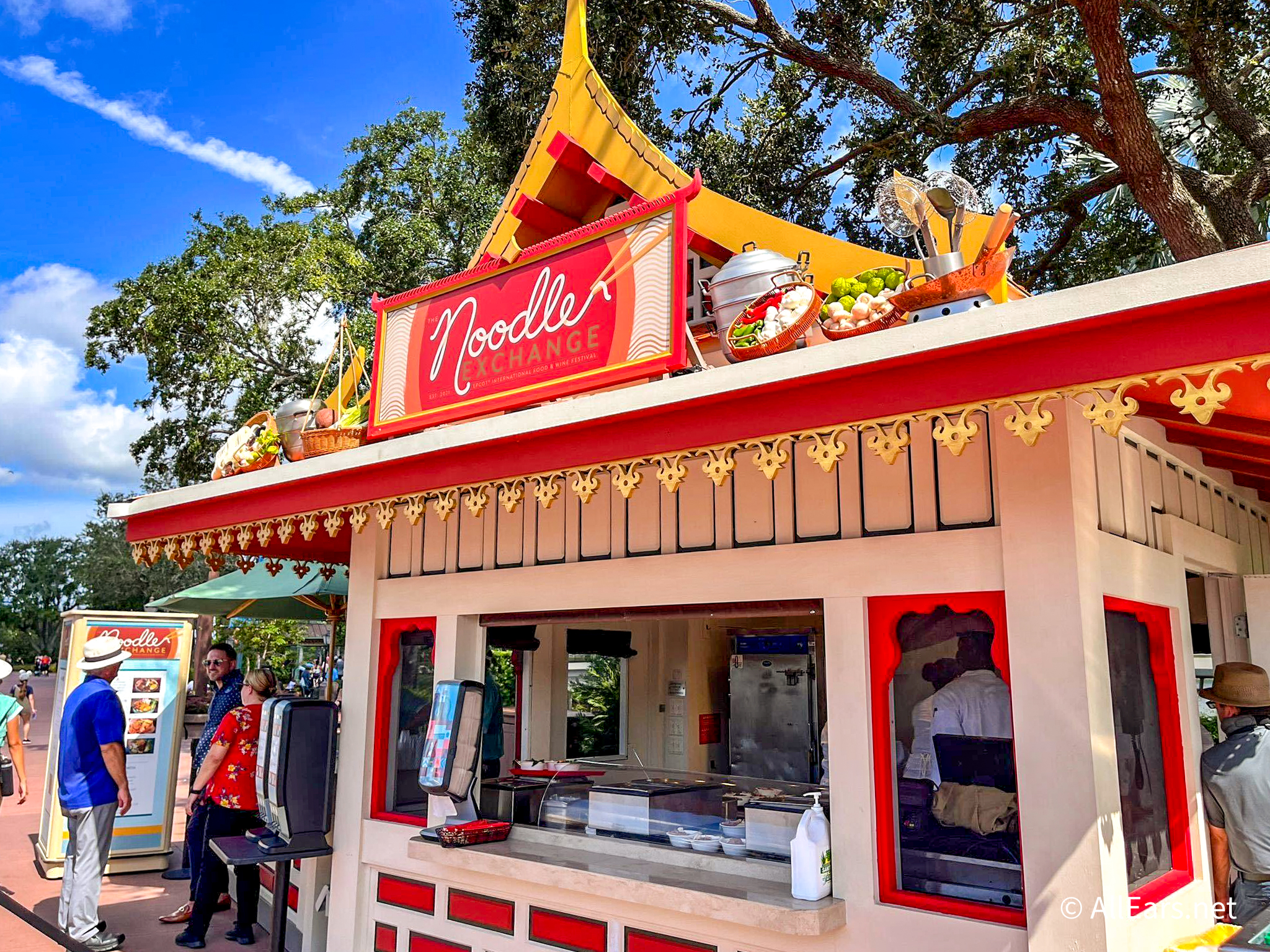 New this year is the Shaved Beef Ramen with shiitake mushrooms, pickled carrots, and daikon radish, shaved peppers, and a soy egg in citrus-sesame broth for $6.
We thought the beef was cooked perfectly and had a nice chew to it without being overly chewy — it was pretty tender. The flavors in this dish really worked well together. The broth was flavorful and the spice on this was warm without being overpowering. We definitely recommend this one.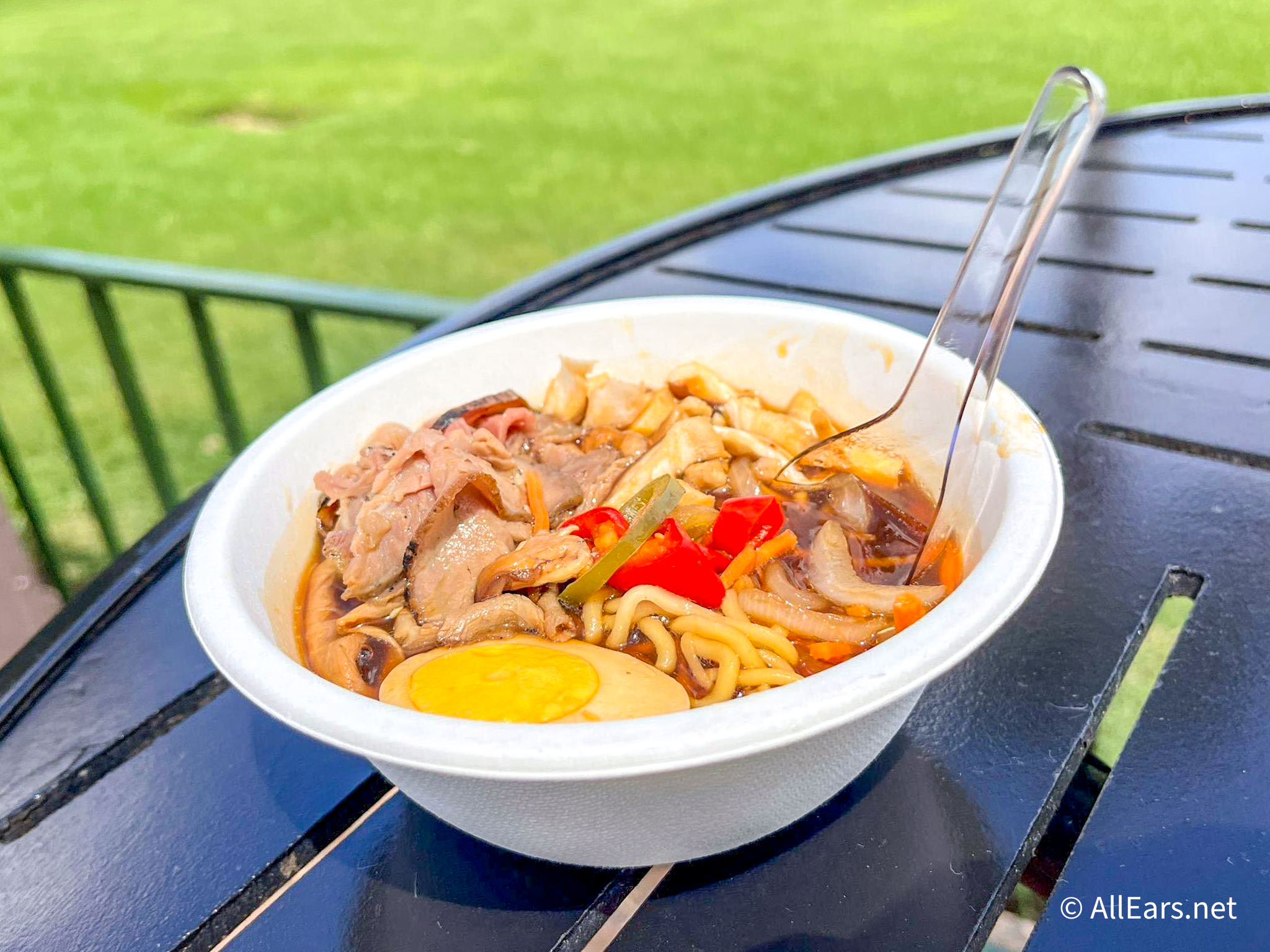 We also had the IMPOSSIBLE Pork Ramen with shiitake mushrooms, pickled carrots and daikon radish, baby bok choy, and a soy egg in savory chicken broth for $5.75.
We really enjoyed this dish. The impossible meat was seasoned well and added a lot of flavor to this dish. The textures were great and it had the right amount of soy flavor.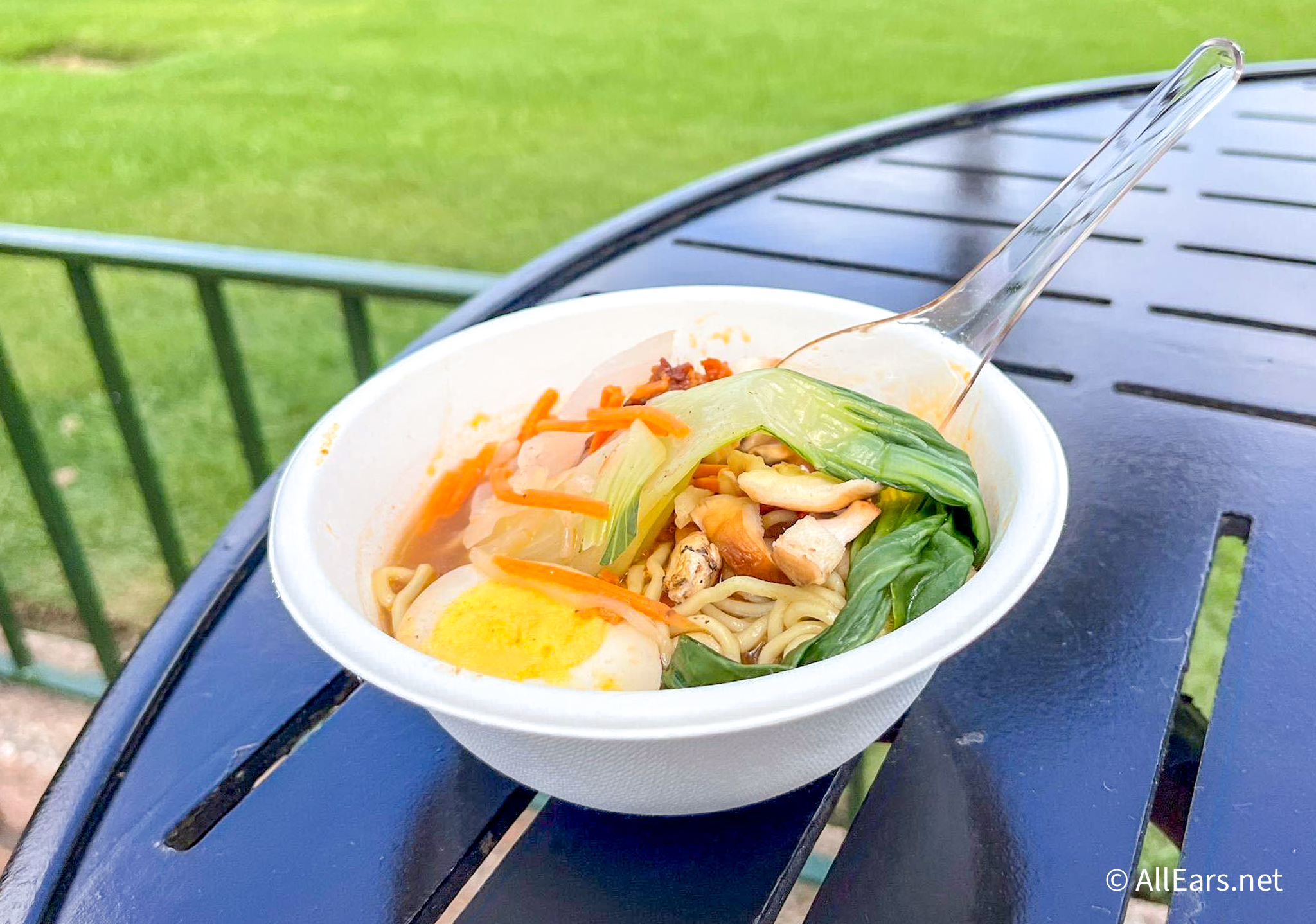 Returning this year is the Thai Shrimp with rice noodles, shiitake mushrooms, and basil in coconut-curry broth which you can get for $6.50.
While we enjoyed the flavors of this dish, you should be cautious! The shrimp are not peeled so if you bite into them, you'll be really wishing you had not. You'll want to peel these before eating them. This is disappointing because they are in the broth so it makes a mess.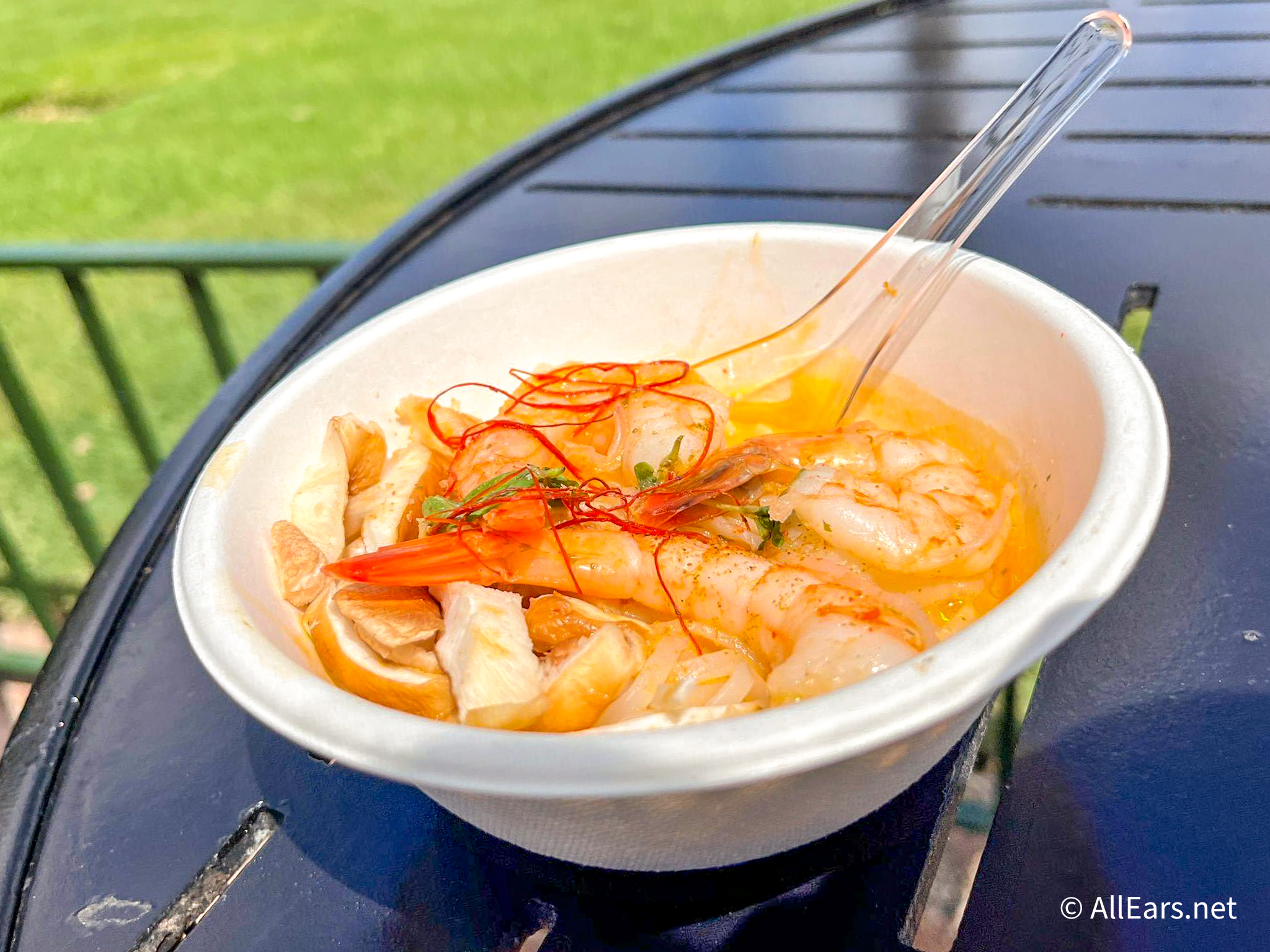 And returning in a slightly updated format is the Tofu Ramen with shiitake mushrooms, pickled carrots and daikon radish, shaved peppers, and baby bok choy in citrus-sesame broth for $5.75.
This one fell short for us. The large bits of tofu were bland and almost bitter. They also had a weird texture and were almost crumbling. The noodles were not fully done so they were chewy. It's possible that since this booth just opened Disney is still working out the kinks, but this one just wasn't our favorite.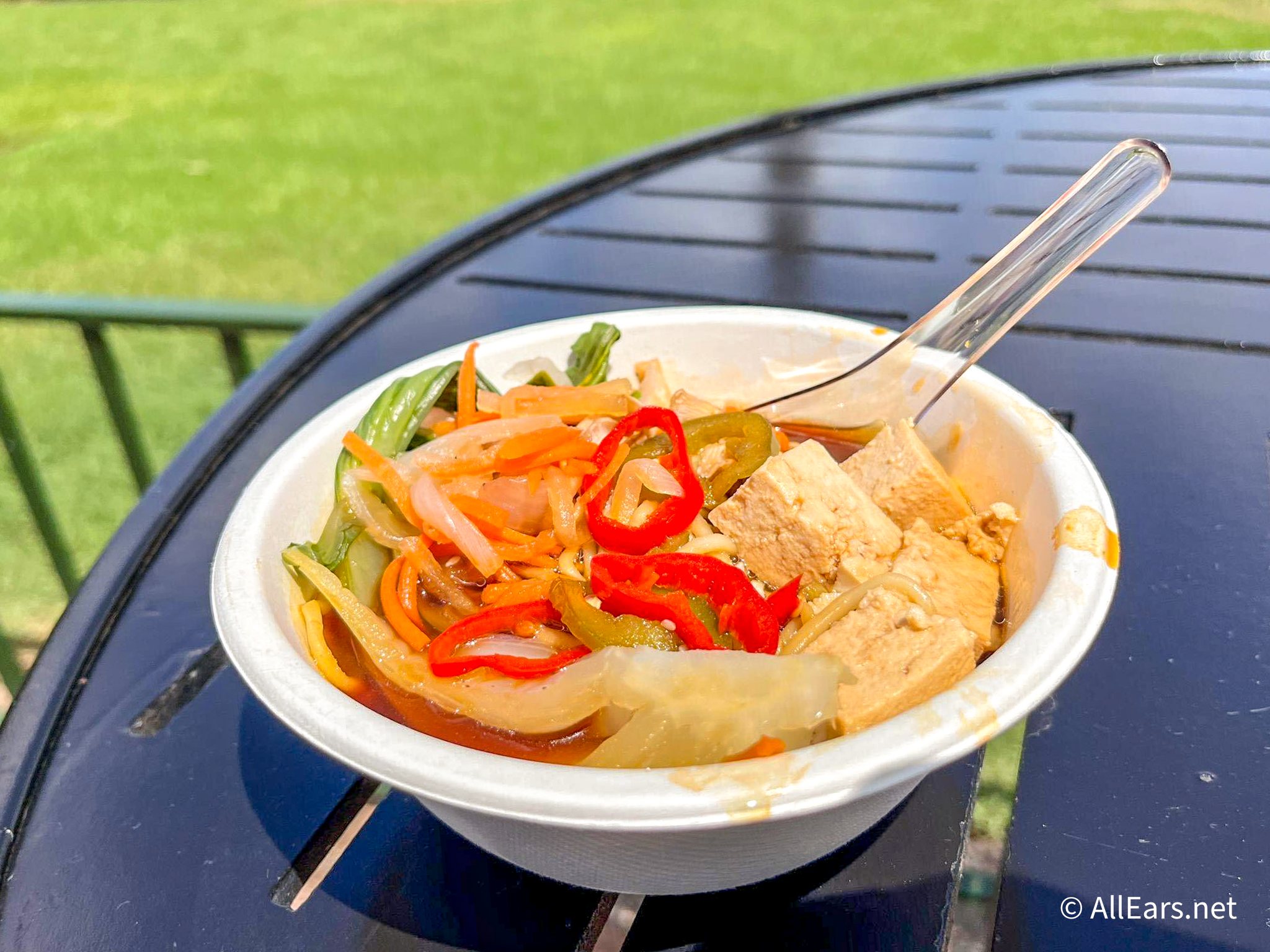 For drinks at this booth, you can grab the Parish Brewing Strawberry Mochi Berliner Weisse for $5.50 (6 oz) or $9.50 (12 oz), and the Pacific Rim Old Vines Riesling, Washington for $8.
https://x.com/allearsnet/status/1691482420384583680?s=46&t=PkA_kzZPWbRmN8Rwb7F41Q
Make sure you hit these booths up the next time you're in EPCOT if you want to check out these eats — and stay tuned to AllEars for the latest Disney news and more!
Join the AllEars.net Newsletter to stay on top of ALL the breaking Disney News! You'll also get access to AllEars tips, reviews, trivia, and MORE! Click here to Subscribe!

Will you be checking the new booths out? Tell us in the comments.