DISCLOSURE: This post may contain affiliate links, which means when you click a link and make a purchase, we receive a commission.
UPDATE: Note that based on demand this pop-up shop at the former location of Stitch's Great Escape may or may not be open. Be sure to check and see what the situation is like when you visit.
Things are constantly changing at Disney World.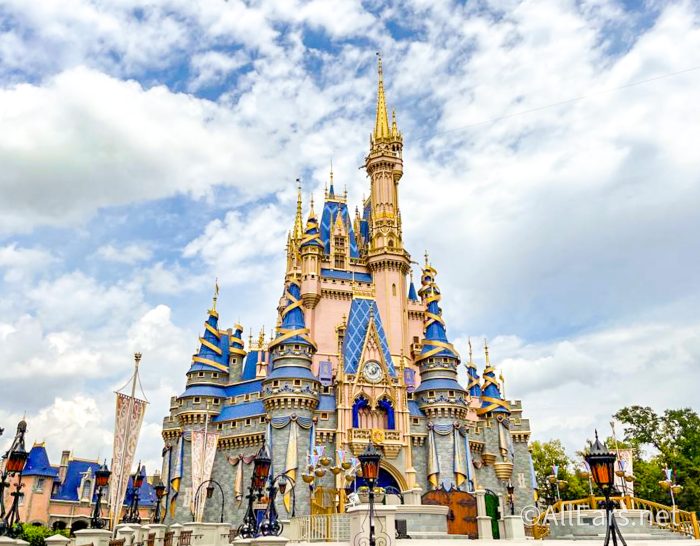 NEW rides and restaurants open, while others close or go away. Several years ago, Stitch's Great Escape closed in Magic Kingdom and part of the front space of the indoor attraction has been used for temporary things in the past (like Stitch's Alien Encounter Character Greeting). Now, it's being used again for something NEW.
You can go INSIDE part of Stitch's Great Escape again…but not to experience the attraction as you knew it. Instead, what you'll be visiting is the NEW pop-up TRON Lightcycle / Run merchandise location.
While you'll find TRON merchandise in the renamed Tomorrowland Launch Depot store and Star Traders, we were able to visit the pop-up shop at the old Stitch's Great Escape location and wanted to give you a little overview of what to expect!
Outside the old attraction, we found a sign for the "TRON Merchandise Event."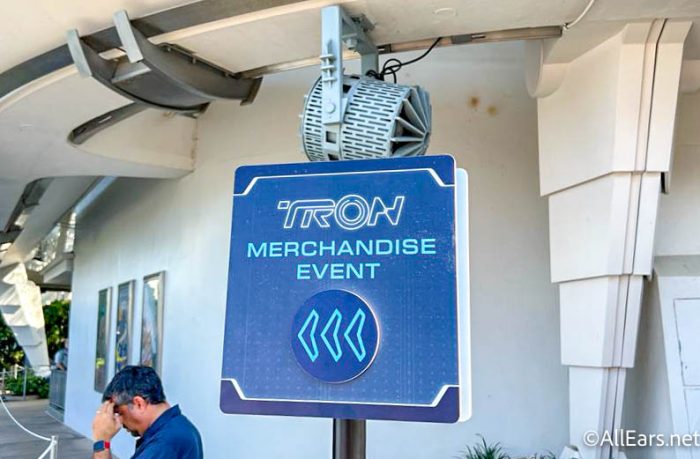 You'll then follow the path to the inside of a pre-show space.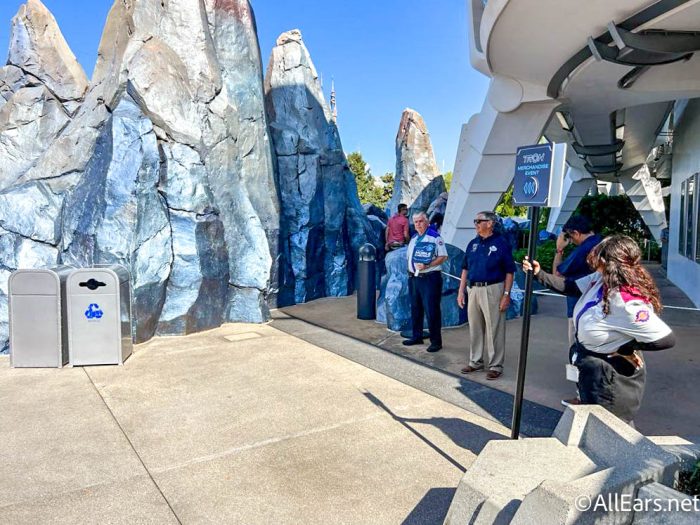 Note that during our trip (which was on April 4th — TRON's opening day) there was NO virtual queue in use for this pop-up shop.
There appears to have just not been enough of a line to really justify the use of a virtual queue here when we visited. But that could be very different when you stop by, so check and see what rules are in place.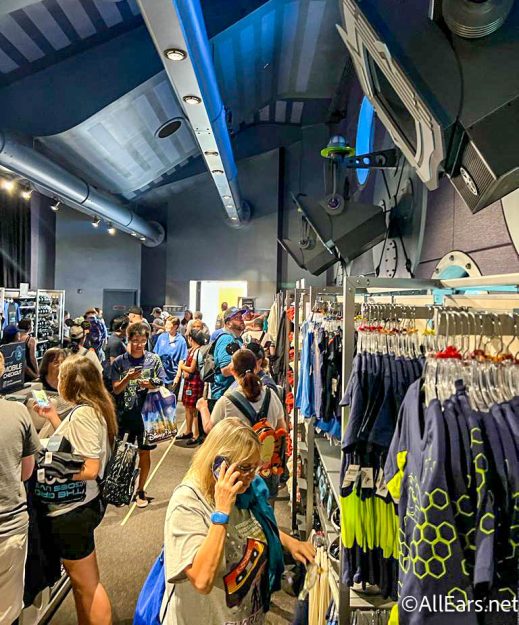 Once inside, you'll see all kinds of TRON merchandise for sale. And yes, it feels rather cool to be back inside a space that usually isn't accessible to guests anymore. (Anyone else smelling leftover chili cheese hot dogs? 😉)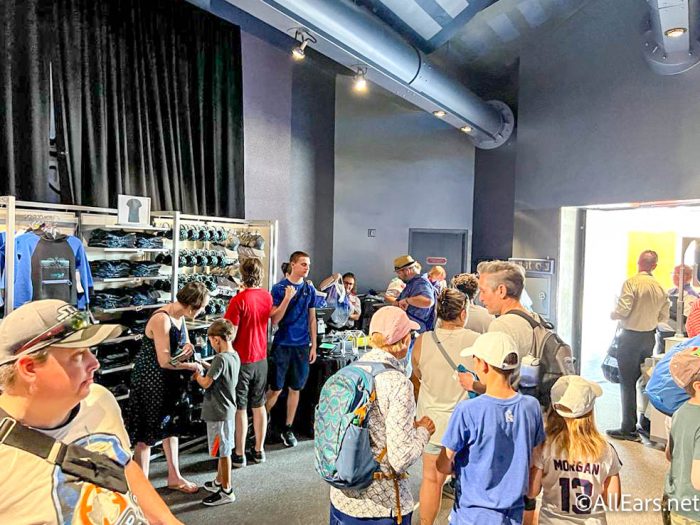 We've shared a FULL post of the merchandise we saw during earlier TRON previews and you can click here to learn all about that.
In terms of newer items, we found a helmet…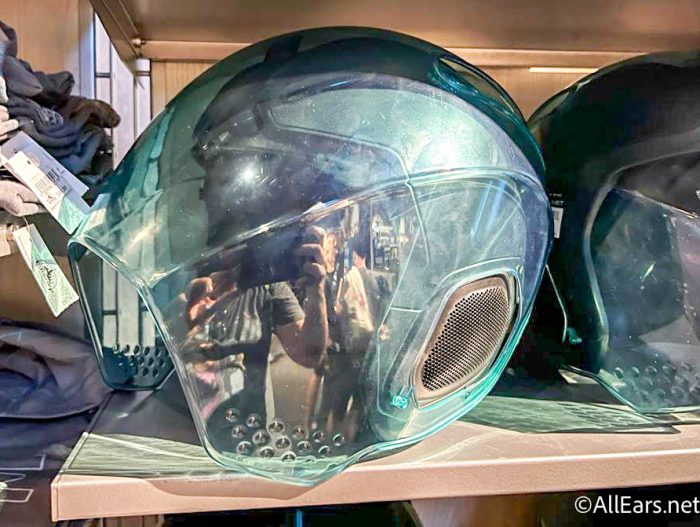 …limited edition "initiating upload sequence" pin for $59.99…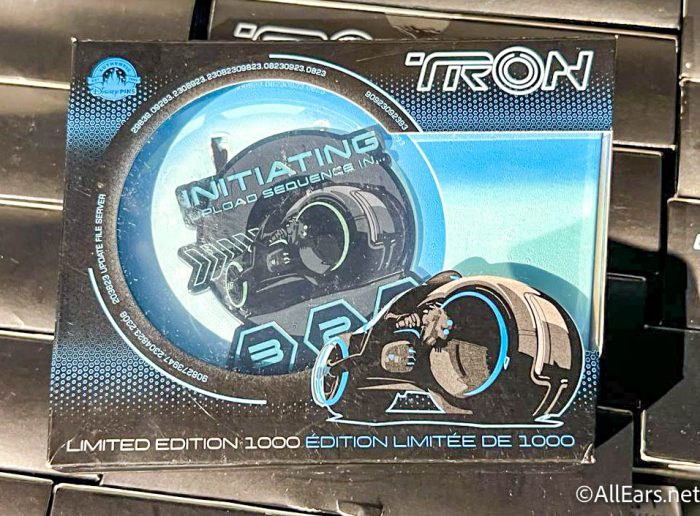 …"powering up" shirt for $44.99…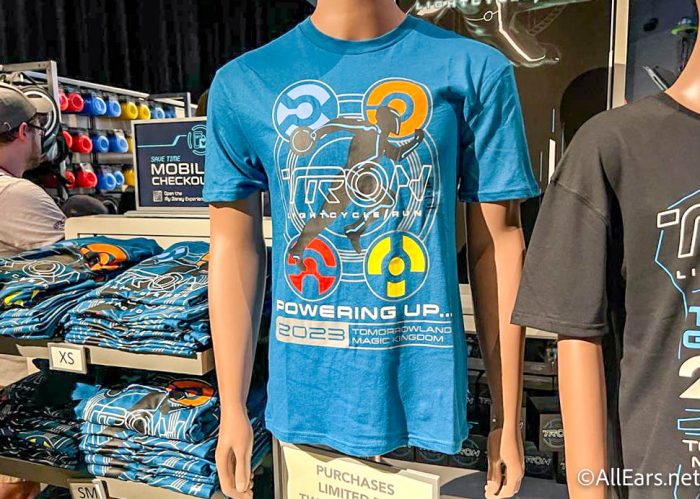 …"the grid goes live" shirt (which glows in the dark and is a Passholder shirt!) for $39.99…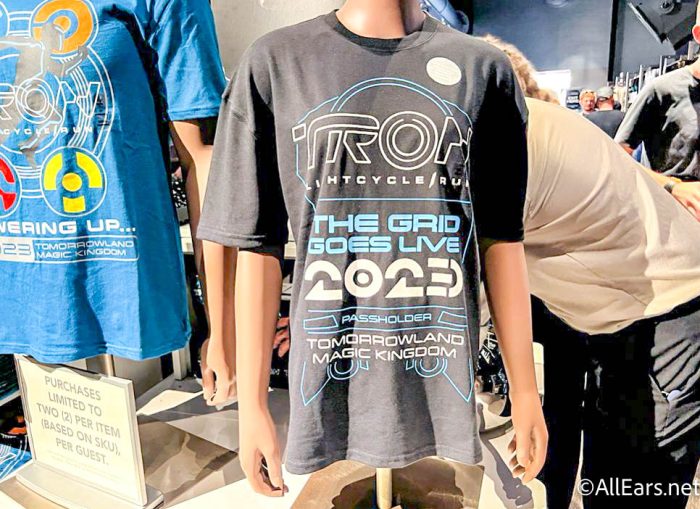 …a "game on" hat for $29.99…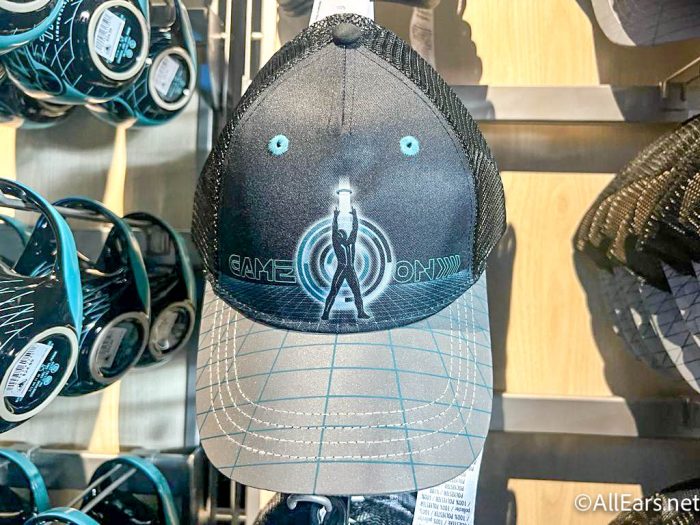 …black TRON v-neck shirt for $31.99…
…TRON jacket for $44.99…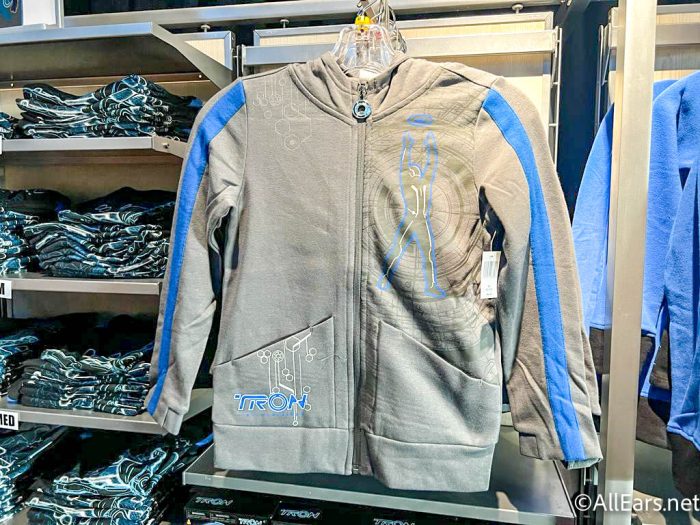 …TRON PopSocket for $24.99…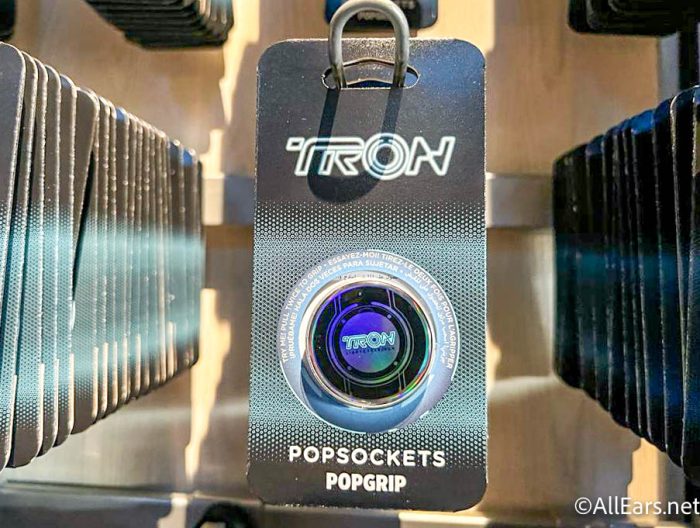 …TRON keychain…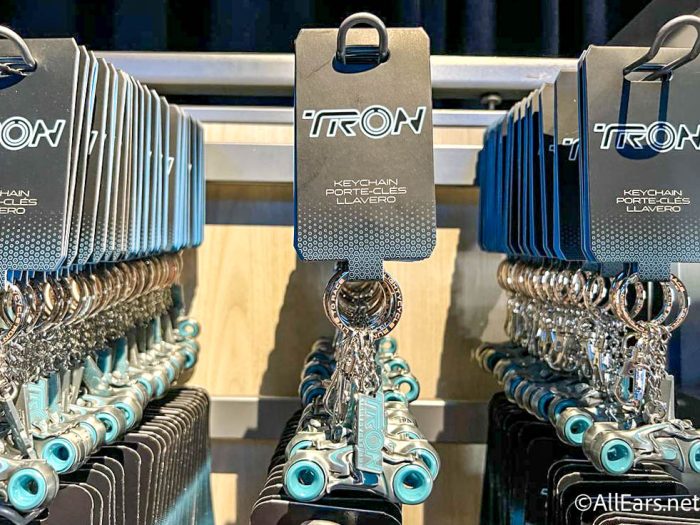 …an identity disc magnet…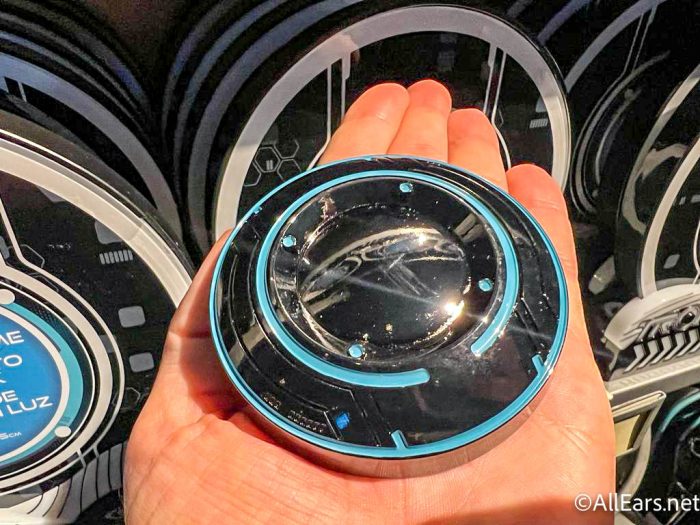 …a patch set…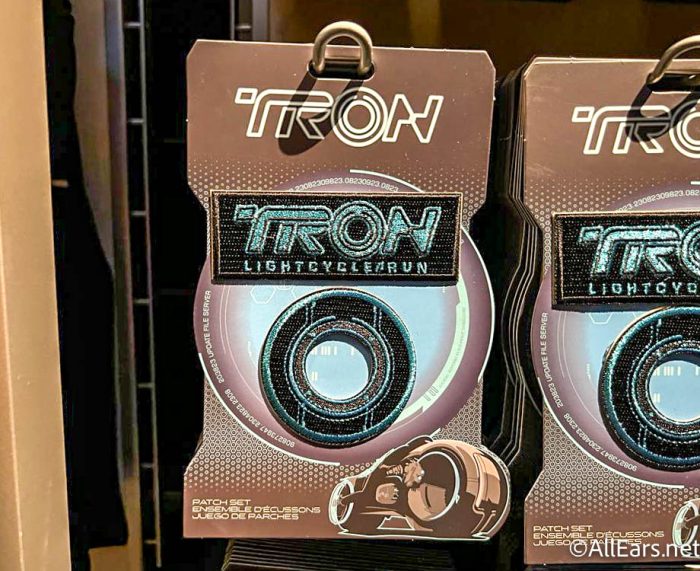 …more pins…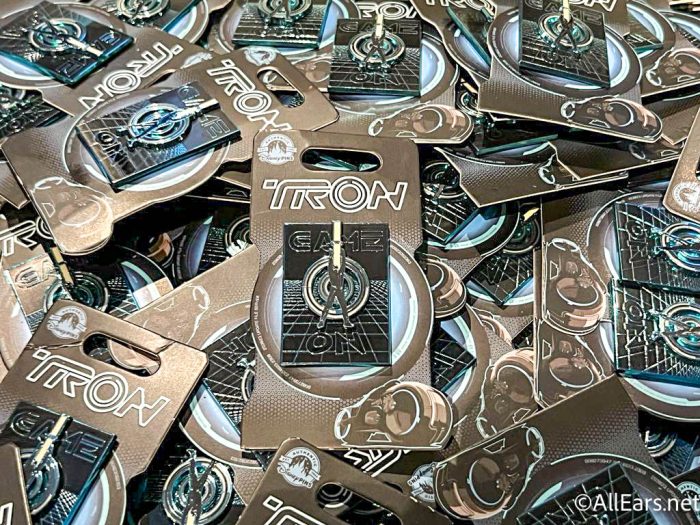 …a pin set…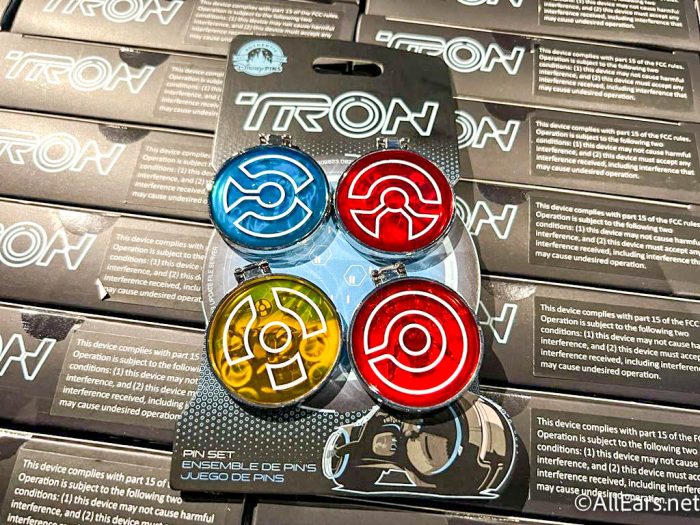 …and MORE!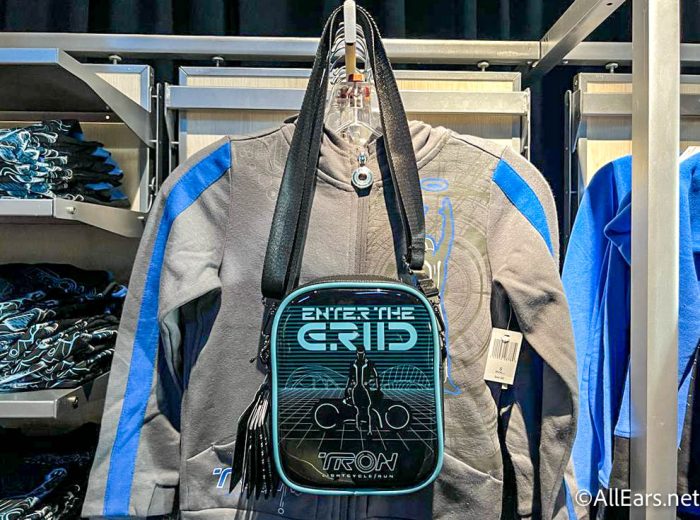 Can't get to the park? No worries, you'll find some TRON merchandise online too. Right now you can pick up the TRON MagicBand 2…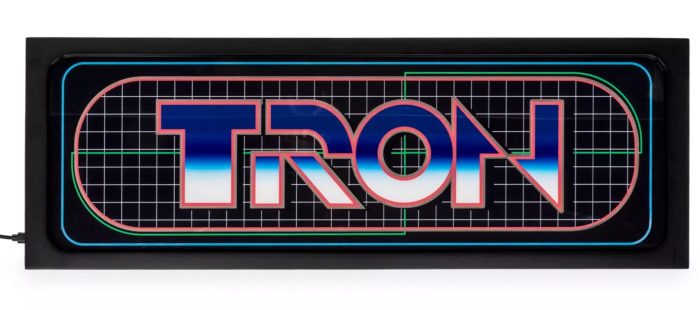 …and TRON backpack online.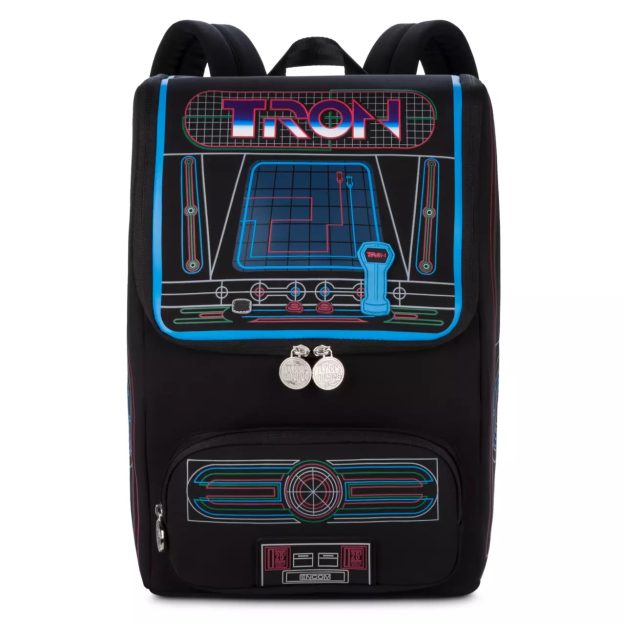 What TRON items will YOU be bringing home? Tell us in the comments! We'll keep an eye out for more TRON news and let you know what we find.
Which of these items is your favorite? Tell us in the comments.