[Closed] Primeval Whirl DinoLand USA Animal Kingdom
Primeval Whirl was permanently closed in July 2020.
Primeval Whirl Highlights:
FASTPASS+ AVAILABLE, Tier 2 (Seasonally)
48 inch height requirement
Open Seasonally — Spinning roller coaster
Introduction | Attraction | Ride Logistics | Kids/Characters | Dining | Shopping |
INTRODUCTION
Primeval Whirl is a "cat and mouse" style roller coaster in the Chester and Hester's Dino-rama section of Dinoland USA.
The coaster spins and dips on this carnival favorite. Warning! It's a more raucous ride than it appears.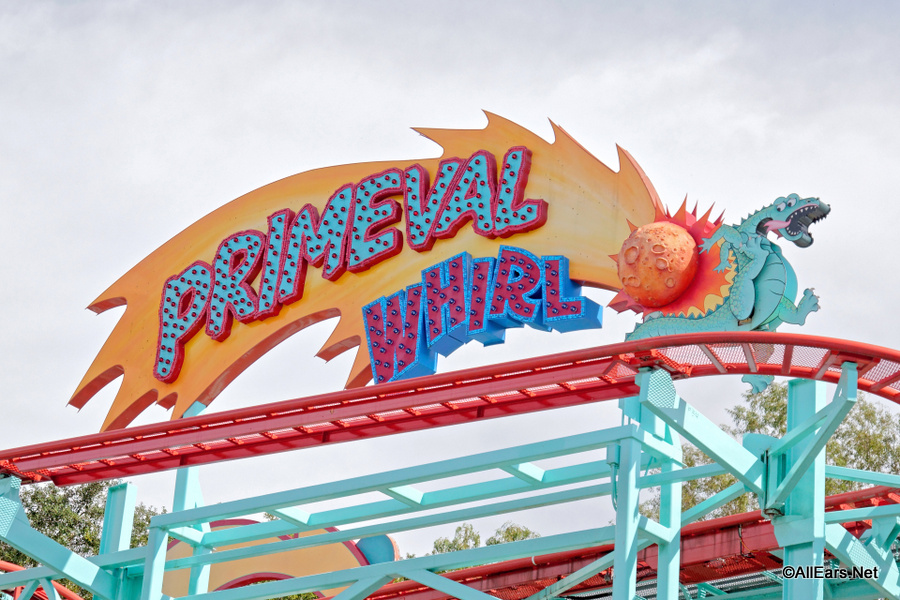 ATTRACTION
Queue: The outoor queue weaves back and forth under fans before splittling into two sides. The attraction features two mirrored tracks, and you'll be directed to one side or the other. Along the way, you'll see carnival style drawings of dinosaurs and time machines — this is Chester and Hester's version of the neighrboring Dinosaur.
Attraction:
Once you enter the loading platform, you'll see that the cars continuously move (like Haunted Mansion) but the platform is stationary. Make sure you enter with caution.
The vehicles seat four guests each, with two guests sharing an over-the-head lap bar (like Rock N' Roller Coaster).
You start by going up a lift, and then weaving your way down the tracks, with some "close calls" at the edge. About halfway through, your car will start to spin in addition to moving forward.
You'll unload at the same platform you started. Be cautious exiting as the cars keep moving!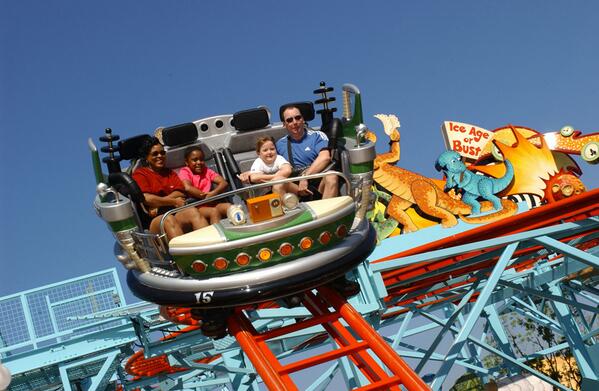 RIDE LOGISTICS
Primeval Whirl is only open seasonally — typically this is during the busiest times such as the weeks surrounding Christmas, Spring Break, and the Fourth of July.
Primeval Whirl is a FASTPASS+ attraction in Tier 2. (Available seasonally).
The height requirement is 48 inches.
Those who are prone to motion sickness, neck and back pain, and pregnant women are advised to skip this attraction.
Wheelchairs and ECVs are not allowed on this attraction and guests will have to transfer.
Rider Switch (aka Child Swap) is available at this attraction.
Due to the way the restrictions cover TWO guests, some guest combos will not be allowed to sit together as the bar will not come down lower than the larger guest. A cast member will assist if this is the case.
For more information on seat restrictions, head here.
KIDS AND CHARACTERS
Goofy often meets right outside the entrance to Primeval Whirl.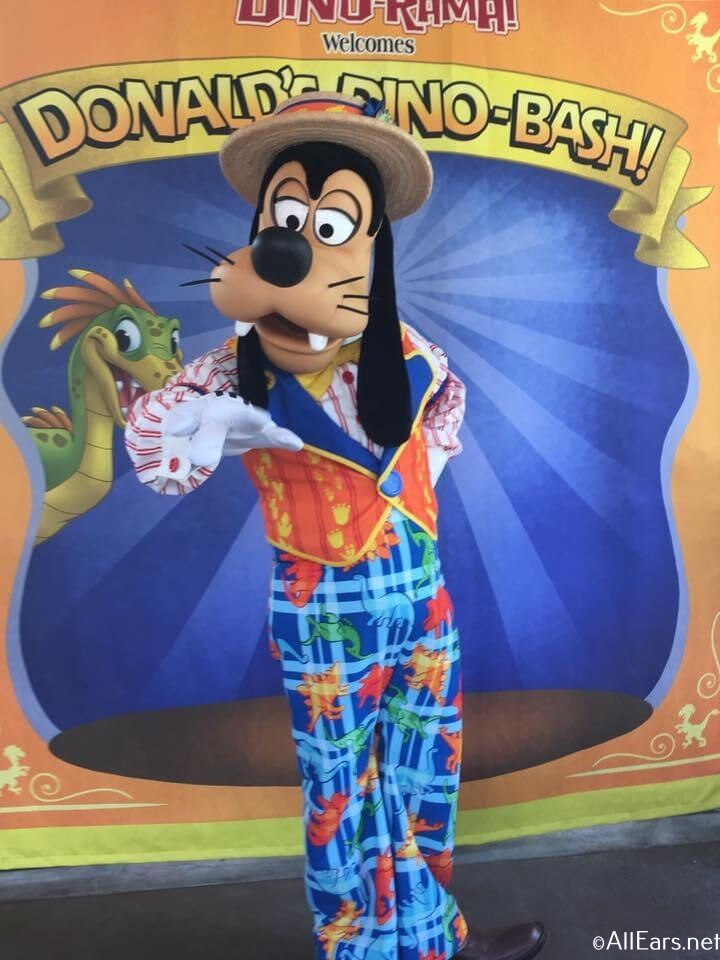 Animal Kingdom Characters At A Glance
Character Meet and Greet FAQ!
DINING
Next door is a themed snack trailer called the Dino-diner. Here you'll find a variety of hot dogs, Corn Chip Pie, and drinks.
Animal Kingdom Restaurants At A Glance
Across from Primeval Whirl, you'll find Chester and Hester's Dinosaur Treasures. Here you'll find some unique dinosaur themed merchandise, as well as Disney toys, plushes, and more.