Stitch's Great Escape Tomorrowland Magic Kingdom
In the fall of 2016, Stitch's Great Escape moved to seasonal operation.
INTRODUCTION
Experiment 626 has landed at Walt Disney World! On November 16, 2004, your favorite alien from the Disney animated feature "Lilo & Stitch" took over the building previously occupied by X-S Tech Chairman Clench, S.I.R. and Skippy (also known as ExtraTERRORestrial Alien Encounter).
ATTRACTION
Stitch's Great Escape takes place when Stitch is first discovered by the Galactic Federation and shortly before the events in the movie "Lilo & Stitch" occur — at this point he's still the trouble-maker Experiment 626.
In the preshow area, you are recruited by an animated version of the Galactic Federation Grand Councilwoman (on video monitor) to provide additional security for the captured alien. Other characters from the film "Lilo & Stitch" (Gantu and Pleakley) are also represented, voiced by the original actors. You move into the second preshow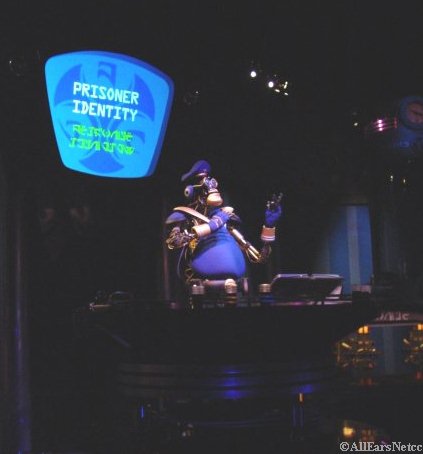 area and are briefed by a robot ("Sarge," who sounds suspiciously like actor Richard Kind), then an emergency arrival is announced — it's Experiment 626, and you're ushered into the main theater for the rest of the show.
Without spoiling the storyline, the show then features Stitch performing various Stitch-like antics, including bouncing on people, and generally creating mayhem. The show features water, smell, and other sensory effects.
The structured seating of the previous attraction, Alien Encounter, has remained intact. In fact, much of the show is very similar to Alien Encounter — the biggest difference is the replacement of the ugly alien with Stitch. Even the popular "guinea pig" alien Skippy, who suffered a sad fate in the previous attraction, is still seen in the preshow area, only Skippy is not harmed now.
Mini-Review: What can I say that hasn't already been said about this attraction in our reader reports? While I was not a huge fan of Alien Encounter, at least it did what it was supposed to do well. The reason for redesigning Alien Encounter was ostensibly to make the show less frightening to small children. In this respect, it fails miserably. All the elements that made it scary before — the darkness, the screaming, the chaos, the harness that makes you feel trapped and can actually hurt you — are all still present. The chief difference is the substitution of Stitch for the menacing alien. Having experienced the show once, it's not something I'll be in a hurry to try again.
TOURING TIPS
If you ride the TTA, listen for Stitch's voice as you pass over Stitch's Great Escape.
This is a FASTPASS attraction. Since it's a new attraction, expect long lines for Stitch's Great Escape, or take advantage of FASTPASS.
This show is about 15 minutes long.
BE ADVISED: This show gets very dark at points, and the special effects used may be too intense for young children, and even very sensitive or squeamish adults. PLEASE consider this when deciding whether Stitch's Great Escape is right for you, your child, or other members of your group.
In addition to the tactile and audio sensations employed during the show, it also uses a rather offensive smell — some reports say it has even caused some visitors to become nauseous. If you are sensitive smells, you may want to avoid the show, or at the very least hold your breath during certain points until the smell dissipates a bit.
The minimum height requirement is now 40 inches (as of May 2005; it was 35 inches when the attraction opened).
Those who tend to be claustrophobic might not like the restraint that comes down over your shoulders for the duration of the show. If you sit up very tall in your seat as the restraint comes down, then slump a bit afterwards, you won't be as uncomfortable. Of course, if you do this, you also might not fully experience the sensory effects.
Assistive Listening Devices from Guest Relations can be used here.
Portions of this show have video captioning. Activating units are available from Guest Relations.
Guests using an ECV must switch over to a regular wheelchair to view this attraction.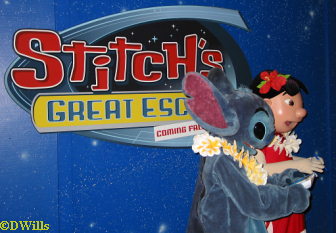 KIDS AND CHARACTERS
Stitch's Great Escape was supposed to be a very family friendly attraction, but initial reports indicate that very young children may be afraid. Read reports HERE.
Looking for Lilo and Stitch? You wil find them at the Ohana Character Breakfast at the Polynesian resort.
Check your daily Times Guide for other character meet and greet locations.
Magic Kingdom Characters at a Glance
Character Meet and Greet FAQ!
DINING
Magic Kingdom Restaurants at a Glance
Menus from around the World
Vegetarian and Other Special Diets
SHOPPING
The show exits into the Merchant of Venus gift shop, full of new Stitch merchandise, as well as other Tomorrowland-themed gifts.
INTERESTING FACTS
This attraction replaces the ExtraTERRORestrial Alien Encounter which closed October 2003.
Stitch, who is 39 inches tall, is the first Audio-Animatronics figure to spit.
The alien language seen throughout the Prisoner Teleport Center was inspired by designs created for the opening scenes of "Lilo & Stitch." Graphic artists with Walt Disney Imagineering turned the designs into a practical alphabet that can be decoded into English.
"Skippy," an alien seen previously in The ExtraTERRORestrial Alien Encounter attraction, returns in a new role in Stitch's Great Escape!
The two "plasma cannons" that track Stitch's DNA were inspired by devices seen in "Lilo & Stitch." Each weighs more than 1,600 pounds.
Walt Disney Feature Animation produced all of the attraction's character animation. Many of the animators who worked on "Lilo & Stitch" partnered with Imagineers for Stitch's Great Escape!
If you have comments or tips to share with others about touring the Magic Kingdom, please email us. Thank you.