A new ride has opened in Disney World — TRON Lightcycle / Run!
The coaster went through its "soft opening" phase in Magic Kingdom, but now the ride has officially become available to experience. To get on TRON, you'll either need a boarding group (through the Virtual Queue) or Individual Lightning Lane. We've tested the virtual queue system out and we've shared the details, but many wanted to know — what happens if you're LATE for your boarding group window?
The Basics
To start, here's what you need to know. You join the virtual queue and get a "boarding pass" through the My Disney Experience app each day. The virtual queue first opens at 7AM to guests who have a Park Pass reservation for Magic Kingdom, then opens again at 1PM to guests who are inside Magic Kingdom. So if you miss the first drop, you can try again for the second.
If you make it into the queue, you'll be assigned a boarding group, which is essentially just a number. The numbers are called in order throughout the day, so the lower the number, the more likely you'll get called back before the day is over. (A boarding group is not a guarantee that you'll get to ride.)
Once your boarding group is called, you'll have an hour to make it to the ride and scan in with a Cast Member. From there, you can get in the standby queue. But what happens if you can't make it within the hour? We tested it out.
If You're Late
Typically, there is a grace period for most Disney reservations. This applies to dining reservations, Lightning Lanes, and some other experiences around the property. Often, we find this "grace period" to be about 15 minutes just in case you're held up by transportation, a long line at a ride, or a number of other mishaps. However, it's after that timeframe that things can get a little dicey.
For research purposes, we made a virtual queue for TRON and then tried to show up late…like REALLY late. To avoid that "grace period" we arrived at the ride about half an hour after our return window ended, which was an hour and a half after our boarding group was called.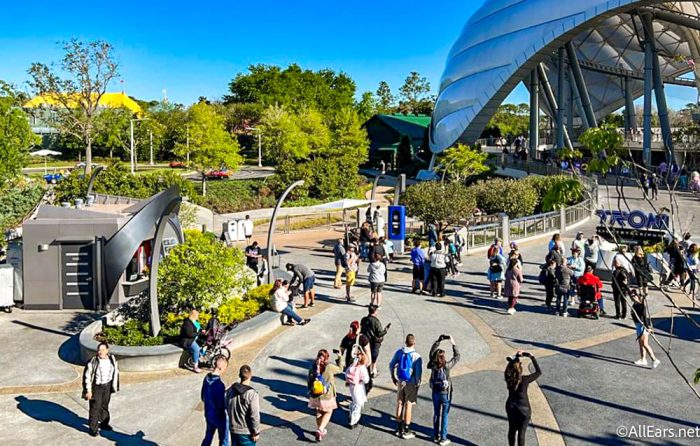 We had previously heard of guests having struggles getting into the queue when they were late, but we walked up, scanned our MagicBand, and the scanner immediately turned green to let us in. This was different than what we'd experienced at Guardians of the Galaxy: Cosmic Rewind, where the scanner turns blue if you're late and the Cast Member has to override it to let you in line.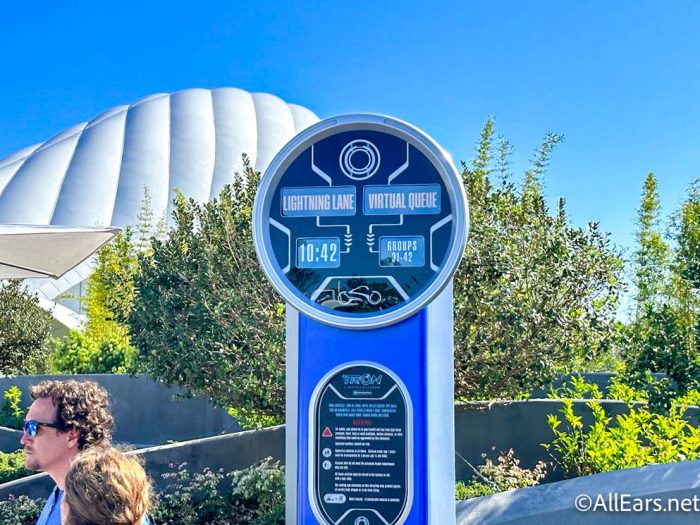 HOWEVER, even though we didn't have any issues the first time we tried it again to confirm our discovery and went a little after our return time had ended. We were told that if the circle turns blue after you tap your MagicBand/phone, the Cast Members have to turn guests away.
We also overheard a conversation where a Cast Member stressed to a guest that they must be on time for their return window. We also spoke with a Cast Member after the ride who said the same thing.
So What's Going On?
Currently, it's unclear what the grace period for being late might be. We were only about thirty minutes late the first time but were only about 15-20 minutes late the second. We plan to try again and see what happens if we return after an hour or more, but now we're assuming we will be turned away.
And it's certainly possible that the experience could vary from guest to guest.
UPDATE: Disney has updated some language on its virtual queue website to note the following: "Please arrive at your attraction once your boarding group is called. Be advised that late arrivals may not be accommodated."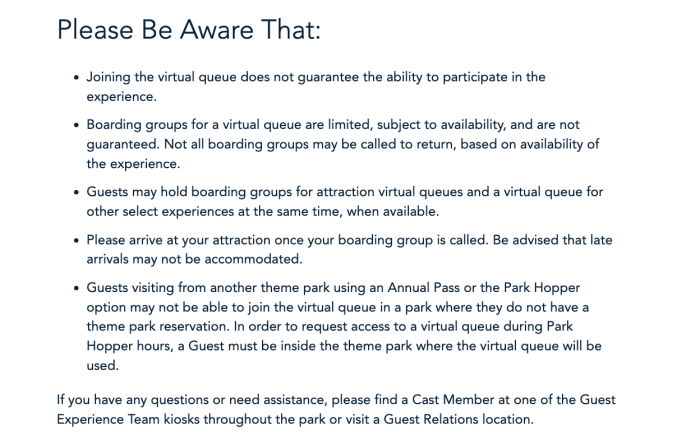 The TRON page also says "Late arrivals may not be accommodated." It seems Cast Members may be more strict (at least sometimes) when it comes to Boarding Groups for this ride so we'd recommend you err on the side of being cautious.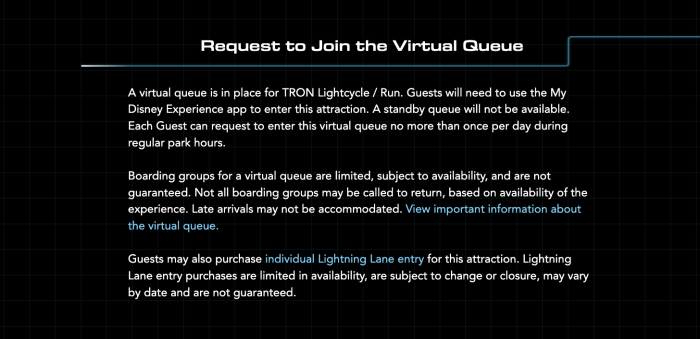 If you've ridden Guardians of the Galaxy: Cosmic Rewind at EPCOT, you may know that this isn't an issue you typically deal with over there. There have been many cases where we've been late for our return window at that coaster, and the Cast Member has allowed us into the queue anyway.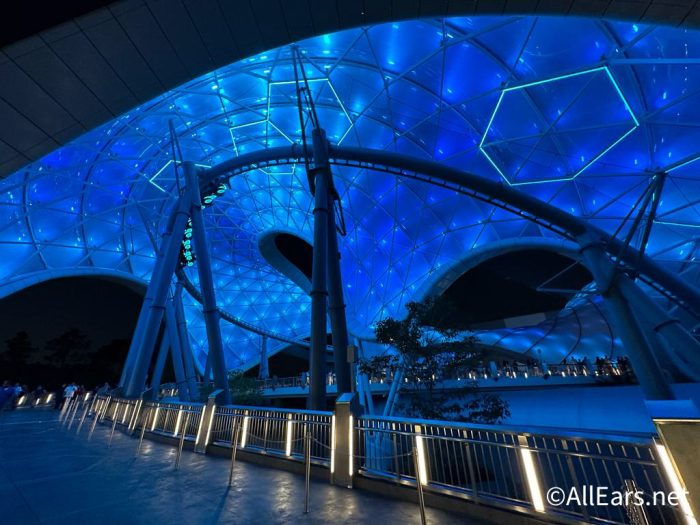 It's possible that Disney is trying to prevent guests from waiting and riding TRON Lightcycle / Run at night. It has been a common opinion that the ride is "better" after dark, so they may be trying to stop a backed-up line in the evening with this rule.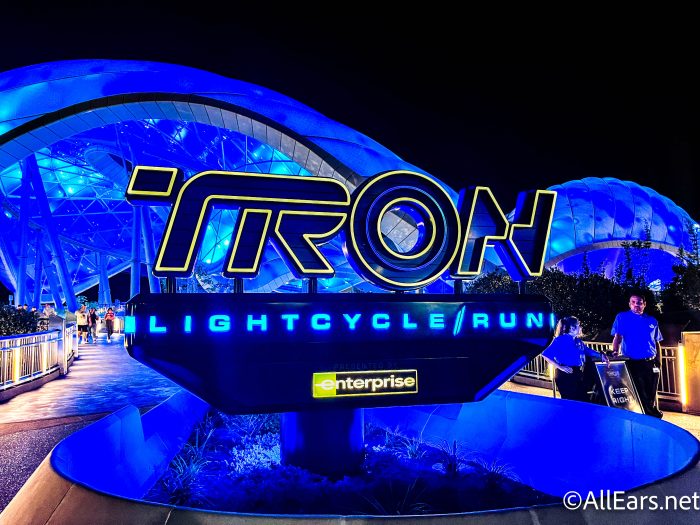 We later spoke to another Cast Member who all but confirmed as much. They shared that they're trying to be strict now as they're worried when the ride officially opens, folks will try to stick around and stay for a return time once the sun goes down.
It sounds like it's worth trying to ride TRON even if you'll be late — but don't be surprised, disappointed, or upset if you're turned away! Just try to be on time.
No matter what's happening, we'll continue to research this and see what happens going forward.
Are you planning to ride TRON? Tell us in the comments!