Riding TRON Lightcycle / Run in Disney World is NOT as easy as just getting in line and waiting for your turn.
The ride officially opens on April 4th but is currently in an early opening stage. During both times, TRON will NOT have a standby line. Instead, you can only hop on the ride either by getting a spot in the virtual queue (which can fill up FAST!) or by buying an Individual Lightning Lane. But there's one particular thing you'll want to watch out for when it comes to riding TRON specifically during its early opening phase.
From now through April 2nd, TRON is open as part of a "soft opening" in Disney World. While the virtual queue and Lightning Lane already limit who can access the ride, another thing you'll want to keep in mind is operating hours.
On March 28th, for example, TRON's operating hours are only from 9AM to 6:30PM.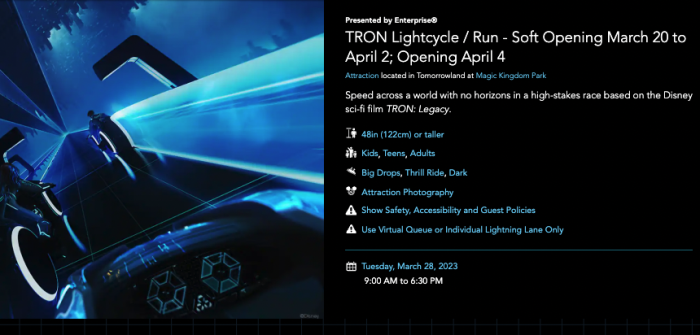 UPDATE: On March 29th, its hours are from 9AM to 9PM.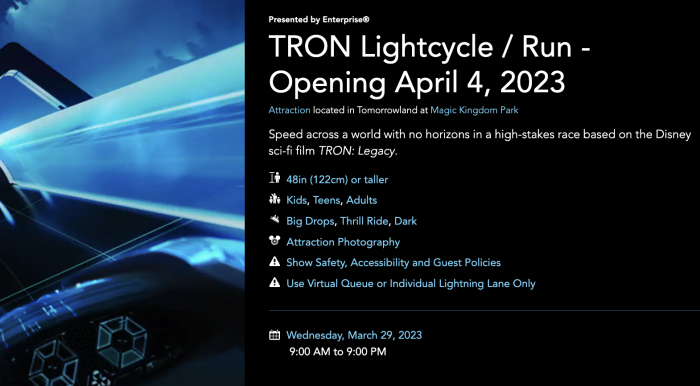 On April 4th, however, its operating hours are from 9AM to 11PM — giving fans much more time to enter the Grid.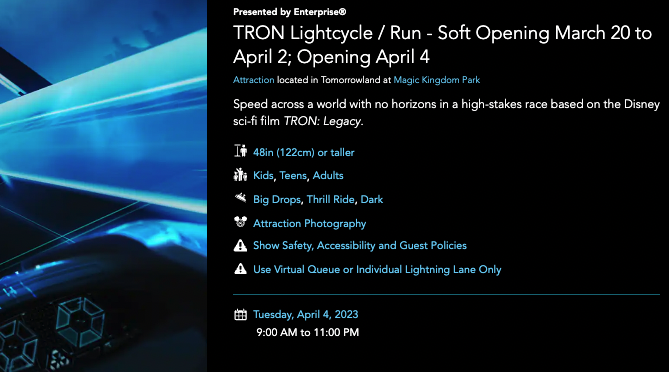 During this soft opening period, be sure to check the ride's operating hours each day (by visiting the Disney World website) so you'll know just how long it'll "officially" be open. Operating hours can vary.
Note that these are just the operating hours listed for the ride, but things can change so you'll also want to check with Cast Members at the ride to see what the situation is like and if people are being let in well beyond that "end" time. It's just a good thing to consider that shorter operating hours could mean that it'll be that much more difficult to potentially get on the ride.
To learn more about TRON Lightcycle / Run, see our list of things to know BEFORE you go on the ride and get our honest thoughts about the ride seats, or check out some of our posts below!
What do you think about TRON Lightcycle / Run? Tell us in the comments.