HOWDY! We got a NEW look at the newest Hollywood Studios restaurant opening soon!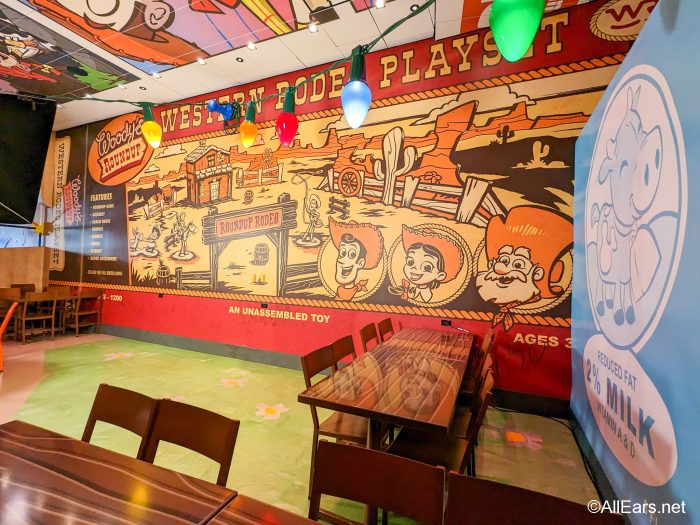 The anticipation for the opening of Roundup Rodeo BBQ has been building ever since it was announced. We already have the FULL MENU with prices for this family-style meal and we've seen several sneak peeks, but now it's time for us to go INSIDE!
We were excited to walk through the entrance of the restaurant.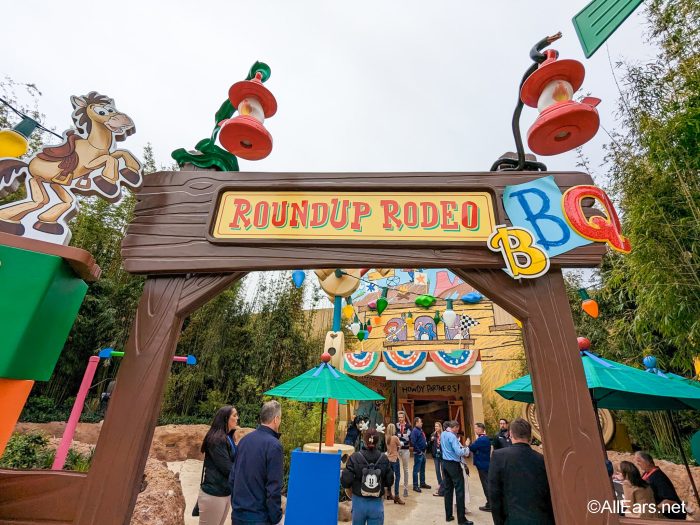 Let's go!
YEEEHAW from Roundup Rodeo BBQ! #AllTheDisneyThrills #WaltDisneyWorld #mediaevent pic.twitter.com/hREiOtHF0D

— AllEars.Net (@AllEarsNet) March 15, 2023
Here's what it looks like right before you walk inside.
When you first step into the arena that Andy has created (that's the restaurant's premise), you are immediately transported into that world.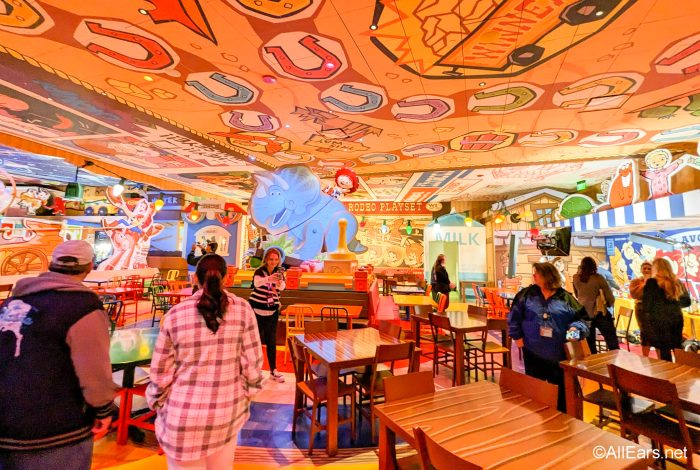 Be on the lookout for familiar faces!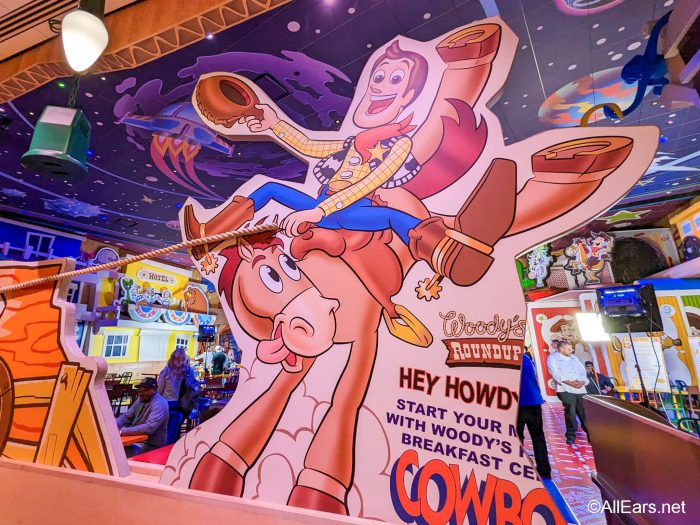 The characters are part of the rodeo arena's "acts." Even Bo Peep and her sheep are here!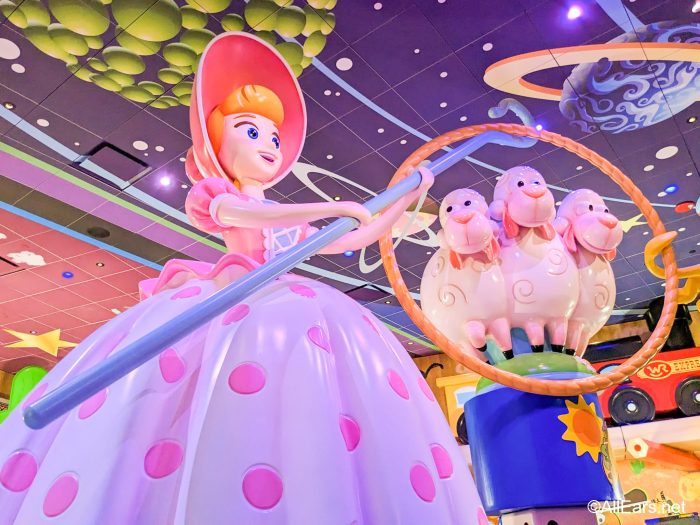 This is an immersive dining experience with LOADS of Toy Story Easter Eggs, like how we heard that Rex is leading a dance party. We also heard to look forward to Halloween and holiday stuff. OOH!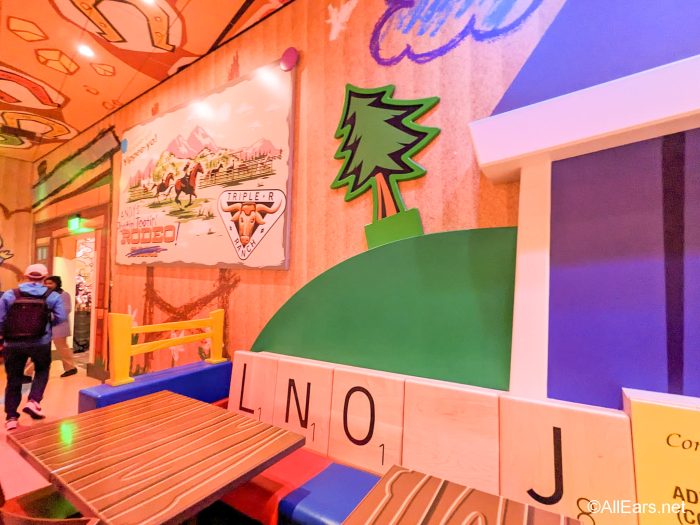 The details here are everywhere — from artwork that Andy has created to cardboard cutouts he made to welcome toys (aka guests) to the spot!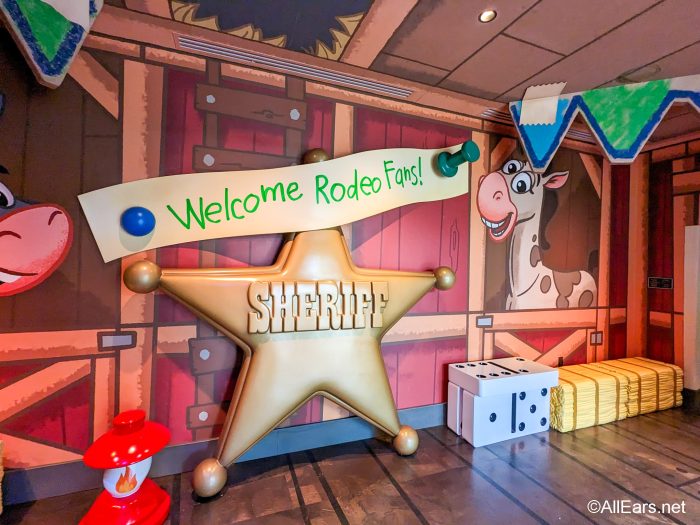 SO many great details.
Howdy partners! 🤠#AllTheDisneyThrills #WaltDisneyWorld #MediaEvent pic.twitter.com/Bec8AVTqsJ

— AllEars.Net (@AllEarsNet) March 15, 2023
The details are thought out so well. We love this milk carton.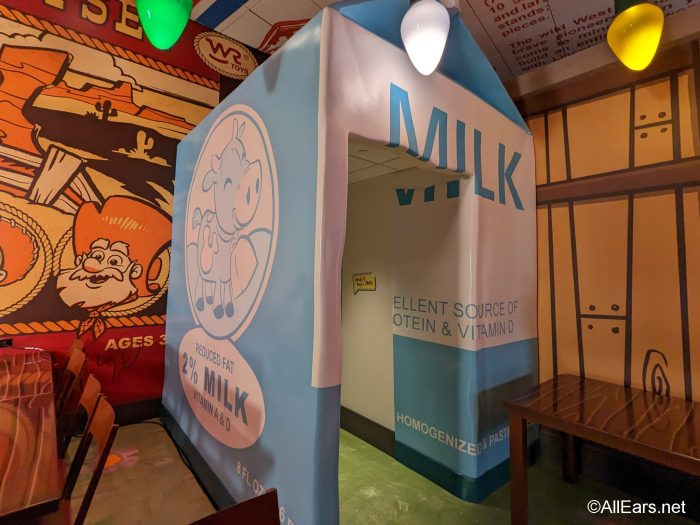 Even the restrooms are well-themed!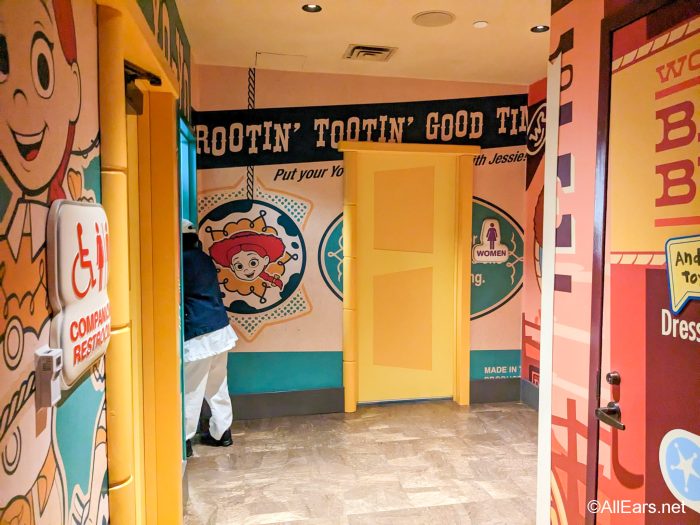 Don't forget to look up — the details are ALL around you. This is a very immersive restaurant.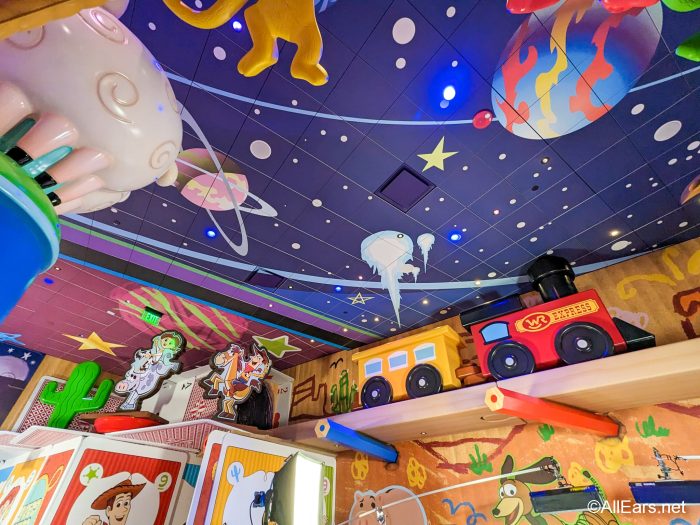 Seating is standard tables and chairs.
Even the condiments stations are themed and sit on top of toy stoves and counters.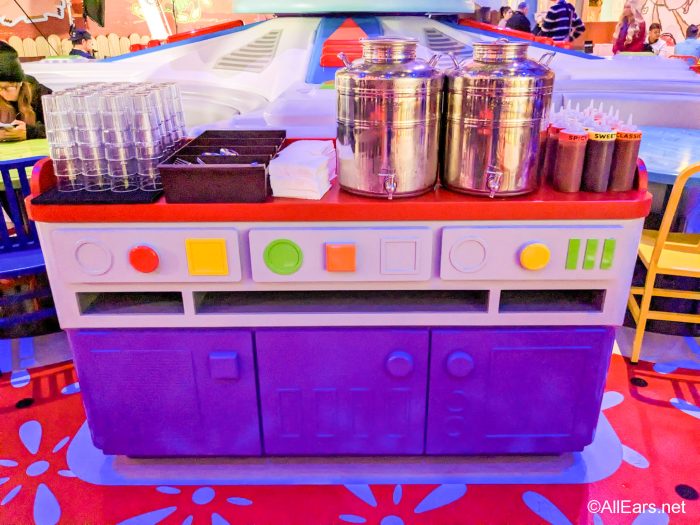 We also got a sneak peek at some of the food. Look at this spread! Roundup Rodeo BBQ will have "barbecue-inspired comfort foods served family-style, with platters of house-smoked meats, a roundup of sides, and some miniature sweet surprises along the way." You can view the full menu here.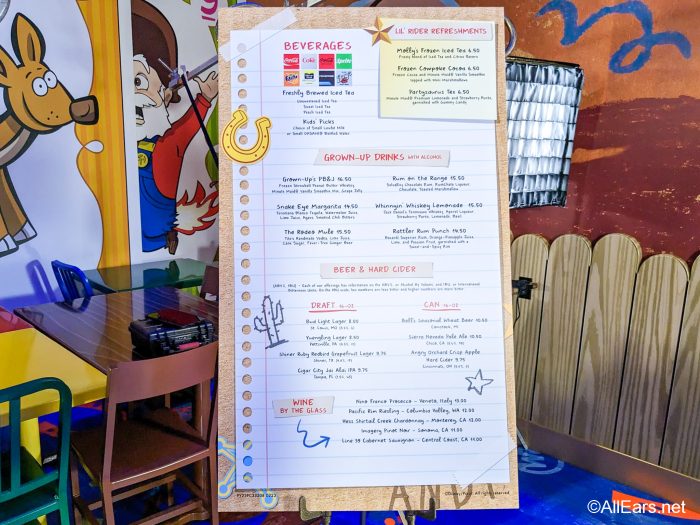 The brisket and ribs are smoked in-house. Here's the full spread of foods you'll get, including salads, entrees, and sides!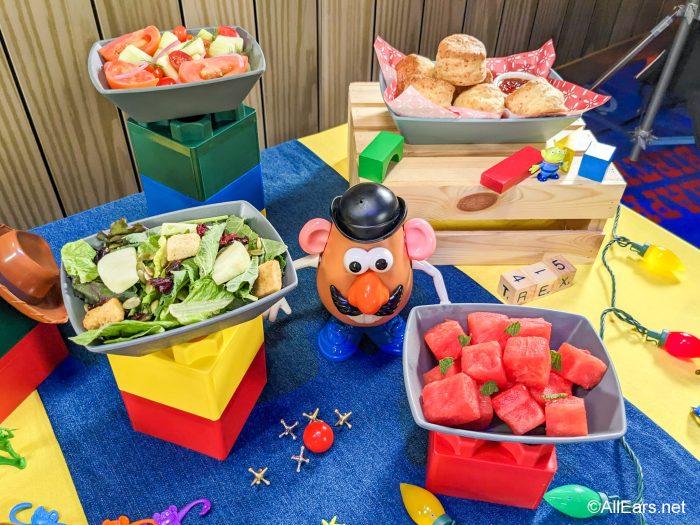 You can also get some unique beverages here, both alcoholic and non-alcoholic. These are served in Mason jars. The drink in front is the Snake Eye Margarita. The other drink is the Grown-up's Iced Chocolate Rum.
The Partysaurus Tex is a non-alcoholic Strawberry Lemonade with a gummy worm!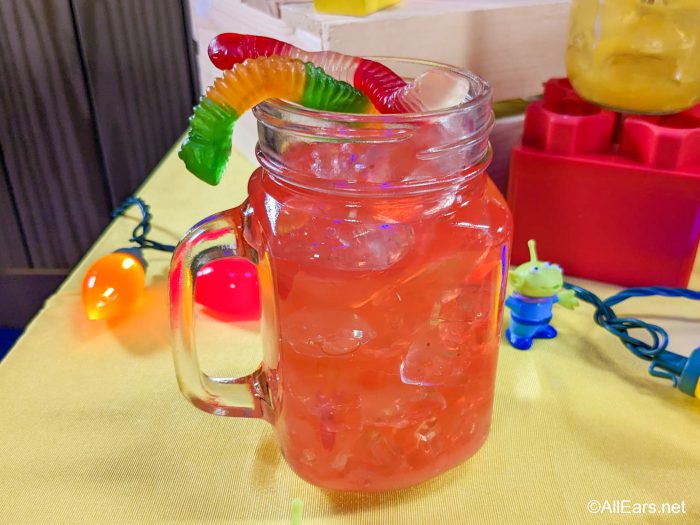 For dessert, there's a Cupcake à la Forky. Which Forky facial expression will you get?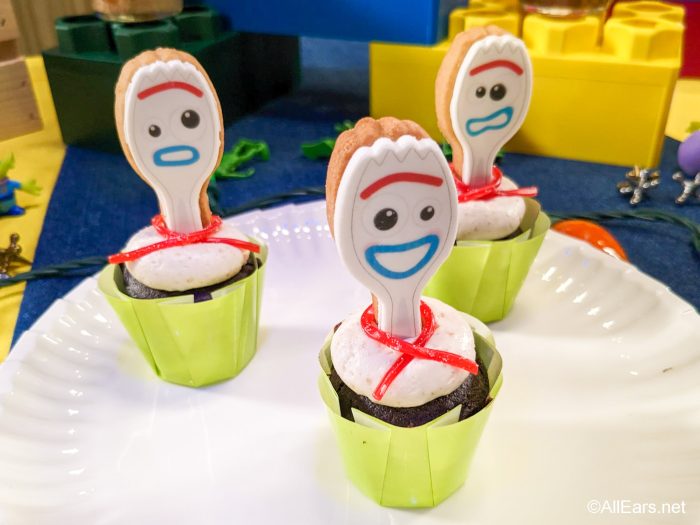 For dessert, there's Bo's Lemon and Blueberry Cheesecake, Billy's Chocolate Silk Pie, Goat's Apple Pie, and Gruff's Peach-Strawberry Pie (Plant-Based).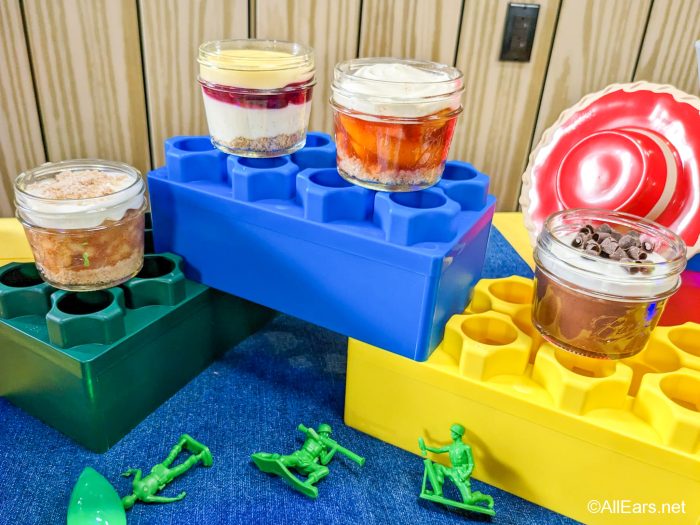 Yes, dessert is named after Bo Peep and her sheep. How fun!
We're excited about this new restaurant in Disney World, and we'll be letting you know even MORE about it, so be sure to check back with AllEars for more!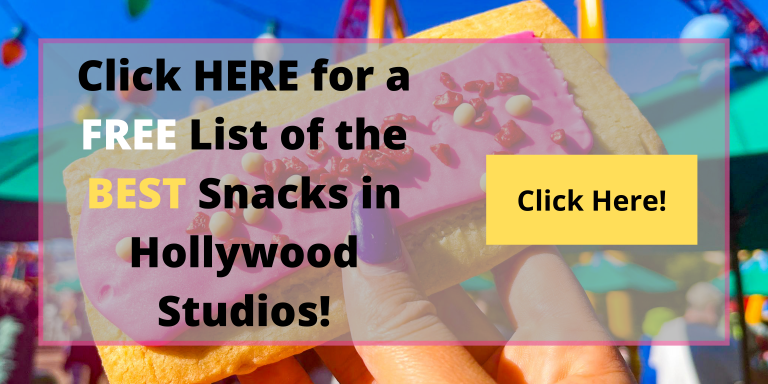 What are you most excited to try at Roundup Rodeo BBQ? Let us know in the comments!
Disclosure: We were invited by Disney World to attend a media event for Roundup Rodeo BBQ. This did not affect our reporting of the event — our opinions are our own.