Summer time requires a few new desserts to help keep us cool.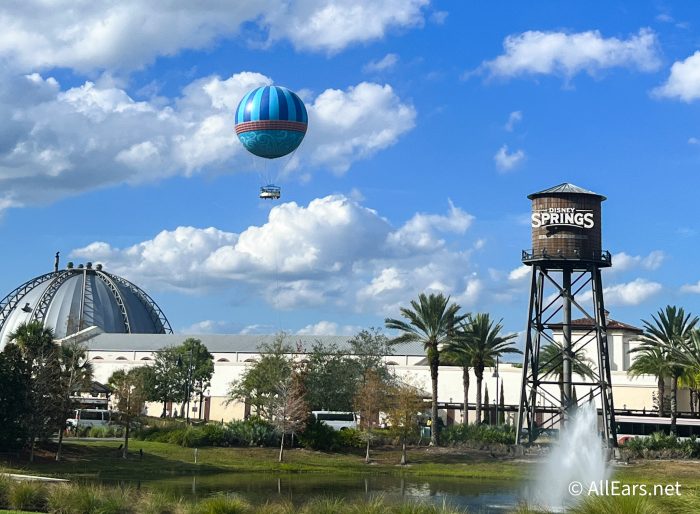 This summer, Disney is making sure to deliver! From lots of Fourth of July offerings to new desserts in all of the parks, Disney is really bringing their A-game when it comes to new treats. This time, they're sending us out of the parks and into Disney Springs for FOUR new Dole Whip treats!
If you love Dole Whip, Disney has a surprise for you. Starting today, July 5th, Disney's Flavors of Florida presented by CORKCICLE! begins in Disney Springs. The event runs through August 14th and celebrates the "fresh flavors from the Sunshine State." This year, there are a few NEW Dole Whip treats as part of the festival!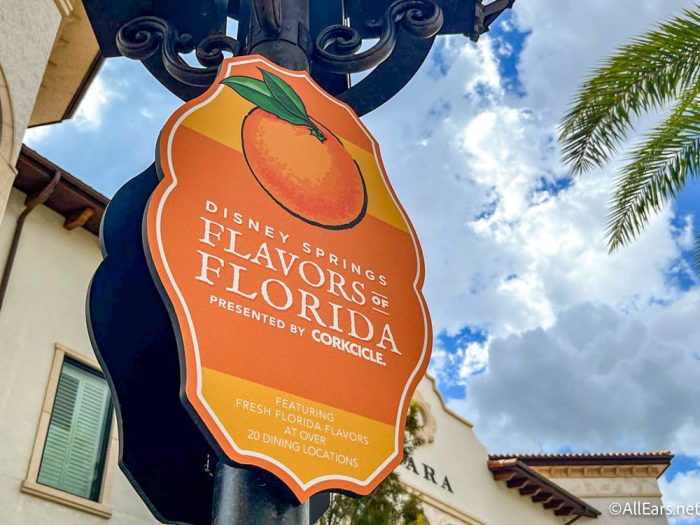 The first of the new whips is inspired by a Florida favorite — Orange Bird! Orange Bird has been getting a lot of attention lately and Swirls on the Water is continuing the love. In case you haven't heard of this snack spot yet, Swirls on the Water is a newer treat stand that serves a variety of Dole Whip creations in Disney Springs. It's located close to the Marketplace section of the Springs, on the bridge. This is where you'll find THREE of the new treats we're trying today.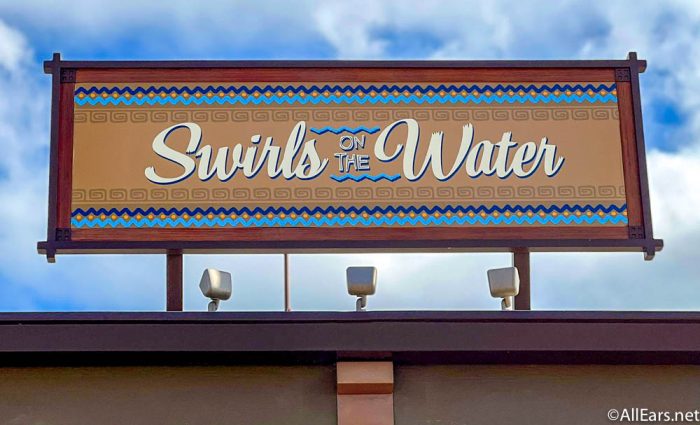 This Orange Bird Cone is Orange Dole Whip in an Orange Ice Cream Cone, decorated with a White Chocolate Disc and Sprinkles. It costs $5.49.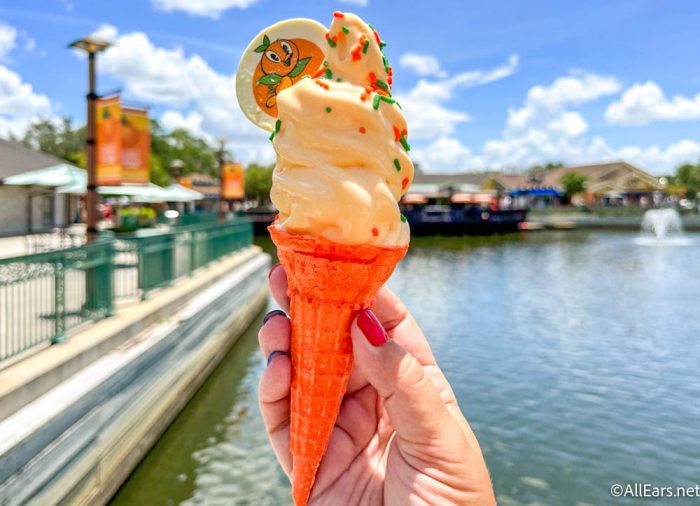 The Dole Whip had a nice, creamy texture and a strong orange flavor, although it wasn't super tart. We thought it was a great treat for a hot day, and the simple flavors make it a good option for pickier eaters or little kids!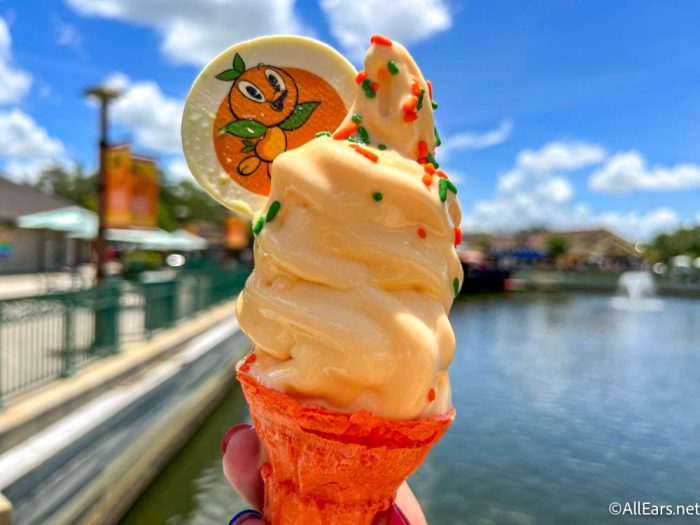 We also tried the Watermelon Taco for $5.99. This is Watermelon Dole Whip that's put INSIDE a slice of watermelon and topped with Chocolate Chips!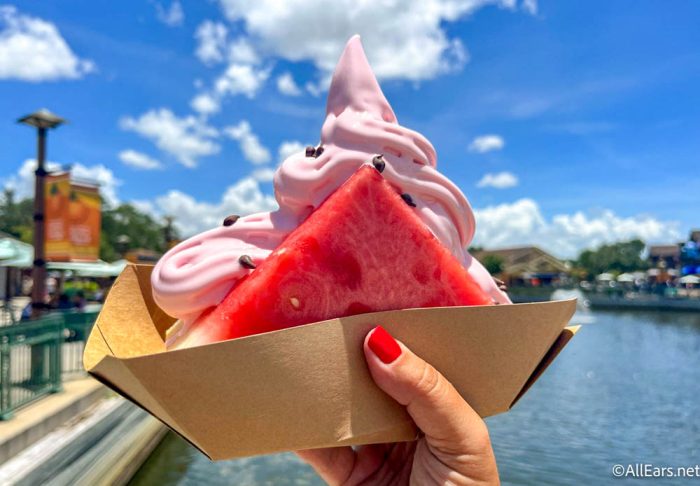 Besides the fun presentation of this treat (who doesn't want to try a watermelon taco?), we thought it was another great, refreshing option for a summer day. The watermelon Dole Whip had a bright, fresh flavor, and the watermelon slice itself was also delicious! The combination of creamy Dole Whip with fresh fruit was perfect. This treat isn't exactly new, we've seen it before, however it is new to Swirls on the Water!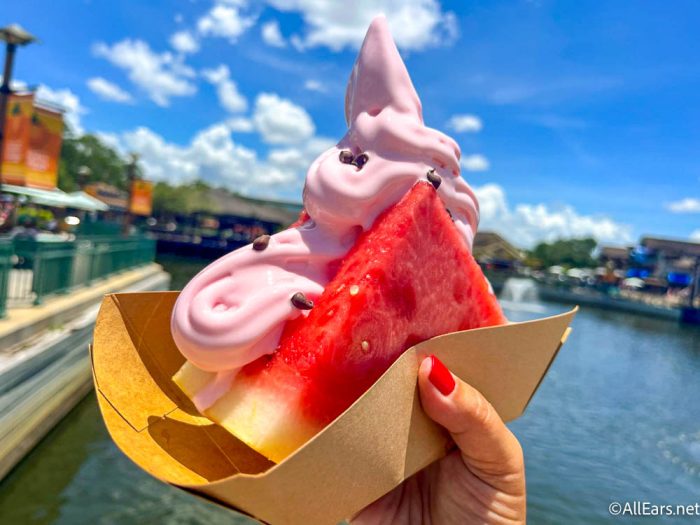 And our last treat at this stop was the Peach Bellini Float for $7.99. Note that this one was alcoholic. It's simply Peach Bellini topped with Orange Soft Serve Ice Cream and an Orange Slice garnish.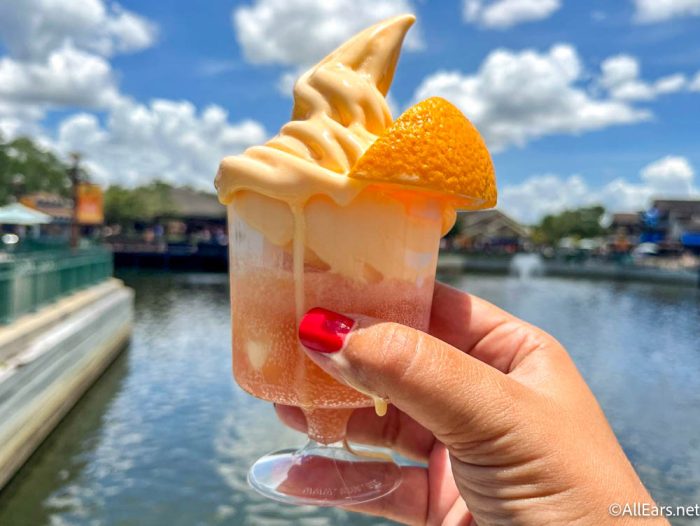 This treat is a great one for the adults! The peach flavor from the Bellini paired beautifully with the orange ice cream. Our pro tip? Mix the ice cream INTO the drink for a creamy milkshake-like treat!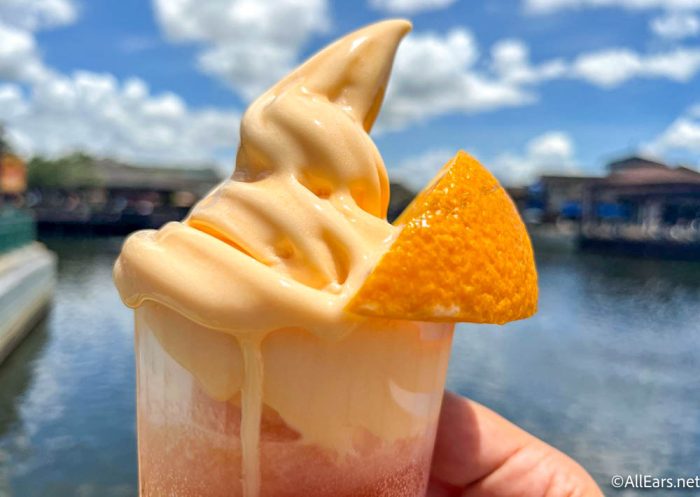 For our last Dole Whip treat, we're heading to The Basket at Wine Bar George. This grab-and-go counter is attached to the table service restaurant.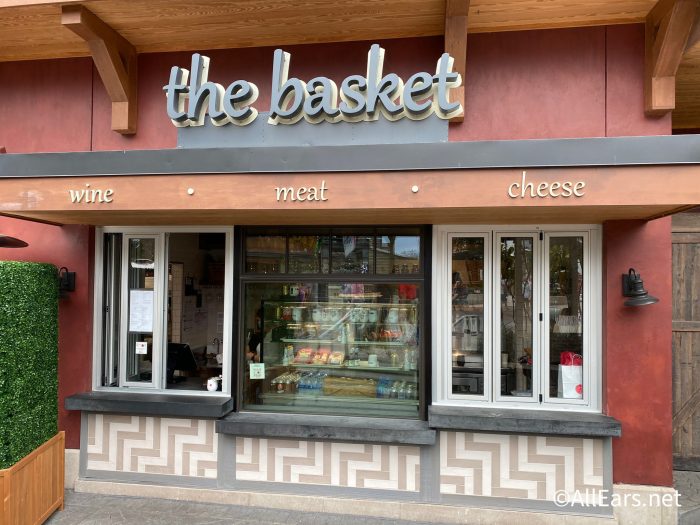 At this spot, you can get the Frozen Old Fashioned, which is Orange Dole Whip blended with Hooten Young American Whiskey and Aromatic and Orange Bitters. The drink by itself is $14, or you can pay $38 for the new Wine Bar George Corkcicle tumbler, and it comes filled with the drink!
We've had boozy Dole Whips before, but this one was BOOZY. The main flavor was the whiskey, and the Dole Whip just added some creaminess and a little bit of orange flavor.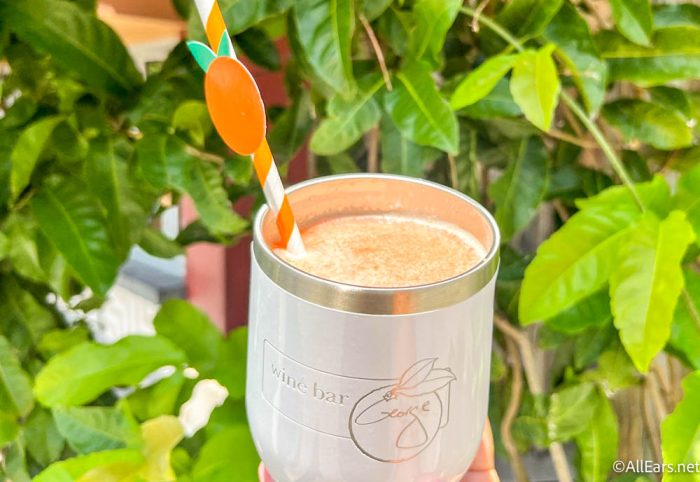 And those are all of the Dole Whip treats we tried at Disney Springs' Flavors of Florida event! There are plenty more treats to try at this event, which runs through August 14th of this year.
This isn't the only foodie paradise in Disney World this summer. EPCOT's International Food & Wine Festival begins on July 14th and runs through November 19th. We already have the full menus for this festival as well as the full line-up for Eat to the Beat concerts.
Stay tuned with AllEars for more updates on the latest Disney news!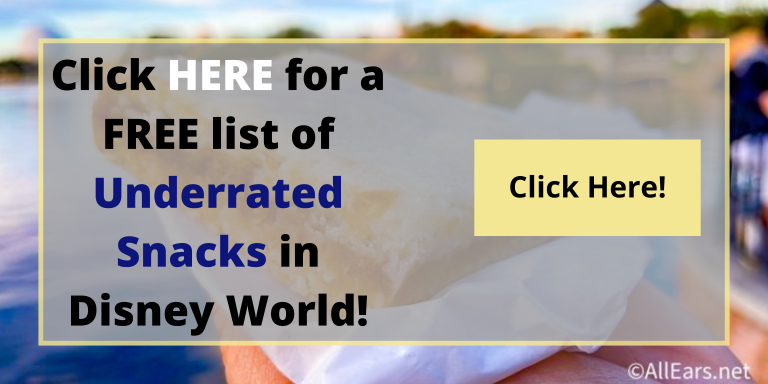 Are you a Dole Whip fan? Let us know in the comments!