Disney World likes to do it up big when it comes to food!
There are giant pretzels and cinnamon rolls, huge celebratory desserts, and, of course, those ginormous turkey legs. One large dessert is pretty legendary in Disney World — so legendary, that it takes at least four people to eat it. Can you guess what it is?
It's the Kitchen Sink Sundae! This is a HUGE ice cream creation over at Beaches & Cream Soda Shop in Disney's Beach Club Resort.
This sundae has Scoops of Vanilla, Chocolate, Strawberry, Cookies 'n Cream, and Mint Chocolate Chip ice cream topped with Hot Fudge, Peanut Butter, Snickers pieces, and a Fresh-baked Brownie, and then it's smothered in every additional topping Beaches has! You can also get it in the Chocolate Lovers or Neapolitan versions. It's $35 and serves FOUR people!
In the past when this sundae was ordered, Cast Members would make a BIG deal about it! They would come out cheering and direct the attention of the whole restaurant to whichever table ordered the dessert. However, the tradition hasn't been happening for a while now due to healthy and safety concerns regarding the current global health crisis.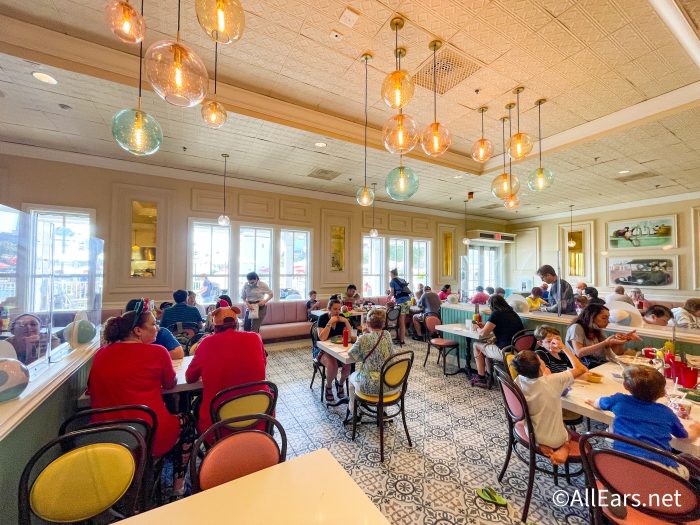 But, the celebration is finally BACK at Beaches & Cream! Cast Members are once again creating some commotion for the dessert, so we just had to go over and check it out.
We placed our order, but while we were waiting, the table right by us got their sundae, so we got to hear ALL of the hoopla! Make sure you finish that last phrase the Cast Members say. 😉
🚨🚨Eight scoops of ice cream 🍨, ALL toppings in the house 🏠, and…🚨🚨
(We'll let you finish the rest 😉)
The hoopla for ordering the Kitchen Sink is back at Beaches & Cream 🏖🍦 pic.twitter.com/zBUhBZIO72

— AllEars.Net (@AllEarsNet) March 18, 2022
How fun! We then got some bowls for sharing our sundae and a bunch of napkins, which are sure to come in handy.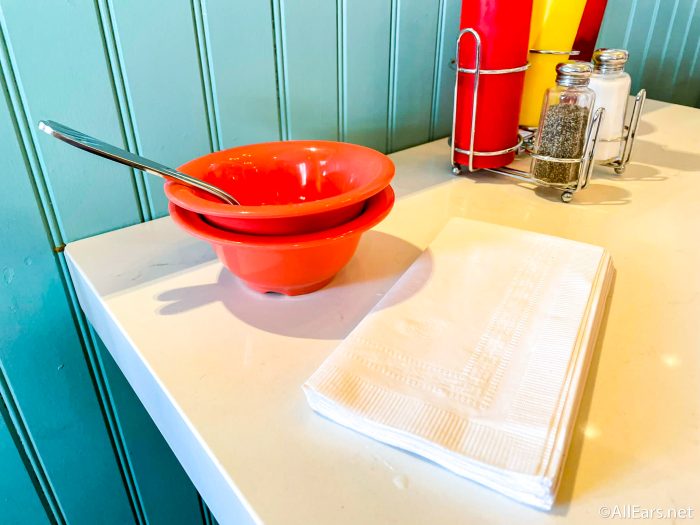 And then, it was time for us to get our sundae! The Cast Members brought it out…
…and made allll the same fun noise and commotion!
They then set it down on our table for us to enjoy. Isn't it just GLORIOUS?!
Look at this thing? It's massive! We have no idea how someone could finish this by themselves (but we'll give you big props for trying!).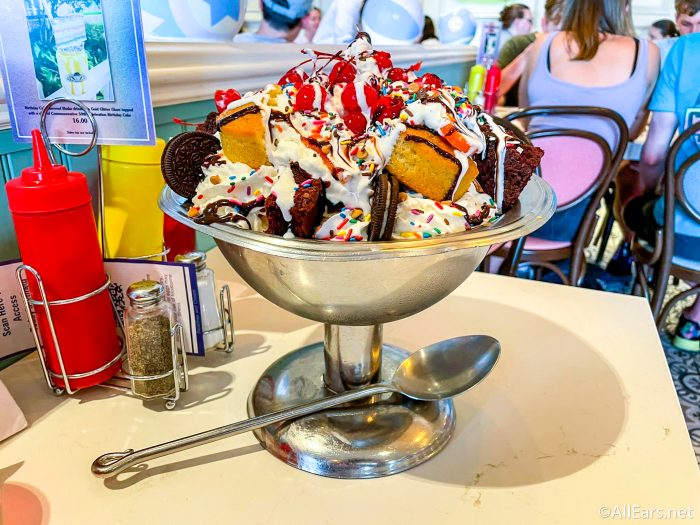 We dug into all that ice cream goodness, and got a whole brownie on our spoon, because ya gotta get the perfect bite, right?
We're so happy this fun tradition is back over at this iconic Disney World restaurant! Stay tuned to All Ears for more Disney news and updates.
Do you think you could finish this Kitchen Sink Sundae? Tell us in the comments!