LOTS of new eats have arrived in Disney World this summer!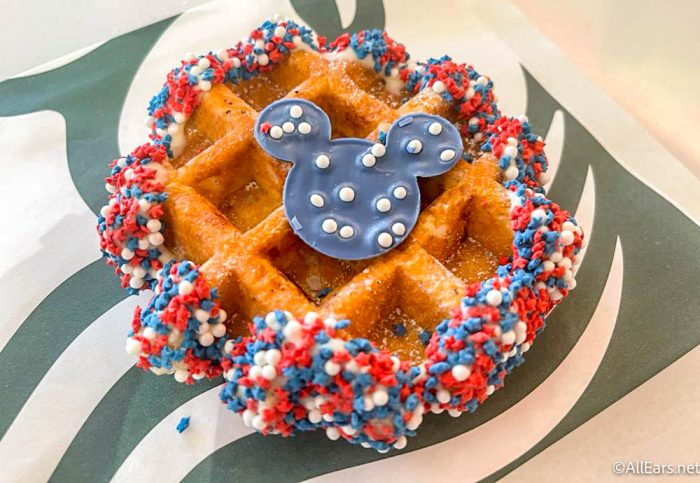 We got new treats for 4th of July, new summer snacks, and updated menus at several different restaurants. But that's not all — today we're sharing every single menu update from the past week in Disney World and Disneyland Resort!
Magic Kingdom
Auntie Gravity's Galactic Goodies
ADDED! Green Alien Freeze
ADDED! Magic Kingdom Club Éclair
ADDED Devils Chocolate Mousse Cake — Mr. Toad's Wild Ride Treat
EPCOT
ADDED! Southern-style Spoon Bread
Hollywood Studios
Mama Melrose's Ristorante Italiano
ADDED! Fried Fresh Mozzarella, Grilled Bone-In Pork Chop, Mini Cannoli Trio, Colors of Italy Cheesecake, Mama's Cookies to Go, Blueberry Frangipane Tart, Cherry Chocolate Cake
REMOVED Chocolate and Cherry Tort, Traditional Cannoli
REMOVED Carved Turkey Breast
ADDED! Plant-based Roasted Mushroom Farro Risotto, Slow-roasted Crispy Pork Belly, Shrimp and Bacon Mac & Cheese, Mississippi Mud Pie, PB&J Tarts
Animal Kingdom
Churro dipping sauce changed from chili-strawberry to coffee crème anglaise
Disney World Resorts
Menu Sneak Peek (reopening July 11th)
ADDED! Box Office Cupcake
ADDED! Rock and Roll Cupcake
ADDED! Lighting McQueen Gravel Road Sundae
Disney Springs
ADDED! Frozen Old Fashioned, removed lime Friezling
ADDED! Frozen Old Fashioned, removed lime Friezling
Coca-cola Rooftop Beverage Bar
REMOVED Peanut Butter Chocolate Cold Brew, Inca Kola and Lime
ADDED! July Drink of the Month- Razzle Dazzle
ADDED! Thailicious Donut, Black Raspberry Beret Donut
ADDED! July Cookie of the Month- Orange Pecan Chocolate Chip, July Cold Brew of the Month- Gingersnap
Disneyland Resort
ADDED! Kansas City-style BBQ Ribs, North Carolina-style BBQ Pulled Pork Sandwich, St. Louis-style BBQ-Rubbed Chicken, Pabst Blue Ribbon Beer
ADDED! Bonsoir Chili Cheese Poutine, Classic Poutine, Firelight Fries (late-night dining available 8:30-11:30PM through Aug 31st)
ADDED! Harbour Muffuletta Salad, Soup in a Sourdough Bread Bowl, Pelican Punch
ADDED! Blueberry Fritters, Hoppin' John Impossible™ Royal Wrap, Street Steak Salad
And that's all of the menu updates around Disney World and Disneyland! To see reviews of these restaurants (and all of the Disney restaurants), or to leave your own review, click here. 
We'll be sure to keep an eye on Disney menu updates, so make sure to stay tuned to AllEars for all the latest!
Which new snack or menu item are you most excited to try? Tell us in the comments!