It's almost summer, so do you know what that means? New foods in Disney Parks!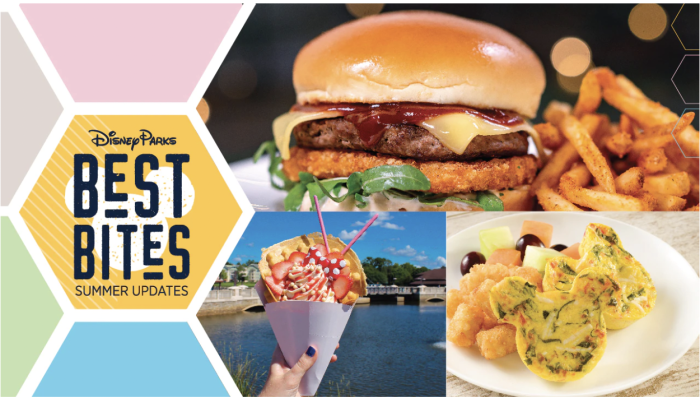 Disney just announced some new treats and eats coming this summer in both Disney World and Disneyland Resorts, so whether you're in Florida or California it's time to grab your favorite sunnies and get ready to eat!
Walt Disney World Resort
Magic Kingdom
Zurg Freeze (available through the end of June)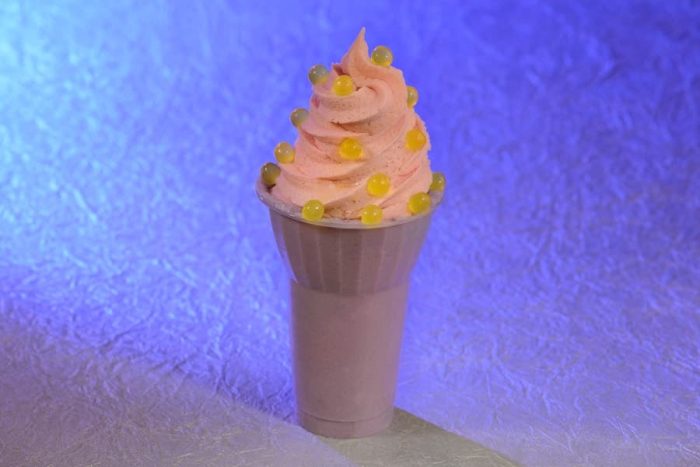 EPCOT
Cheese Pizza Roll (New)
Pepperoni Pizza Roll (New)
Roast Beef Sandwich with chilled roast beef, chimichurri aïoli, cheddar, arugula, and red onion on a flour-topped kaiser roll served with potato chips
Mediterranean Vegetable Sandwich featuring roasted red pepper, red onion, tomato, arugula, hummus, and balsamic vinaigrette on herbed focaccia (plant-based)
Spicy Fish Taco — fire-roasted corn salsa, creamy jalapeño Piri Piri sauce, and radish served with plantain chips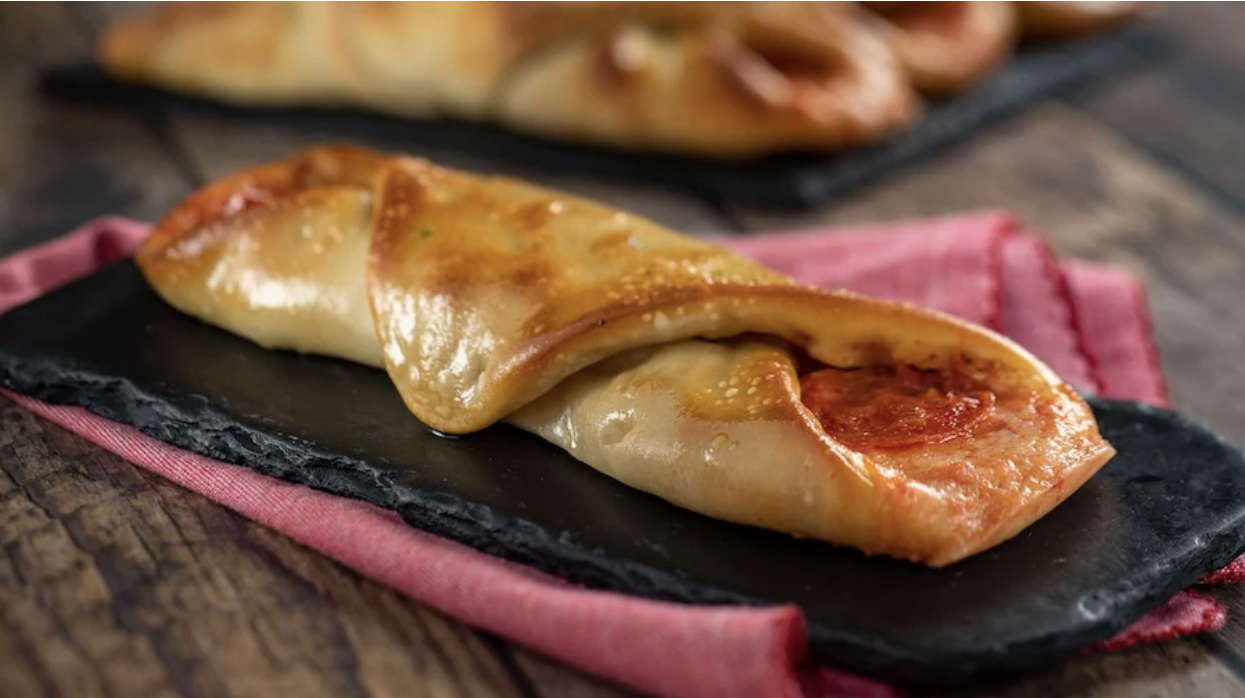 Barbecued-roasted Chicken with Sweet and Tangy Barbecue Sauce
Southern-style Spoon Bread
Trio of Seasonal Dips with fresh vegetable crudité and crisps (appetizer)
New England Clam Chowder (appetizer)
Orange-glazed Sustainable Salmon served with vegetable stir-fry and shiitake sticky rice (entree)
Cajun Chicken Pasta filled with pulled Cajun-spiced chicken, parmesan cream sauce, roasted mushrooms, peas, peppers, and onions (entree)
Disney's Hollywood Studios
The buffet will return on August 28th, 2022
Breakfast: Brioche French Toast with Banana Foster Sauce, Salmon and Bagel Casserole, and Plant-based Frittata with tomato jam
Lunch/Dinner: Plant-based Roasted Mushroom Farro Risotto, Slow-roasted Crispy Pork Belly with Guava glaze
Lunch/Dinner: Shrimp and Bacon Mac & Cheese
Dessert: Mississippi Mud Pie
Dessert: PB&J Tarts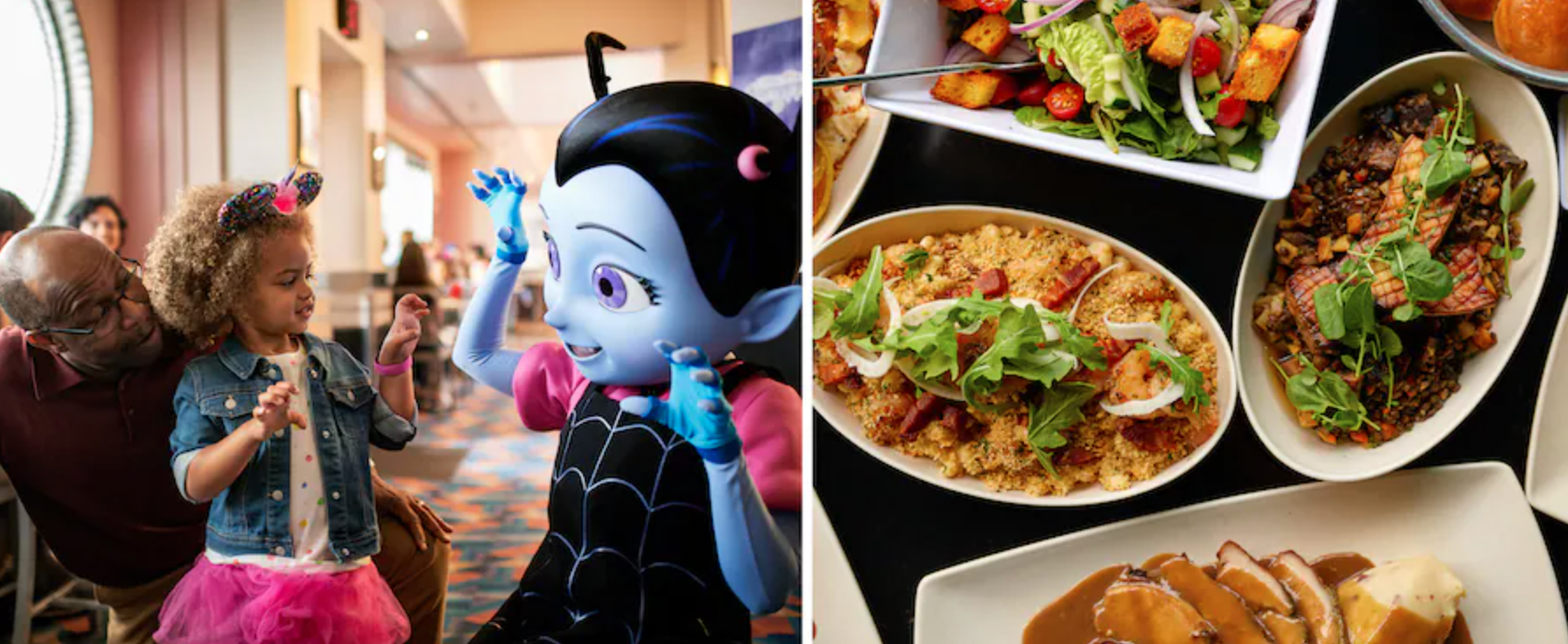 New menu inspired by classic Italian cuisine will debut in late June
Fried Fresh Mozzarella with marinara sauce, ricotta salata, and lemon oil (appetizer)
Grilled Bone-in Pork Chop accompanied by creamy polenta, roasted tomatoes, mustard vincotto, and charred broccolini (entree)
Enhanced versions of Mama's Italian Pasta and the Sustainable Fish dish
Desserts: Mini Cannoli Trio, Colors of Italy Cheesecake, Mama's Cookies To Go, and Blueberry Frangipane Tart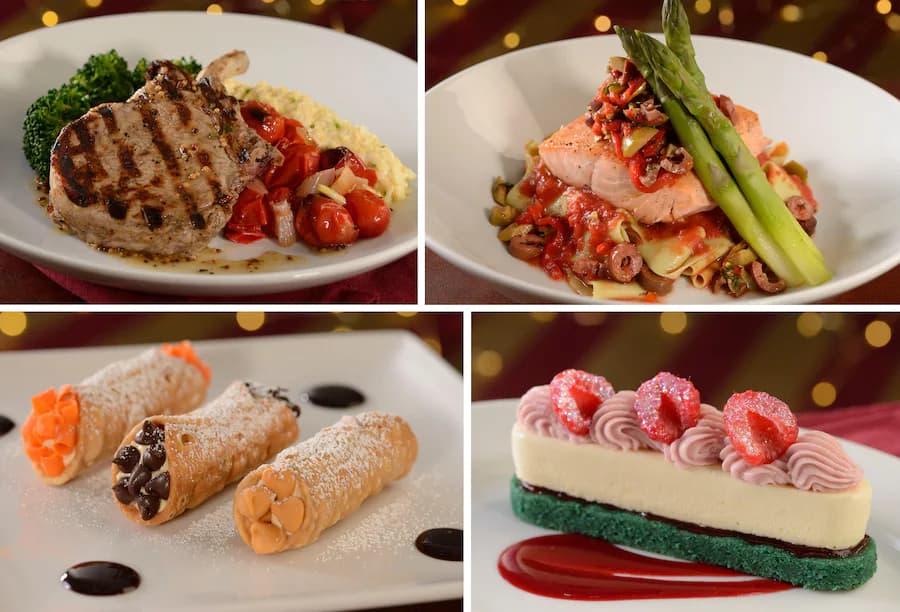 Sci-fi Smoked Wings — tossed in a porter barbecue sauce with a house-made pineapple and poppy seed coleslaw
Spinach and Artichoke Dip — a plant-based blend of spinach, artichoke, red peppers, cauliflower, cashew cheese, and oat milk served with house-made chips
Black Garlic Caesar Salad — petite romaine, grilled hearts of artichoke, chopped Applewood smoked bacon, shaved parmesan covered with house-made black garlic Caesar dressing, and served with a tasty, toasted crostini
Grilled Chicken Citrus Salad — romaine lettuce, spinach, arugula, rainbow tomatoes, candied pecans, cranberries, and feta cheese topped with a house-made citrus vinaigrette and grilled marinated chicken
Feature Film Burger — Surf & Turf — signature blend of beef and house-made seasoning" served on a brioche bun and topped with a shrimp and crab cake, pepper jack cheese, chipotle hollandaise sauce, grilled onions, heirloom tomato, arugula, and house-made vinaigrette
Red Planet — white chocolate cheesecake with blueberry compote on a graham cracker tart with matcha sponge and gold candied pecans
Out-of-this-World Sci-Fi Swirl — pineapple mousse with passion fruit cosmic swirl and a spiced lime spaceship garnished with space dust and blood orange coulis.
Also, the previously featured Pork on Pork Burger is now on the permanent menu — grilled house-made pork patty topped with roasted pork belly, white sharp cheddar cheese, caramelized onions, cabbage slaw, and a house-made Carolina mustard sauce.
Jalapeño Popper Deviled Eggs
Creamy Tomato Soup
Pineapple Upside-Down Cake
Lemon Meringue Pie
Grasshopper Bar
Stained Glass Dessert — blend of whipped pineapple fluff and cubes of strawberry, lime, and orange gelatin for the kiddos
Grandpa Jean's Chicken Pot Pie has returned
Key Lime Milkshake –Key lime vanilla cream shake topped with lemon-lime doughnut garnished with a sweet graham cracker crumb
Cold Brew Black Caf — Joffrey's Cold Brew, sweet cream cheese, and cocoa puffs
Spiked Cold Brew Black Caf — the same but made with Godiva liqueur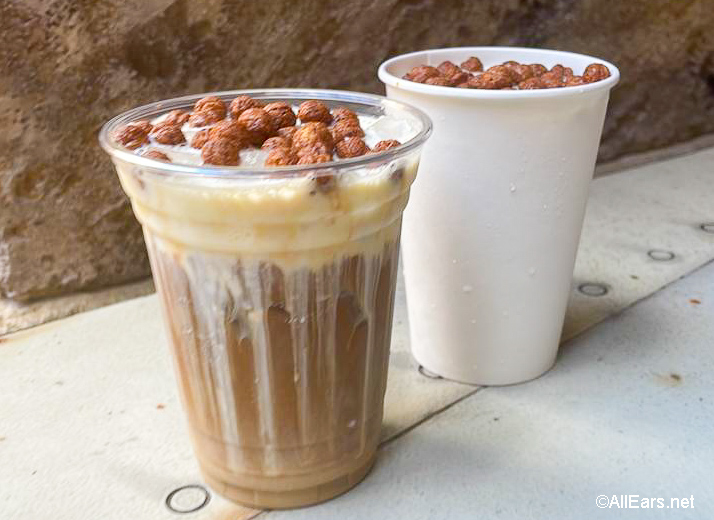 Disney Springs
The Picnic Series — inspired by popular summertime eats such as watermelon, fried chicken, and cherry pie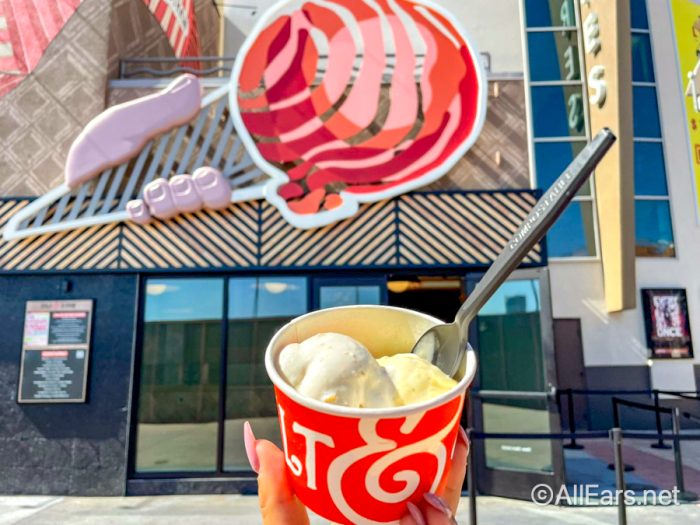 Buzz Lightyear Star Commander Cone — a purple cheesecake soft-serve adorned with chocolate wings and space sprinkles (available through the end of June)
DOLE Whip Float — Rosa Regale Sparkling Red Wine, DOLE Whip strawberry, and a fresh strawberry slice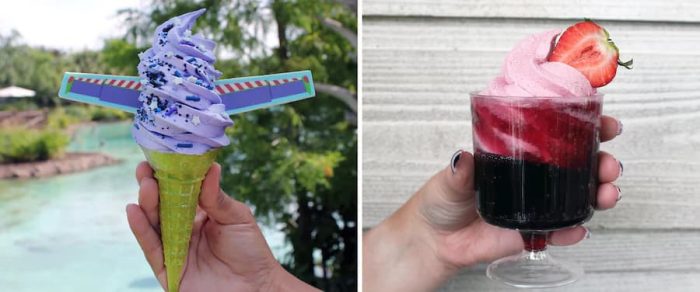 Mickey and Friends Bubble Waffle Sundaes (New)

Mickey Waffle Sundae: Vanilla soft-serve, hot fudge, cookie crumbles, and white chocolate crisp pearls
Minnie Waffle Sundae: Vanilla soft-serve, strawberry topping, sliced strawberries, and white chocolate crisp pearls
Donald's Waffle Sundae: Vanilla soft-serve, lemon curd, and blueberries
Goofy's Peanut Waffle Sundae: Vanilla and chocolate soft-serve, hot fudge, peanuts, sliced bananas, sliced strawberries, M&Ms minis, and a cherry on top
Pluto's Waffle Sundae: Chocolate soft-serve, chocolate-covered pretzels, peanut butter sauce, and milk chocolate crisp pearls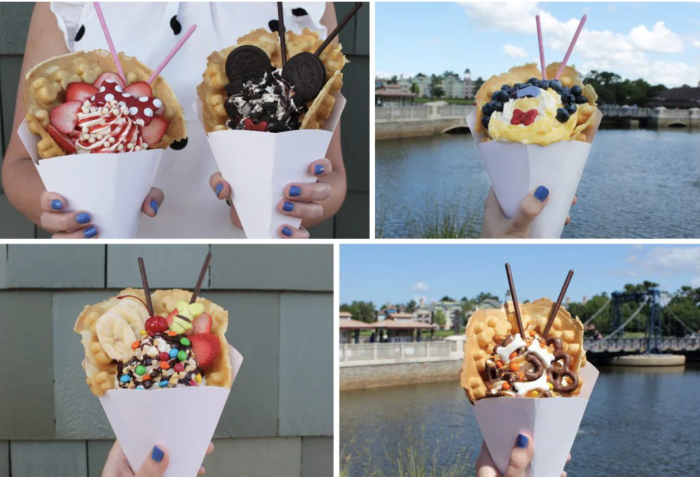 Disney Resorts
Available through June 7th, 2022 at  Intermission Food Court at Disney's All-Star Music Resort, World Premiere Food Court at Disney's All-Star Movies Resort, End Zone Food Court at Disney's All-Star Sports Resort, Everything POP Shopping & Dining at Disney's Pop Century Resort, Landscape of Flavors at Disney's Art of Animation Resort, Centertown Market at Disney's Caribbean Beach Resort, Riverside Mill Food Court at Disney's Port Orleans Resort – Riverside, and Sassagoula Floatworks and Food Factory at Disney's Port Orleans Resort – French Quarter.
Plant-based Mickey-shaped Frittata: Tomato, spinach, onions, and "mozzarella" served with potatoes and mixed fruit (New)
The IMPOSSIBLE Burger: IMPOSSIBLE patty topped with Carolina-style barbecued jackfruit, pickled slaw, and "cheddar" served with French fries (New)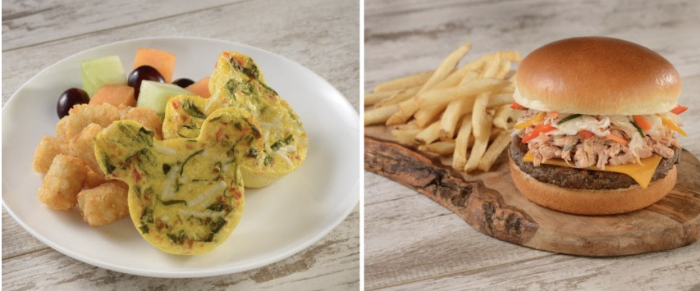 Grand Floridian Hotel & Spa
The Cheshire Cat Wildberry Mousse: Swirls of wildberry mousse, berry compote, and cake crumbles topped with a white chocolate Cheshire Cat (New)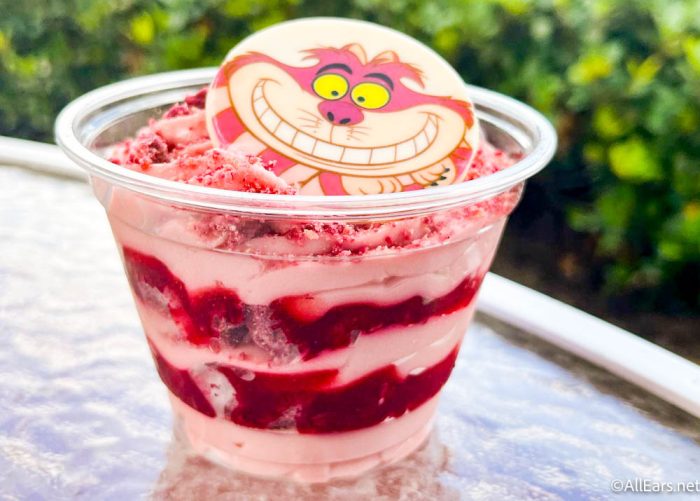 Orange Bird Cake Pop: Yellow cake pop swirled with citrus-scented buttercream to look like this iconic character (New)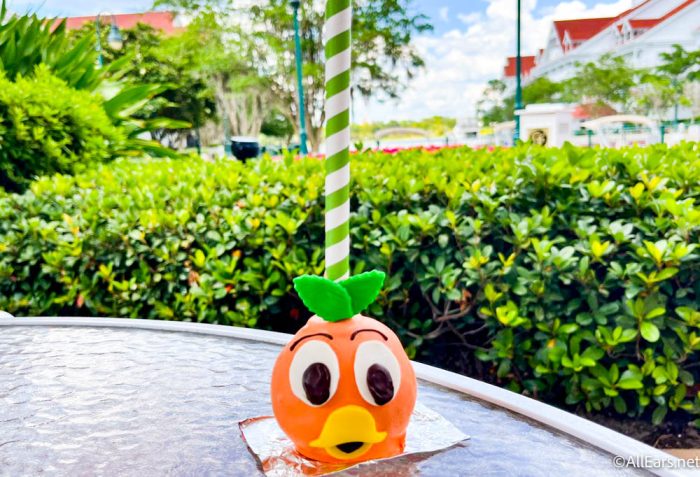 Brownie Crispy Cone: Ice cream cone filled with caramel-swirled brownie topped with a crisped rice treat, white chocolate drizzle, and sprinkles (New)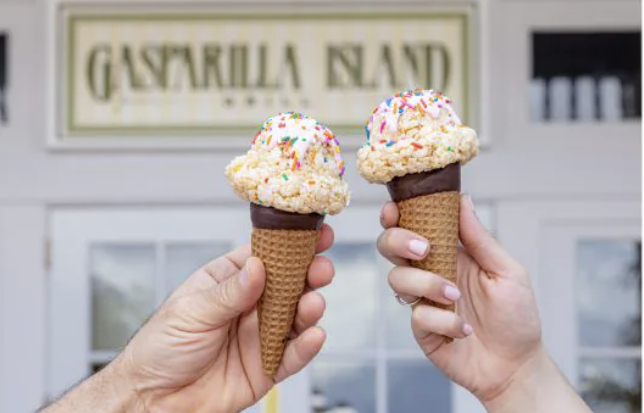 Disney's Old Key West Resort
Brunch service will be available every day of the week starting on September 1st, 2022 (reservations opening soon)
New for brunch: Banana Bread Pudding — Bahamian banana-rum syrup and coconut whipped cream with your choice of bacon, sausage, or ham
Disney's All-Star Movies Resort
Box Office Cupcake — a yellow cupcake filled with caramel and topped with marshmallow buttercream and a peanut-pretzel-popcorn brittle
Disney's All-Star Music Resort
Rock and Roll Cupcake — a yellow cupcake filled with peanut butter buttercream and topped with banana panna cotta and candied bacon
Disney's All-Star Sports Resort
MVP Cupcake — yellow cupcake is stuffed with apple pie filling and topped with a buttercream baseball and caramel popcorn-peanut crunch
Disney's Pop Century Resort
Everything POP Shopping & Dining
Flashback Crème Pie — an oatmeal-raisin cookie sandwich filled with marshmallow crème topped with dark chocolate and cinnamon glaze
Pop Goes the Bananas Cupcake — a yellow cupcake filled with caramelized banana in a pastry crème topped with caramel-latte buttercream
Disney's Art of Animation Resort
Lighting McQueen Gravel Road Sundae — featuring vanilla soft-serve ice cream with chocolate cookie crumbs, chocolate sauce, and a Lightning McQueen chocolate coin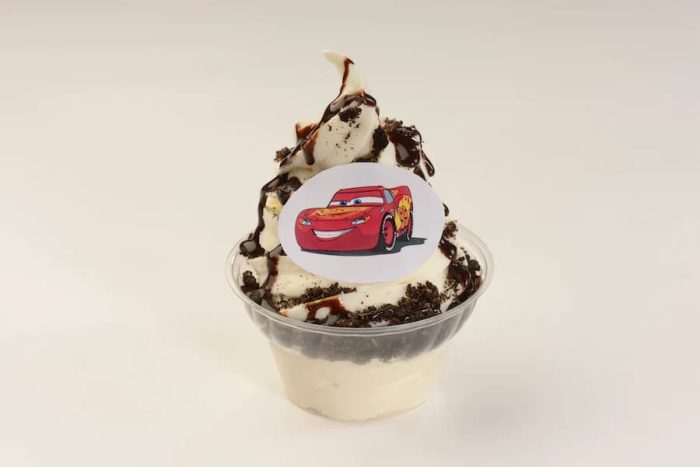 The Drop Off Pool Bar
The Big Blue Ocean — Svedka Vodka, Bacardi Superior Rum, Bols Blue Curaçao, and Minute Maid Premium Lemonade served with a souvenir glow cube
The Seafoam Refresher — Malibu Coconut Rum, Bols Blue Curaçao, and pineapple juice, garnished with pineapple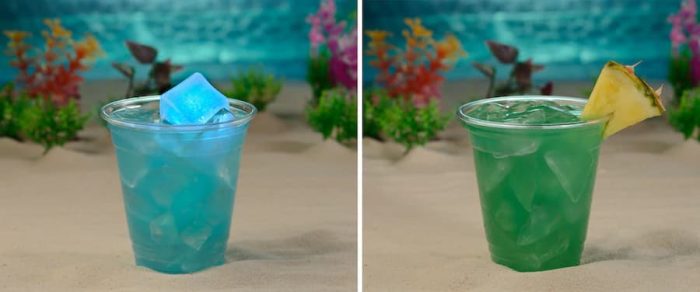 Disneyland Park
Available beginning May 28th
On-the-Go Package: Southern-inspired dishes like BBQ pork ribs, grilled salmon salad, bacon potato salad, and a dessert
Three-Course Meal: Select from plates like Chicken & Dumplings Skillet, Plant-based Cornbread Skillet, and Pan Roasted Shrimp
Bonsoir Chili Cheese Poutine — a hearty plant-based chili, shredded "cheese," and seasoned waffle fries
Classic Poutine — slow-cooked beef, gravy, cheese curds, and spiced, pickled red onions on waffle fries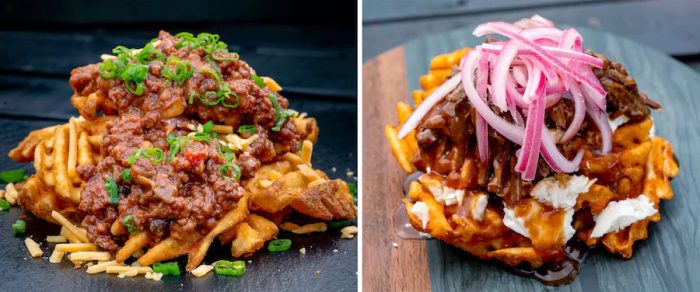 Soup in a Sourdough Bread Bowl — with your choice of clam chowder, steak gumbo, or the plant-based vegetable gumbo
Harbour Muffuletta Salad — cured meats and cheese on mixed lettuce with olive tapenade, giardiniera, pepperoncini, and Italian dressing with sliced sourdough
 Pelican Punch — a chilled tropical blend of pineapple, coconut, and lime.
Hoppin' John IMPOSSIBLE Royal Wrap — seasoned plant-based meat with rice, black-eyed peas, "cheddar," lettuce, and Cajun dressing in a spinach tortilla
Street Steak Salad — chilled steak on mixed greens, cherry tomatoes, blue cheese, candied pecans, and fried onions with a horseradish dressing
Blueberry Fritters — with blue sugar and lemon curd dipping sauce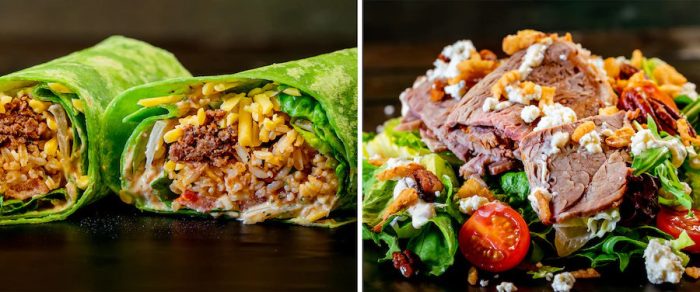 Tomorrowland Skyline Lounge Package — Tomorrowland Skyline Balcony
Available beginning May 20th
Choice of entree, side, dessert, and unlimited beverages with a great view of Disneyland Park and the fireworks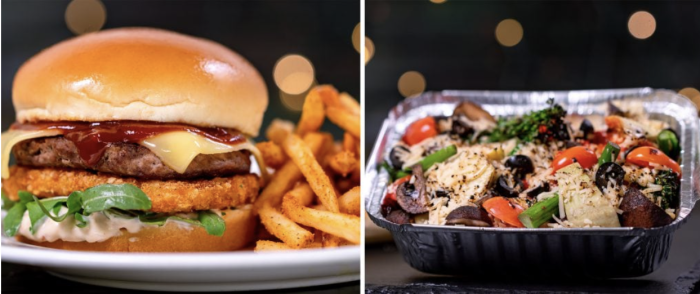 Disney California Adventure
Kansas City-style BBQ Ribs — pork ribs with house-made BBQ sauce, pickles, and onion
North Carolina-style BBQ Pulled Pork Sandwich — with creamy coleslaw, crispy jalapeños, pickles, and onions
St. Louis-style BBQ-Rubbed Chicken — a beer-brined, roasted half chicken with pickles, and onions
Peach Cobbler Cocktail — moonshine, peach schnapps, and peach-cinnamon purée
Pabst Blue Ribbon Beer
Note that all the BBQ entrees above come with a choice of side – the Poblano Mac & Cheese, Chuck Wagon Beans, Potato Salad with Bacon, Creamy Coleslaw, Andouille Sausage, or the Jalapeño-cheddar Cornbread.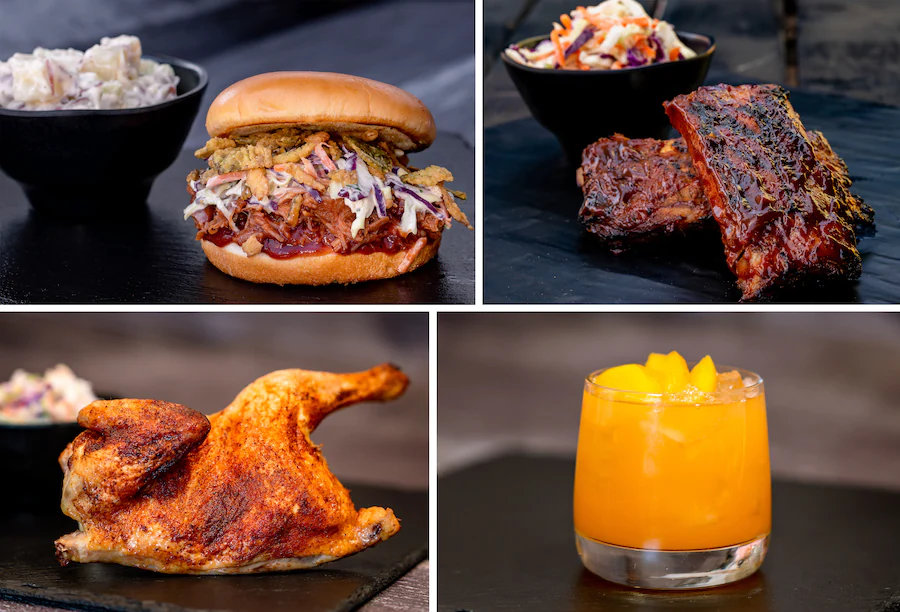 Family Picnic Platter — a BBQ half chicken, pulled pork, ribs, andouille sausage, poblano mac & cheese, chuck wagon beans, potato salad with bacon, creamy coleslaw, jalapeño-cheddar cornbread, pickles, and onions, with cherry cheesecake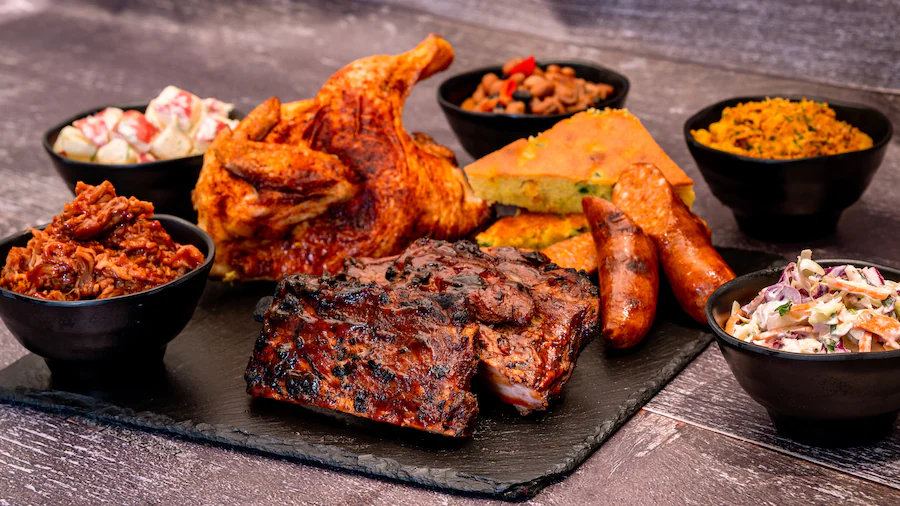 Downtown Disney
The Picnic Series — inspired by popular summertime eats such as watermelon, fried chicken, and cherry pie
And that's all the foodie news for this summer in Disney Parks! Stay tuned to AllEars for more Disney news!
Join the AllEars.net Newsletter to stay on top of ALL the breaking Disney News! You'll also get access to AllEars tips, reviews, trivia, and MORE! Click here to Subscribe!

Are you planning to visit Disney World this summer? Tell us in the comments!