If someone were to tell you to close your eyes and think about Walt Disney World, you're more than likely going to picture — at least briefly — that majestic baby pink castle with bright blue spires, towering in the middle of the Magic Kingdom.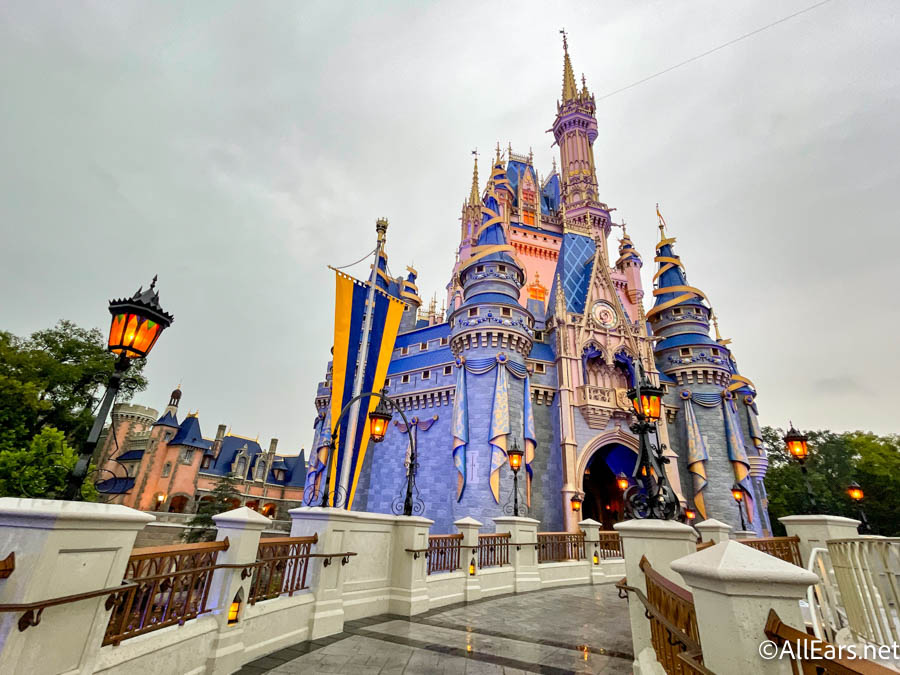 Cinderella Castle is the main emblem of not only Fantasyland, but of Disney World, period. It's on Disney merchandise and commercials — it's even featured at the beginning of every Disney animated movie! Disney takes pride in Cinderella Castle, as well as the journeys it's undergone to become what it is today.
When Magic Kingdom was in the process of being built, Walt Disney knew he wanted there to be a castle in the center of it all, similar to Sleeping Beauty Castle over in Disneyland. But it didn't need to be an exact copy of Sleeping Beauty Castle because, well, that was Disneyland's trademark structure. Magic Kingdom needed its own castle with its own personality.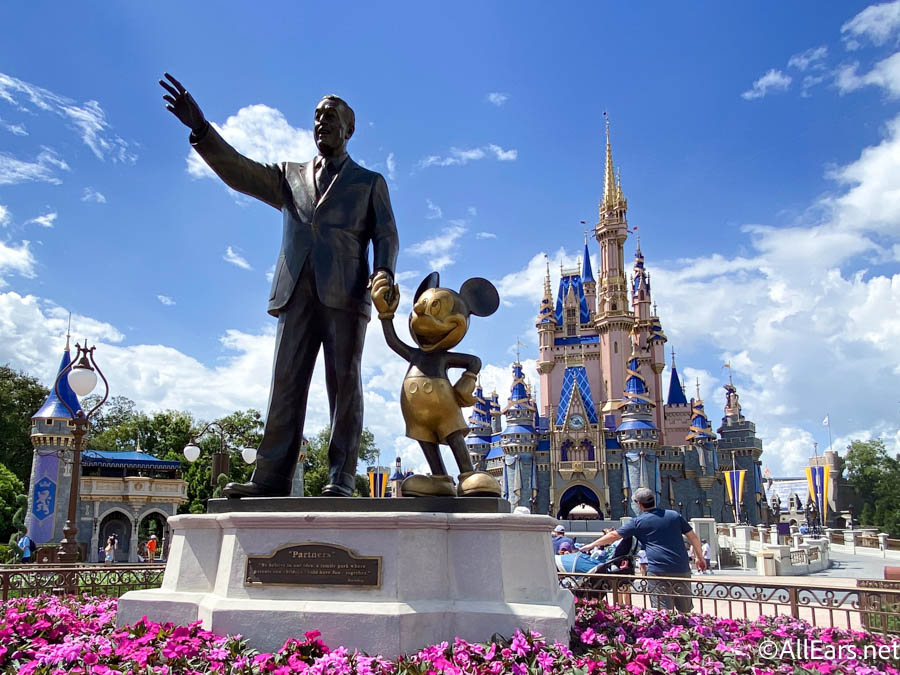 According to D23, WED Enterprises traveled to Europe to study their palaces and castles as inspiration for what Cinderella Castle would become. The castle, as depicted in Cinderella's animated movie, would turn into the biggest inspiration for Herb Ryan — the Chief Castle Designer for Cinderella Castle. 
Cinderella Castle stands at 189 feet tall to avoid adding that red twinkling aircraft light to its highest spire — something required for all structures 190 feet tall and higher. However, thanks to the use of forced perspective, the castle looks way taller than it actually is. Disney Imagineers built the first half of Cinderella Castle to scale and built the second half at a smaller scale to create an optical illusion.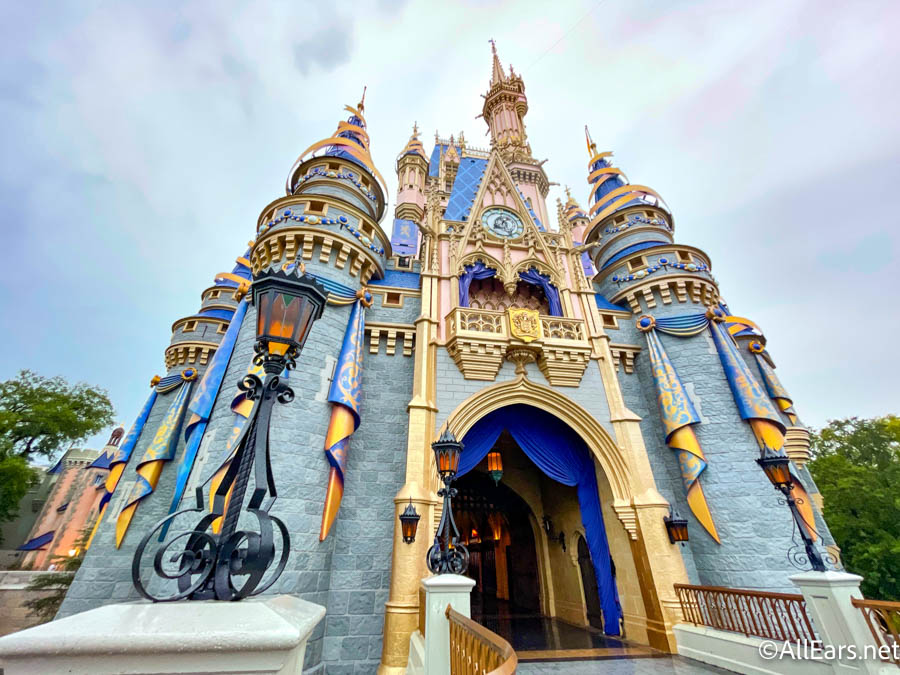 But Cinderella Castle isn't just for looks. When you walk through the archway, you can find 5 gorgeous murals scaling the walls that were designed by production designer, Dorthea Redmond. Redmond had previously worked in Hollywood on numerous notable films, such as (but not limited to) Gone With the Wind and Rear Window. She was hired on to the Disney team to help design numerous projects, but creating the Cinderella mosaic murals might've been the most intricate project she ever undertook.
At least, that's what *we* think. After all, each 15-foot high and ten-foot wide mural uses more than 500 colors and over a million jewels and glass bits to create these works of art. Each mural depicts a different scene from the Cinderella story — from humble beginnings to happily ever after.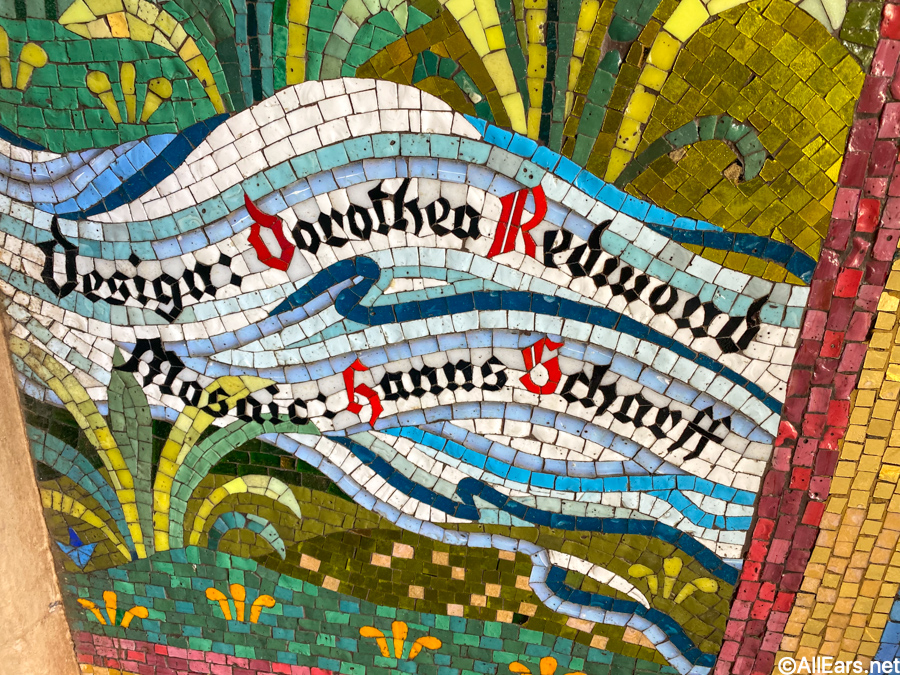 Cinderella Castle is also the home to the signature dining restaurant, Cinderella's Royal Table, which has been designed to look like a banquet hall fit for a princess. But before it was called Cinderella's Royal Table, it was actually called King Stefan's Banquet Hall.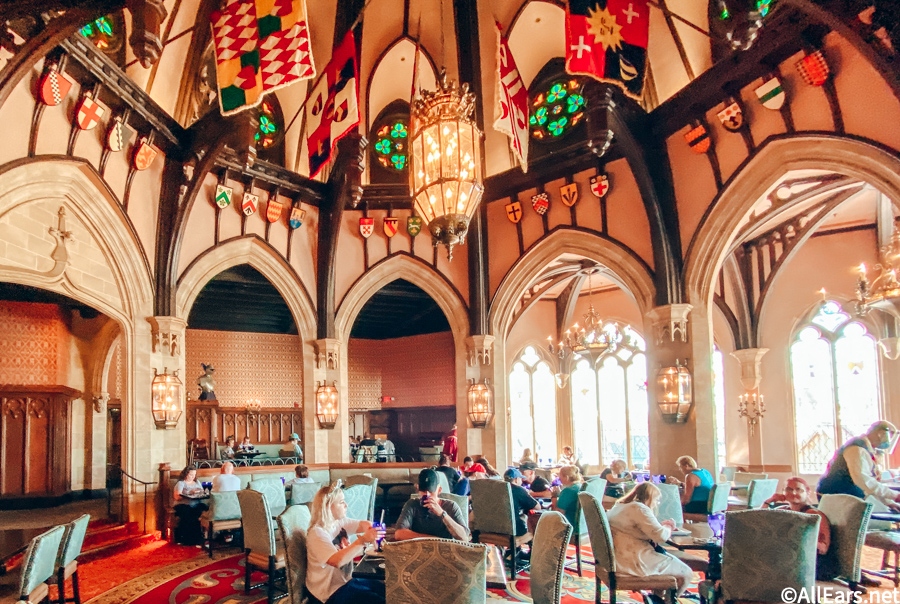 You see the issue with the restaurant's original name, right? King Stefan is actually Princess Aurora's father — not Cinderella's. It didn't make sense to have a restaurant named after a character from Sleeping Beauty in Cinderella Castle, so the mistake was officially fixed in 1997. Cinderella's Royal Table makes much more sense.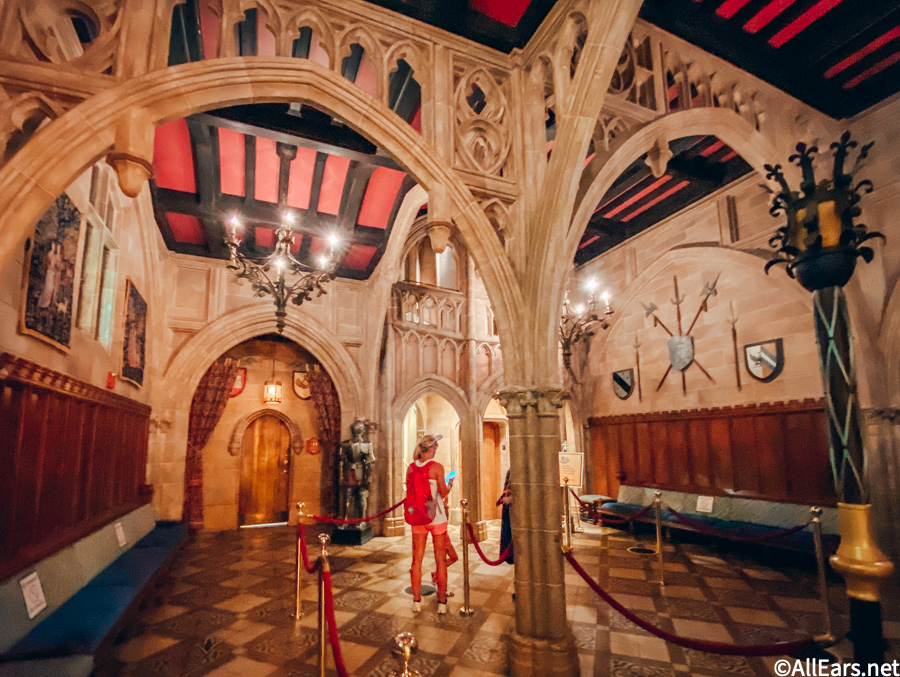 But that's not all — there's one more experience hiding within the walls of Cinderella Castle. Cinderella's Suite opened during the Year of a Million Dreams celebration back in 2006. It's located on the fourth floor of the castle and has mind-blowing medieval-like decor.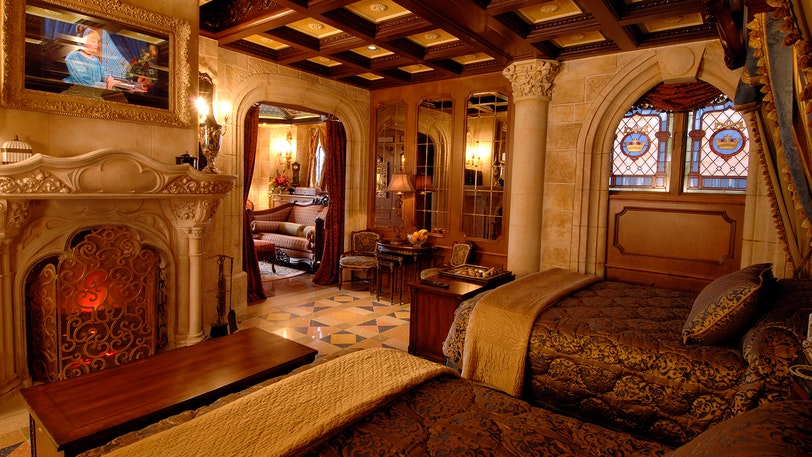 If we could summarize it in one word? Gold. Lots and lots of gold embellishments and "magical" essences. However, only guests who are personally invited by the Walt Disney company are allowed to spend the night in this extravagant suite.  Before the shutdown, you could book a tour that took you to see Cinderella's Suite, but that experience is currently not available.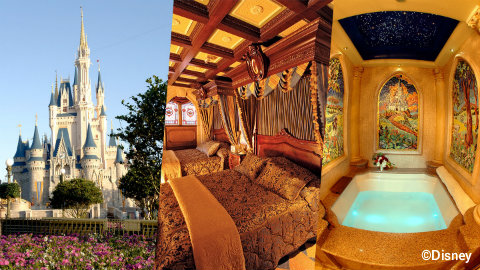 Cinderella Castle has always been a sight to behold, but it has taken on quite the looks over the years.
For Disney World's 25th Anniversary, Cinderella Castle was transformed into a giant pink cake. Which was, well, an interesting choice, for sure.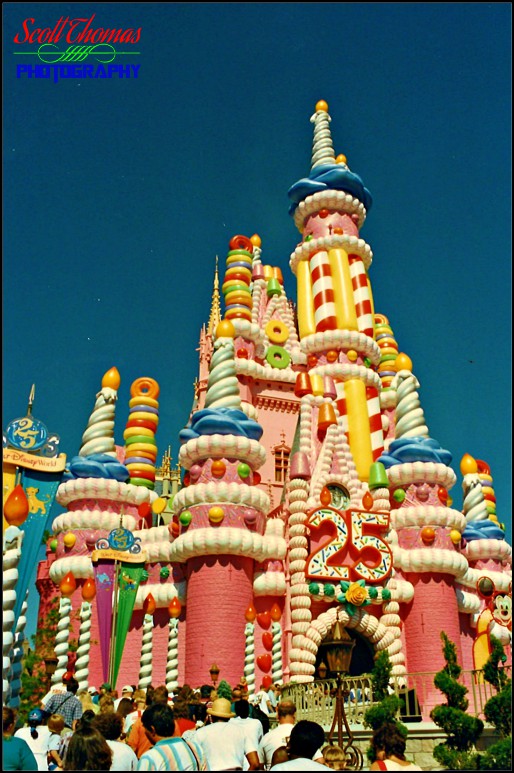 And on November 16th, 2004, that rapscallion 626 TP'ed the castle to promote Magic Kingdom's release of the Tomorrowland experience, Stitch's Great Escape. This transformation only lasted for a day.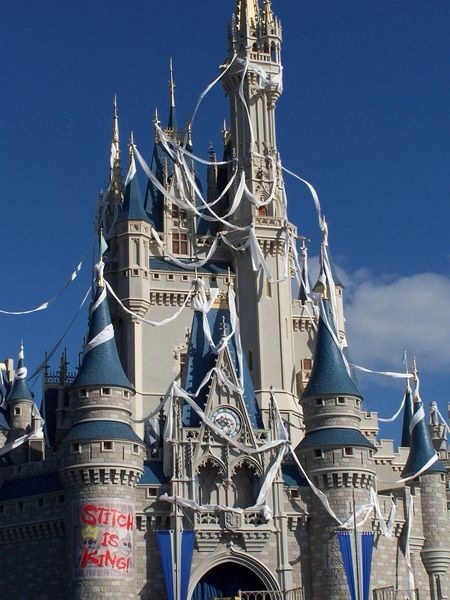 (Don't get us wrong — it'd be cool to have been one of the few people that witnessed this mess, but we're glad it didn't stick around.)
As technology continued to progress, so did Cinderella Castle's look. In November of 2012, Magic Kingdom released its first-ever castle show with full-scale projection mapping. The show was called Celebrate the Magic and was a huge hit with guests.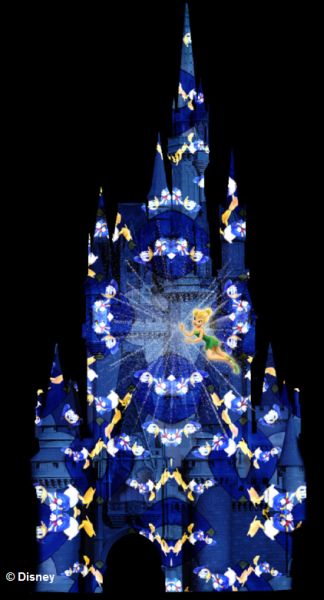 Disney continues to use projection mapping to this day and has even gone on to use it in the other parks — like on Disney's Hollywood Studios' Hollywood Tower Hotel around the holidays, or on Disney's Animal Kingdom's Tree of Life to, well, literally bring that tree to life!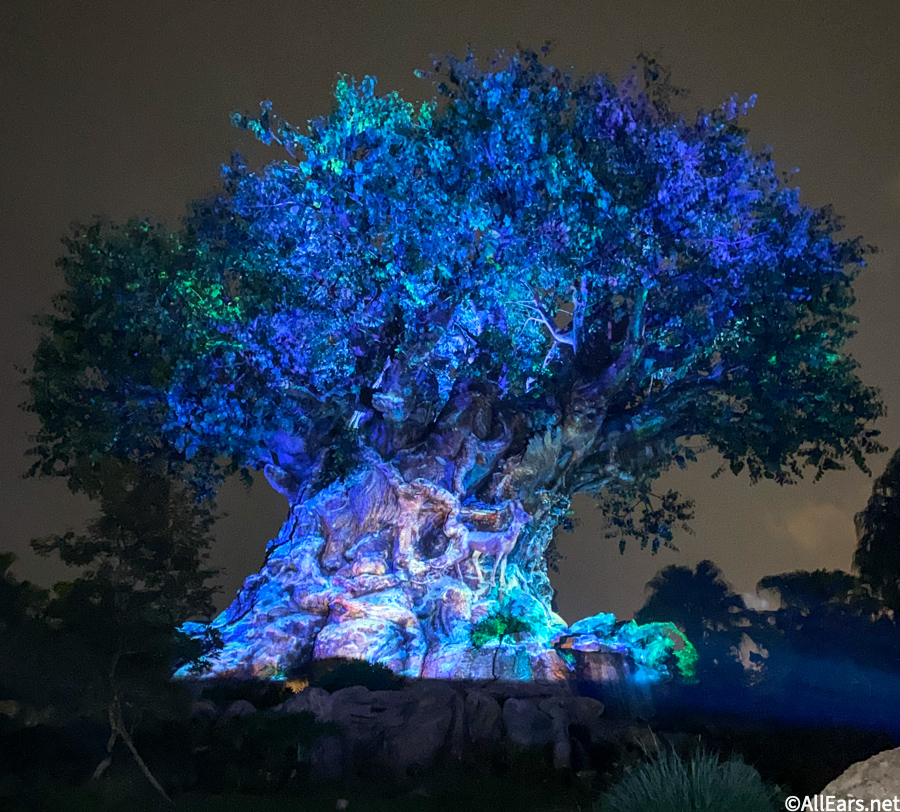 Now, Cinderella Castle has transformed once again for Disney World's 50th Anniversary. It had a paint job back in 2020, transforming it from its signature white to baby pink, but recently it's also been dressed up with "ribbons" and shimmering swirls around its spires to get all fancied-up for the big EARidescent celebration that started on October 1st, 2021.
We love Cinderella Castle in all its forms. It's not only been the staple of the Disney World resort, but also the staple of our childhoods — and perhaps the same goes for you.
Join the AllEars.net Newsletter to stay on top of ALL the breaking Disney News! You'll also get access to AllEars tips, reviews, trivia, and MORE! Click here to Subscribe!


What's your favorite memory of Cinderella Castle? Let us know in the comments below!