Beginning in 1981 and for every five years since, Walt Disney World was the place where anniversaries were not only celebrated, but were celebrated in grandiose, over-the-top fashion.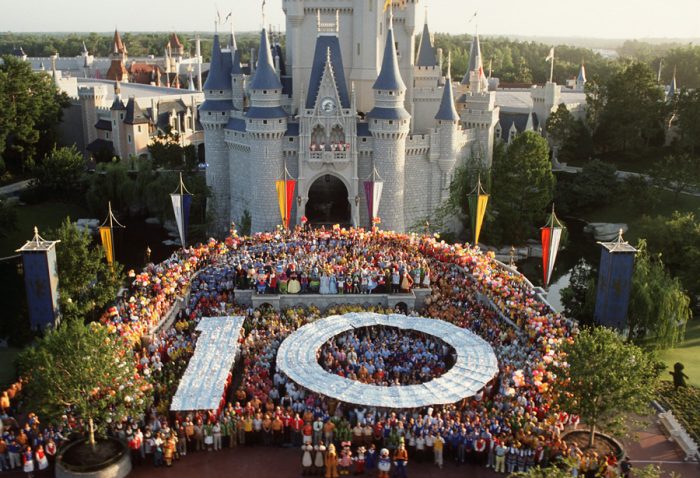 Over the years, WDW has made it a practice of producing elaborate festivities to mark the resort's most significant milestones, typically every five years. Most have been extravagant and quite memorable.
There were two exceptions: For whatever reason, 2011 and 2016 – WDW's 40th and 45th anniversaries, respectively – went by without much fanfare, save for some nostalgic clothing and souvenir offerings.
Oftentimes, during the years when the folks at Disney decided to go bonkers, the year-long parties stretched out over 18 months. But since they were always so much fun, no one really noticed or cared.
The Tencennial was WDW's first stab at celebrating a special anniversary. They kicked off the festivities on Oct. 1, 1981, with cast members gathering in front of Cinderella Castle to form a giant number 10.
Six-hundred press guests from coast-to-coast wore Mickey Mouse hats with silver ears on Main Street and a variety of celebrities helped kick off the festivities.
Hot air balloons were big, too, during the 10th as they floated in the night skies over Seven Seas Lagoon with the large No. 10 dangling underneath.
The success of the 10-year celebration fanned the flames for a massive celebration five years later.
The 15-year party in 1986 took over-the-top to new extremes. Disney invited 10,000 members of the media for a weekend of top-flight entertainment [Gloria Estefan and the Miami Sound Machine performed in front of Cinderella Castle, and a day later, Dolly Parton entertained invited guests in EPCOT], as well as much pomp and circumstance.
"Golden Girls" Betty White and Bea Arthur hosted a 15th-anniversary TV special which gave a great overview of the Magic Kingdom and helped familiarize folks with the new kid on the block, EPCOT, which opened in 1982.
To give you an idea on the level of the event's over-the-top nature, a new automobile was given away to one lucky guest every day during the celebration.
The afternoon parade featured Mickey Mouse's fancy flaming pyrotechnic fingers, all to the beat of the catchy song "Fifteen years … we're having a party … at Walt Disney World … and the party's going strong."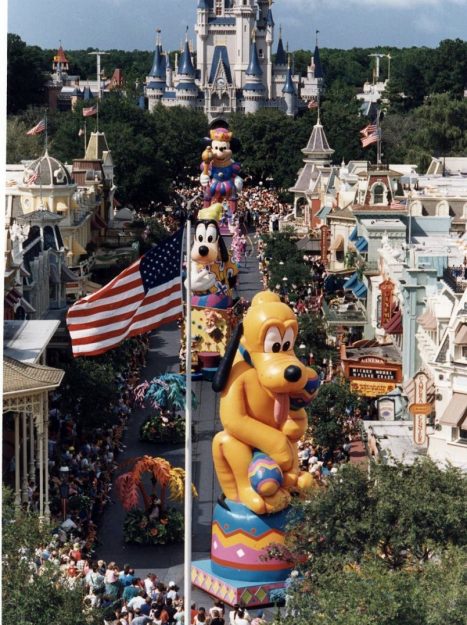 In 1991, WDW launched its 20th Anniversary Surprise Celebration, highlighted by a parade featuring over-sized Disney character balloons in a daily event that took on a decidedly Mardi Gras feel.
As part of those year-long festivities, hot air balloons in the shape of Cinderella Castle flew over select cities around the country.
The 25th anniversary was perhaps the most controversial of all the WDW birthday bashes.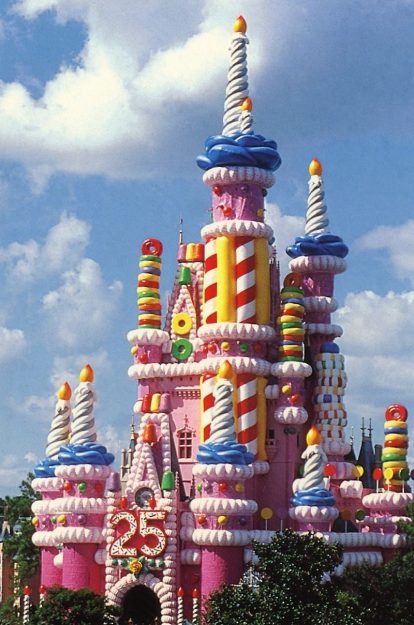 Stately Cinderella Castle was transformed into a giant pink birthday cake, topped with faux icing, lollipops and gum drops. The castle also had 26 candles attached to it — for 25 years and one to grow on.
Some folks thought Disney had gone too far with the cake, saying they had defaced their beloved castle.
Others who had booked weddings at the new Wedding Pavilion across Seven Seas Lagoon, hoping to get the traditional castle as a photo backdrop, were not pleased.
MILITARY JET FLYOVER KICKED THINGS OFF
The kickoff ceremonies for the 25th anniversary in the Magic Kingdom featured speeches by Roy E. Disney, then-CEO Michael Eisner and then-first lady Hillary Rodham Clinton, as well as a thundering flyover by U.S. military jets.
A parade called "Remember the Magic" was introduced as a way to honor the past visits of WDW guests, many of whom were invited to dance on Main Street along with cast members and characters during sections of the route.
WDW also took the opportunity of the 25th anniversary to debut "Captain EO," starring Michael Jackson, in EPCOT's Journey Into Imagination pavilion.
Big plans were made for WDW's 30th anniversary in October of 2001, but those plans were put on hold after the tragic events of Sept. 11.
A more subdued kickoff was held in December, but the nation, as well as the travel industry, was still reeling.
Five years later, WDW launched its Year of a Million Dreams campaign in conjunction with the 35th anniversary of the resort.
Guests were chosen at random to receive any number of prizes, perhaps the most intriguing of which was being able to spend a night in the remodeled suite inside Cinderella Castle.
Which brings us to 2011, the year Walt Disney World turned the big 4-0.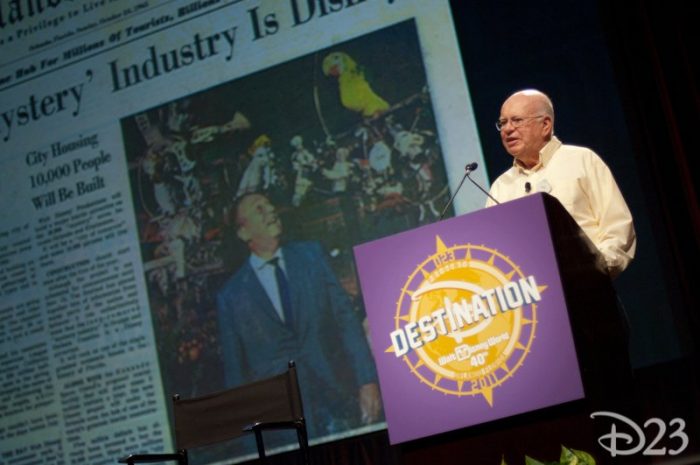 Aside from an assortment of nostalgia-themed merchandise, there were no elaborate plans to mark the occasion. The fact that the company invested so much time, talent and money into the launching of the Disney Dream and Disney Fantasy cruise ships may have had something to do with downplaying the 40th.
But D23, the official fan club of Disney, came to the rescue. The group held a two-day event, called Destination D: Walt Disney World's 40th, over one memorable weekend in May of 2011.
There were several presentations from Disney Legends and experts explaining in detail the fascinating behind-the-scenes story of how WDW came to be.
Those Legends and experts included Marty Sklar, Bob Gurr, Orlando Ferrante, Tony Baxter, Charlie Ridgway, Bill Sullivan, Jack Lindquist, Tom Nabbe, Bob Matheison and Richard Sherman.
Richard Sherman had the honor of closing the festivities with a one-hour 40 Years of Magical Memories concert featuring many of the classic songs he and his brother Robert composed for Disney.
Much like the 40th anniversary, WDW's 45th came and went without much fanfare. There were ceremonies in front of the castle on the morning of Oct. 1, pyrotechnics, and a gathering of costumed Disney characters … and that was about it.
Which brings us to Oct. 1, 2021, and Walt Disney World's 50th anniversary, officially known as The World's Most Magical Celebration.
With the resort finally emerging after the COVID-19 lockdown, plans for the big event are evolving.
We do know for certain that the new Ratatouille attraction in the France pavilion at EPCOT will be opening on Oct. 1.
And cast members will be wearing newly designed name tags as the company pays tribute to the countless men and women who work to make the magic happen every day.
And all four park icons – Cinderella Castle at the Magic Kingdom, Spaceship Earth at EPCOT, The Twilight Zone Tower of Terror at Hollywood Studios and the Tree of Life at Animal Kingdom – will feature new transformations, dubbed Beacons of Magic.
The Cinderella Castle makeover is far less jarring than the "castle cake" transformation of 1986. Indeed, the castle will be painted a soft pink, while swirling accents will be seen on and under the spires.
And the giant numbers 5-0 will be featured above the castle's entrance.
As far as other 50th anniversary plans, they're a work in progress.
First in a series of reports on past Walt Disney World anniversaries ahead of the resort's 50th, which kicks off on Oct. 1. Next time, we look at WDW's 15th anniversary.
Chuck Schmidt is an award-winning journalist who has covered all things Disney since 1984 in both print and on-line. He has authored or co-authored seven books on Disney, including his most recent, The Beat Goes On, for Theme Park Press. He also has written a twice-monthly blog for AllEars.Net, called Still Goofy About Disney, since 2015.