Walt Disney World celebrated its 15th year of operation on Oct. 1, 1986, by throwing what was arguably the most ambitious, over-the-top, spare-no-expense party it has ever hosted.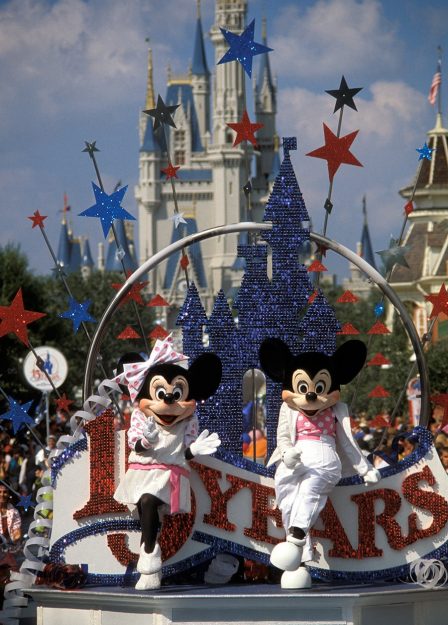 For one thing, the "year-long" celebration lasted 18 months. For another, one lucky guest each day for 365 days was awarded a new car, either a Chevrolet Cavalier or an S-10 pickup truck, courtesy of General Motors.
Other prizes – less valuable, though no less cherished – were handed out to guests as they walked through the main gate turnstiles. Those prizes included a three-night Premier Cruise vacation, video cassettes or tickets to Walt Disney World.
There was a TV special, hosted by "Golden Girls" stars Betty White and Bea Arthur, giving viewers around the country an in-depth look at not only the Magic Kingdom, but WDW's newest park, EPCOT Center.
And then there was the fact that 10,000 members of the media [radio, television and print personnel] from around the world were invited to a press event, from Oct. 1-5, the likes of which has never been duplicated.
The press event was the brainchild of legendary Disney publicist Charlie Ridgway, who was involved in so many media bashes large and small at both Disneyland and Walt Disney World.
The idea was to not only promote Walt Disney World, but to get the word out on many of the Orlando-area's other top-flight tourist attractions, including Sea World, Cypress Gardens and Gatorland.
The Orlando/Orange County Convention and Visitors Bureau also played a role in the promoting the area's offerings.
A major part of the festivities was the commemoration of the United States Constitution's bicentennial. Then-Supreme Court Chief Justice Warren Burger was on hand for that special occasion.
On display at the American Adventure was James Madison's desk, a George Washington "rising run" chair and other artifacts dating to the signing of the Constitution.
The 15th anniversary press event kicked off on Oct. 2, 1986, during an obnoxiously hot and humid stretch in central Florida. Daytime highs hit 96 degrees, with "low" temperatures at night never making it out of the 80s.
On that first night, media guests were bused from their WDW hotels to Lake Eola in downtown Orlando, where they saw a variety of booths rimming the lake, all promoting Orlando-area attractions.
There were fireworks over the lake, a water ski show and a concert highlighted by a performance from singer Toni Tennelle, who was backed by the Florida Symphony Orchestra.
The next day, it was off to the Orlando/Orange County Convention and Civic Center, where an audio-visual presentation highlighted the many new entertainment ventures that popped up after Disney came to town.
Later in the day, the media visited one of those ventures – Sea World, which opened in 1973, two years after the Magic Kingdom.
In the evening, media guests were wined and dined in the closed-to-the-public Magic Kingdom. Entertainment that night around the park included The Four Tops, The Temptations, Crystal Gayle and Buddy Rich.
The headline act, Miami Sound Machine, featuring Gloria Estefan, wowed guests while performing from the stage in front of Cinderella Castle.
The Kissimmee/St. Cloud Resort Area took center stage the next day with a show called Hospitality Southern Style at the Osceola County Stadium.
It was bill as a down-home country hoedown, with country artists Jerry Reed and Reba McEntire providing entertainment.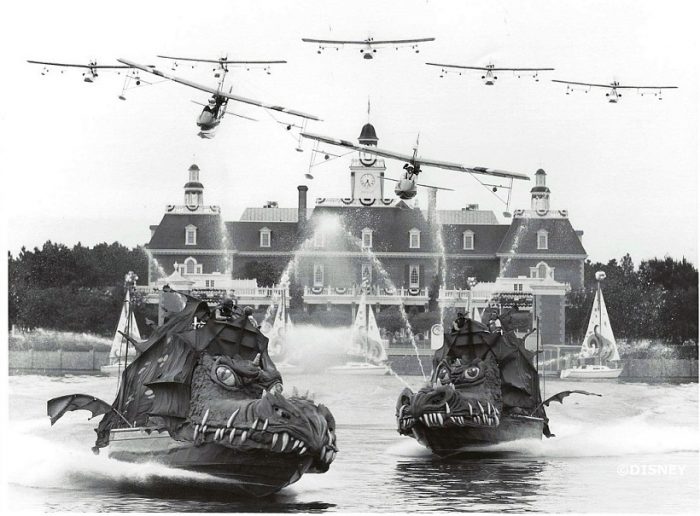 In the evening, guests were transported to EPCOT, where each pavilion in World Showcase offered samples of its unique cuisine.
Chief Justice Burger kicked off the night with a ceremony and a parade, called We The People.
Skyleidoscope, an air-and-sea show, debuted on and above World Showcase Lagoon.
At the Journey Into Imagination pavilion, the 3D space adventure Captain EO, starring Michael Jackson, also premiered.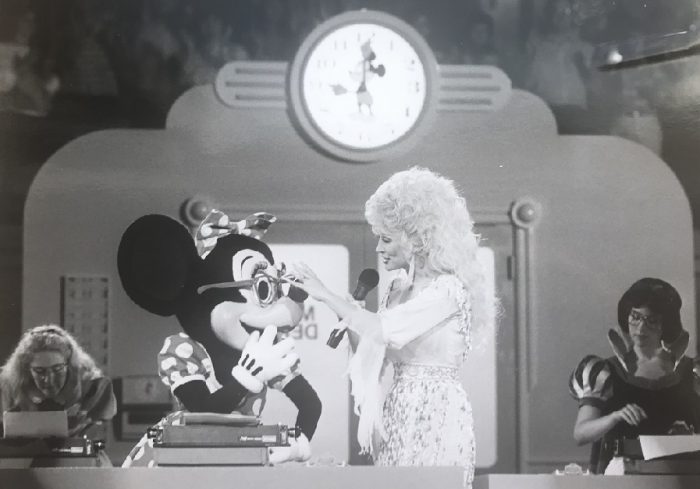 As if that weren't enough, Laserphonic Symphony, a precursor to the wildly popular Illuminations, wowed guests.
Topping off the night was a concert by country music superstar Dolly Parton.
It was a fitting way to celebrate what was then – and continues to be – The Vacation Kingdom of the World.
FIRST 15 YEARS SAW INCREDIBLE EXPANSION
Indeed, Walt Disney World saw considerable growth during its first 15 years of operation.
In 1972, the short-lived Swan Boats made their debut along the waterway near Cinderella Castle.
And the beloved Main Street Electrical Parade first lit up the night in 1977.
Tomorrowland saw the greatest expansion in the Magic Kingdom in the years after opening day.
If You Had Wings and Carousel of Progress opened in 1972; Star Jets debuted in 1974; and the WEDway PeopleMover and Space Mountain joined the futuristic fold in 1975.
Adventureland welcomed Pirates of the Caribbean in 1973, while Frontierland saw Tom Sawyer Island [1973] and Big Thunder Mountain Railroad [1980] added to its lineup.
Also new to WDW were the additions of Disney's Discovery Island [an animal and nature preserve which very much served as a precursor to Disney's Animal Kingdom, in 1974], the Disney Village Marketplace [1975] and River Country [1976].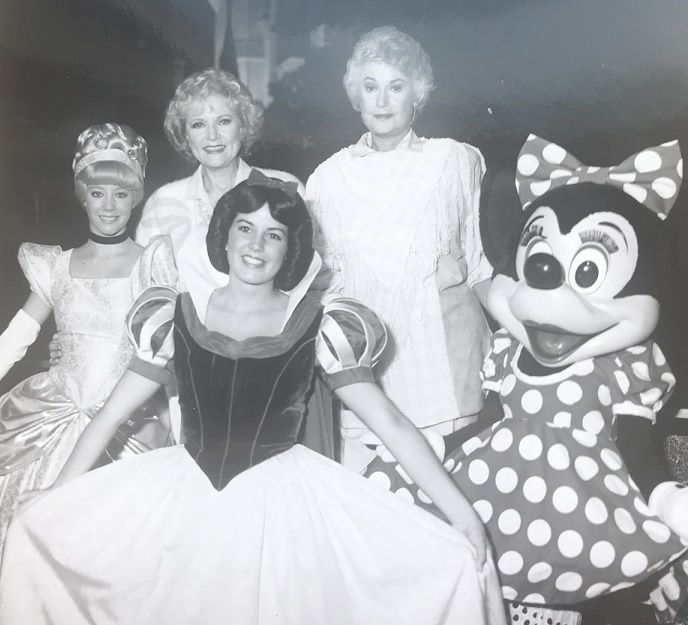 Also during WDW's first 15 years, Disney's much-anticipated second theme park, known as EPCOT Center, opened in 1982.
EPCOT was a first-of-its-kind park experience, initiating the Disney concept of "edu-tainment" … where guests could learn about technological advances presented by the movers and shakers of American industry, all while being entertained.
In the next few years after it opened, four attractions were added to the EPCOT lineup: Journey Into Imagination [1983]; Horizons [1983]; Morocco [1984], and The Living Seas [1986].
Indeed, change has been the hallmark of the Disney theme park experience, ever since founder Walt Disney said that his plans would never be completed "as long as there's imagination left in the world."
During the 1990s – dubbed "the Disney decade" by then CEO Michael Eisner, the company saw massive growth and expansion, with new parks opening or under construction around the world; new attractions powered by advanced ride technology; new resort experiences, and even a foray into the cruise industry.
While the anniversary celebration in 1986 was a look back at 15 remarkable years, it truly was a look forward … a launching pad, if you will, for the years of change and progress ahead.
Second in a series of reports on past Walt Disney World anniversaries in advance of the resort's 50th, which kicks off on Oct. 1. Next time, we look at WDW's 25th anniversary.
Chuck Schmidt is an award-winning journalist who has covered all things Disney since 1984 in both print and on-line. He has authored or co-authored seven books on Disney, including his most recent, The Beat Goes On, for Theme Park Press. He also has written a twice-monthly blog for AllEars.Net, called Still Goofy About Disney, since 2015.