In October of 1996, it was time to remember the magic: Walt Disney World turned 25 years old.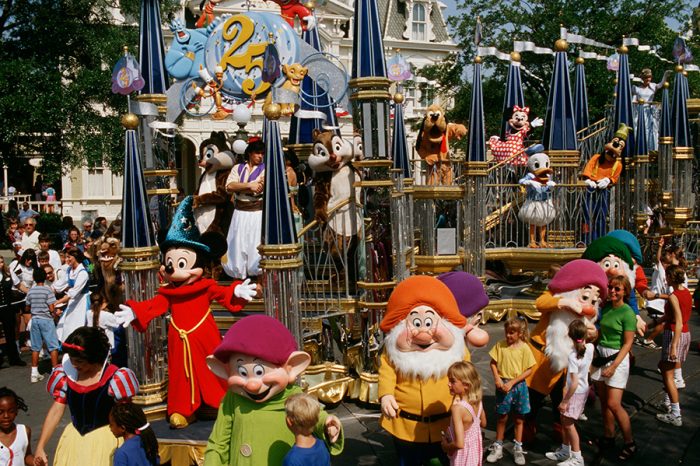 In keeping with founder Walt Disney's philosophy that the resort would never be completed "as long as there is imagination left in the world," WDW was in the midst of monumental changes before, during and after the big 2-5 celebration.
Those changes, all tied to then-CEO Michael Eisner's promise of making the 1990s "the Disney decade," would alter the resort for years to come.
WDW's 25th anniversary – subtitled It's Time to Remember the Magic – was part of a massive years-long transformation, which included new hotels and vacation experiences, new attractions, an entirely new animal-themed park, a multi-use sports complex, a foray into the cruise industry, expanded shopping and dining options … and, to some folks' chagrin, a new look for Cinderella Castle.
The 25th anniversary was launched with a large media gathering … large, by most everyone's standards, but nowhere near the magnitude of the 15th.
The festivities began on Sept. 30 with an event called A Night of Magical Dreams at the Orlando Arena. The night was hosted by Regis Philbin and Kathie Lee Gifford.
The following morning, formal ceremonies were held at the Magic Kingdom.
Special guests of honor were members of the Boys and Girls Clubs of America, who were decked out in colorful T-shirts.
Speeches were given by Roy E. Disney, who read his father Roy's opening-day dedication, Michael Eisner, and then-First Lady Hillary Rodham Clinton.
After an inspiring – and thunderous – flyover by several U.S. military jets, WDW was formally rededicated, followed by a 1,076-piece marching band high-stepping its way down Main Street U.S.A. to the tune of Meredith Wilson's "76 Trombones."
Later that night, a party was held for the media inside the Disney/MGM Studios, which opened in 1989. A parade down Hollywood Boulevard featured grand marshal Bob Hope, and included Michael J. Fox, John Denver, Bill Nye, Kathie Lee and Frank Gifford, Alex Trebek and Drew Carey.
In addition, a special "taste" of the Disney Cruise Line was presented outside the new BoardWalk Resort … giving guests a sampling of the cuisine to be offered on the Disney Magic, which would set sail two years later. On hand for the night was reigning Miss America Heather Whitestone.
Here's a deep dive into the goings on at Walt Disney World in 1996, the year WDW turned 25:
NEW HOTELS AND VACATION EXPERIENCES
On Oct. 1, 1996, coinciding with the kickoff of the 25th anniversary celebration, Disney's nostalgia-themed BoardWalk Resort opened its doors.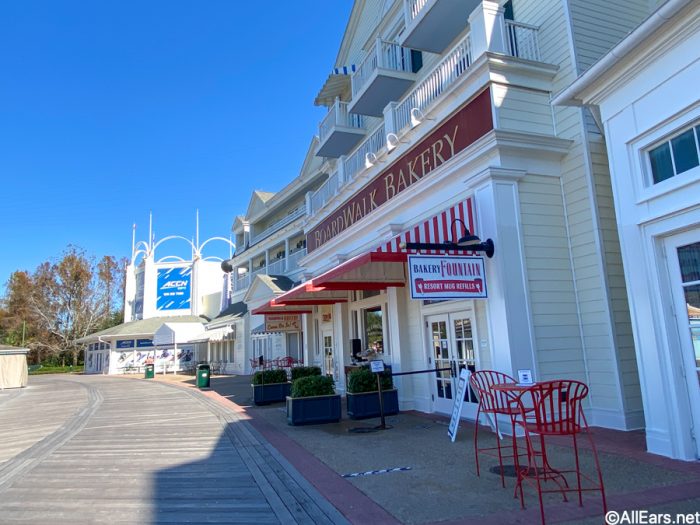 The massive hotel complex, located on the shores of Crescent Lake and about halfway between the back entrance to EPCOT and the main gate of the Disney/MGM Studios, was comprised of the BoardWalk Inn [378 deluxe guest rooms] and the BoardWalk Villas, which had 532 units reserved for Disney Vacation Club members.
The resort was designed by renowned architect Robert A.M. Stern, who did a masterful job of capturing the look and feel of a resort located along the mid-Atlantic seacoast in the 1930s. There were colorful awnings, period artwork and vintage furniture sprinkled throughout the resort.
To add to the ambiance, mimes, jugglers, stilt walkers and magicians entertained guests along the resort's crescent-shaped wooden boardwalk.
Tied to the resort were a variety of restaurant and entertainment options, including the ESPN Club, Atlantic Dance Hall, Jellyrolls, Spoodles, Flying Fish Café, and Big River Grille and Brewing Works.
To add to the water-themed ambiance of the area, passenger boats called FriendShips transported guests to the back entrance of EPCOT, the Disney/MGM Studios' Main Gate, the Yacht Club and Beach Club resorts and the Swan and Dolphin hotels.
The next new on-property Disney resort – Coronado Springs – was in the final stages of construction and opened in the fall of 1997.
When it debuted, Coronado Springs featured 1,967 guest rooms and boasted of 95,000 square feet of meeting space when it swung open its doors.
The resort was themed to represent Northern Mexico and the American Southwest and paid homage to the explorer Francisco de Coronado and the areas he visited.
The resort itself encompassed 136 acres, with a 15-acre lake serving as a focal point.
More recently, the massive Gran Destino Tower was added to the Coronado complex, offering expanded room and convention space.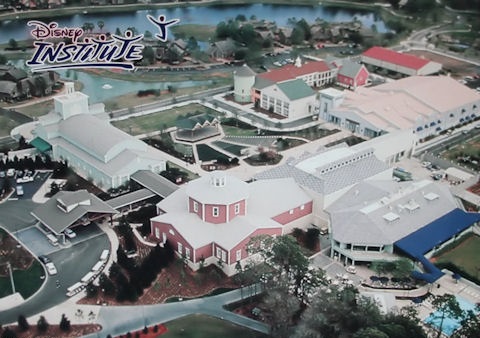 Perhaps the most ambitious resort project on WDW property at the time was the Disney Institute, which opened in February of 1996.
The Disney Institute offered a new and different "vacation experience" … a novel concept which ultimately proved to be its undoing.
The idea was to allow guests to customize their vacation time by offering a broad range of experiences on a campus that was very much reminiscent of an artist colony.
There were eight categories to choose from: Entertainment Arts, Culinary Arts, Design Arts, Gardening and the Great Outdoors, Story Arts, Lifestyles, Sports and Fitness, and Performing Arts.
On the sprawling Disney Institute campus, guests could partake in rock climbing, photography classes, animation, cooking, gardening, computer technology, dance, sports instruction and television production – all guided by experts in each discipline.
In all, there were more than 40 program experiences offered.
On paper, the idea was intriguing.
But when it came down to it, guests weren't all that enthused about taking part in a structured environment while on vacation … and in the end, thrill rides won out over arts and crafts classes and "getting educated."
The Disney Institute closed in 2003 and was re-imagined into Disney's Saratoga Springs Resort and Spa, which became part of the ever-expanding Disney Vacation Club portfolio [DVC, which debuted in 1991, was also part of Eisner's "Disney decade" initiative.
DOWNTOWN DISNEY EXPANSION
Across from the Disney Institute campus in 1996, on the opposite side of Lake Buena Vista, was Downtown Disney, WDW's shopping, dining and entertainment district – which also was in the midst of a major expansion.
A new Rainforest Café, which was as intriguing outside and it was inside, opened in August of 1996.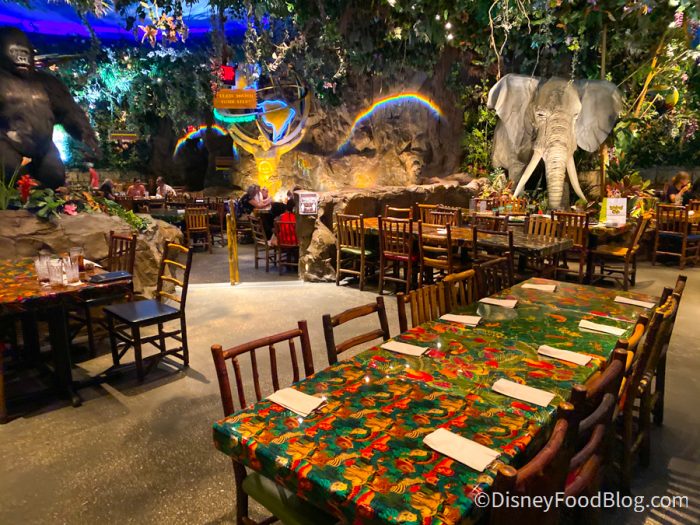 The exterior of the building was topped by a faux volcano, which regularly spewed fire. Inside, diners experienced waterfalls, thunder, lightning, tropical birds and other interactive experiences.
The World of Disney – all 50,000 square feet of it – opened on Oct. 2 as the largest Disney character merchandise shopping showplace in the world.
And that was just the beginning of the transformation.
Construction was under way for the expansive new Disney's West Side at Downtown Disney.
On the drawing board for the new area were:
The AMC 24-Screen Theater Complex, House of Blues, Wolfgang Puck's Café, Bongos Cuban Café, Virgin Records Megastore and a Cirque du Soleil theater, which would feature a WDW-only production called La Nouba.
In recent years, the district has undergone another massive overhaul and is now known as Disney Springs.
ENTERING UNCHARTED WATERS
While guests stateside were grappling with the increase in gasoline prices [up to $1.25 per gallon] and the rising cost of a three-bedroom home [$112,984 on average] in 1996, the Walt Disney Company was heading full-speed ahead into the cruise industry.
Over in Italy, the first of two new cruise liners were being constructed for the fledgling Disney Cruise Line.
Although the first ship, the Disney Magic, wouldn't set sail until 1998, Disney designers were putting the finishing touches on what they hoped would be, first and foremost, the most family friendly cruise line in the world.
Disney had gotten its feet wet in the cruise industry in the mid-1980s. It partnered with Premier Cruise Lines to offer Disney guests unique land-and-sea vacations: Spend three or four nights cruising the Bahamas, then enjoy a few days at Walt Disney World.
When the Disney-Premier 10-year deal ran out, Disney took all it had learned and formed the Disney Cruise Line.
The Disney Magic and the Disney Wonder helped set new standards in the cruise industry and DCL became wildly popular … so much so, that two new liners, the Disney Dream and the Disney Fantasy, were added to the fleet in 2011 and 2012, respectively, with three new ships planned in the years ahead.
The first of those new ships, the Disney Wish, is due to set sail during the summer of 2022.
GETTING THEIR KICKS ON PROPERTY
In the spring of 1997, the sounds of "play ball" resonated throughout the new Disney World Sports Complex on WDW property.
The wide-ranging, 200-acre state-of-the-art facility was touted as a true "field of dreams" for athletes of all shapes and sizes, all ages and all levels of ability.
In advance of the opening of the complex, the Amateur Athletic Union relocated to Orlando to take advantage of the fact that more than 150 amateur athletic events could be held in the new venue.
The AAU occupies the same building that once housed the Walt Disney World Preview Center, at 1910 Hotel Plaza Boulevard.
And the professionals – notably, MLB's Atlanta Braves, who made the new complex their spring training home – flocked to the site. To accommodate the Braves, a 7,500-seat baseball stadium and a spring training complex were built.
Adjacent to the baseball field, a 5,000-seat fieldhouse for basketball and volleyball was built.
There also would be 11 tennis courts, a softball quadraplex, a track and field stadium, beach volleyball courts, youth baseball fields and several multi-purpose fields for football and soccer.
A NEW SPECIES OF THEME PARK
As Walt Disney World and its three theme parks celebrated 25 fun-filled years, Disney Imagineers were knee-deep in building a fourth park, what was referred to as "a new species of theme park."
Although Disney's Animal Kingdom wouldn't open until April of 1998, Disney's creative team had been working on the ambitious project since the early 1990s, and in 1996, they were still ironing out the kinks.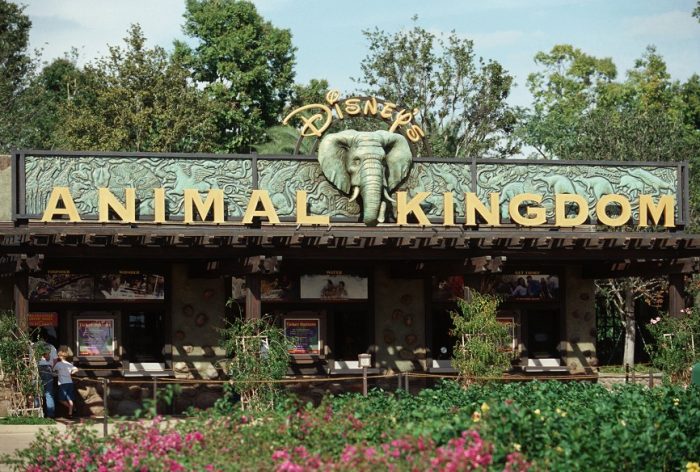 Disney's Animal Kingdom would be a celebration of animals – living, extinct and mythical. There also would be a heavy emphasis on conservation, for which the Walt Disney Company had been a leader for decades.
Unbeknownst to park guests in 1996, Disney's design team, led by Joe Rohde, had taken numerous research trips around the world in the early and mid-1990s to create as realistic an experience as possible for Animal Kingdom guests.
In addition, a variety of trees and plant life, as well as myriad species of animals, were being introduced to the property; the plants, so they would grow and flourish in the coming years, and the animals, to make them feel accustomed to their new surroundings.
NEW SHOWS AND ATTRACTIONS
In conjunction with the 25-year celebration, Walt Disney World made plans to debut several new and exciting shows and attractions.
Some of them did make it in time for the anniversary … and one, in particular, didn't.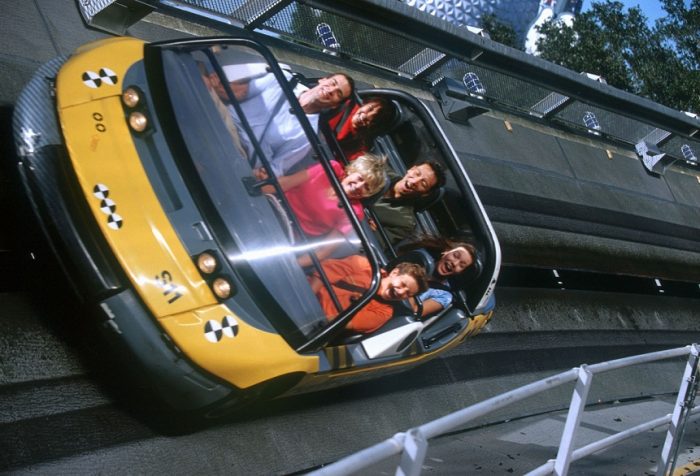 That one was Test Track, which was due to open during the spring of 1997 in EPCOT's Future World.
The attraction, which replaced World of Motion, was to give guests a thorough and sometimes high-speed look into rigorous automotive testing procedures.
But a variety of problems with the ride system resulted in one delay after another. Test Track didn't officially open until March of 1999.
Elsewhere around WDW, the Remember the Magic Parade was held each afternoon in the Magic Kingdom, featuring colorful new floats and a catchy new anniversary theme song.
Also in the Magic Kingdom, Mickey's Toontown Fair was a whimsical new land that gave youngsters a chance to rub shoulders with Mickey and his friends.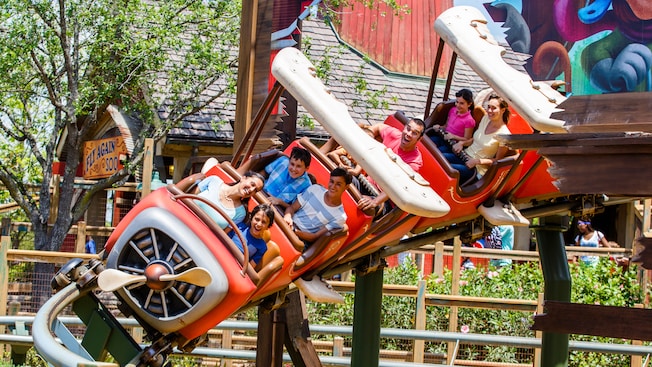 Guests could explore Minnie Mouse's new bungalow, Mickey's mouse-house, cool off in Donald Duck's boat or ride with Goofy on his new barnstorming roller coaster.
At the Disney-MGM Studios, The Hunchback of Notre Dame: A Musical Adventure was a top draw in its new, open-air theater.
More than 21 performers and a host of Medieval-style puppets combined with a powerful soundtrack to tell the story of Notre Dame bell-ringer Quasimodo and his quest for love with the beautiful Esmerelda.
Over at EPCOT, the popular pyrotechnics show Illuminations was altered somewhat and became Illuminations 25. The show culminated with the "Circle of Life" sky show, a special finale of illuminated images from The Lion King.
THE ICING ON THE CAKE?
Perhaps the most memorable aspect of WDW's 25th anniversary was the transformation of Cinderella Castle into a giant, pastel pink birthday cake.
It was – and perhaps still is – one of the most controversial alterations in Disney parks history.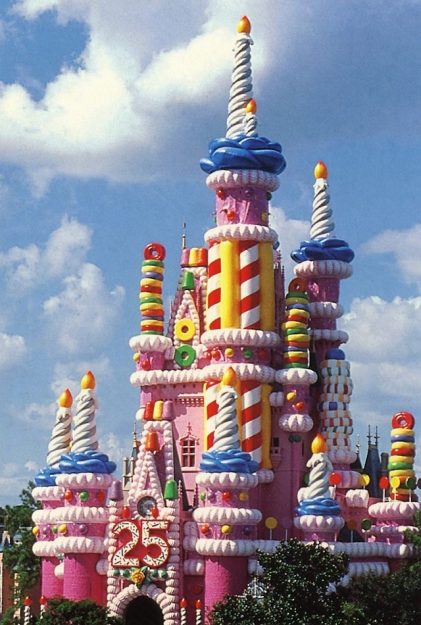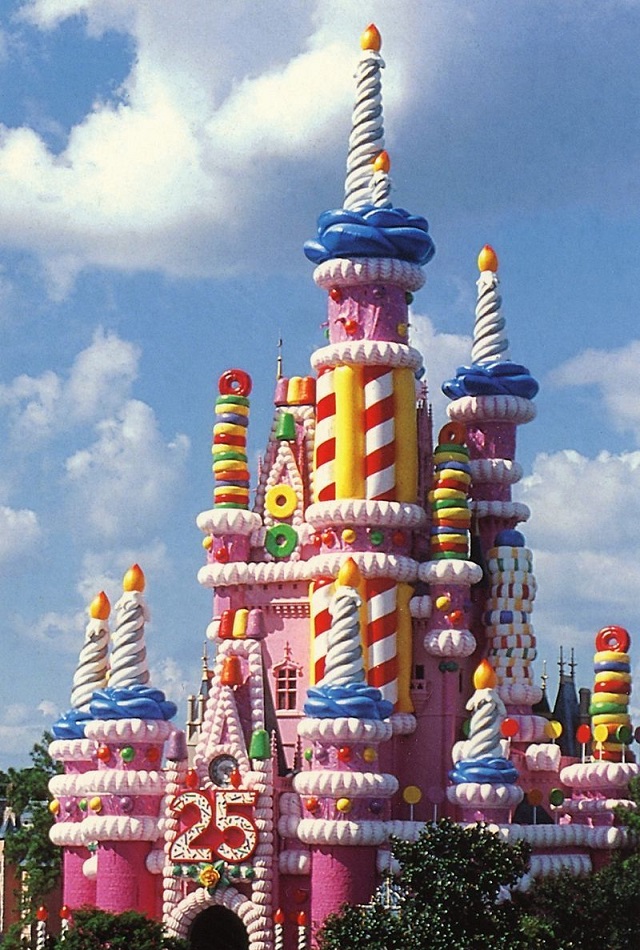 It took three months for workers to transform the world-famous Magic Kingdom icon into a 185-foot-tall confection.
Hundreds of gallons of paint [430 to be exact] turned the castle's classic gray hues into bright pink and blue icing, accentuated by giant gumdrops, foam sprinkles, larger-than-life lollipops and 26 celebratory candles – 25 for the anniversary and one to grow one.
Many Disney guests – particularly those who had booked their weddings at Disney's Wedding Pavilion with plans to take photos with the traditional castle as a backdrop – expressed displeasure.
In advance of WDW's upcoming 50th anniversary, Cinderella Castle will again undergo a transformation, but one that's far more tasteful and far less faux tasty.
Last in a series of reports on past Walt Disney World anniversaries ahead of the resort's 50th, which kicks off on Oct. 1.
Chuck Schmidt is an award-winning journalist who has covered all things Disney since 1984 in both print and on-line. He has authored or co-authored seven books on Disney, including his most recent, The Beat Goes On, for Theme Park Press. He also has written a twice-monthly blog for AllEars.Net, called Still Goofy About Disney, since 2015.