The second most popular tourist attraction in the state of Arizona, after the majestic Grand Canyon, has a strong Disney connection.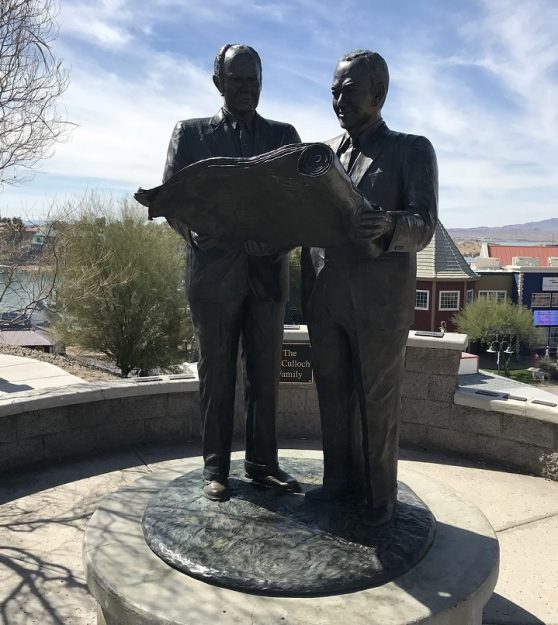 The London Bridge, located on the banks of Lake Havasu in Lake Havasu City, Arizona, draws visitors from far and wide to check out what is arguably one of the most unique destinations in the world.
In the late 1950s, the land in Arizona where the London Bridge now sits was a dusty plot of unoccupied desert known as Site Six. During World War II, the barren patch was used by the U.S. Army Air Corps as a rest camp.
Robert McCulloch, who had made a name for himself as a chainsaw and outboard motor magnate based in Los Angeles, wanted to find a place where he could test and manufacture his motors.
He selected the desolate Lake Havasu area, which sits on the border between California and Arizona and is on the shores of the Colorado River, for that testing site. He purchased 3,353 acres, known then as Pittsburgh Point, in 1958. A few years after setting up shop, McCulloch apparently had a lightbulb moment: Why not build an entire city at Lake Havasu?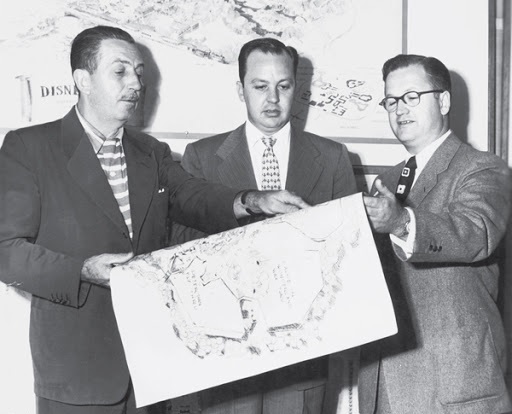 This city would be thoughtfully planned and meticulously designed down to the smallest detail. When completed, it would offer a living road map on how one might tackle the urban blight that was so common in America's decaying post-World War II cities.
This planned city would be an ideal setting for people to live, work and play. A modern-day Utopia, if you will. As the dream crystalized, feasibility studies were conducted, preliminary plans were drawn up, investment capital was obtained and land was purchased. Sound familiar?
Those were the preliminary plans for EPCOT, Walt Disney's vision for a community of tomorrow. As it turned out, Lake Havasu City employed a similar blueprint. McCulloch's partner, Cornelius Vanderbilt Wood Jr. – or C.V. for short – was a key figure in the development of Lake Havasu City.
It was C.V. Wood who first made a name for himself as one of the key people involved in Disneyland's development in the early 1950s. In the months leading up to Disneyland's opening in 1955, Wood was an invaluable member of Walt Disney's inner circle.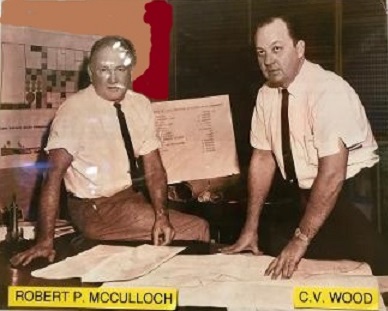 He helped in the site selection of the park in Anaheim, California, and was involved in purchasing much of the land, which mostly consisted of acres of orange groves. He also supervised the massive construction project.
Finally, he convinced outside businesses to set up shops along Main Street U.S.A. to sell their wares, with Disney getting a cut in the profits, of course. At one point, Wood claimed that he was so close to Walt that "he treats me like a son."
But in the months following Disneyland's opening, the Wood-Disney relationship soured. C.V. left Disney's employ and immediately became persona non grata in Disney circles. It was only in recent years that the Walt Disney Company acquiesced and allowed mention of Wood's involvement in the Disneyland project.
It's no stretch to think that Walt, who had been obsessed with the plight of America's big city landscape for quite some time, might have discussed his theories on urban development in Wood's presence.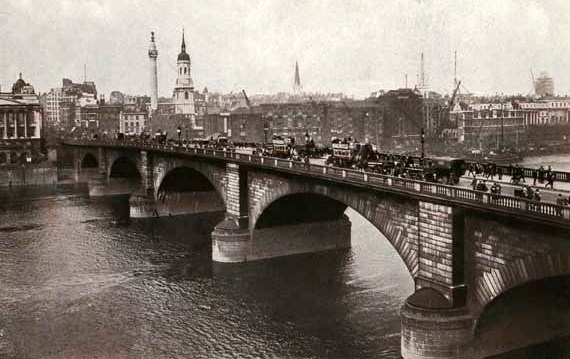 McCulloch first met Wood in 1954, when C.V. was knee-deep in the Disneyland project. McCulloch was visiting the Disneyland construction site and offered Wood, who was on crutches at the time, the opportunity to test one of his prototype electric golf carts. They struck up a friendship and, eventually, they became business partners.
After Wood left Disney in 1956, he formed Marco Engineering, partnering with McCulloch on the development of Lake Mead Marina in Nevada and Pacific Ocean Park, a nautical-themed amusement park in Santa Monica, California.
In 1961, Wood merged with McCulloch Properties and together they began building master-planned cities. When McCulloch first presented the idea of creating a new city in western Arizona to Wood, C.V. balked at the idea, but went ahead with a feasibility study "just to prove it's hopeless."
After completing the study, Wood was surprised to learn that McCulloch was on to something, particularly if he could be convinced to move all his employees to Arizona to provide a solid economic base. "If we can make a bunch of pieces go together," Wood said, "this is a perfect site for a new community."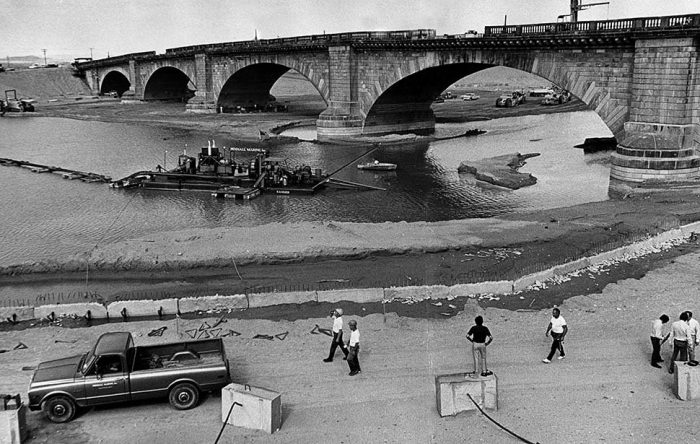 Wood, it should be noted, had worked for the prestigious Stanford Research Institute in California before he was hired by Disney. The Disney brothers – Walt and Roy – had approached Stanford when Disneyland was in its preliminary stages of development and hired them as consultants.
Among Stanford's other alumni was Disney Legend Harrison [Buzz] Price, who was key to the development of both Disneyland and Walt Disney World. It also should be noted that after he left Disney, Wood spearheaded the construction of several Disney-style theme parks around the country, including Freedomland in the New York City borough of the Bronx, which was open from 1960-1964.
Wood served as Havasu City's master planner. Ironically, Wood for a short time billed himself Disneyland's master planner, a title he was forced to drop after Disney sued him. Nonetheless, Wood was meticulous in planning the new city in Arizona; he conducted a study that took four years and $500,000 to complete.
He delved into topographical maps and canvassed the site in person. He even went so far as to consult the Yellow Pages of other cities around the country to get an idea of how many service providers – such as doctors, lawyers, teachers, plumbers and electricians – would be needed to sustain this new city.
The success of the community, according to Wood, would be based on a balanced economy supported by tourism, service, retail businesses and the light industry McCulloch's businesses would provide.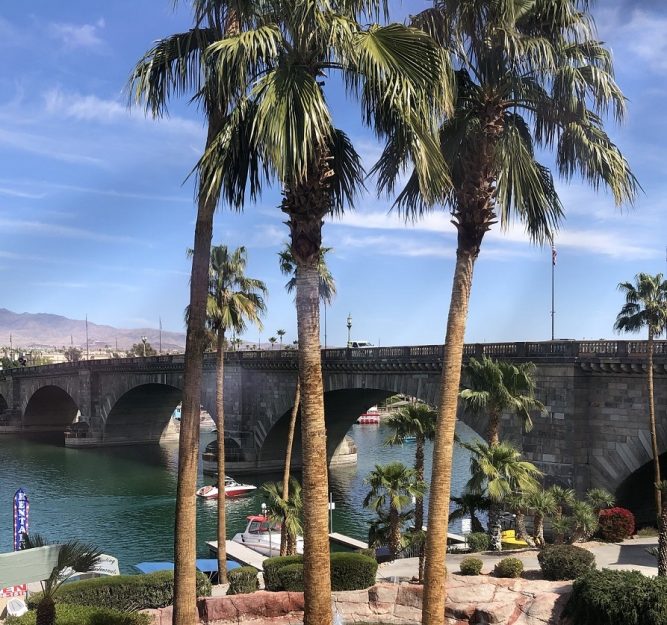 Lake Havasu City was formally established in 1963 after McCulloch purchased another 13,000 acres. A few years later, a twist of fate several thousand miles away intervened, forever altering Lake Havasu City.
It turns out the London Bridge, which had spanned the River Thames since 1831, was literally sinking into the fabled waterway under the weight of new-fangled truck and automobile traffic. It needed to be replaced. Rather than just demolish the bridge, London's powers that be decided to auction it off to the highest bidder.
Robert McCulloch jumped on the idea. He purchased the London Bridge in 1968 from the city of London for $2.46 million dollars. It turns out, buying the all-stone bridge was the easy part.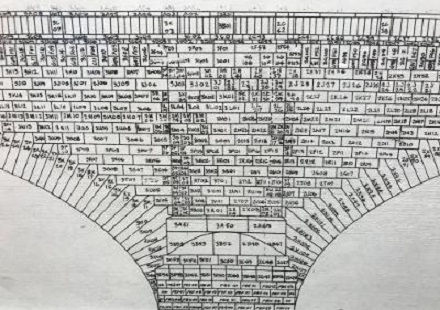 McCulloch hired Sundt Construction of Tucson, Arizona, to disassemble the landmark bridge, one stone at a time, in what was jokingly referred to as the world's largest jigsaw puzzle.
Each granite block was marked and meticulous records were kept as to every stone's positioning on the bridge. The blocks, all 130,000 tons of them, were shipped to the Surrey Commercial Docks, where they were loaded onto a container ship.
Of historical significance, the purchase included ornate lampposts made from the melted-down cannons captured by the British from Napoleon's army after the Battle of Waterloo in 1815. Overlooking the Bridgewater Channel, these lampposts line the London Bridge today.
After the bridge's components were loaded on board, the ship sailed from England, south through the Panama Canal, then north to Long Beach, California, a voyage of 7,000 miles. Once in California, the stones were loaded onto waiting flatbed trucks and hauled to Lake Havasu.
Wood and McCulloch decided to dredge a section of the Pittsburgh Peninsula, thus creating an island, allowing the bridge to be reassembled over the manmade Bridgewater Channel. It also was decided to rebuild the bridge around a steel framework, reducing the weight from 130,000 tons to 30,000 tons, but making it stronger in order to accommodate modern auto traffic.
It took three years, but the new London Bridge was rededicated on October 10th, 1971.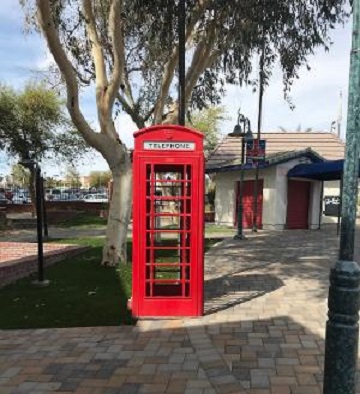 The touristy village near the bridge has a distinctly British feel. There's even a bright red telephone booth on the grounds used for photo ops. The surrounding area is now used by boating and Jet Ski enthusiasts, as well as hikers, cyclists and RVers. In addition, Lake Havasu is home to more replica lighthouses than any other city in the country.
For their efforts, McCulloch and Wood are revered in Lake Havasu City. There's a visitors' Welcome Center where photos of the two men, as well as numerous construction photos, line the walls. There's also an informative film that details the history of the London Bridge.
And the piece de resistance can be found at the base of the London Bridge, where life-size statues of McCulloch and Wood are located, celebrating not only their partnership, but their ingenuity in bringing a fabled British landmark thousands of miles to American soil.
Chuck Schmidt is an award-winning journalist who has covered all things Disney since 1984 in both print and on-line. He has authored or co-authored seven books on Disney, including his most recent, The Beat Goes On, for Theme Park Press. He also has written a twice-monthly blog for AllEars.Net, called Still Goofy About Disney, since 2015.
Join the AllEars.net Newsletter to stay on top of ALL the breaking Disney News! You'll also get access to AllEars tips, reviews, trivia, and MORE! Click here to Subscribe!