When Marty Sklar retired from the Walt Disney Company on July 17, 2009, after 54 years of service, he received the type of sendoff that was worthy of … well, Marty Sklar.
The night before his official retirement date, family, friends and colleagues gathered for a party at Walt Disney Imagineering's Glendale, California, campus.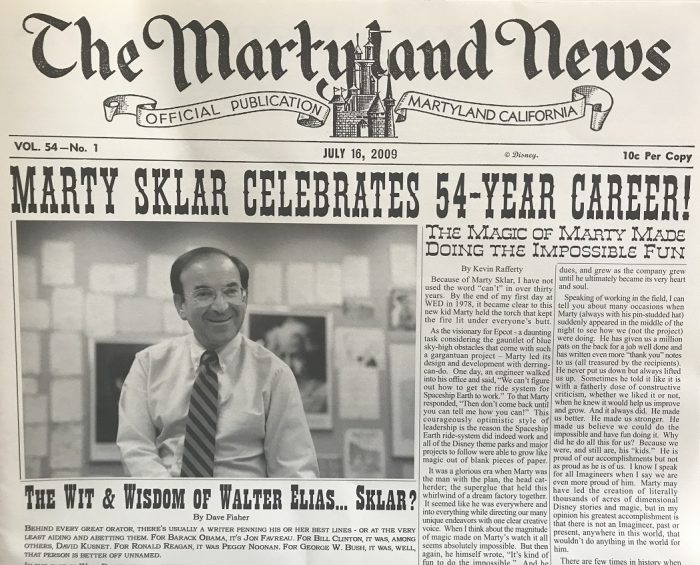 The night was filled with laughter, nostalgia and good-natured fun … with a smattering of emotion sprinkled in for good measure.
In fact, at times, tears could be seen welling up in many attendees' eyes, according to Kevin Rafferty, who recently retired himself from Walt Disney Imagineering after 40-plus years of service.
"I mean, you can imagine being there at WDI – Marty's home away from home – to celebrate his retirement after 54 years, and many of us had been there with him for a lot of those years, so it was very emotional for many of us 'kids.'
"Our patio was packed and there wasn't a dry eye in the place – except for Marty, whose eyes stayed dry!"
Oh, yeah. And the next day, Marty capped off his retirement by being honored as a Disney Legend, with his legacy forever memorialized on a window affixed to the City Hall building in Town Square in his beloved Disneyland.
Marty's window is on the left side of the building, while his dear friend Jack Lindquist, the former president of Disneyland, is appropriately on the right, since the two shared an office in City Hall for several years.
Rafferty, who unabashedly refers to Marty as "my mentor and dear friend," played a huge role in orchestrating Marty's retirement festivities. And he was the perfect man for the job.
"I produced and hosted so many different Marty events in his honor, I can't keep them straight," he said.
For instance, on the occasion of Marty's 50th year with the company, Kevin cooked up the idea of a "Marty Gras"-themed party.
SONG-AND-DANCE MAN
Kevin even joined costumed performers, who sang and danced on a make-shift stage.
"Marty was seated in the front row with his entire family," Kevin said, "and all of WDI crowded in the patio behind them. It was quite an event!"
For Marty's retirement bash, Kevin paid homage to Marty's first endeavor with Disney – the creation of The Disneyland News, which debuted on Disneyland's opening day in July of 1955.
Guests received a specially produced copy of The Martyland News, a take-off on the Marty-created newspaper, which included scores of touching tributes from Marty's Imagineering staff … known affectionately as "Marty's Kids."
Indeed, the theme of the night was Martyland.
"We decorated everything like Disneyland … but with a Marty twist," Kevin said.
"I also wrote and created a bunch of full-size attraction posters we hung up everywhere for such beloved attractions as: Sklar Tours, Sklarzan's Treehouse, Pirates of the Sklaribbean, Splash Martin, Space Martin, Mad Tea Marty, Martyhorn Bobsleds, AMartyca the Beautiful, and many more!"
Those who knew Marty know how enamored he was of the music created for Disney parks and attractions. And he was particularly fond of the songs written by Richard and Robert Sherman.
For Marty's retirement party, "We had a grand piano brought out on a make-shift stage (in front of the old Mickey's of Glendale location) and Richard Sherman and Marty reminisced a bit next to the piano," Kevin said.
Richard went on to sing Marty's favorite Sherman brothers' song, the haunting "Magic Journeys," from the Magic Kingdom attraction.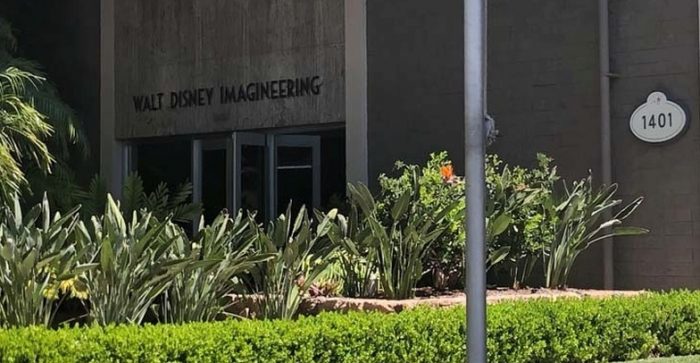 Topping things off, Marty was presented with a hand-crafted statue/model created by the members of Disney's model shop.
"It was a scale model of a conference room with concept art on the wall and a sculpt of Marty himself standing in the room looking at the art," Kevin said. "Really spectacular."
Looking back on the night, Kevin said that "it was a proper send-off for Marty, that's for sure. The whole thing was funny and touching.
"And, of course, Marty wrapped it up with his own funny and touching speech. Surprisingly, after all that, he himself didn't get emotional. That just wasn't his style. I never once saw Marty get choked up about anything."
The same can't be said for Marty's daughter Leslie, who had an after-party experience worthy of an E-ticket attraction at Disneyland.
Leslie had never actually read The Martyland News from cover to cover before I brought the paper to her attention a few weeks ago. She sent me my very own copy of the keepsake, accompanied by a letter of her post-party experience.
"After the event, the Sklars and extended family departed the WDI parking lot in several cars, all headed for my folks' house," Leslie wrote. In Leslie's car were her two children and her mom Leah's sister Marsha.
AN EARLY VERSION OF THE BARNSTORMER
"It is customary for two or more cars of Sklars to drive caravan-style, always with my dad in the lead.
"It wasn't always easy to keep up with him, but he always signaled his intended lane changes and exits, making sure we used his shortcuts and traffic evasions."
Then the fun began.
"I pulled into traffic behind my dad's black SUV," she said. "He made the usual turns – Flower, Sonora – but at an unusually rapid pace for him.
"Just as I expected him to turn onto Riverside for the approach to the 134 Freeway, he sped across the multi-directional intersection into what I can only describe as a barn filled with bales of hay!"
At that point, both Leslie and Marsha were perplexed.
"Where is he going?!" they both exclaimed, before Leslie realized: "That isn't my dad's SUV!"
"I managed to redirect at the last moment and we rejoined the proper Sklar caravan en route to my parents' house.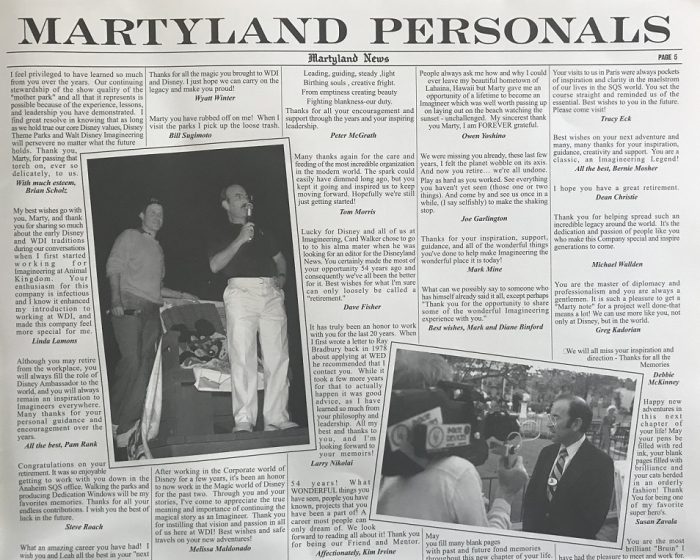 "Perhaps the excitement of the festivities and the close call with the stranger in the barn can be blamed for my not having read The Martyland News before now."
Page 1 of The Martyland News has the look and feel of a regular newspaper, with the "lead" story authored by Kevin Rafferty.
Inside, are four full pages of tributes – a total of 249 – called Martyland Personals.
The vast majority of those personal notes came from Imagineers. But there's one special salute, written by noted science fiction writer Ray Bradbury, who assisted Marty, John Hench and their team during the planning stages for EPCOT.
Other heart-felt tributes were penned by Tony Baxter, Charita Carter, Joe Herrington, Al Weis, Kim Irvine, Chris Crump, Mark Sumner, Bruce Vaughn, Shelby Jiggetts-Tivony, Wing Chao and Eric Jacobson, among many, many others.
On the back cover is a full-page letter from Marty.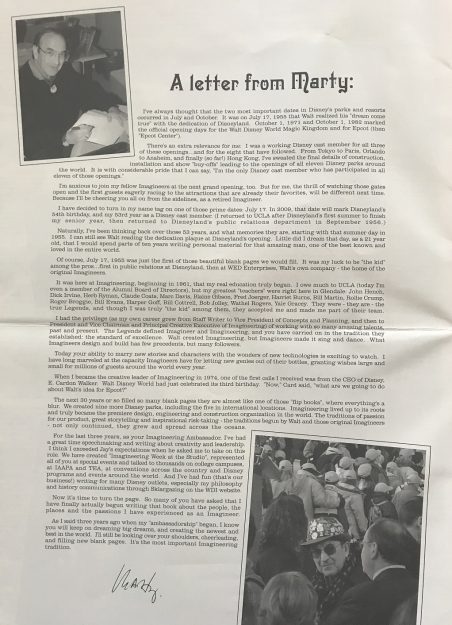 In typical Marty fashion, the letter wasn't so much about him as it was about offering thanks to those Legends he learned from and offering words of wisdom and encouragement to the future Legends he mentored during his career.
"I know you will keep on dreaming big dreams, creating the newest and best in the world," he wrote. "I'll still be looking over your shoulders, cheerleading, and filling new blank pages.
"It's the most important Imagineering tradition."
Chuck Schmidt is an award-winning journalist who has covered all things Disney since 1984 in both print and on-line. He has authored or co-authored seven books on Disney, including his most recent, The Beat Goes On, for Theme Park Press. He also has written a twice-monthly blog for AllEars.Net, called Still Goofy About Disney, since 2015.