Year of a Million Dreams
Where over a million dreams will come true…one at a time.
The Year of a Million Dreams, a first-of-its-kind event, celebrates your dreams and the dream-making magic Disney Cast Members create for guests every day at the Disneyland® Resort in Southern California and the Walt Disney World® Resort in Florida.
An exciting part of this incredible celebration is also the Disney Dreams Giveaway promotion, where over a million extra-special dreams, some thought impossible, will be randomly awarded. A Dream Squad Cast Member might tap you on the shoulder and announce that you've been invited as a special guest of the princess herself to enjoy a stay that night in the all new Cinderella Castle Suite in the heart of the Magic Kingdom. You may receive a DREAM FASTPASS badge to enjoy some of the most popular Disney attractions with little or no wait. Or a Cast Member might even let you know you've been selected to win a Grand Marshal World Tour trip to Disney Parks around the globe. This is truly the time to live your Disney dream like never before.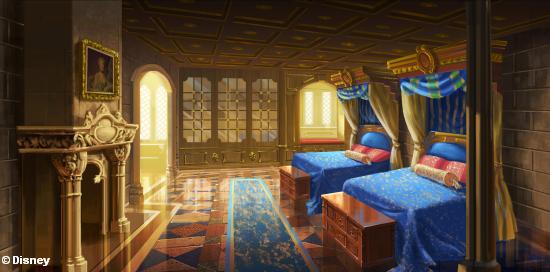 Artist Rendering of Castle Suite
Click HERE for more on the suite.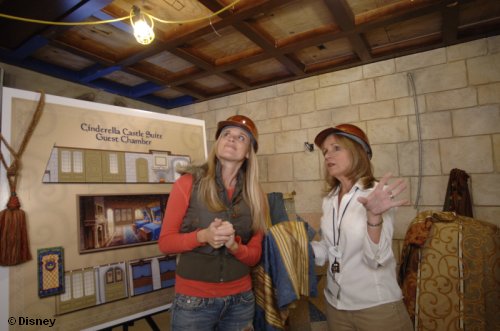 Professional designer and carpenter Paige Hemmis (left),
from the ABC-TV hit reality series "Extreme Makeover: Home Edition,"
receives a construction tour of the royal suite
being built inside Cinderella Castle at the Magic Kingdom in Lake Buena Vista, Fla.
Touring Hemmis through the suite is
Walt Disney Imagineer Cathy Carver,
who is the principal interior designer for the new project.
The Year of a Million Dreams officially began Sunday, October 1, 2006 and ran through December 31, 2007. It was then extended to run throughout 2008. As part of the celebration Disney cast members are not just dispensing "dream" prizes, but are also creating an unprecedented number of "Magical Moments." These include guests being tapped to help with the pixie-dusted opening of Magic Kingdom, getting the star treatment at a celebrity-style handprint ceremony at Disney-MGM Studios or being Official Wildlife Spotter at Disney's Animal Kingdom. We have some early reports of guests at Walt Disney World and Disneyland receiving "dreams" from the Dream Squad and some of these Magical Moments.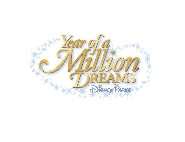 Click HERE for YEAR OF A MILLION DREAM PRIZE WINNER REPORTS
Click HERE for MAGICAL MOMENTS REPORTS
Click HERE for the Official PRESS RELEASES
Click HERE for a list of PRIZES
Send us YOUR Dream Prize or Magical Moment Reports
(Photos welcome) [email protected]
MILLION DREAM PRIZE WINNERS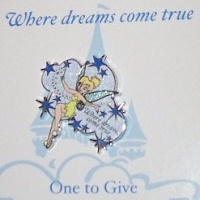 Steph C: My hubby and I had the pass for the Advance Seating for Fantasmic, however my hubby became ill and we were going to have to go back to the Hotel and miss Fantasmic. We looked for a couple to give the pass to; it seemed obvious to us that someone should get some use of it and we could spread a little pixie dust in the process. We found a couple explained the pass to them and handed it over. We went into the First Aid station, for hubby to use the restroom and cool off before we went to find our bus, since he wasn't feeling well. While he was in the rest room, the nurse asked me about our stay and what our plans had been for the evening. I told her that we had planned on Fantasmic, but since we needed to get him back to the Hotel that we decided to give away our pass. Next she, asked if we would wait about 10 minutes and she thought that she could get a van to drive us back to our resort. OK! Then she disappeared again and returned with this pin and explained how it worked to me. She said since you have already help spread some pixie dust, we want you to have this pin so that you can spread a little more. Keep one, and pass the other on to someone else. I was tickled pink, of is that pinkled Tink? Anyway, I did just that the very next day I gave the other pin away.
Heather Butkovich: We just returned from DisneyWorld yesterday and we were lucky enough to receive to two dreams! My 4 year old daughter and I were in line for Dumbo and the "Dream Squad" came and issued all of us who had just gotten on the ride lanyards. Then a few days later my husband, daughter and I were in line for Peter Pan and were issued Dream Fast passes. The "Dream Squad" was out in full-force the first week of October, we saw them everywhere. The other cast members were also doing other things to grant wishes. My daughter was getting ready to ride the carousel and the CM pull her up and announced her as the honorary Princess of the Day and she got to ride on Cinderella's horse and received a Princess of the Day sticker. Before going into "The Voyage of the Little Mermaid" she got to announce that the show was starting and pick her seat first. The little things really add up to make a vacation very memorable.
Lisa Buleha: While at the Magic Kingdom, our group was lucky enough to receive the DREAM FASTPASS! The park had just opened and we were off toward Adventureland. As we were boarding the Magic Carpets of Aladdin attraction, a few "official looking" Disney personnel announced to us that this was the first day of the Year of a Million Dreams promotion and that we were all receiving the DREAM FASTPASS. The badges are worn around your neck and have nine tabs around it (one tab for each Fastpass attraction). We felt like rock stars as we flashed our badges at each attraction! It was the perfect ending to a great weekend at the World with friends and family.(October 2006)
ALL EARS® Disneyland Correspondent Laura Gilbreath: I went to Disneyland yesterday (10/1)… in addition to seeing the new Jedi Training Academy and Golden Screams shows, I also got to be a "Year of a Million Dreams" recipient! When I went into the waiting area for Golden Screams (the Golden Dreams theater) there was a Cast Member handing out "Million Dreams" lanyards, with two "Million Dreams" pins on them. They gave out about 50 and then left, so I was one of the lucky recipients! I saw a fair number of CMs in the parks carrying the "Million Dreams" black bags, but that was the only time I saw anything actually happening.
Jeanie Johnston – The "Year of a Million Dreams" began last Sunday, October 1st. It is absolutely wonderful! During our first hour we witnessed "The Dream Team" handing out special Mouse Ears to all the folks waiting in line for "Primal Whirl" at Animal Kingdom. We talked to people who were randomly given front of line passes to rides…..they were thrilled! We saw a table set for royalty at the Rose and Crown Pub! The people who had reserved just a regular table, came in and found that they were to be royalty during dinner time! They were given Crowns and all the staff bowed to them! But the best of all, is that my daughter and I were picked to have a special dream come true! A Dream Team Member by the name of Christine approached us outside the "Dinosaur" ride and asked us if we would like a "very special" tour of the "Dinosaur" Ride! We said, YES!!! and she escorted us to the front of the ride. We were then given a whole car to ourselves! After the ride, she escorted us to "The Tower" to see how the whole system was run. It was fantastic!! Afterwards, we received a complimentary 8×10 photo of us all by ourselves on the ride!! She was wonderful!! So, all of you who are planning to go to Disney this year…….you will have so much FUN! This "Year of a Million Dreams" is the best thing ever… way to go Disney! (We can't wait to go back)!