You can spend a lot of time snacking your way around Walt Disney World, and we know because, well, we've done it ourselves a time or two… or 200.
We try a lot of things when we're making our way around Disney World, and it's easy because Disney is constantly creating new eats and drinks. But with all this snacking, we sometimes come across items that look REALLY good but end up leaving us underwhelmed.
These Disney Snacks Look WAY Better Than They Taste
Marshmallow Wands
First up are Disney World's popular Marshmallow Wands. These can be found in confectioneries throughout the parks and are sure to catch your eye in the dessert case. The Mickey-shaped snacks are made with three marshmallows dipped directly into white chocolate or milk chocolate, then decorated in different ways.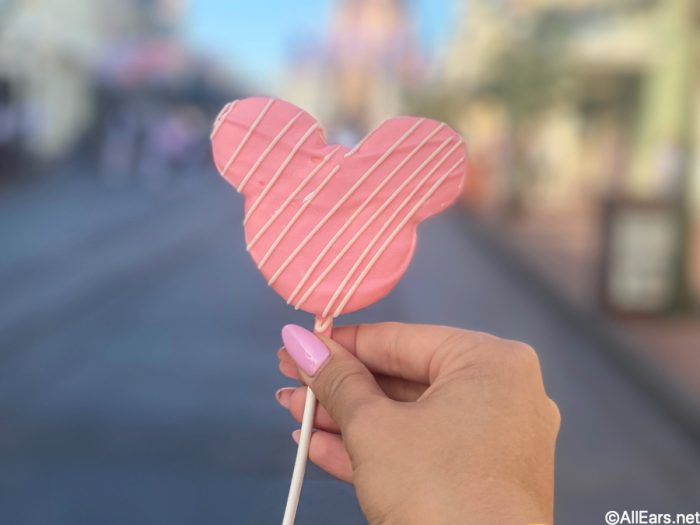 It can be easy to find yourself ordering up a Marshmallow Wand because they look pretty delicious — after all, who doesn't want their marshmallows in the shape of Mickey and COVERED in chocolate? But we've always found these to be a sugar overload and much less tasty than we expect compared to other Disney World treats.
Blue Milk and Green Milk
Over in Star Wars: Galaxy's Edge at Disney's Hollywood Studios you can find the iconic Blue Milk and Green Milk from the movie franchise. Both are made with coconut and rice milks. Blue Milk has flavors of dragon fruit, pineapple, lime, and watermelon, whereas Green Milk is more citrus-flavored with mandarin orange, passion fruit, grapefruit, and orange blossom.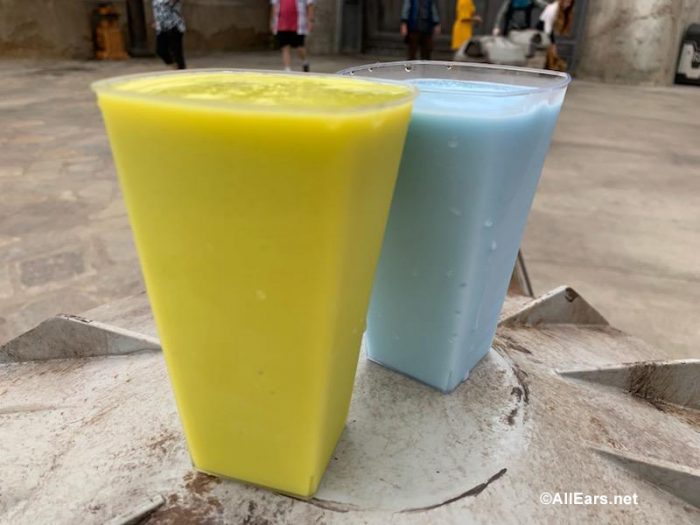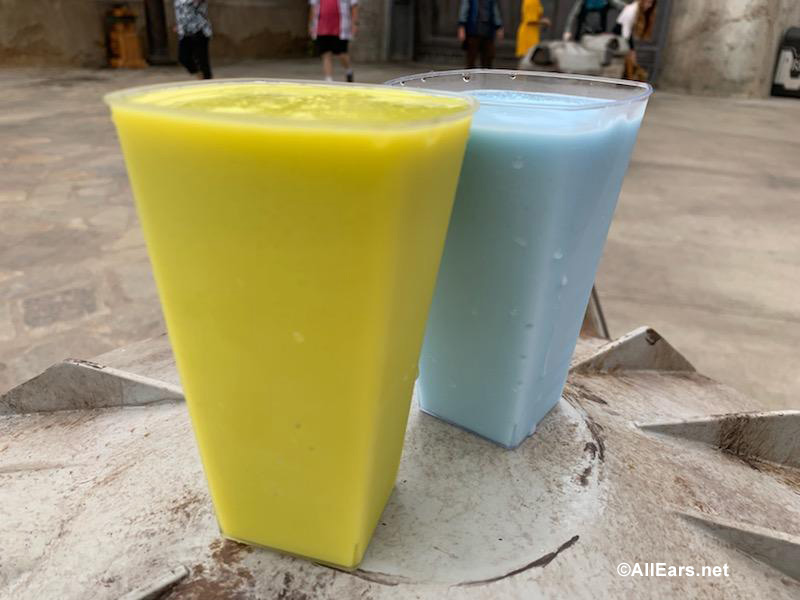 It's easy to get excited to taste something that is straight out of the Star Wars movies, but we've always found both drinks to taste rather…weird. Disney-goers are generally mixed when it comes to their feelings about the drinks, with some loving the flavor and others wishing they hadn't spent $7.99 on the small portion.
Outpost Mix Popcorn
We're staying in Star Wars: Galaxy's Edge for this next one! Aside from Blue Milk and Green Milk, you can find some eclectic eats on the planet of Batuu. One of those is the Outpost Mix found at Kat Saka's Kettle. Anytime we see flavored popcorn we get excited, and this popcorn sure is colorful!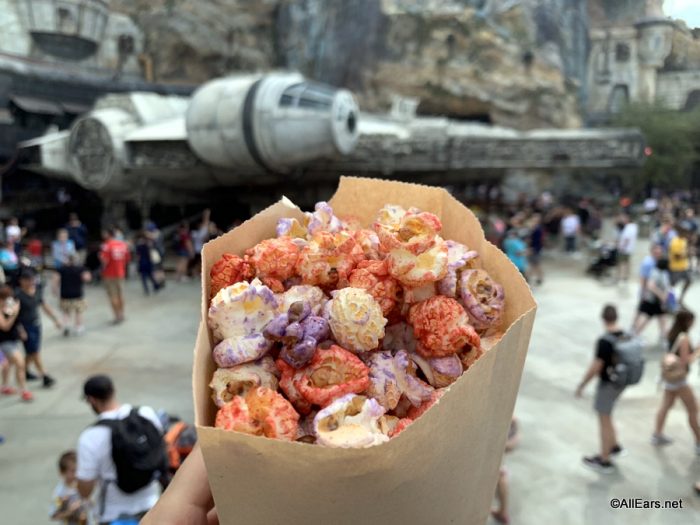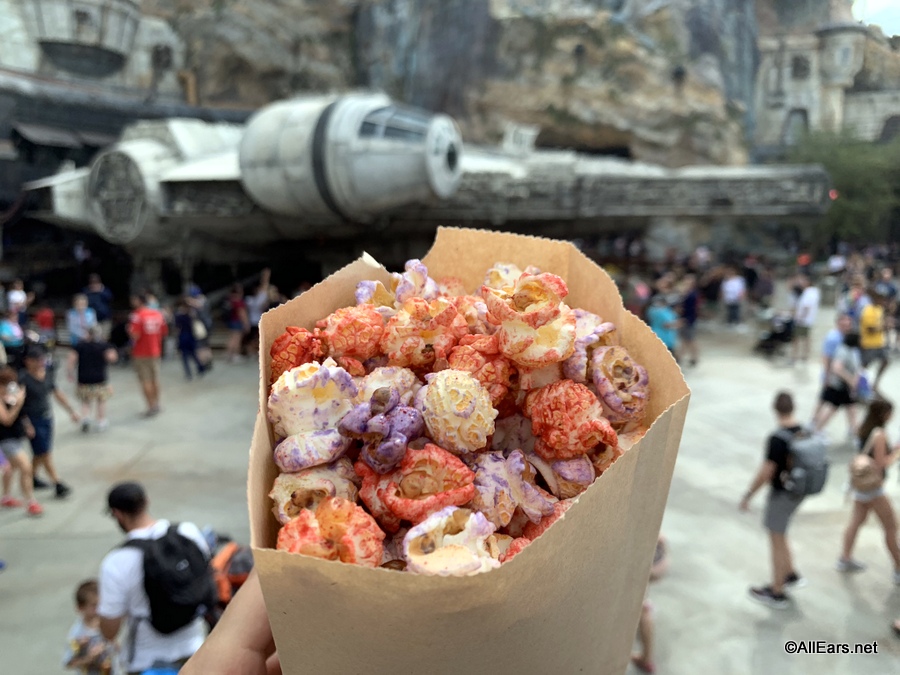 Outpost Mix is a combination of fruity flavors (the purple popcorn) and red chili flavors (the red popcorn), which you might be thinking is a pretty weird mix of flavors. You'd be right. Reviews on this one are mixed, with some Disney snackers loving the taste and others preferring not to opt for the fruity, spicy popcorn costing $6.49.
Disney Cupcakes
Disney creates a lot of different desserts, and one you can find just about everywhere in the parks and resorts is cupcakes! These come in tons of different flavors depending on the time of year and where you're looking, and they almost always look delicious. Between Mickey shapes, colorful icing, and other little design details, you might think you're in for a great Disney treat.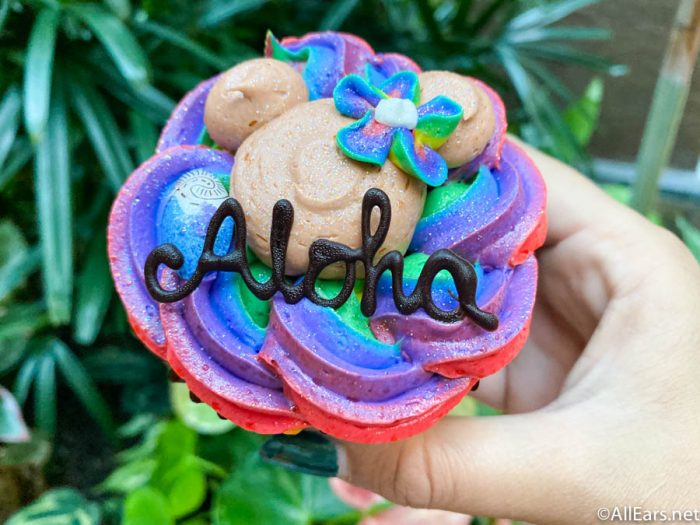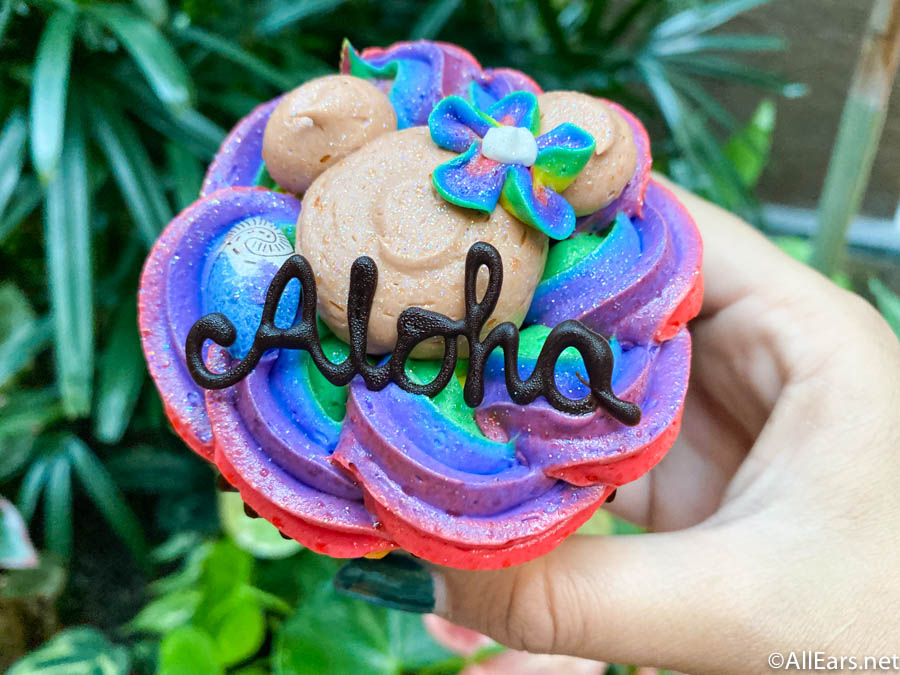 And, to be fair, sometimes Disney cupcakes are a BIG win in our book — but more often those decked-out cupcakes are actually just basic vanilla or chocolate cupcake with plain frosting and the taste just falls flat. Or way, way, way too sugary.
Beverly
Now, hear us out on this one — Beverly is a flavor of Coke from Italy that you could once try at Club Cool in EPCOT's Future World. When that spot temporarily closed, you could still order a glass at the Coca-Cola Store Rooftop Beverage Bar in Disney Springs. Beverly isn't a snack, you know, technically, but it's a Coke and it's from another country so you're getting a mix of a classic drink with a bit of adventurousness when you opt for the beverage.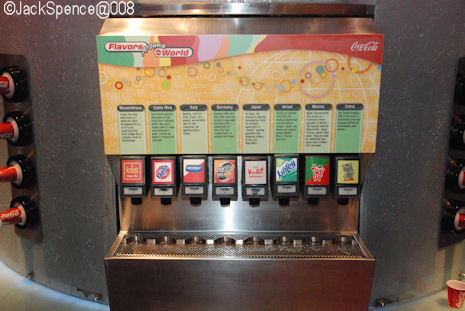 But most people end up with a sour-looking face after taking a sip of this one. Beverly is meant to be a palette cleanser and has a bitter flavor so it's not necessarily that refreshing drink you want on a warm summer day — despite looking like one!
Everglazed Donuts & Cold Brew in Disney Springs serves up a variety of sandwiches that you can take to the next level by switching out the traditional bread for a glazed donut, and that's exactly what we did with their Grilled Cheeeeeese — sounds amazing, right?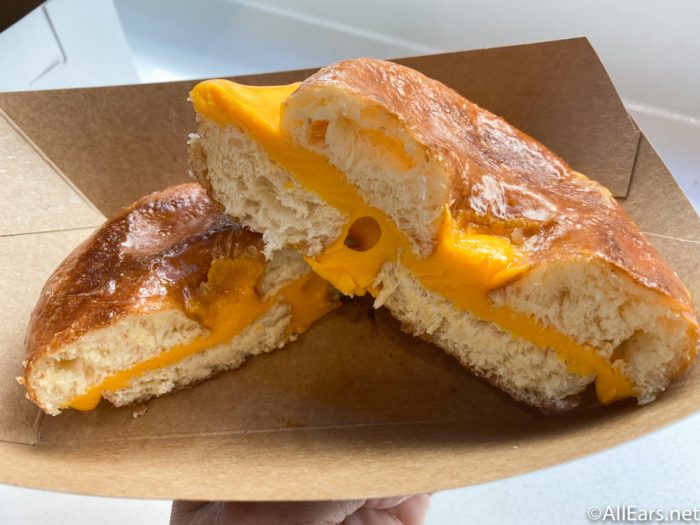 Well, if you're not a big fan of donuts or sweet cheese, this one is not as good as it looks. We find that the glazed donut takes over as the dominant flavor so you're mostly eating a glazed donut with a side of not melty cheese.
Poor Unfortunate Souls Float
Disney World's seasonal treats almost always look amazing and are released for a limited time each year. We're always excited to give them a try. In 2020 Disney released a new version of the Poor Unfortunate Souls Float at Storybook Treats in Magic Kingdom.
This treat is made with a good portion of cream cheese soft-serve, black raspberry syrup, and Coke and is topped with King Triton's crown paying homage to the one time that Ursula snatched it in the movie. We really wanted to like this one, but the cream cheese, raspberry, and coke flavor combination was one that we just couldn't get behind.
Sally Whoopie Pie
The Sally Whoopie Pie was another 2020 Halloween specialty treat and could be found at Gasparilla Island Grill in Disney's Grand Floridian Resort & Spa. Just look at how awesome this treat looks! It's heart-shaped and stitched like Sally from The Nightmare Before Christmas!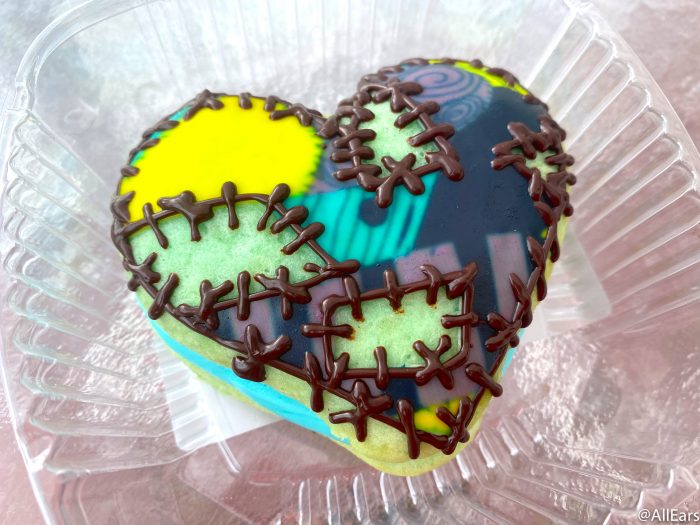 But while this looks like an exciting snack, it ended up being a plain white cake with vanilla icing in the middle. Needless to say, we were expecting quite a bit more and found ourselves disappointed in the flavor.
Flancocho
Over in Disney Springs, Amorette's Patisserie is one of the best places to go if you're looking for pretty treats to get your sugar fix. You can also normally find a variety of specialty treats here depending on the time of year, and that's how we found the Flancocho.
The chocolate-based flan topped with a tiny macaron, meringue, dried strawberry, and caramel sauce could be found during Women's History Month and it looked super decadent and delicious. But when we gave it a try, we thought that the flavors were overly rich, and the dried strawberry on top added a weird taste to the dessert. You really had to love flan to enjoy this one.
Let It Snow Dessert Taco
Our last Disney snack that looked better than it tasted is the Let It Snow Dessert Taco that could be found at Pecos Bill Tall Tale Inn in Magic Kingdom during the 2020 Christmas season. The sugar cookie "taco shell" was filled with salted caramel mousse and spiced chocolate mousse, and the concept was pretty cool. A taco that's actually a dessert!? We can get behind that!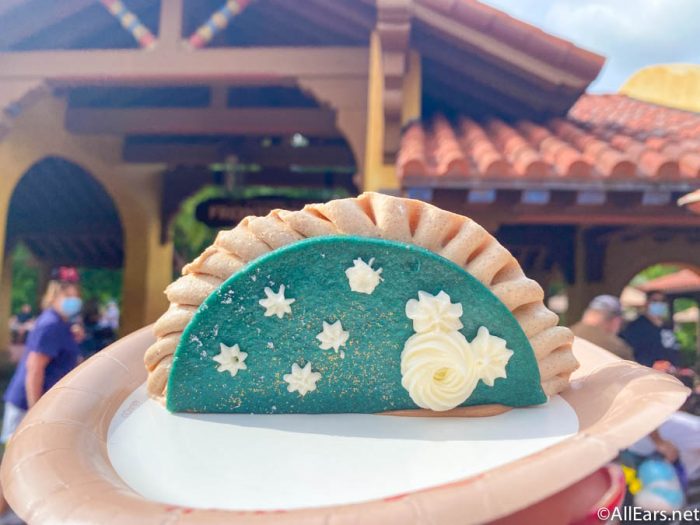 Sadly, there wasn't much flavor in this dessert, and it left us wanting more. We'd much rather opt for a real taco than this one for $5.29.
If you want to be sure you're spending your money on only the best snacks in Disney World, you can check out more of the worst Disney World snacks we've tried in our video below!
We're always trying new snacks at Disney World, so stay tuned for the latest eats and drinks that you can find in the parks and at the resorts!
Join the AllEars.net Newsletter to stay on top of ALL the breaking Disney News! You'll also get access to AllEars tips, reviews, trivia, and MORE! Click here to Subscribe!

Have you ever had a Disney snack that looked better than it tasted? Let us know in the comments!