Disney's Hollywood Studios is one of our favorite Parks to visit — and it's not just the movie magic in the attractions that's got our hearts!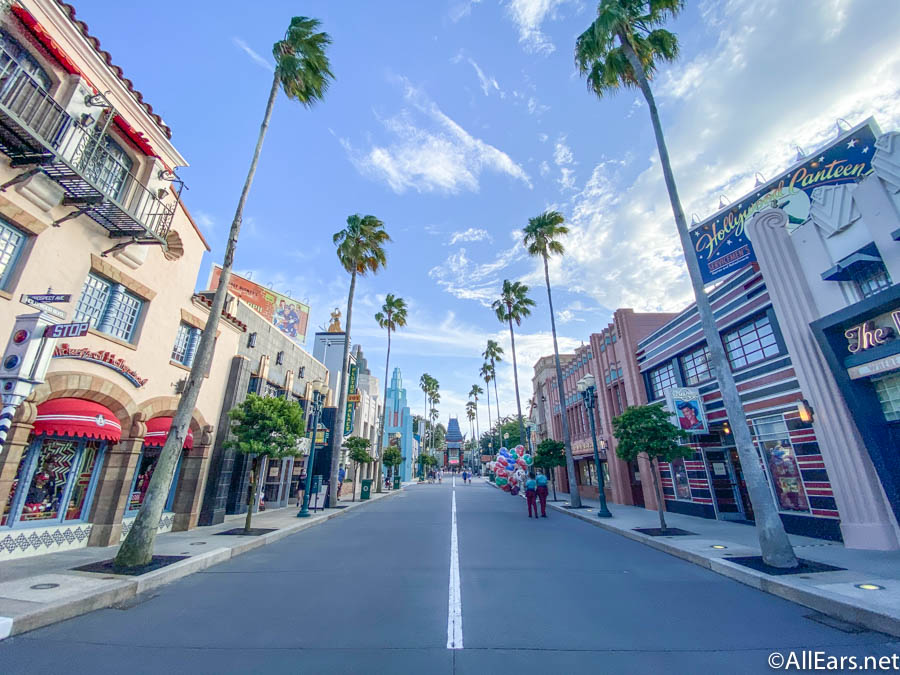 Besides joining the Resistance, tagging along with Mickey and Minnie, and checking out the shows, we also love the food in this Park!
During the initial phase of Disney World's reopening only select dining locations are open.
But don't worry — many of your favorite snacks are still available at Disney's Hollywood Studios! Here's our top snack pick from each land!
Star Wars: Galaxy's Edge
We're starting our food journey off with one of our favorite savory treats — the Ronto Wrap. Alright, so maybe it's technically more of a sandwich, but we can get really hungry sometimes while we're waiting for our Rise of the Resistance boarding group to be called. That's why we're classifying this light meal as a snack for all intents and purposes!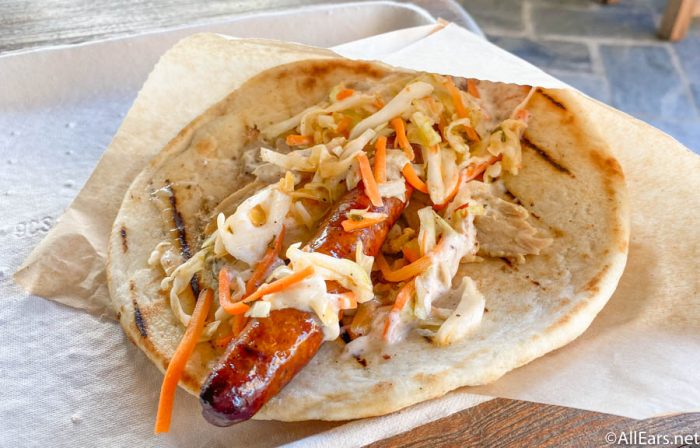 If you enjoy chowing down on classic hot dogs or brats, we think you'll enjoy this souped-up Star Wars: Galaxy's Edge version. The classic take features a pork sausage and sliced roasted pork wrapped in grilled pita bread served with a tangy slaw and a zippy peppercorn sauce for $12.99. And if you hit Batuu early enough you can try their Morning Ronto Wrap ($12.49) which features egg, the same tasty grilled pork sausage, and cheese instead of slaw. We happen to prefer the classic one better, but you do you!
Sunset Boulevard
With KRNR: The Rock Station still closed over by Rock 'n' Roller Coaster (home of mac and cheese delights topped with chili or buffalo chicken!), we've had to drum up our taste buds for a different kind of snack. Rosie's All-American Cafe usually has a verrine on its dessert menu, and right now they're serving a Chocolate Verrine similar to this one. Remember: they change up the flavors with just about every season, so it's always worth checking in on Rosie's menu!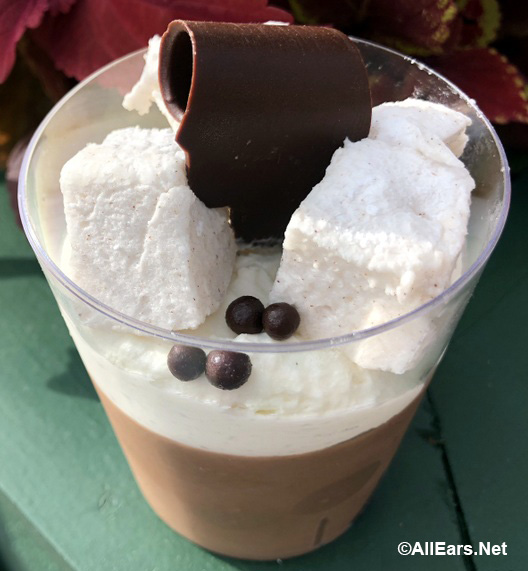 A verrine is just another fancy term for a parfait, and for $4.99, you'll receive this layered treat in a cup! You can stir up all the pieces of rich chocolatey cake and chocolate mousse or enjoy each component separately. There's no wrong way to enjoy this sweet chocolate lover's treat!
Echo Lake
With a name like "Wookie Cookie" you might think this treat would be found inside Star Wars: Galaxy's Edge, but it's actually not there. You'll find it at the Backlot Express Quick Service restaurant over by Star Tours instead!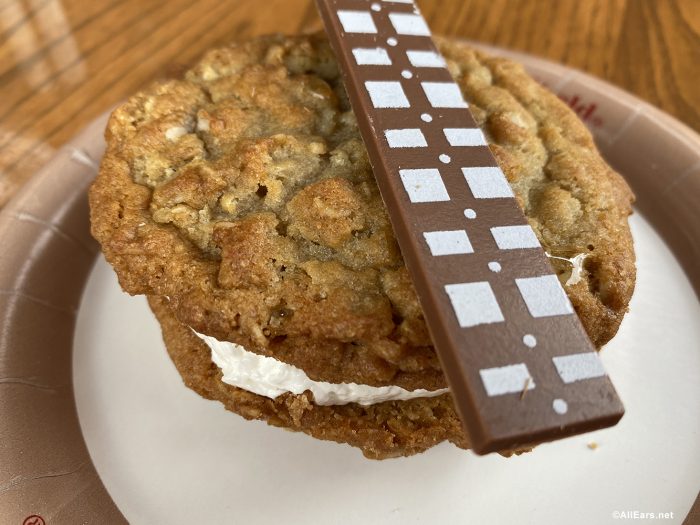 The Wookie Cookie is a bit of a misnomer since the delicious snack consists of not one, but TWO cookies! The chewy oatmeal cookies are sandwiched together with a fluffy marshmallow cream filling and topped with a piece of milk chocolate decorated to look like Chewbacca's bandolier. We could eat these things by the dozen, but it's probably a good idea just to buy one of 'em at a time for $5.99!
Grand Avenue
We were thrilled to be reunited with one of our favorite Hollywood Studios watering holes when the Park reopened in July! BaseLine Tap House has always had one of our favorite outdoor patios, and their Charcuterie Board for $10 has never let us down!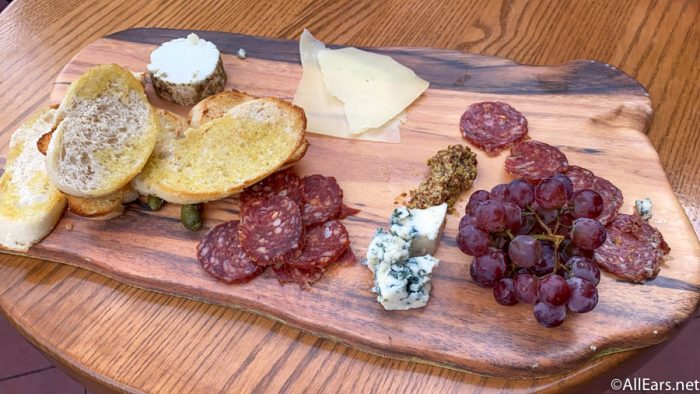 You'll get a wide selection of California cheeses (usually including Toma Farmstead Cheese, Point Reyes Original Blue Cheese, and Laura Chenel's Sonoma Goat Cheese) plus some zesty chorizo and Calabrese Salami to pair with them. Cornichons, grapes, and toasted baguette slices add just the right amount of salt, sweetness, and texture to this very satisfying snack! We often need a California brew or two to wash it down, so it's a good think BaseLine has a bunch of options on tap. 😉
Hollywood Boulevard
After all these years, one of our favorite treats has managed to stick around. The Carrot Cake Cookie used to be found at Writers Stop, but when BaseLine Tap House took that Quick Service spot's place, the Carrot Cake Cookie found a new home.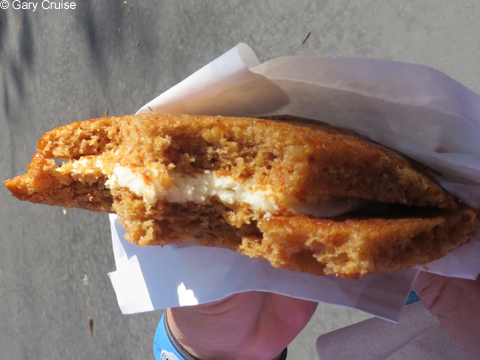 Now that the Carrot Cake Cookie has relocated to the Trolley Car Cafe, you can grab your delicious Starbucks coffee or iced tea and get your cookie to-go! Just like the Wookie Cookie, the Carrot Cake Cookie isn't all its name would have you believe — once again, you get two tasty carrot cake cookies for the price of one! They're joined together with a yummy cream cheese frosting, and for just $3.99, this treat is a total steal!
Note: There are two more lands at Disney's Hollywood Studios that don't have open dining locations yet, but we're going to include our favorite treat from each of these locations as well. Just know that when these snacks return, you'll want to give them a try!
Animation Courtyard
We can't wait to sink our teeth into a deep dish cookie at Hollywood Studios once more! While we've been baking up our own batches of Jack-Jack's Num Num Cookies at home, nothing beats a fresh Num Num Cookie at the Park!
As for the rest of the Animation Courtyard, it's a little bit of a snack ghost town! You'll be able to find popcorn and Joffrey's specialty coffee and tea drinks, but for munchies, you'll probably have to motor someplace else for the time being!
Toy Story Land
Once you enter Toy Story Land, you'll also find slim pickings in the snack department. Woody's Lunch Box is still currently closed which means we can't get our hands on any Lunch Box Tarts quite yet! These delicious filled-pastry squares are frosted and come in a variety of different flavors throughout the year — we think of them like a Pop Tart but way better!
Again, we'll be monitoring Woody's Lunch Box, and we'll ring the dinner bell when they reopen, but for now if you're feeling peckish after riding Slinky Dog Dash or Toy Story Mania, you'll probably need to wander over to Star Wars: Galaxy's Edge or Hollywood Boulevard for a better selection of grub!
What's your favorite snack at Disney's Hollywood Studios? Tell us in the comments below!
Take a bite out of more Hollywood Studios info and tips linked below!