We love all number of Walt Disney World snacks, whether we're in the parks, at Disney Springs, or at a resort. But even though we love and like most of them, we're here to say that not all Disney World snacks are created equal.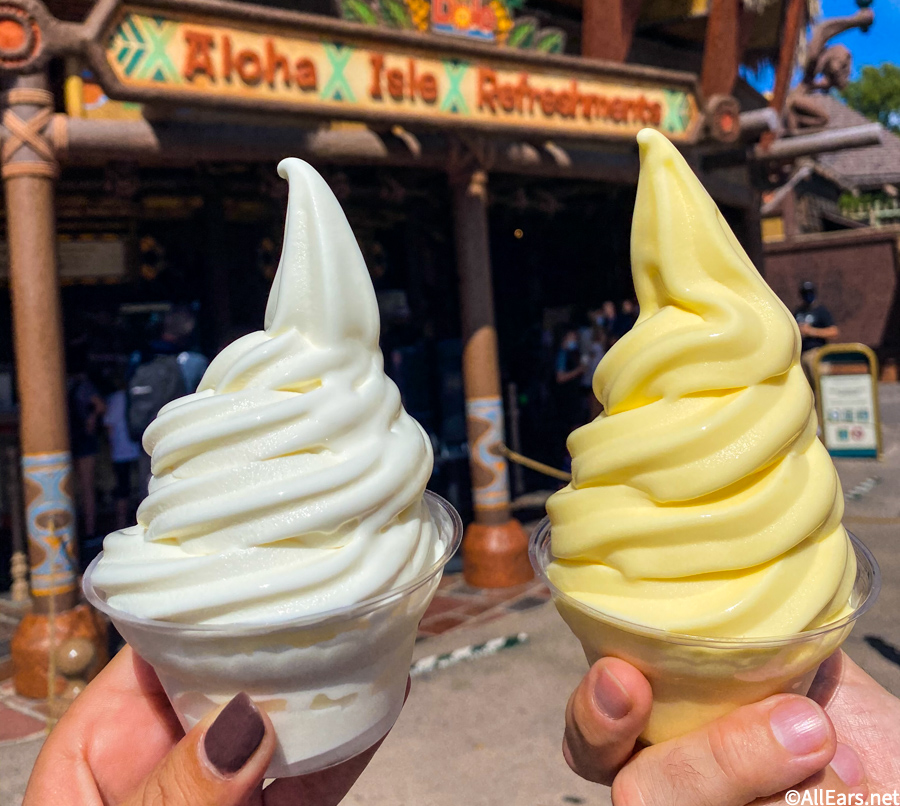 Iconic options like Mickey Premium Bars, pineapple Dole Whip, and Mickey Pretzels often get a lot of the hype — and for good reason: they're great choices! But there are some lesser-known snacks that we think you shouldn't miss.
These are the snacks Walt Disney World pros seek out!
1. Unique Dole Whip Flavors
Sure, pineapple Dole Whip is a staple of the Disney Parks, but in recent years, Disney has brought in other fruity Dole Whip flavors that give the classic a run for its money! Guests will often find several flavors of Dole Whip available at locations like Aloha Isle, Storybook Treats, and Pineapple Lanai. In the past, we've seen options like lemon, lime, raspberry, coconut, and more. The flavors can rotate out depending on the time of year, so be sure to check the menus right before your trip. If you've already had the classic pineapple flavor and you want to branch out your Disney snacking experience, give one of these less common Dole Whip flavors a try!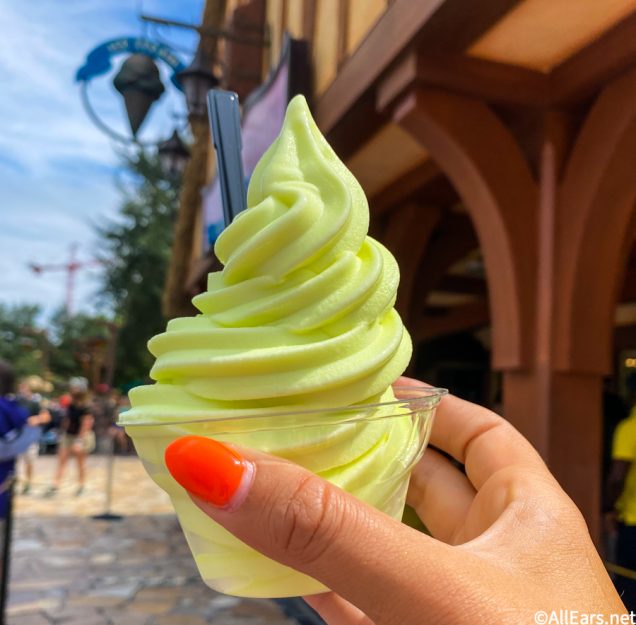 2. Fresh Fruit Waffle Sandwich
Liberty Square in Magic Kingdom is home to Sleepy Hollow Refreshments, one of the more under-the-radar snack spots in the park. This location is known for its waffles, and our favorite treat on the menu is the Fresh Fruit Waffle Sandwich. It's a delicious, fresh waffle smothered in chocolate-hazelnut spread and filled with fresh fruit. Right now this snack is only available on the breakfast menu, so be sure to get there before 11AM to order one for yourself!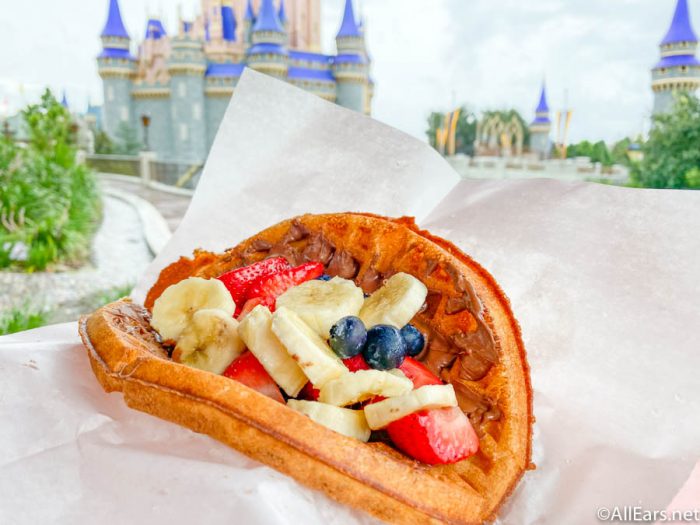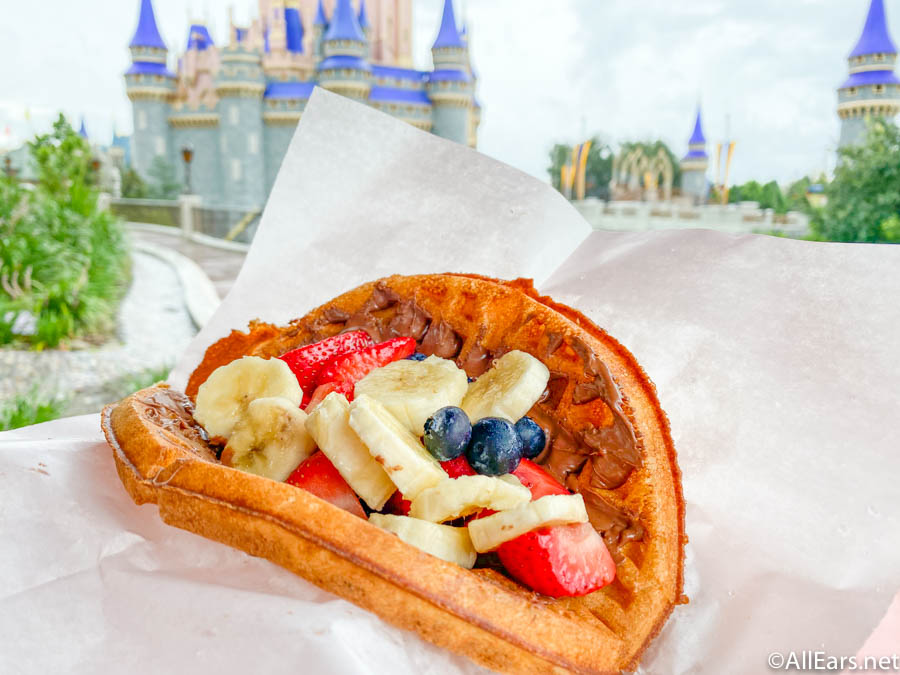 3. Croque Glaces
EPCOT is home to a ton of awesome eats, and the France Pavilion boasts several of them. But one snack that doesn't get nearly enough attention in our opinion is the Croque Glaces from L'Artisan des Glaces. Guests select the ice cream flavor and sauce of their choice, which are then sealed inside a warm brioche bun. Between the unique flavor combinations and the contrast of temperatures and textures, it's a snacking experience that deserves a spot on your Disney bucket list!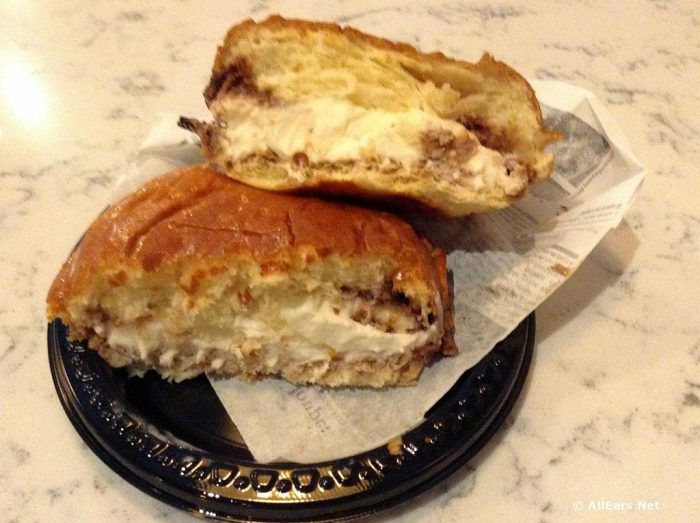 4. Gourmet Popcorn
Popcorn is an iconic Disney Parks snack in itself. But if you haven't tried the offerings from the Gourmet Popcorn Cart in EPCOT, you're missing out! Located near the Imagination Pavilion, this spot typically offers cheddar cheese, buffalo bleu cheese, and sour cream and chive popcorn. Pro-tip: try mixing and matching the flavors!
5. Churros from Nomad Lounge
While we're on the subject of kicking a classic favorite up a notch, we have to talk about the Churros from Nomad Lounge. Far from "just another Disney churro," these hot and fresh churros are crispy on the outside and soft on the inside for the perfect blend of textures. They come served with a vanilla crema and chili-strawberry sauce so you can experiment with more flavors. And guess what: these churros are gluten-free, so they can be enjoyed by a wider range of guests! They're not always on the small apps menu at Nomad, but if they are, you have to give them a try.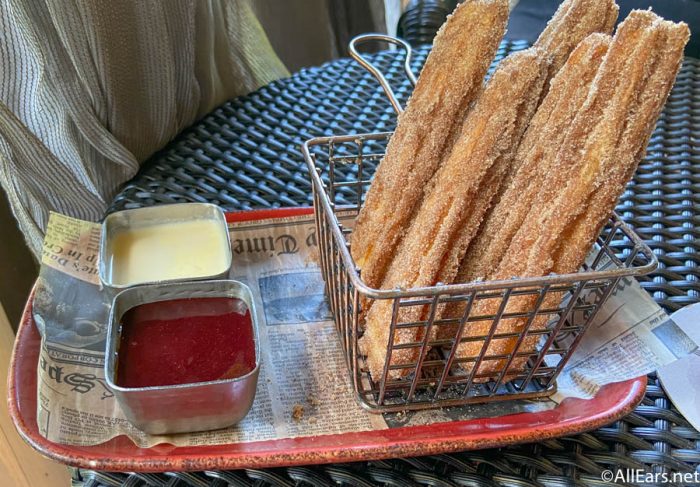 6. Corn on the Cob
If you're looking for a lighter snack on-the-go in Disney's Animal Kingdom, Harambe Fruit Market is a great place to start. One of our favorite sleeper hits is the Corn on the Cob, which comes perfectly seasoned and doused in buttery goodness. It might not be as flashy or quintessentially theme park as many of the snacks around Disney World, but that doesn't make it any less delicious!
7. Wookie Oatmeal Cookie Sandwich
An underrated Disney World sweet treat, guests can snag the Wookie Oatmeal Cookie Sandwich at Backlot Express in Disney's Hollywood Studios. Made up of two oatmeal cookies and vanilla cream filling topped with a chocolate sash, this is a great option if you're looking for a dessert that's a little different than the many cupcake and ice cream offerings around Disney World. Plus, the fun Star Wars theming is an added bonus!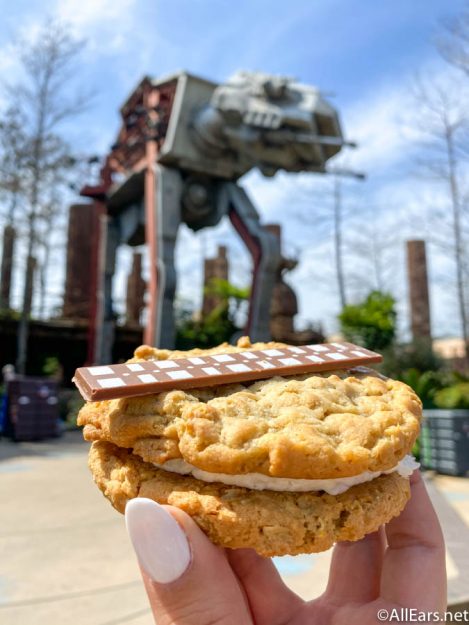 8. Num Num Cookie
The Market is a tiny snack stand tucked away in the Pixar Place area of Hollywood Studios. But it's worth a visit to snag the incredible Num Num Cookie. At its core, this is a chocolate chip cookie…but that description is selling this snack seriously short! It's super thick, so it has a consistency that reminds us more of a cookie cake than a traditional cookie. And the best part about the Num Num Cookie is that it's served warm, so it's deliciously melty, soft, and chewy!
Disney World is full of iconic snacks that have earned their legendary status. But there are also plenty of under-the-radar treats that are definitely worthy of a spot on your must-eat list too! Give these a try on your next visit to Disney World and see what the experts have been raving about.
Have you tried any of these Disney World snacks? Let us know which one is your favorite in the comments!
Join the AllEars.net Newsletter to stay on top of ALL the breaking Disney News! You'll also get access to AllEars tips, reviews, trivia, and MORE! Click here to Subscribe!