It was a full weekend of a whole lot of food and drinks at the 2021 Taste of EPCOT International Festival of the Arts!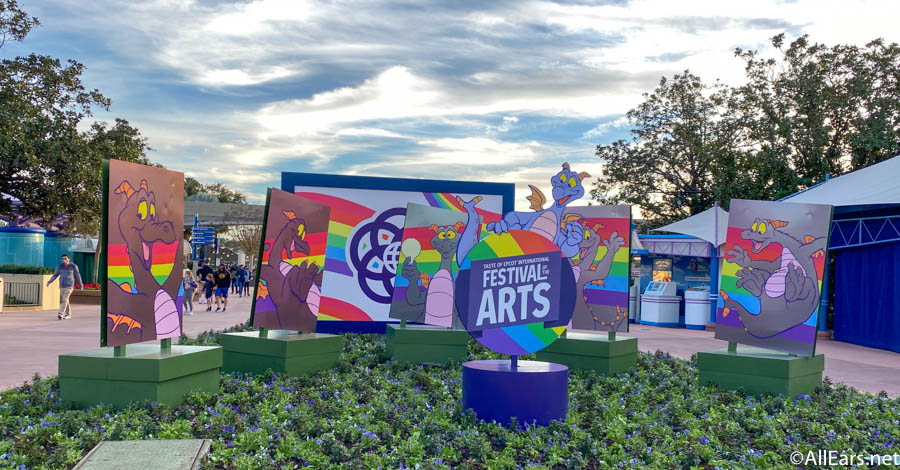 And, with so many options on the menu for the food booths, we narrowed our favorites to our top 10 picks that we tried during our trip to 2021 festival!
Our Top 10 Picks for EPCOT's 2021 Festival of the Arts
Entrees
Sichuan Red Hot Mala Shrimp
The Painted Panda has been a go-to for us at the Festival of the Arts for a hot minute. And, fans of spicy food are going to want to pick up the Sichuan Red Hot Mala Shrimp ASAP at the booth!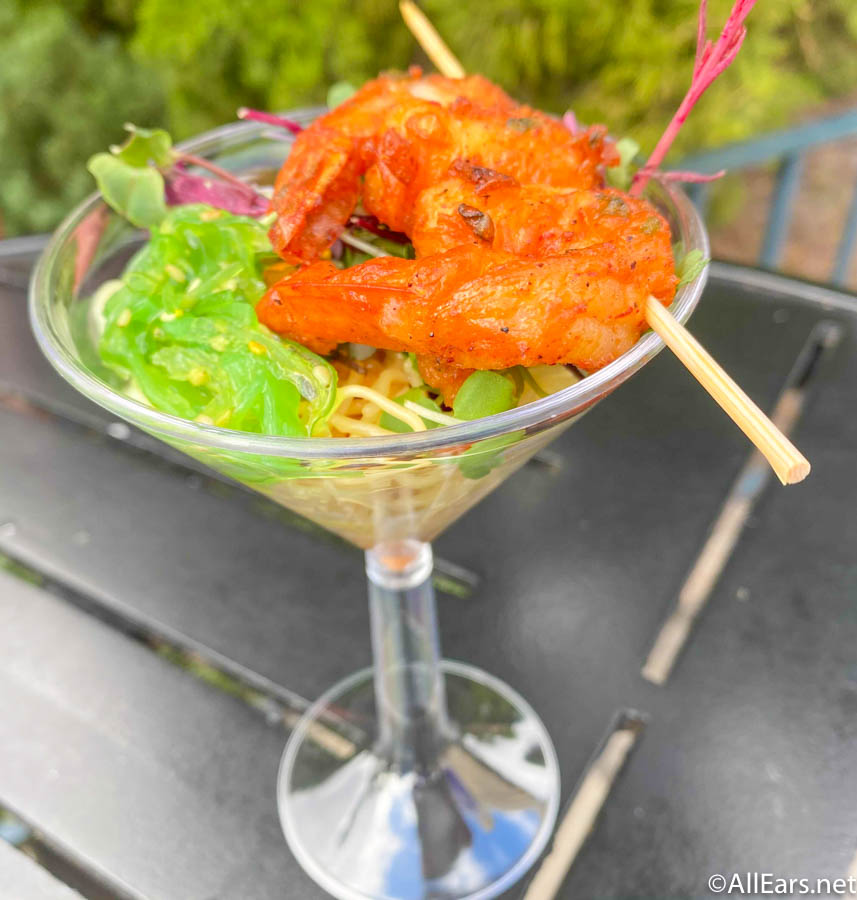 Available for $10.50, the "cocktail" of flavors has a nice kick to it with a Sriracha peanut mayo, shrimp, and noodles. While it isn't too spicy, the Sichuan Red Hot Mala Shrimp still packs a ton of flavor in each bite!
Deconstructed BLT
The Deconstructed Dish flips what dishes normally look like to give you a more laid-back and "deconstructed" version of familiar eats and treats. We may have seen the Deconstructed BLT before, but there were a few additions to its ingredients this year with Crispy Pork Belly, Soft-poached Egg, Brioche, Watercress Espuma, and Tomato Jam.
The pork was SO tender and juicy, which went along with the sweet tomato jam. Plus, it was almost like we were having brunch since the seasoned poached egg was perfect for dipping our crispy brioche toast!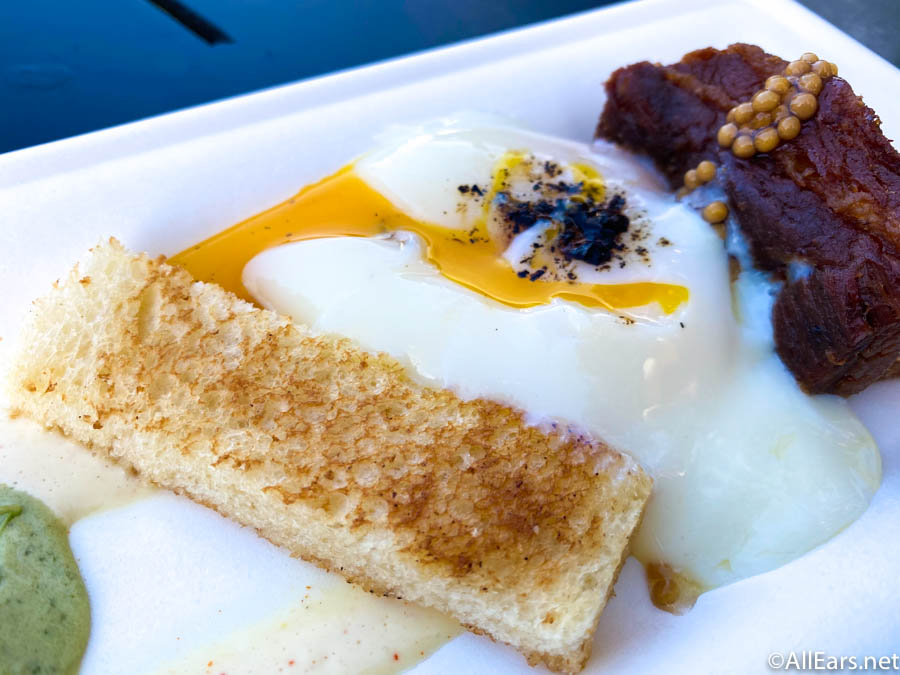 The delicious dish is available for $7 at the Deconstructed Dish.
Lobster Poutine
Have you ever just encountered a Disney snack so big, it could be a meal… but you can't help yourself to eating more and more of it? This year, that award goes to the Lobster Poutine at the Refreshment Port, available for $10.50! The crispy fries are topped with citrus cream, lobster bisque cheese sauce, pickled jalapeños, and a whole lotta lobster!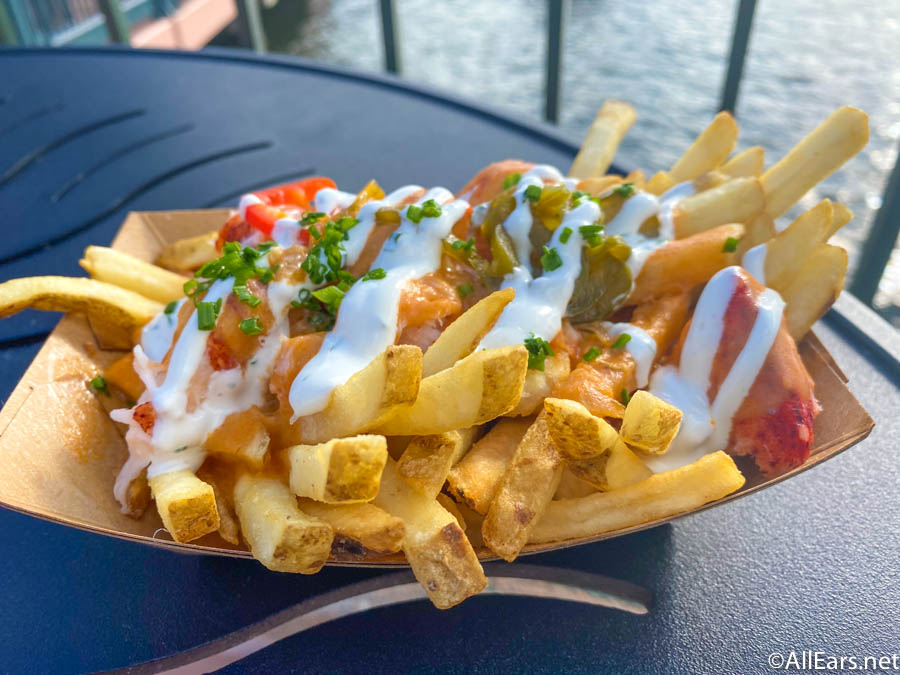 Although we couldn't get enough of the tender lobster paired with the sweet citrus cream and spicy jalapeños, this dish isn't just for seafood lovers.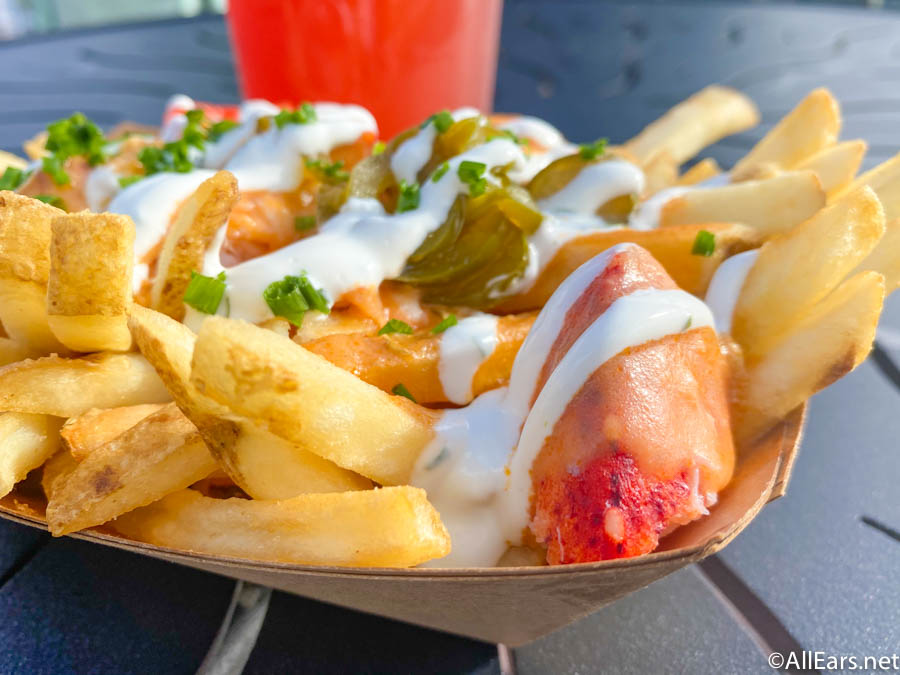 Anybody who can appreciate the combination of some AMAZING ingredients and giant portion sizes would enjoy the Lobster Poutine as much as we did!
Crème de Brie en Petit Pain
Warm cheese inside a bread bowl? Yes, please!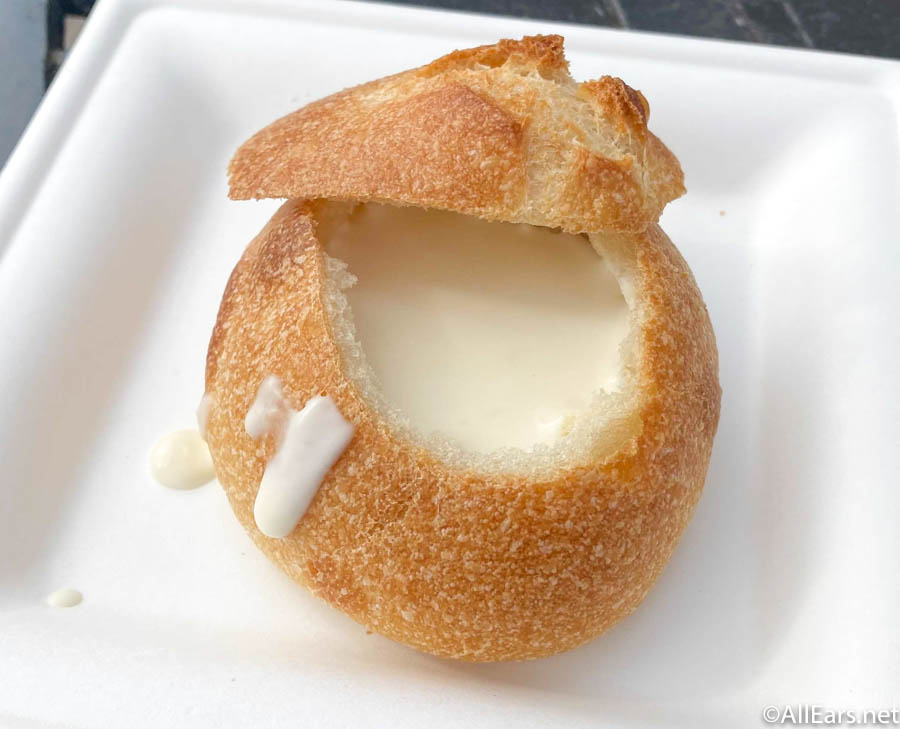 There's a reason that the Crème de Brie en Petit Pain ($8)or Warm Creamy Brie in a House-made Bread Bowl has won us over time and time again at France's L'Art de la Cuisine Francaise booth. And, it's a winner yet again in our books (and our stomachs)!
Blue Corn Pupusa
Vibrante & Vivido hands-down won this year for the most colorful booth at the Festival of the Arts with its vibrant menu that might be the most beautiful thing to grace our eyes at the festival. 😍 Although each item was unique, we couldn't get enough of the Blue Corn Pupusa!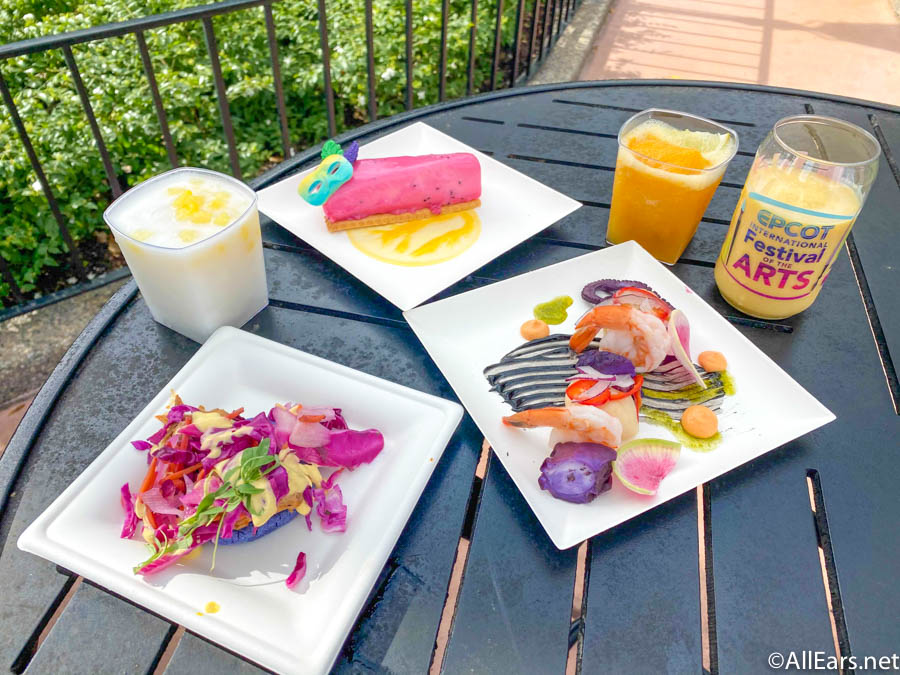 Available for $6.50, the Papusa was stuffed with Cheese and topped with Shredded Pork, Guajillo and Árbol Chile Sauce, Cabbage Slaw and Aji Amarillo Crema.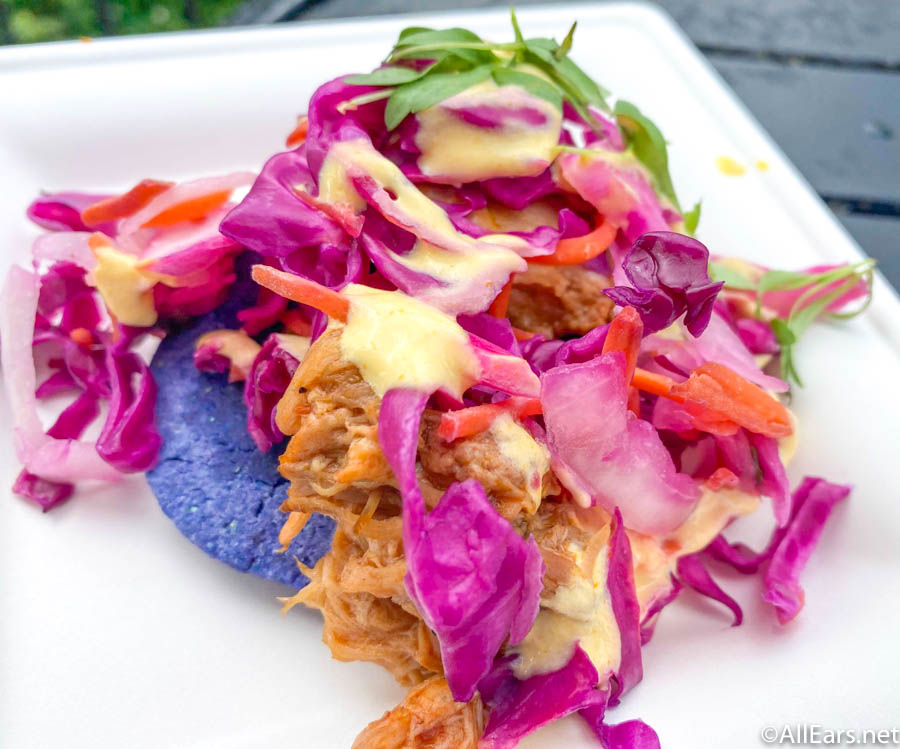 The flavors in this dish are just as colorful as its appearance as the slaw was crispy, the pork was plentiful, and the sauce had a wonderful kick to it!
Mediterranean Flatbread
Whether you're on a vegetarian diet or not, the Mediterranean Flatbread at Morocco's Mosaic Canteen is a HUGE portion with great flavors, available for $5.75.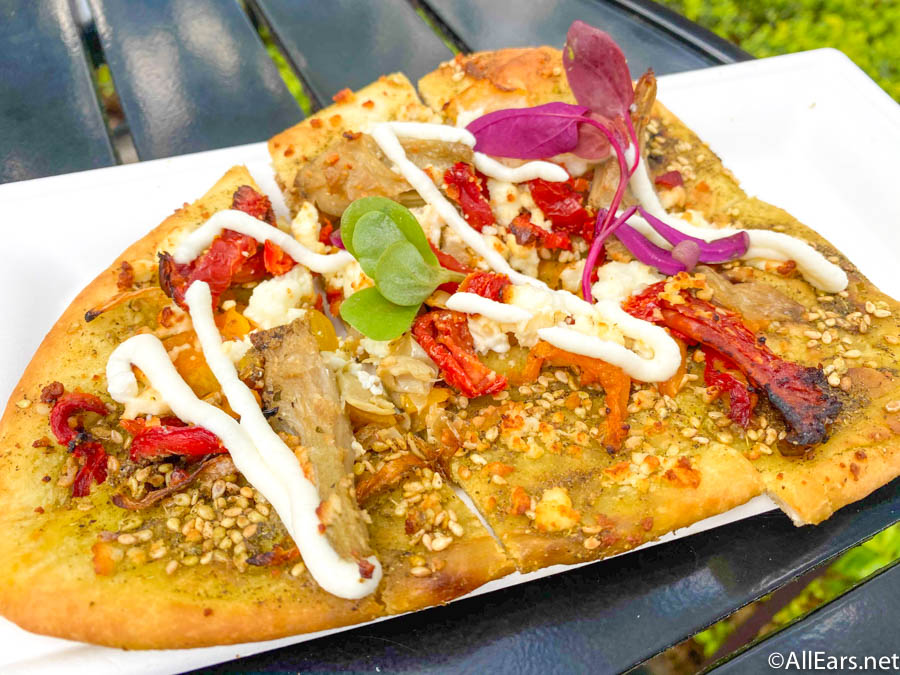 The flatbread is made with Za'atar Pesto, Artichokes, Roasted Peppers, Sun-dried Tomatoes, and Fennel Cream, which adds a nice herb-y taste along with the juicy peppers and crunchy flatbread.
Desserts
Red Velvet Funnel Cake
Out of all the food booths across the festival, one of our favorite desserts this year was over at the Funnel Cake Stand! The additional offering might sound pretty normal as far as Disney foods go, but the Red Velvet Funnel Cake was its own little masterpiece!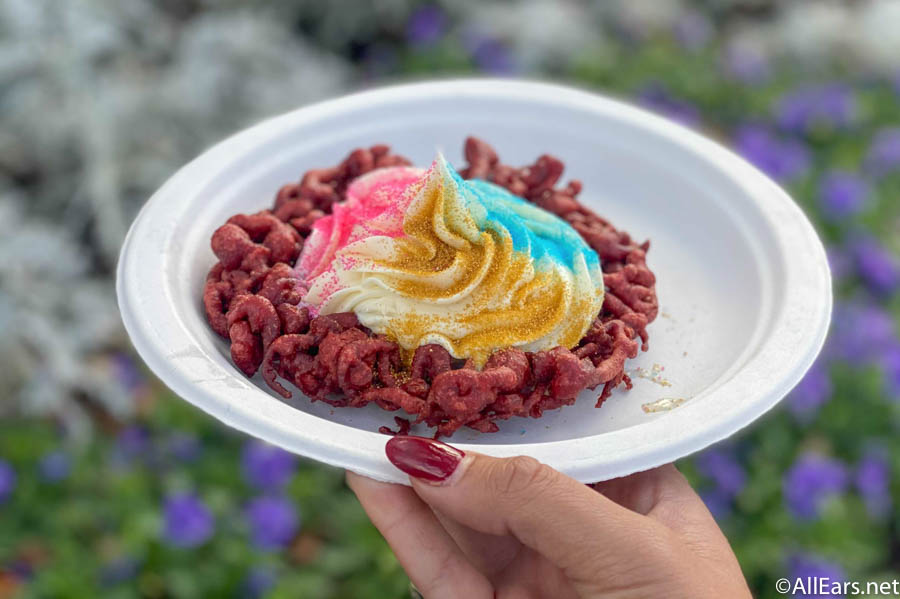 Available for $9.50, the funnel cake is topped with cream cheese icing and pixie dust, whose color scheme fit right in with the Festival of the Arts!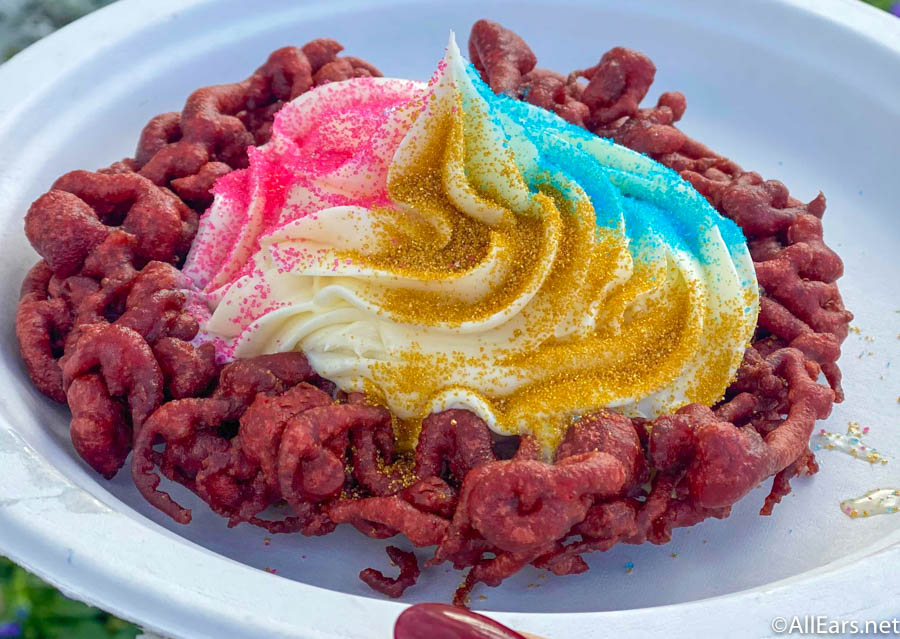 The Red Velvet Funnel Cake itself wasn't very flavorful, but the cream cheese frosting added that perfect amount of sweetness. Guests who aren't fans of overly sweet desserts are going to want to take the time to stop by the American Adventure Pavilion for this cutie soon!
Passion Fruit Mousse
Another Vibrante & Vivido favorite, the Passion Fruit Mousse doesn't just look gorgeous!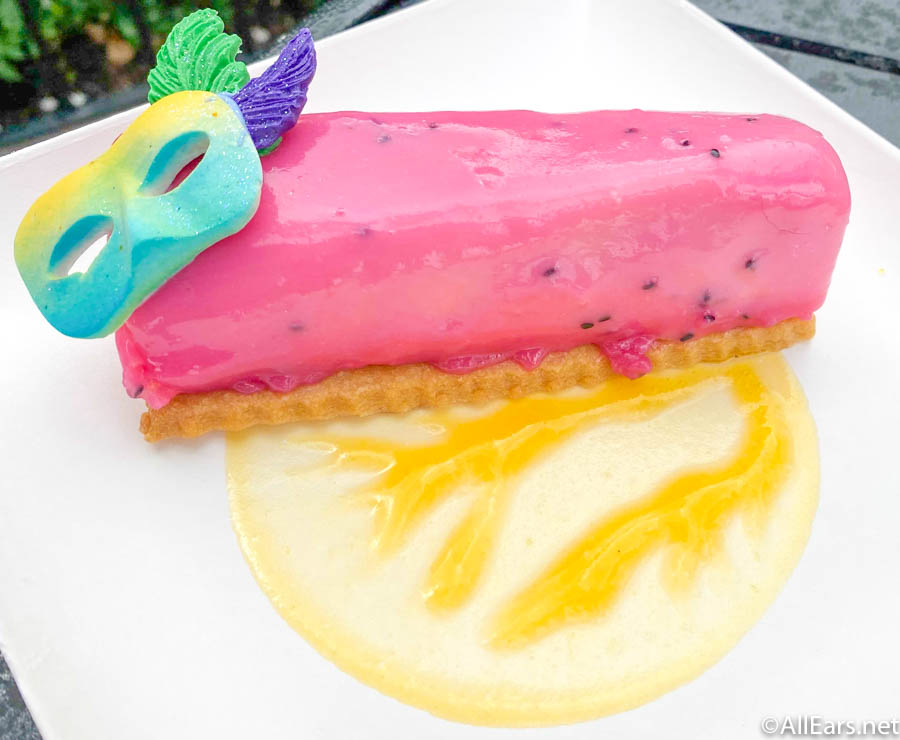 Available for $4.75, the dessert was tart and refreshing, made with dragon fruit jam on top of a thin cookie on the bottom, giving it a nice crunch with each bite!
Drinks
Cold Fashioned Coffee Cocktail
It's no surprise to us that one of our favorites from the festival this year could be found at the Festival Favorites booth in the World ShowPlace!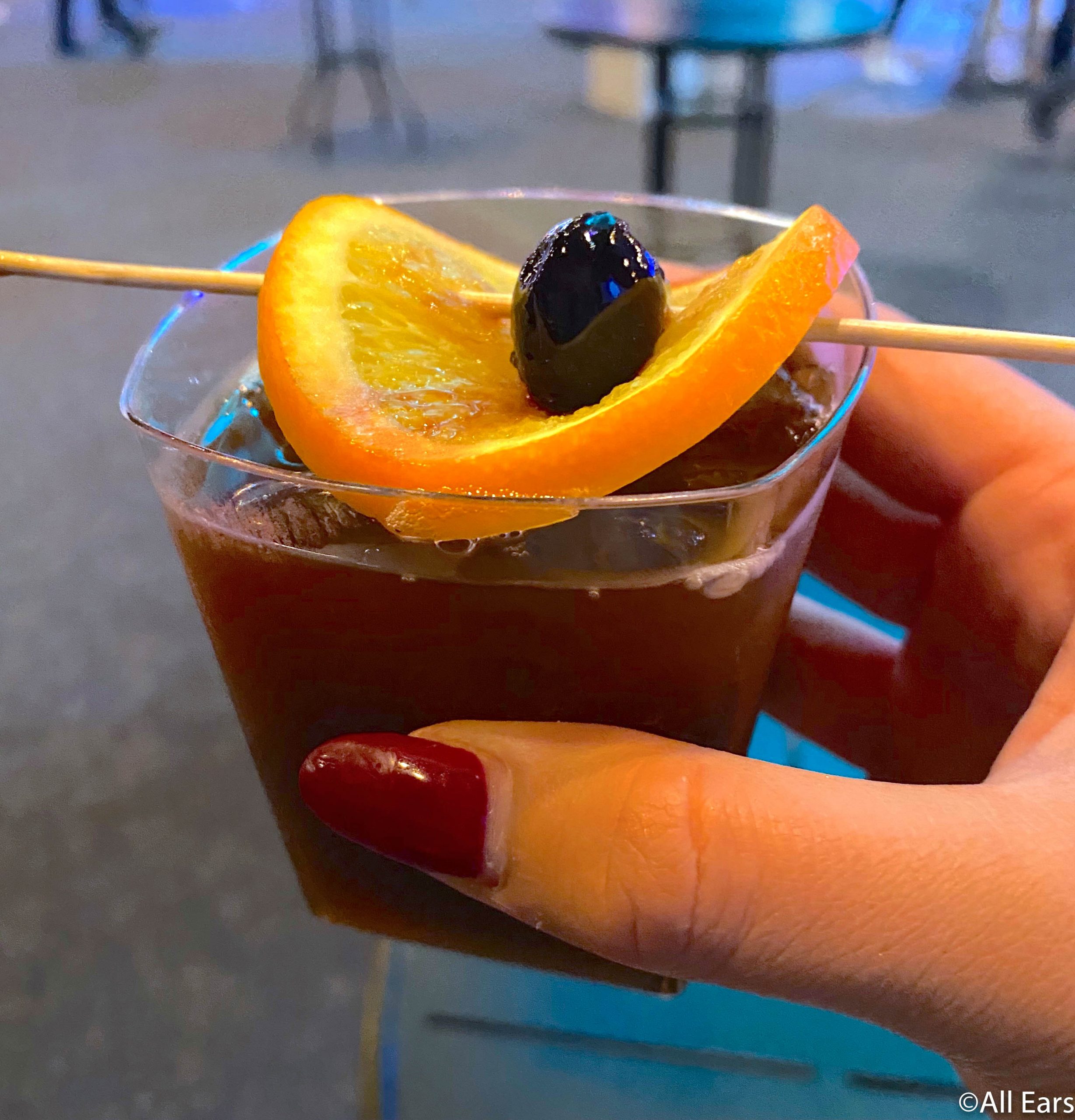 The Cold Fashioned Coffee Cocktail ($9.50) mixes up whiskey and coffee with a strong coffee flavor and kick off whiskey to go along with it!
Sea Butterfly
The Painted Panda has not only given us a GORGEOUS drink with the Sea Butterfly, but it tastes just as wonderful as it looks!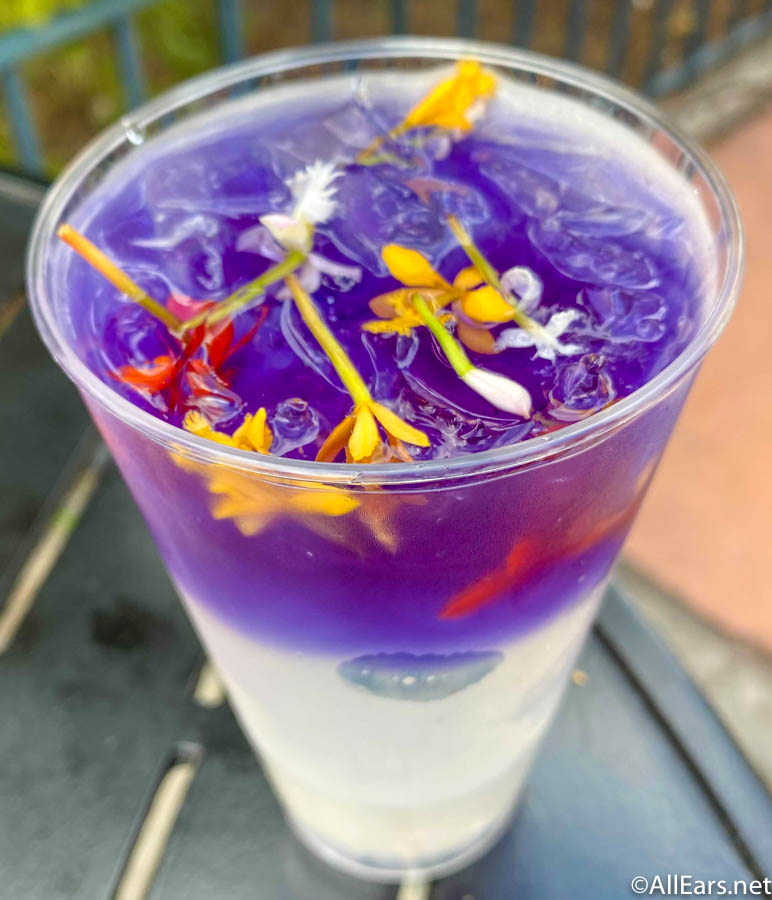 The Sea Butterfly Cocktail ($12.50) is mixed with Lychee Syrup, Vodka, Light Rum, and Magic Boba Pearls for a light and refreshing flavor with floral highlights.
We have to admit that we're already hungry again just looking at all these eats, treats, and drinks! As we continue to explore the EPCOT Festival of the Arts, we'll be sure to give you a look at anything new and exciting we find soon!
What treat or eat are you looking forward to trying the most at the Festival of the Arts? Let us know in the comments below!