Disney food might just be some of the most irresistible in the world. Whether you're grabbing a Mickey Bar, a Dole Whip, Main Street popcorn, or even some good ol' tater tots, snacking in Disney is basically a pastime right up there with a ride on "it's a small world".
And we all know that sometimes Disney snacks are HUGE — like Rice Krispie Treats-bigger-than-your-head-huge.
Snag one of the 12 massive snacks on our list around breakfast, lunch, or dinner and you've practically got yourself a meal while you're in Disney World.
So put on your stretchy pants: we've got snacks so big, they can count as a meal!
Magic Kingdom
Sometimes you just gotta go back to the basics while you're at Disney World. A Disney Parks turkey leg is juicy and full of flavor (and definitely large enough to pass for your lunch).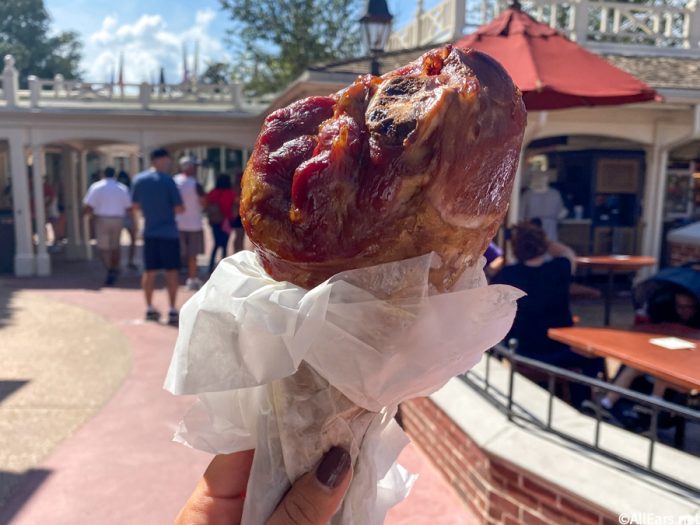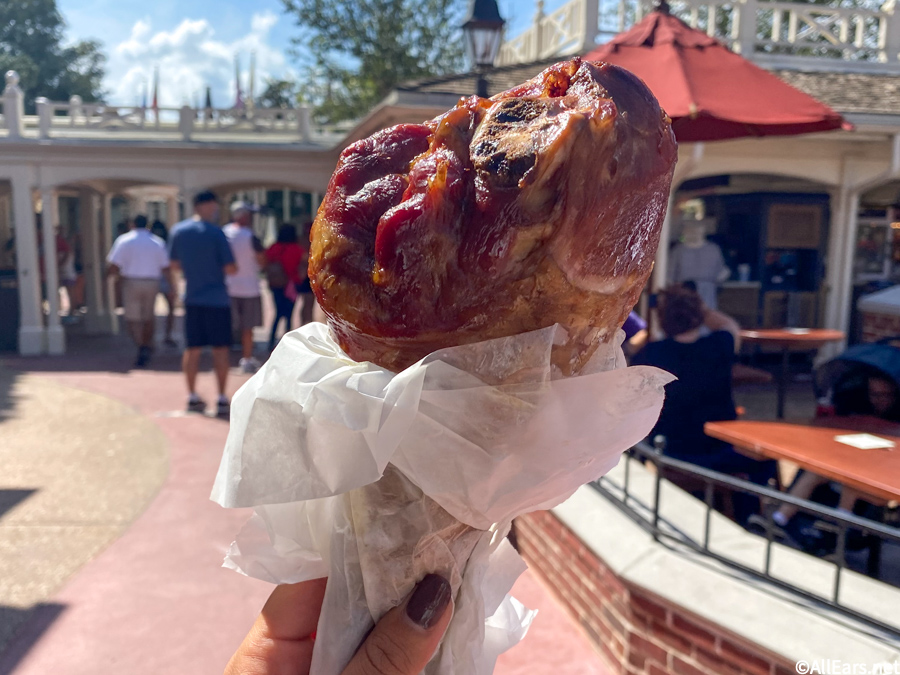 Whether you're into the Brownie Sundae, The Plaza Ice Cream Sundae, or even one of their seasonal treats, you can't go wrong with the heap of ice cream, whipped cream, sauce, and more that you can get on a sundae from the Plaza Ice Cream Parlor. Who said you can't have ice cream for breakfast? Not us!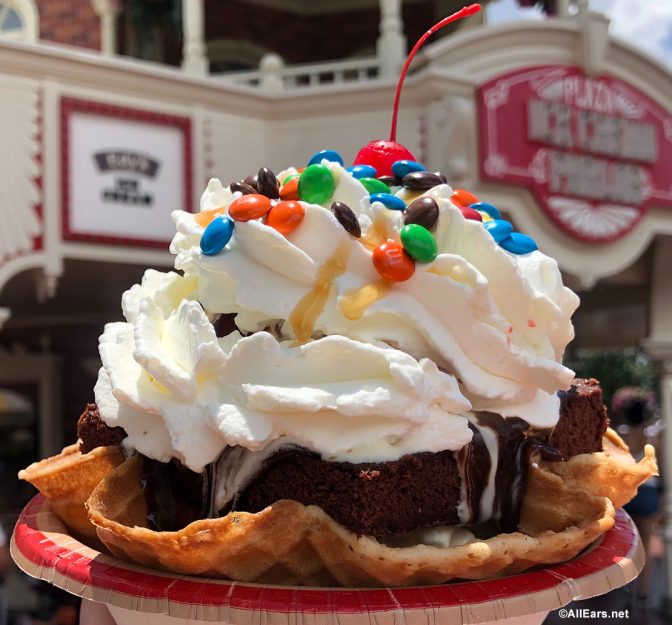 Fresh Fruit Waffle Sandwich at Sleepy Hollow
Speaking of breakfast…the Fresh Fruit Waffle Sandwich is filled with Nutella, bananas, strawberries, and blueberries on a warm waffle. It's fittingly called a sandwich because you'll need two hands to eat this bb.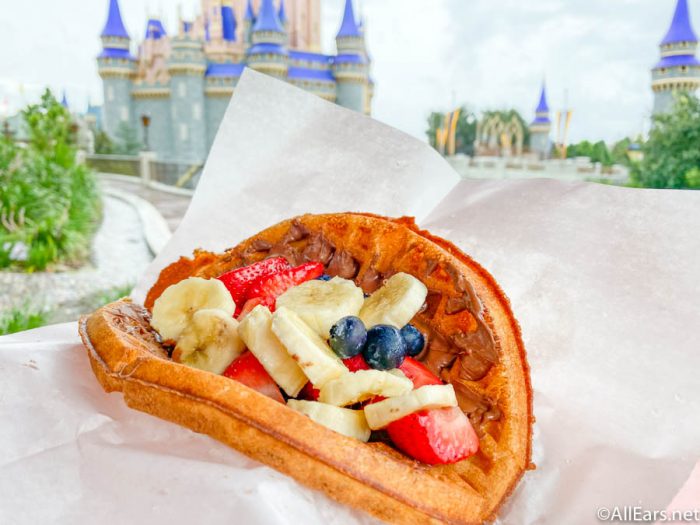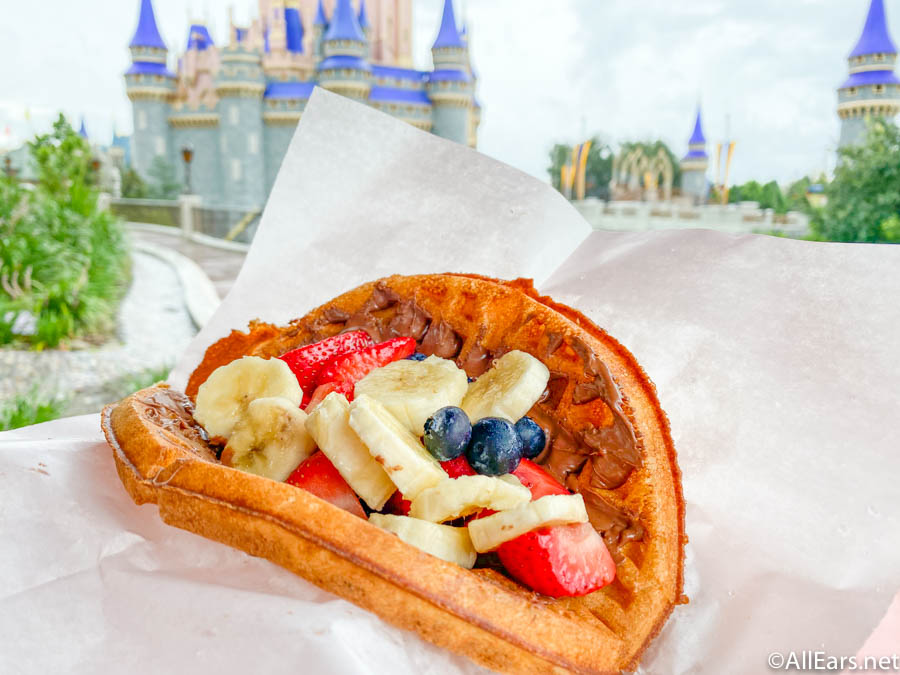 Sweet and Spicy Chicken Waffle Sandwich at Sleepy Hollow
Also at Sleepy Hollow, the Sweet and Spicy Chicken Waffle Sandwich is literally lunch on a waffle… And it even comes with house-made chips. Oh my!!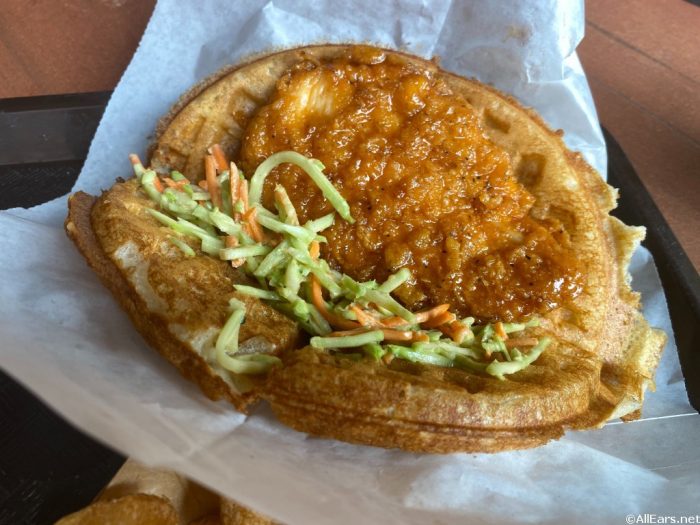 Creamy Bacon Macaroni & Cheese Tots at Friar's Nook
Bacon, cheese, and tots are a great combo, and The Friar's Nook has Creamy Bacon Macaroni & Cheese Tots you're gonna want to try! A bowl of creamy, cheesy mac and cheese on top of a serving of tater tots, ad then topped with a pile of bacon, and a dollop of sour cream and green onions, this snack is a 2-in-1 that totally serves as a meal any time of day.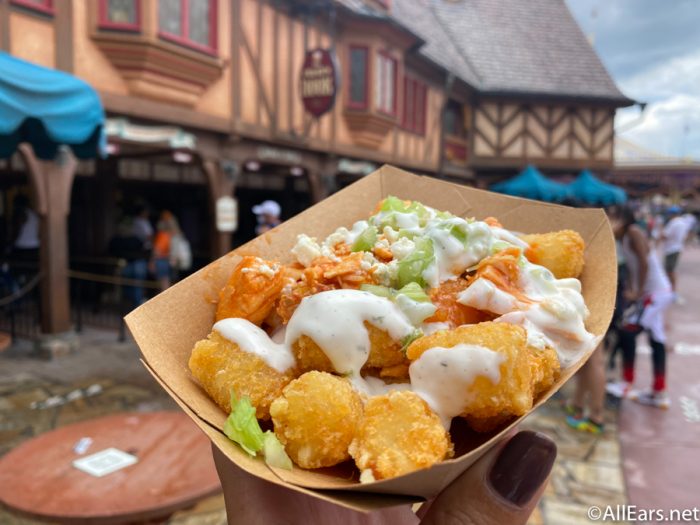 Animal Kingdom
Icing, syrup, and sweet cinnamon? This huge ooey, gooey cinnamon roll is absolutely worth the mess. Sticky fingers are a small price to pay for a massive breakfast that will leave you licking your fingers and still wanting more after you're done!
So this GIANT to-go box full of chicken fried rice is legit considered a side, you guys. If you're looking for an extremely quick and cheap (and obviously delicious) alternative to waiting in line for a full meal, this snack is a sure way to have a filling lunch. You may even end up having leftovers for later!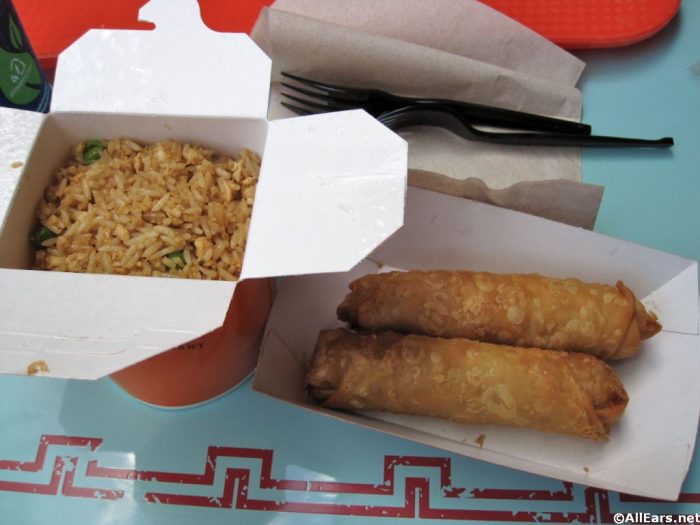 Baked Macaroni & Cheese with Pulled Pork at  Eight Spoon Cafe
Mac & cheese is definitely a meal in itself (I've made many a package of mac at home for dinner, tbh), but if you add pulled pork and tangy bbq sauce on top of that mac, you've kinda got a masterpiece on your hands (and fork). There is just so much food that comes with this that it's easy to fill up quickly (but I'm not complaining)!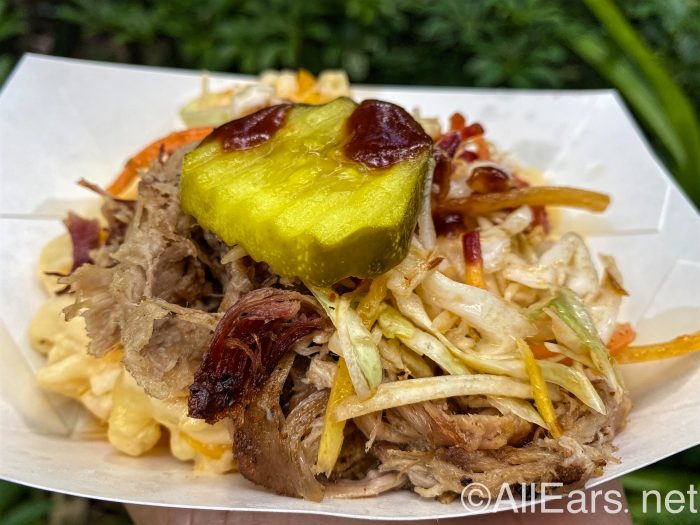 Disney's Hollywood Studios
Yes, funnel cakes can be a meal. Whether you get the strawberry version that comes with vanilla ice cream and a strawberry topping or the cookies 'n cream version with vanilla ice cream and Oreos (my personal fave), you can't go wrong with the mixture of hot and cold on this sweet treat.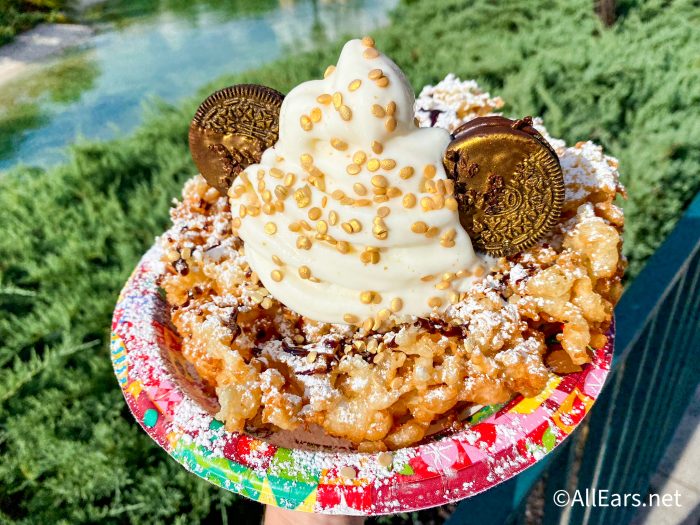 The tots are back, baby! And this time you've gotta head to Toy Story Land in Hollywood Studios to snag some. But the travel time will be worth it because you'll get a lunch of beef and bean chili, shredded cheese, queso with tomatoes, Fritos, sour cream, and green onions on top of crunchy tater tots. If that sounds like a lot: it is! But in the yummiest way possible.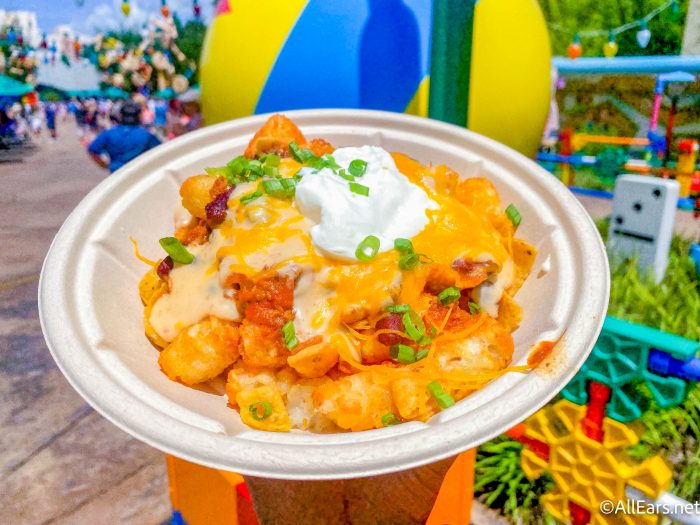 Epcot
Don't be fooled by the fancy French name — this is just one big ole ham and cheese sammie on a croissant! Buuut it has plenty of ingredients on the inside and tastes AMAZING. You'll definitely want to stop by and get one of these sandwiches when your stomach starts growling!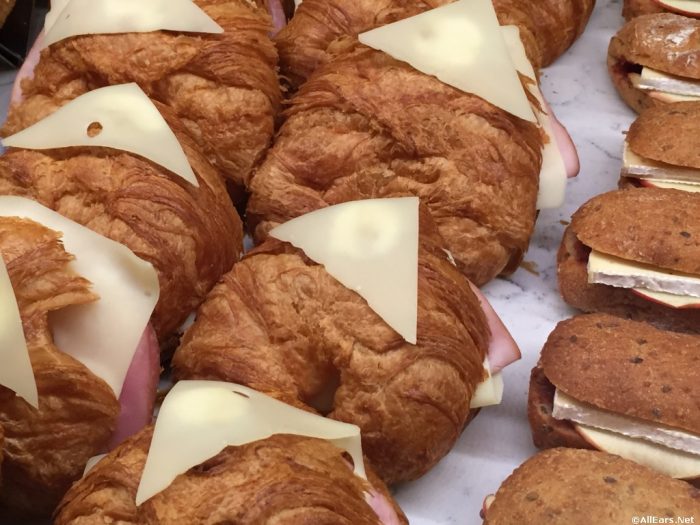 Disney Springs
In Disney Springs, the Air Pirate's Pretzel got a makeover to look like a MASSIVE charcuterie board… but, you know, on a pretzel. The Air Pirate's Cargo Loaded Pretzel has prosciutto, sliced brats, artisan pepperoni, smoked cheddar, black diamond cheddar, AND pickles on top of the giant pretzel and comes with spicy mustard and beer cheese fondue dipping sauces. Just wow.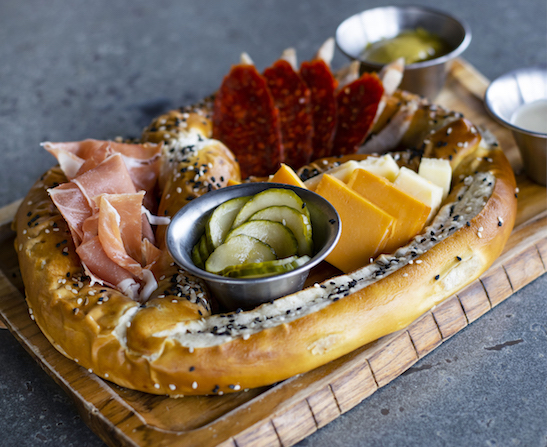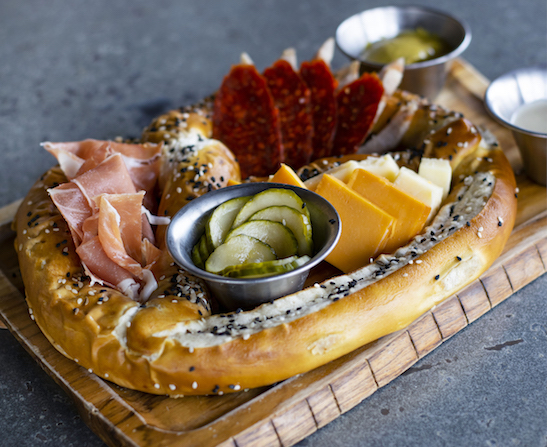 Breakfast, lunch, and dinner in Disney World, anybody?? Your next meal is just a snack away! And, did you know that AllEars has every menu at Walt Disney right here on the site? Click here to browse the menus or use filters to narrow things down!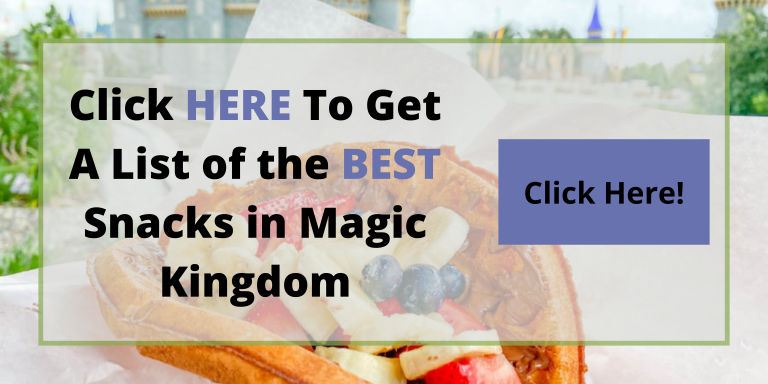 What are some of your favorite meal-sized snacks in Disney? Let us know in the comments below!