Quick Service dining — with so many options it can be hard to choose! Lucky for you, we've ranked the restaurants at Hollywood Studios, Animal Kingdom, and Magic Kingdom.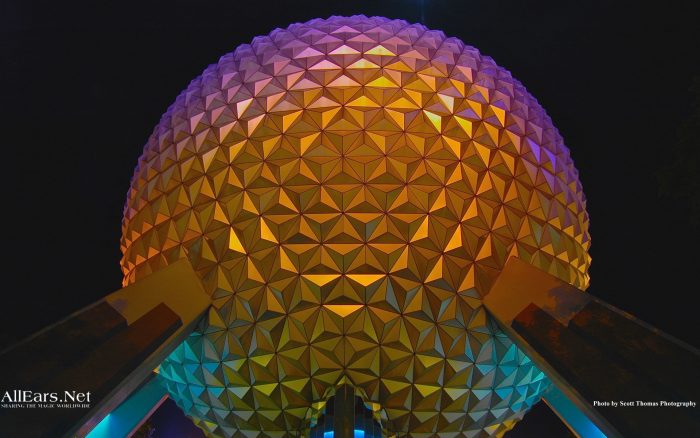 And now… it's Epcot's turn.
Epcot is known for its delicious eats around the world, but how do they stack up against each other? We're ranking the Epcot Quick Service locations from Worst to Best — and it just might be the hardest thing we've ever done.
For the purposes of this post, we are only considering Quick Service spots where you can get a full lunch or dinner on the Disney Dining Plan — so treat carts and kiosks are excluded (for example, you'll find La Cantina de San Angel somewhere on the list but not Choza de Margarita). We also aren't counting any Table Service restaurants, Festival booths (or items), or carts. This job is hard enough as it is. 😉
Now, without further ado, the AllEars ranking of Epcot's Quick Service restaurants.
Promenade Refreshments is a walk-up window near the entrance to World Showcase. Normally we wouldn't count it on our list, but it's on the Dining Plan so…here we are.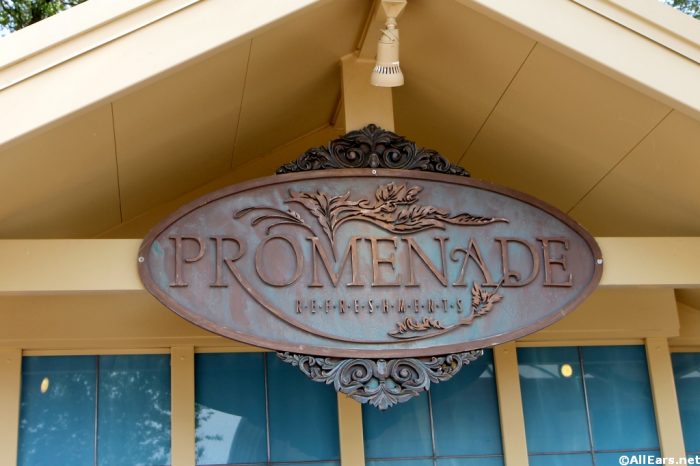 Usually this building is used for a Festival stop (right now it's Shimmering Sips) but during non-Festival times the only meal options are a hot dog and chili hot dog. We did not come to Epcot to eat a hot dog. Thank you, next.
Fife and Drum is also a walk up counter, though this one is in the American Adventure pavilion. The only reason it outranks Promenade Refreshments is because it has a few more interesting options than a hot dog (though you can still get a hot dog.)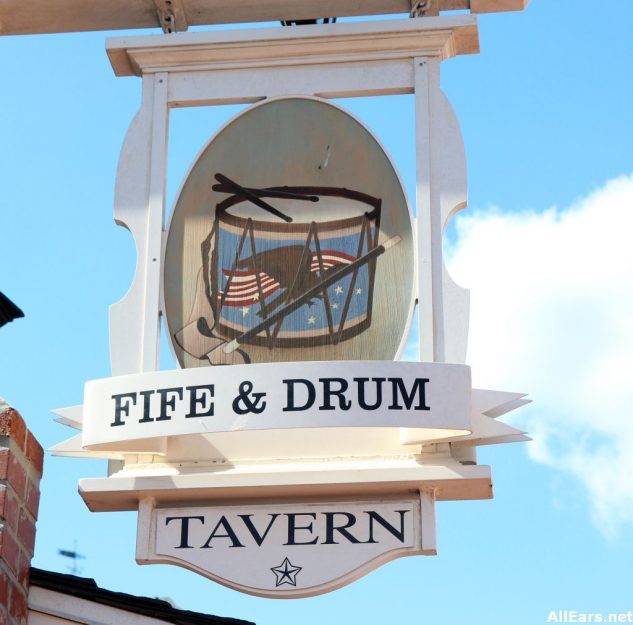 You can also get a turkey leg, Mickey pretzel, or The American Dream which is frozen strawberry, vanilla ice cream, and frozen blue raspberry slushy.  But basically… these are snacks beyond the hot dog.
Which leaves us with this one reason to not put it in last… location. It's halfway around the world and a convenient place to grab a beer before a concert or show at the American Gardens Theater.
Refreshment Coolpost is yet another walk-up spot — this one in the African Outpost in between China and Germany.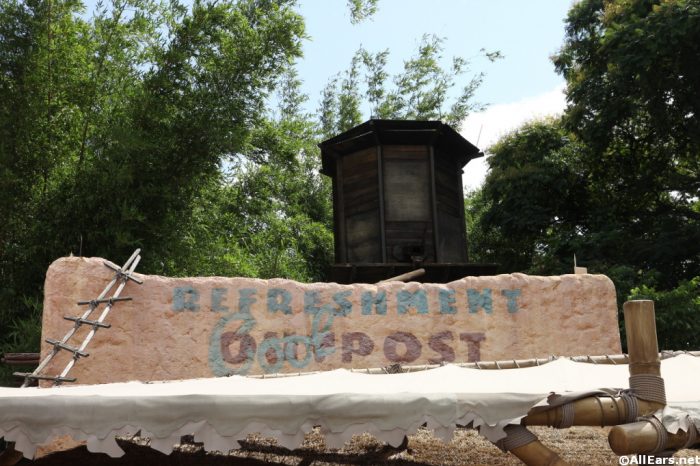 Refreshment Coolpost has (surprise!) a hot dog as the main Dining Plan meal offering. But they add specialty items here and there AND have a Frozen Coke machine. Plus those drums are a good spot for the kiddos to get out some energy. Which is the only reason it gets to be spot 12 instead of 13 or 14.
(And HOORAY. We're done with the hot dog spots. While each of them are a decent place to grab a quick beer or snack, we wouldn't recommend using a Quick Service dining credit at any of them.)
Refreshment Port is also a walk-up, though they don't (currently) have hot dogs on the menu, which is why it easily scoots above the previous three.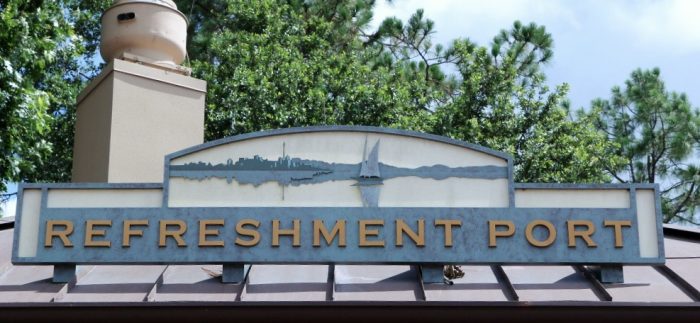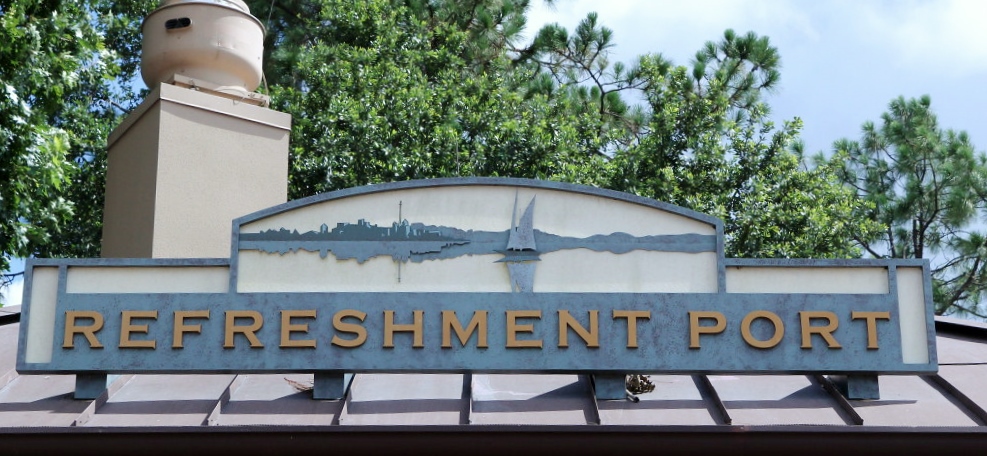 Even excluding Festival items, Refreshment Port has more unique options than other stops on the list thus far. The main entree is Beef Brisket Poutine, which is French Fries with Beef Brisket, Beer-Cheese Sauce and Poutine Gravy topped with Crispy Onions. YUM.
That's about it, though, as far as meals go — unless you count the Stow Away Mary which is classic Bloody Mary with Absolut vodka garnished with pimento stuffed olives, celery, and cherry tomato topped with jumbo shrimp and smokehouse jerky. But menu items here do change without warning, so guests can't always rely on their favorites being available when they want them.
The poutine is good, and an easily shareable dish, but there are still many better choices in the park, which is why Refreshment Port still lands at 11.
We hate to do this for nostalgia sake, but the first (read: worst) "real" Quick Service restaurant is Electric Umbrella. And by real we mean an inside restaurant with a lot of tables and chairs.
Electric Umbrella looks like it's still in the 80's, which we enjoy it for nostalgia's sake. But despite a slight obsession with the Beer Cheese Dipping Sauce, there isn't much to go crazy for on the menu. It's the place to go if you want chicken nuggets, a burger, or a flatbread cheese pizza. There's a few other items on the list, but still, you're at Epcot!! Unless you've got super picky kiddos or just desperately need a French fry after a few World Showcase cocktails, we highly suggest going somewhere else.
And in the near future, you'll have to. Electric Umbrella is closing this winter as part of Epcot's huge transformation.
Listen, I love Chinese takeout as much as the next person. But that's exactly what Lotus Blossom is: Chinese takeout. Expensive Chinese takeout.
The portion sizes are generous, and the food is fine, but truthfully, you can likely get better (and cheaper) Chinese at home. If you're really craving Chinese food, perhaps grab some egg rolls (which can be bought with a snack credit.)
Additionally, the seating situation isn't ideal. It's covered but still outside. Call us crazy, but 100 degree weather isn't dream conditions to eat piping hot rice and orange chicken.
Again, the food IS decent, and if you're really in the mood for sesame chicken, you won't be disappointed. But Epcot is a treasure trove of deliciousness, and someone has to be #9.
We told you this list was VERY difficult to decide, but we're sorry to say the next spot on our list is Katsura Grill.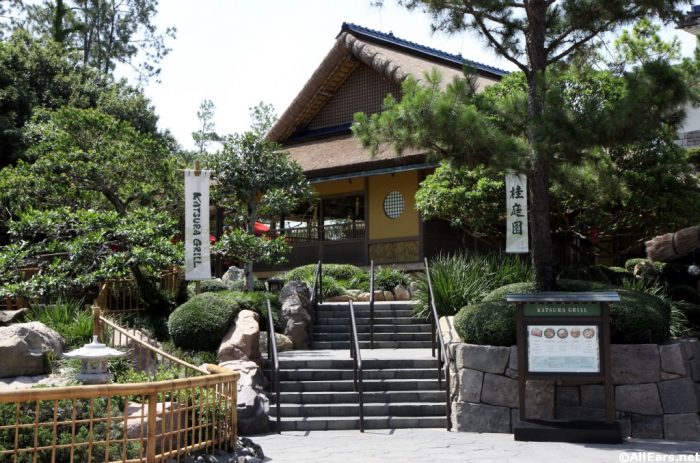 It's sad we find the other Asian quick service low on the list as well, because we LOVE Asian cuisine. The full service locations in Japan are some of our faves, and the Festival booths at both China and Japan rarely disappoint.
But the Quick Service spot needs to get its act together! Much like China, there is nothing special about the menu at Katsura Grill. You'll find sushi and teriyaki bowls, which are good but not great, and the dessert is meh. If you love Japanese food and really have a hankering, you'll satisfy your craving to an extent here. But truthfully, if you really love Japanese food and have extra cash to spend, try Takumi-Tei. It is an exquisite experience.
But if you're open to anything Quick Service, there are better options around the World.
Stepped in Germany and immediately feel like a bratwurst and a bier? You're in luck!
Sommerfest has a small but mighty menu, with our favorites being the Bratwurst, Nudel Gratin, Apple Strudel, and of course, German beer. Honestly, it's REALLY good and this is where the list starts getting even more difficult.
The main downfall at Sommerfest is that there isn't much seating nearby, and pretty much anything in the Germany pavilion is outside.
BRATWURST FUN FACT: Disney sells so many Bratwurst every two months that if you lined them up, it would be about 26.2 miles — AKA a marathon of bratwurst. (The only marathon I'd like to participate in, tyvm.)
Sunshine Seasons gets the distinct honor of being the only restaurant in Future World to make the top half of our list. Congrats, Sunshine!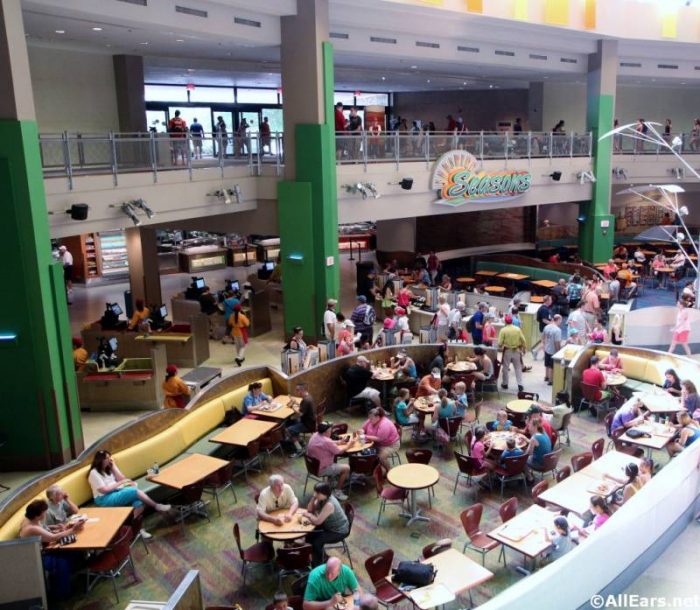 Sunshine Seasons is probably the best spot in the park to please everyone on your list. There are several stations serving up a variety of dishes — salads, sandwiches, soups, and grilled meats. It's also one of the best places to go if you're looking for vegetarian, vegan, and healthier meals. But also: they have a fabulous dessert case because balance.
We enjoy the salmon with cheesy grits, oak-grilled chicken, Asian vegetable noodle salad with sesame crusted tuna, and of course, the cupcake selection.
Truthfully, if Sunshine Seasons existed in any other park, it would be the clear winner. But ironically, it lives in the park full of delicious eats, so it has to settle for top 6.
La Cantina de San Angel gets the special honor of having Lagoon-side tables, which truly ups the ante here. It's one of the only places in Epcot that has those seated views, and if you are lucky enough to time it right, these tables make for incredible fireworks viewing.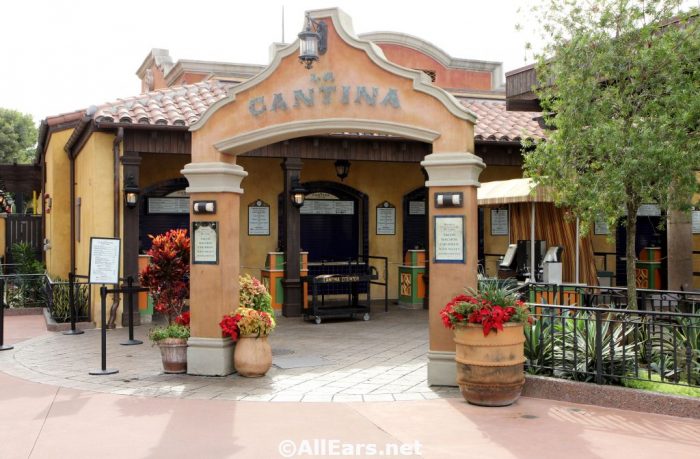 Not only do we dig the table situation, we also enjoy the food at the Cantina. Of course, it's Mexican (well, more Tex-Mex than authentic but we're not mad about it), but there is a decent mix of predictable and unpredictable elements to the dishes here.
For example, if you've got picky eaters, we recommend the cheese empanadas, beef nachos, or chicken tacos. If you want to branch out a little bit, try the fish tacos or Pollo Cascabel. No matter who you are, grab the churro bites.
La Cantina is a great choice for kids, too — you'll likely be able to convince them to eat something other than chicken nuggets (though they do sell those), and you'll be able to enjoy something a little different. Plus, margaritas. Everybody wins!
Hear ye, hear ye, it's time for Fish and Chips!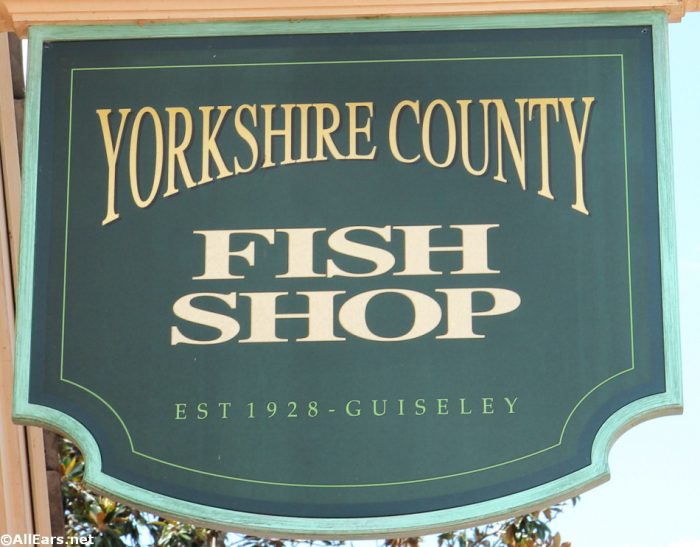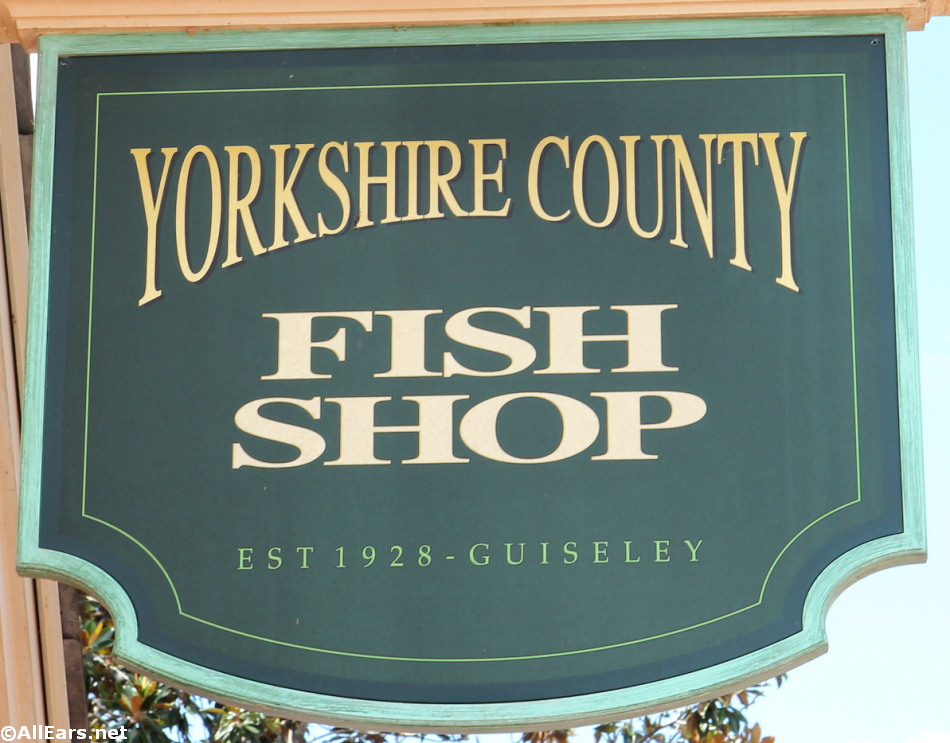 The Yorkshire County Fish Shop has things going wrong for it: a limited menu, all outdoor seating. But it also has one thing going soooo right: FISH AND CHIPS.
Fish and Chips are an Epcot rite of passage. They are always SO tasty, especially when you pour an obnoxious amount of malt vinegar on them like I do. The Fish and Chips come with two pieces of golden fried fish — but it's a white fish like Cod or Haddock, so even if you don't like seafood, we can almost promise you'll like this. Plus: delicious thick cut fries.
The Yorkshire County Fish Shop is definitely a prime example of simple goodness and why you don't mess with a classic.
Looking for a nosh after you build a snowman? Then head to Kringla in Norway!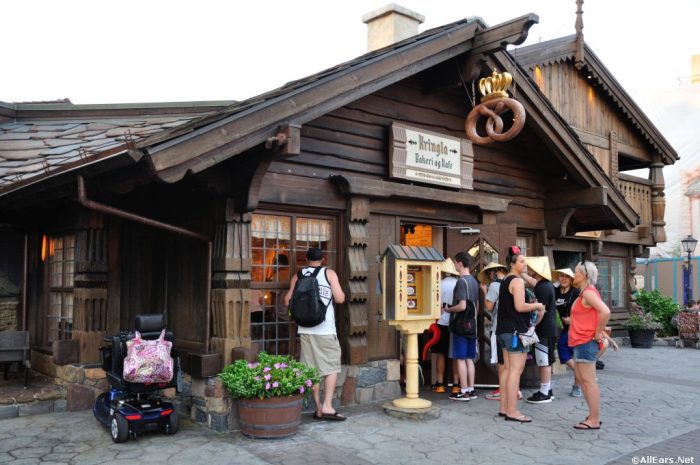 Kringla Bakeri og Cafe is a real treat. Literally. It has some of the best desserts around the globe (so to speak). Find the iconic School Bbread, Troll Horns, and giant Salted Pecan Triple Chocolate Chip Cookies.
Kringla is a great spot to grab a light meal to accompany that dessert as well. We love the Apple and Ham Sandwich and the Norwegian Club Salad with smoked salmon.
It may not seem like much at first glance, but Norway is a crowd pleaser every time we go. We love it as much as Olaf loves warm hugs.
And now for something completely different…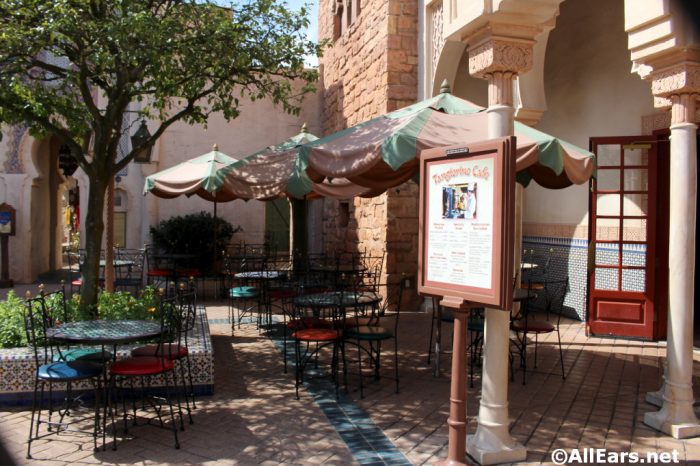 Tangierine Cafe is Morocco's quick service, and it's truly a sleeper hit! Many people on the AllEars team said it was their favorite in all of Epcot.
While you may not be able to coax the pickiest eaters to dine here, those who are looking for something unique will be delighted by Tangierine Cafe. The menu mainly consists of wraps or platters served with hummus, couscous, and salad. Pick your protein — lamb or chicken — or keep it vegetarian.
The portions are generous, and the flavors are fresh. Plus, the little juice bar in the back is full of tasty treats like a wide variety of baklavas. If you're willing to step outside the box, you won't be disappointed at Tangierine Cafe.
And now, the undisputed champion (according to the AllEars team)…
1. Boulangerie Patisserie les Halles
BONJOUR from the WINNING LOCATION: France!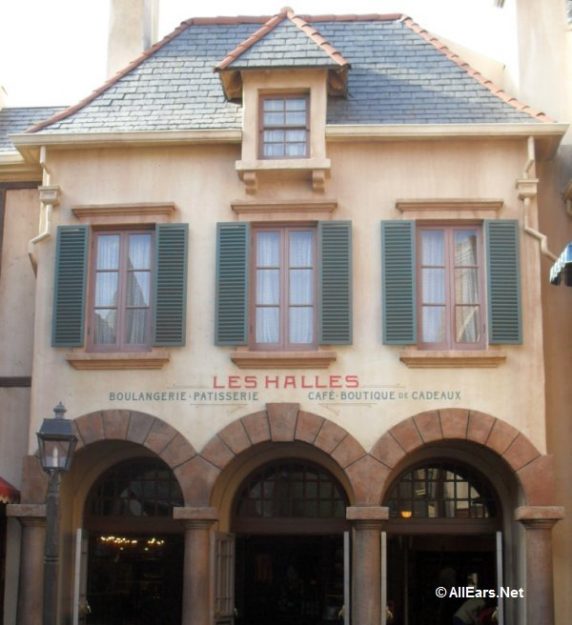 This may not be shocking to anyone, but the #1 spot goes to Boulangerie Patisserie les Halles. AKA the French Bakery.
The only harder thing than making this list is deciding what to eat at Les Halles. It's all SO good. From quiches to sandwiches, pastries to French cheese plates, you can't go wrong. The bread is baked fresh daily in house, and the cheese is imported from France.
Personal savory favorites include the Quiche Florentine, Croque Monsieur, and Tartine aux Fromages. On the sweet side I adore the Strawberry Tart with fresh whipped cream. (Unrelated, I am now drooling.)
The quality in the bakery is unparalleled, and the prices are actually quite good. In fact, you can get a Ham and Cheese Croissant for UNDER $5. I promise you won't spend a fiver on anything better in Epcot.
So that's it — our rankings of the Quick Service Spots in Epcot! It was incredibly difficult, but we made it. Also we are now hungry.
How would you rank the eateries — what's your #1? Let us know in the comments!
Want to learn more about Epcot? Check out these recent posts!