It ain't all pixie dust and magic happening 24/7 in Walt Disney World, y'all!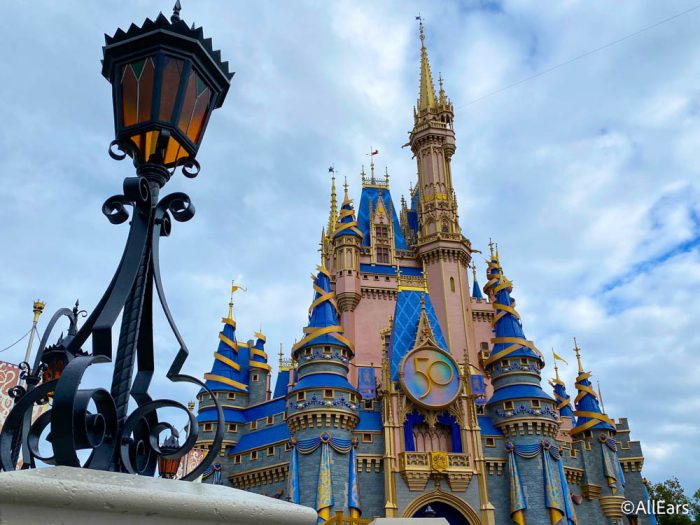 Whether it's the slew of guest-on-Cast Member assaults in the Parks or mention of "childless Millenials" and their Mickey pretzels, plenty of weird and oddly fascinating things go down in Disney World that you may never hear about! We can't get enough of those bizarre in-Park happenings, so we poked around and found a few of our favorite bizarre stories.
Eventually you might have dinosaurs on your Dinosaur tour, right??
Cast Members can deal with everything from the ordinary, mundane questions (What time IS that 3 o'clock parade?!) to really unexpected, historically dubious ones. This falls under the latter.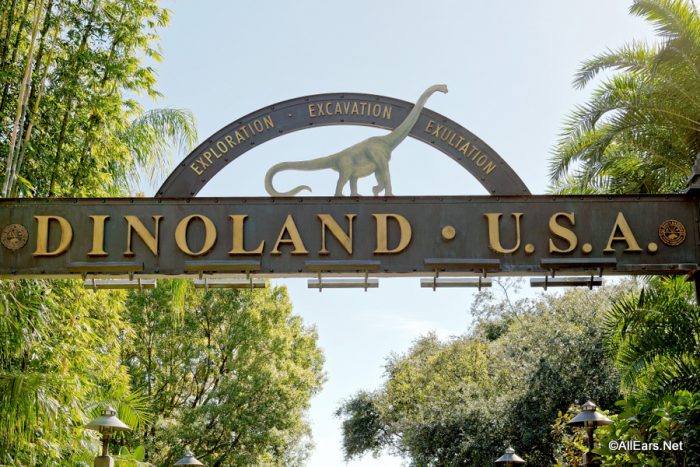 A Cast Member working in the Dinoland U.S.A. section of Animal Kingdom met a guest asking where the dinos were. The Cast Member directed them to the nearby Dinosaur attraction. Shortly after, the guest returned. "That was great, but where are the BIG dinosaurs?"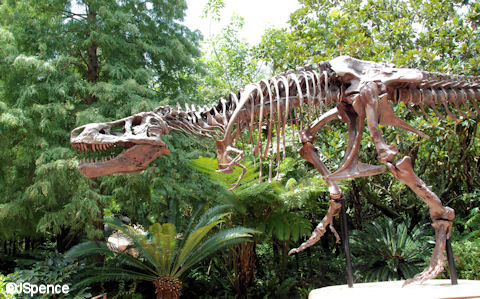 The Cast Member directed her to the Cretaceous Trail, where she could photograph larger dinosaurs up close. "But, they're REAL, right?" asked the guest. The Cast Member politely informed her that dinosaurs have been extinct for millions of years. There are no real dinosaurs in Disney World. (She didn't add "Obviously", but she wanted to.)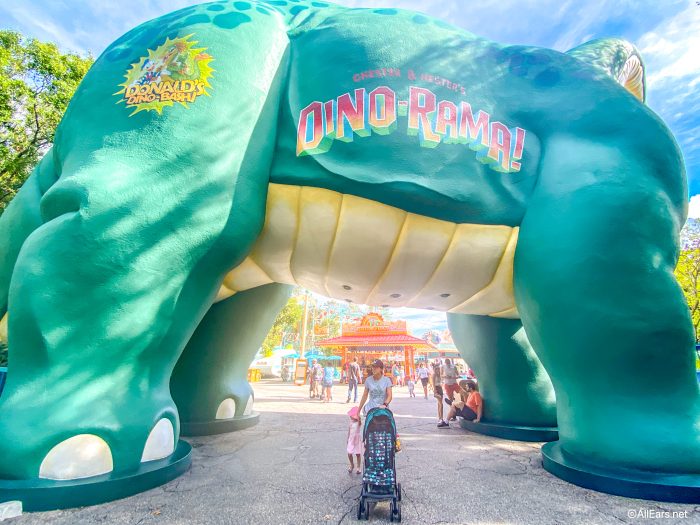 Disappointed, the guest shrugged "Oh, I thought if anyone could bring them back, it would be Disney," and she walked off. She's not wrong, but let's get it together, people.
Mind the bushes!
A Cast Member during EPCOTs Food and Wine Festival witnessed some raucous guests who, after a few too many libations, removed their shoes (how considerate!) and proceed to step over the short fence into the decorative, calf-high hedge maze in the France Pavilion.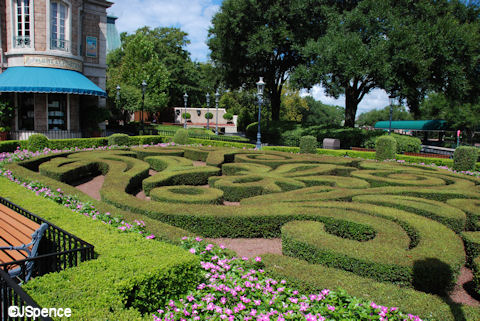 After a few minutes of rambunctiousness, security guards arrived. The inebriated gentlemen proceeded to run the tiny maze in an attempt to evade the guards — seemingly forgetting the maze was inches high and easily escapable. The pursuit lasted longer than one would expect and resulted in a good laugh at the grown men running for their lives in the world's smallest hedge maze!
This a-maze-ing tale came from Reddit user gleetzoid.
Anything for a selfie!
A Cast Member working at Splash Mountain was met by a disgruntled guest exiting the ride after it was forced to close. The gentleman had been riding with his family and was upset they had been deprived of their full ride experience. His solution? He wanted to be provided with a magical FastPass for his entire family to ride whatever they pleased for LIFE.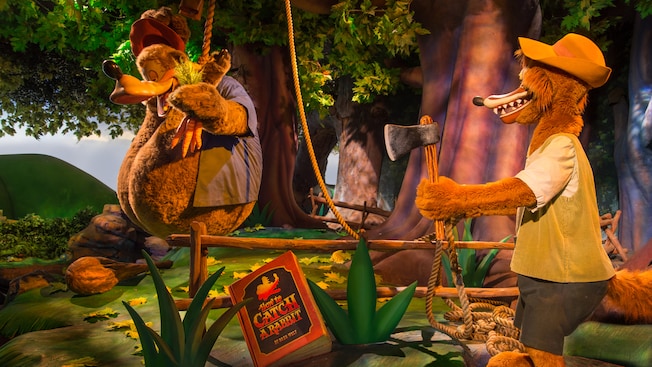 After much back and forth that this magic pass simply didn't exist, the Cast Member excused themselves to retrieve something from backstage. Another Cast Member there informed them the ride had been closed due to a guest leaping OUT of their log mid-ride to take a selfie with one of the animatronics and provided information about the guest so they could keep an eye out. The guest? The man now demanding FastPasses for the ride HE was directly responsible for closing! There aren't enough eye-rolls in the universe for this one.
Save Buzzy!
These last two stories were more widely publicized but just as bizarre and fascinating. Also creepy… definitely creepy.
Those who are lucky enough to remember Cranium Command in the Wonders of Life Pavilion (RIP!) will likely recall a cute little animatronic by the name of Buzzy. But do you know how he died??
Buzzy led guests on an adventure through the body of a 12-year-old boy from 1989 to as recent as 2007. (Fun fact: Did you know Pete Docter of Pixar fame worked on this ride way back in the day?!). The ride sat closed for over a decade until — out of the blue — the internet was abuzz claiming Buzzy's clothing had gone missing. Shortly after, it was reported that Buzzy, himself, was missing! There were reports of pools of leaked hydraulic fluid and his dismantled mount remaining where he had sat prior. But the worst… was yet to come. Brace yourself.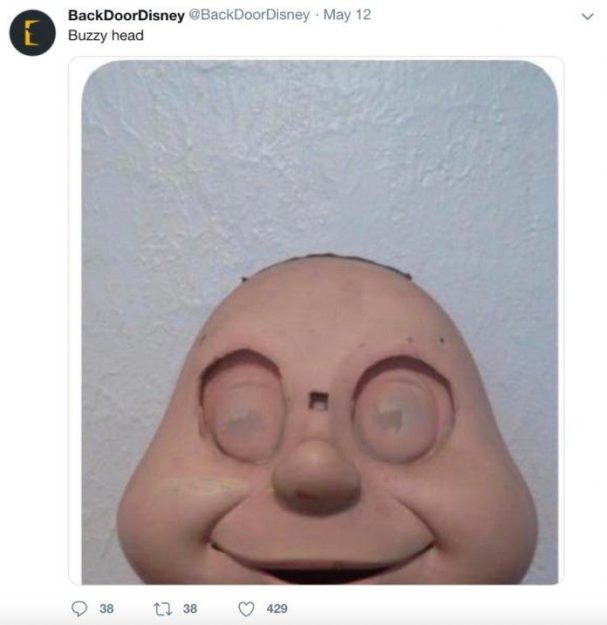 A police search ensued. Soon after, a Cast Member, using an alias, posted a mysteriously creepy photo of Buzzy's dismantled head (seen above in its terrifying glory). It didn't take long for police to track the young man down and discover that he had not only stolen Buzzy and his clothing, but he had also played a hand in stealing numerous costume pieces from the Haunted Mansion and other animatronics over multiple burglaries– all of which he attempted to sell on eBay for tens of thousands of dollars.
The man was arrested, and it's safe to say he isn't welcome at Disney World any longer!
Kids, don't look directly at Ellen's face!
Another extinct Epcot attraction with a missing animatronic backstory involves none other than celebrity Ellen DeGeneres. She was featured prominently, for better or for worse, in the mid-nineties to 2010s revamp of the classic Universe of Energy attraction (RIP, again).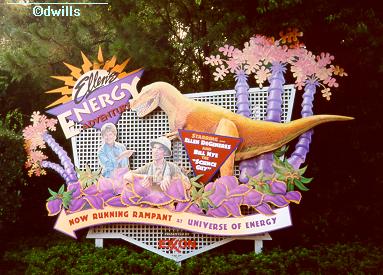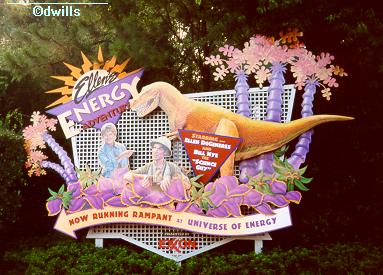 The most memorable part of this (agonizingly long) ride was a trip through the world of dinosaurs featuring dozens of animatronic dinos. When the ride got its facelift, an interesting Ellen animatronic was added fighting a big nasty dino. The animatronic was eye-catching in the lush setting but for all the wrong reasons. Let's put it this way: the robo-Ellen was almost scarier than the ferocious dinosaur! Not a good look!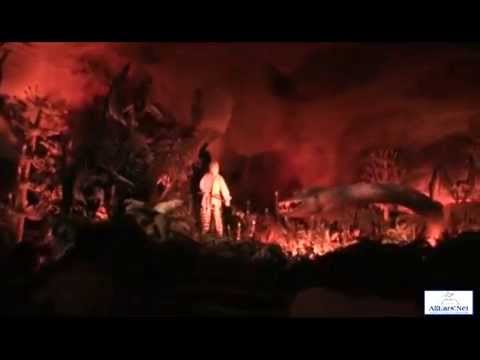 Cut to 2017 when the ride closed to make way for Guardians of the Galaxy: Cosmic Rewind!. Ellen made a public cry for her animatronic to be saved. It had been removed a few years prior to the ride's closing, and she wanted it back (and who could blame her?!).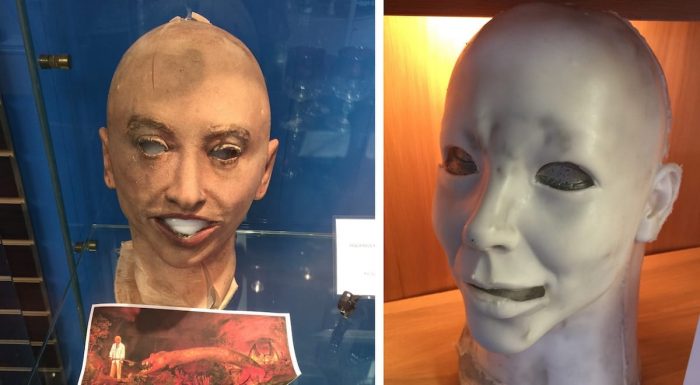 A photo surfaced of what appeared to be the skin from Robo-Ellen's face, reportedly purchased by a collector. Soon after Ellen's plea for the return of her animatronic, her writing staff surprised her for her 60th birthday with what appeared to be her full — horrifying — animatronic in all its nineties, creeped out glory!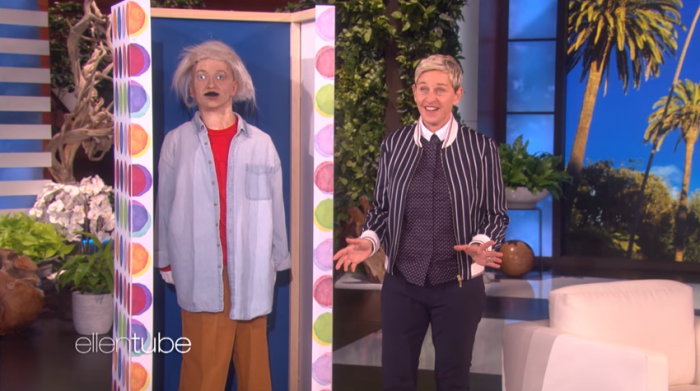 It looks like the stuff of nightmares and, thankfully turned out to be a joke by her staff. The skin and sketchy wig were not, in fact, from her robot, but the red shirt and pants actually were! They were able to be located by Disney Imagineering and given to her as a gift. The remains of robo-Ellen's innards? Likely repurposed for parts of your favorite attractions today.
We have a love/hate relationship with these bizzaro stories out of the Disney Parks, and while we certainly NEVER condone violence, grossness, theft, or breaking any rules, we have to admit these can be entertaining to read. Still, at the end of the day, we'd rather things go smoothly, ethically, and magically (with a creepy animatronic here and there)!
What's your favorite OMG-did-that-really-happen story from the Disney Parks? Share with us in the comments… so we can all collectively cringe!
Click below to subscribe to the AllEars® newsletter so you don't miss any of the latest Disney news!