It's that time of year again: Mickey's Not So Scary Halloween Party has officially begun! And, yes, we know, it's mid-August, the weather is still humid, and pumpkin spice has barely begun is yearly migration into every food and drink imaginable.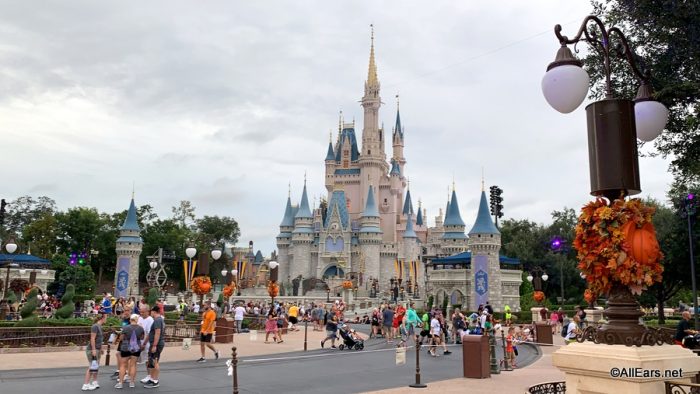 But this is Halloween, and it doesn't wait for a calendar to turn at Walt Disney World! So we're bringing you spooks and ghouls straight from Main Street, U.S.A., (and the rest of the Park!). Come along with us as we share it all from Mickey's Not So Scary Halloween Party!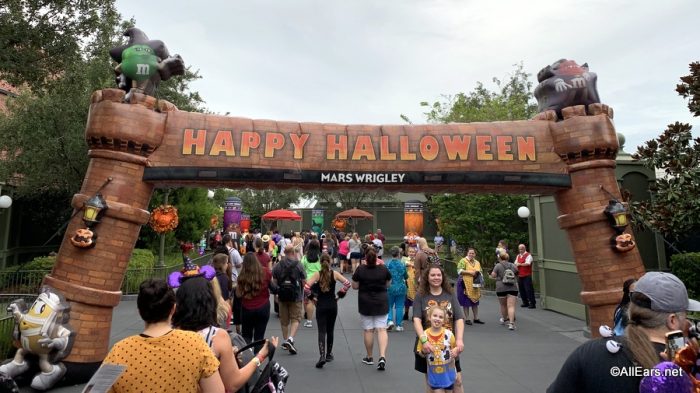 Mickey's Not So Scary Halloween Party Logistics
This year's Mickey's-Not-So-Scary Halloween Party will be celebrated on 36 nights from now until November 1. Dates and prices are listed below!
August: 16, 20, 23, 27, 30
September: 2, 6, 8, 10, 13, 15, 17, 20, 22, 24, 27, 29
October: 1, 3, 4, 6, 8, 10, 11, 14, 15, 17, 18, 20, 21, 24, 25, 27, 29, 31
November: 1
Prices start at $79.00 plus tax. The price varies by date, increasing the closer the date is to Halloween. Discounts are available on select nights for Annual Passholders and Disney Vacation Club members. And new for 2019, Disney recently announced a Party Pass — read all about that here!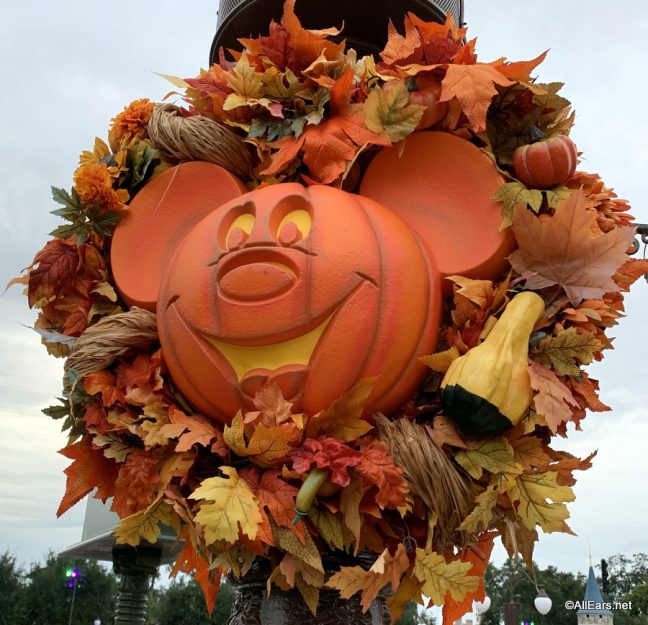 The Party officially starts at 7PM, but guests can typically enter the Park beginning at 4PM. (Use those three early hours to enjoy rides and attractions so you can focus on Party-specific events from 7PM onward!)
Mickey's Not-So-Scary-Halloween Party Maps and More
This year's Party map features Mickey and Minnie in their Halloween best with a shower of fireworks overhead.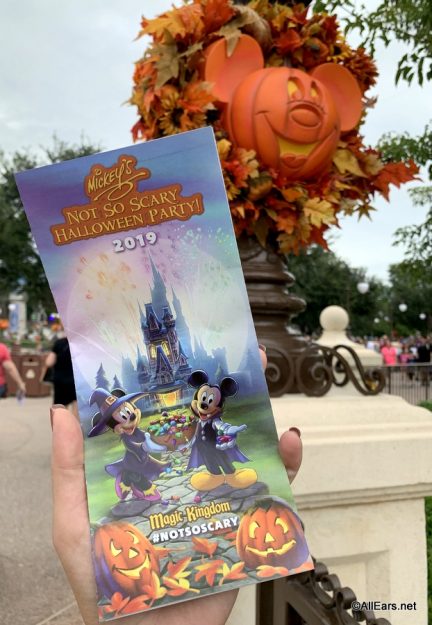 Inside guests find a full list of Specialty Food & Beverage (we'll share these below!) as well as Trick-or-Treat Locations, Character Appearances, and more!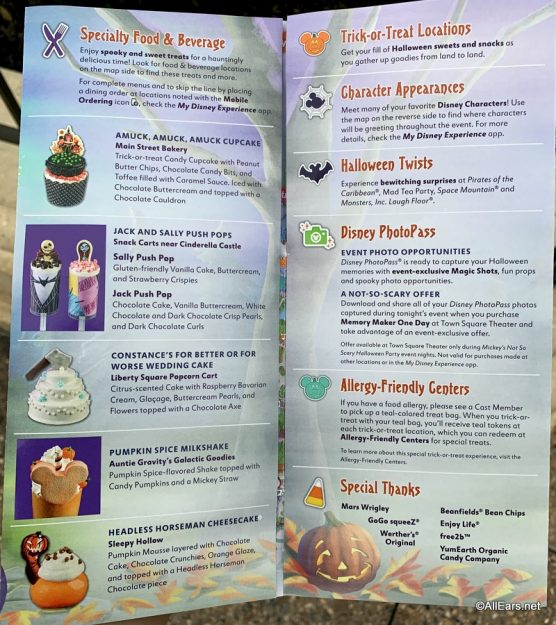 Fully open, the map is… a map! Use it to get around the Party — including finding Party-exclusive entertainment and timing for that entertainment.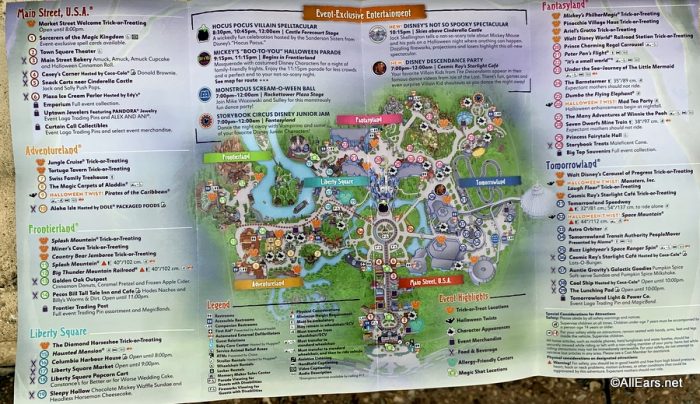 The back of the  map helps you find places to spend your money! Yup: it's exclusive merchandise! You'll also find info here for the new Cruella's Halloween Hide-A-Way (see our full review here!).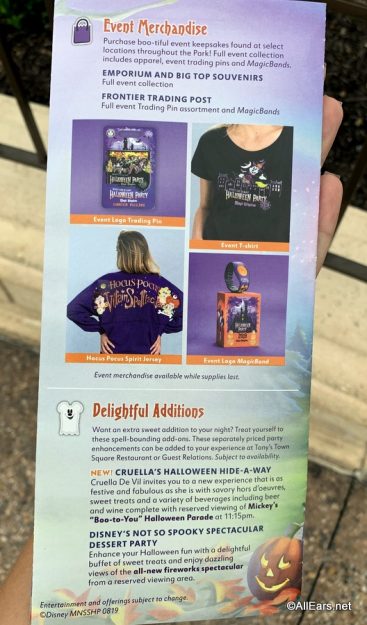 No Halloween party is complete without some trick-or-treating! If you plan on trick-or-treating during the Party be sure to pick up the free bag as you enter the Park. You can also pick it up near PhilharMagic in Fantasyland. This year's bag is featuring the upcoming releases of Maleficent: Mistress of Evil and Frozen II.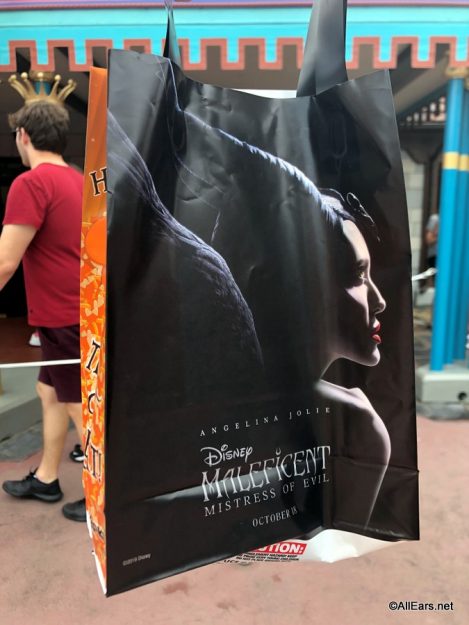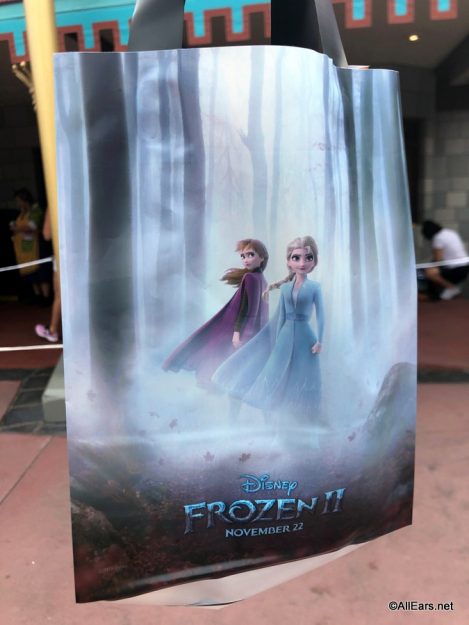 Now that you have the bag, it's time to fill it up! Most stops will have Cast Members handing out candy, but the wristband and trick-or-treat bag pick-up locations are handing out M&Ms/Mars-sponsored prepackaged bags of goodies!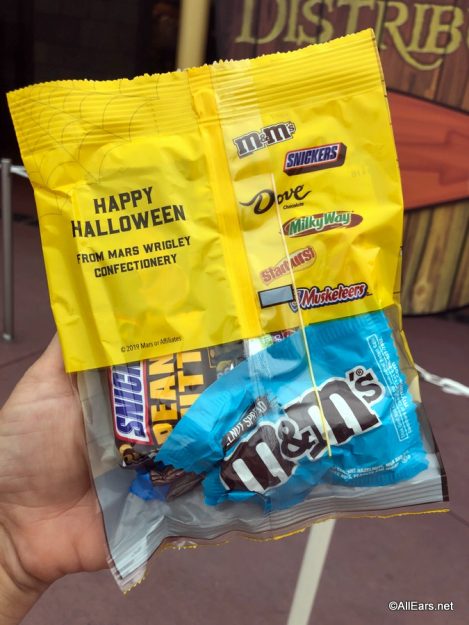 Mickey's Not So Scary Halloween Party Events
The 2019 Mickey's Not So Scary Halloween Party is packed full of entertainment this year, with old favorites returning to the Park and all-new experiences coming, too!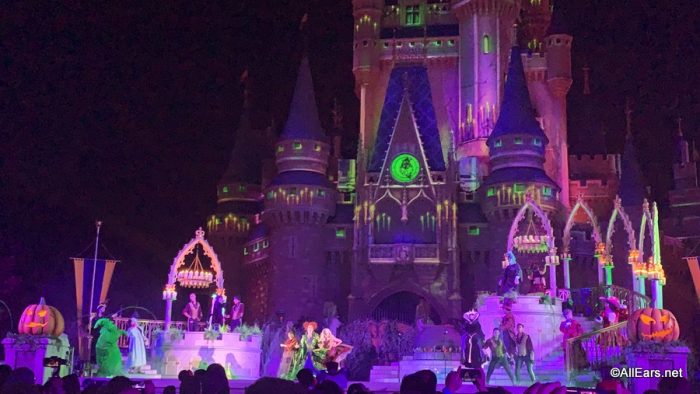 The "Hocus Pocus Villain Spelltacular" has returned to the Cinderella Castle stage to cast a spell on the crowd once again! This show features the Sanderson Sisters as well as villains like Oogie Boogie, Maleficent, and Dr. Facilier at 8:10, 10:45, and midnight.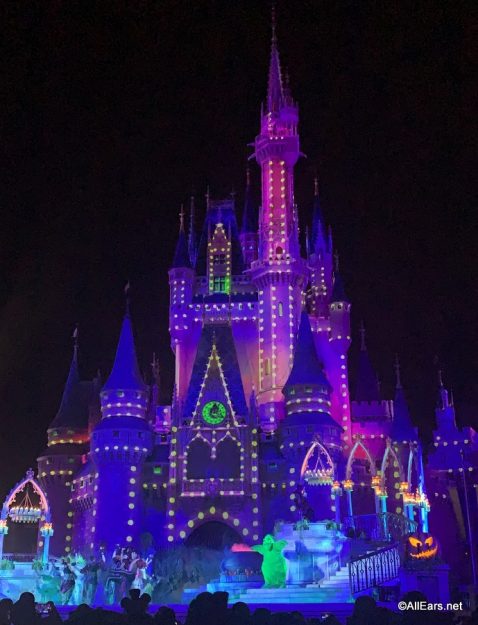 "Mickey's Boo-to-You Halloween Parade", which is beloved for its gravediggers, haunting special effects, and Headless Horseman, rolls through the Park twice a night (at 9:15 and 11:15).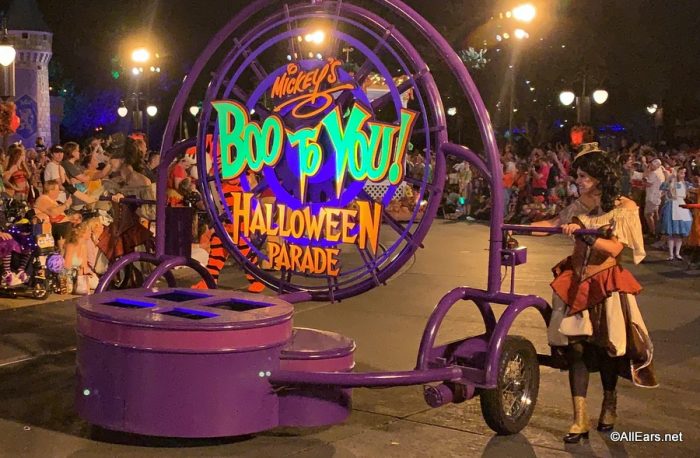 The Parade is a favorite of Disney villains, of course, like Jafar and Maleficent.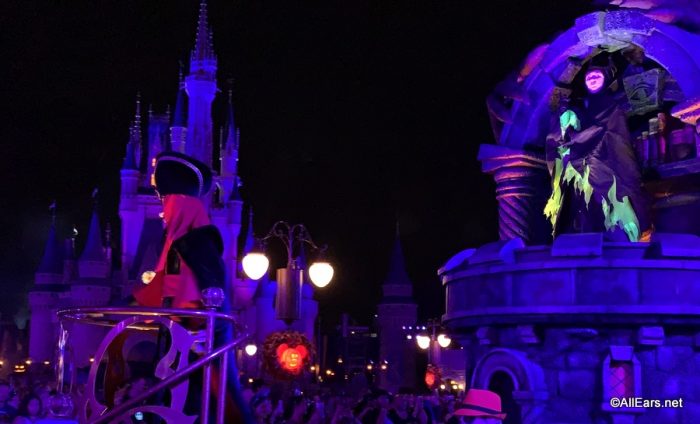 Oogie Boogie, the Queen of Hearts, and Lady Tremaine walk amongst the mortals, too.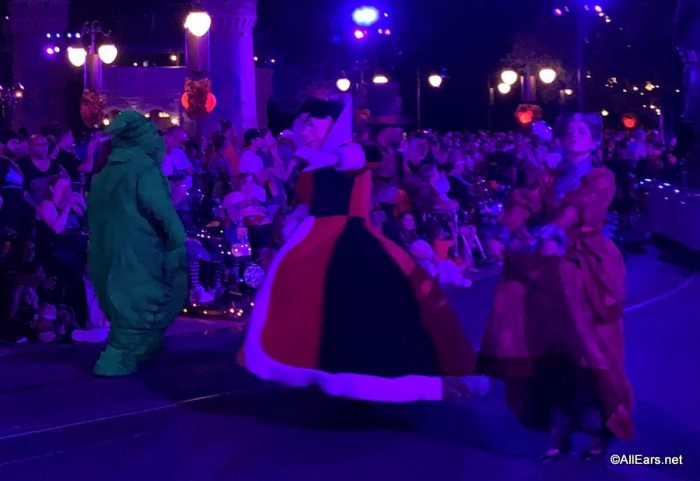 This year, the Parade added some new touches a totally spooky, totally fabulous Haunted Mansion segment. Of course, the Gravediggers are back with their incredible shovel choreography. And now, Constance the Bride glides along the Waltzing Ghosts.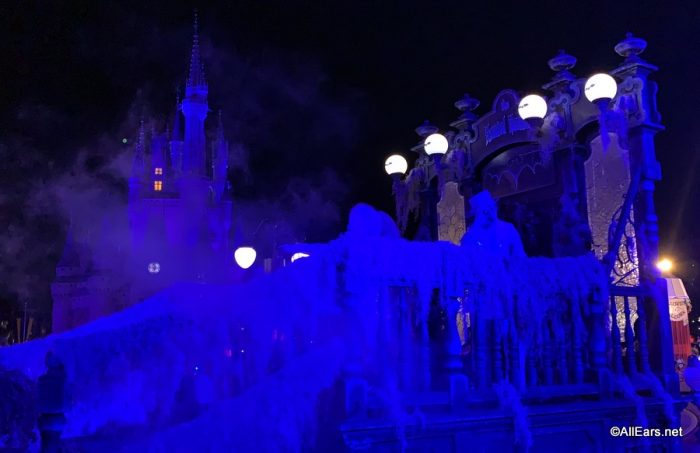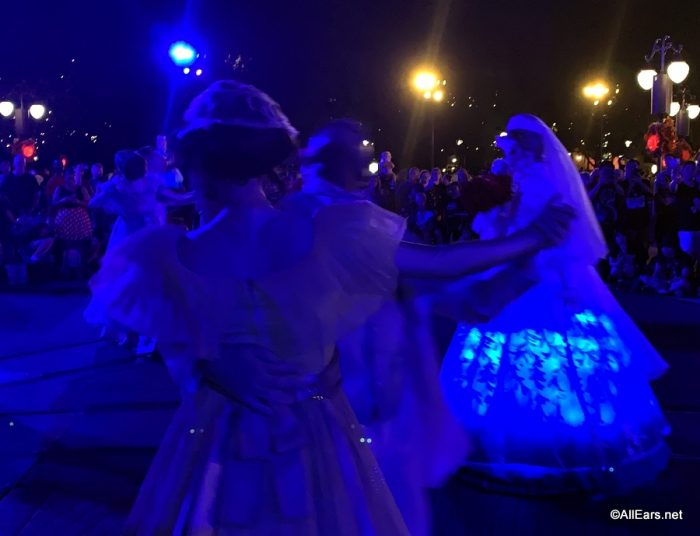 This… is too much for us Foolish Mortals! It's designed so well as to appear that the Mansion has been broken into bits and carried down Main Street, and the dancing ghosts really appear to float.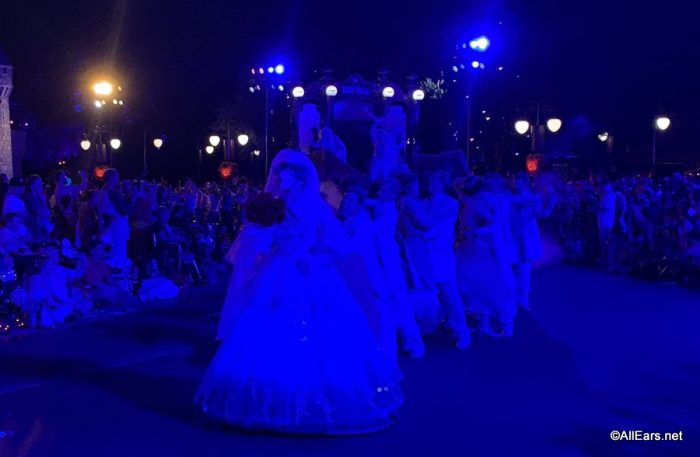 We love the creepy (but fun!) energy of this parade, but we're here for some lighthearted Disney pals, too! This year, a Tomorrowland segment has been added, so not only do you get a dose of villains, you also get superheros and space rangers!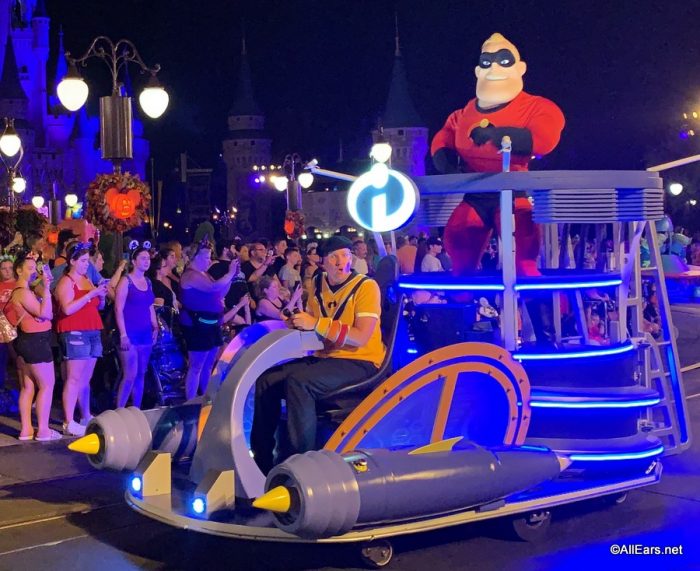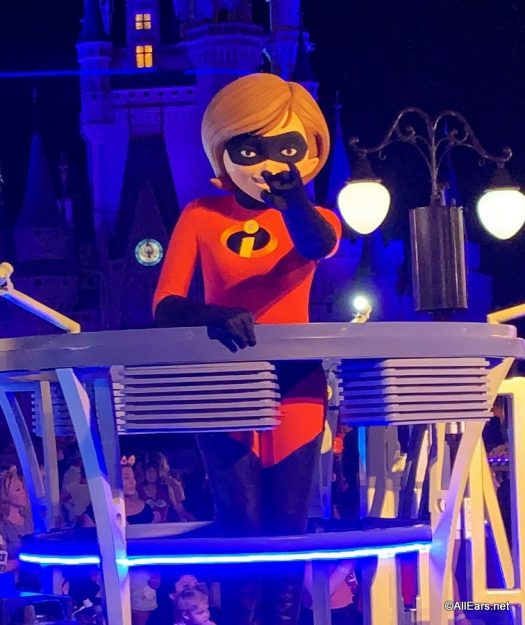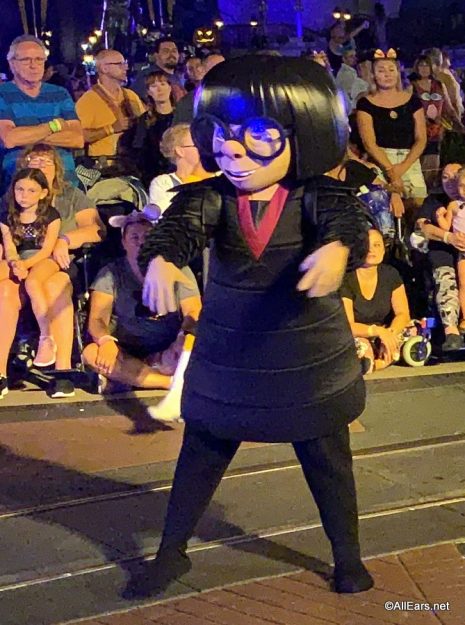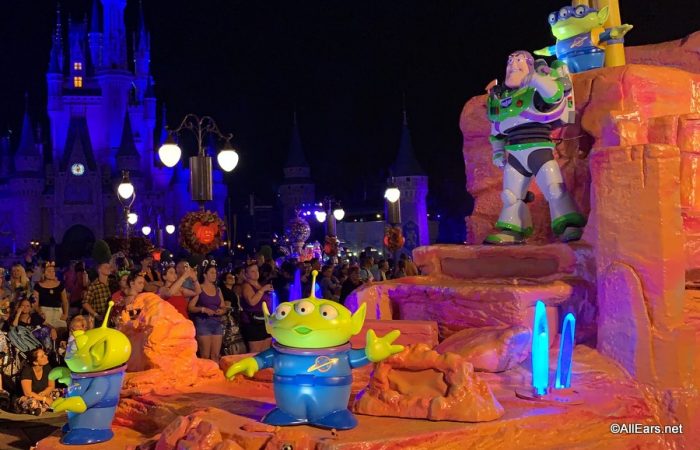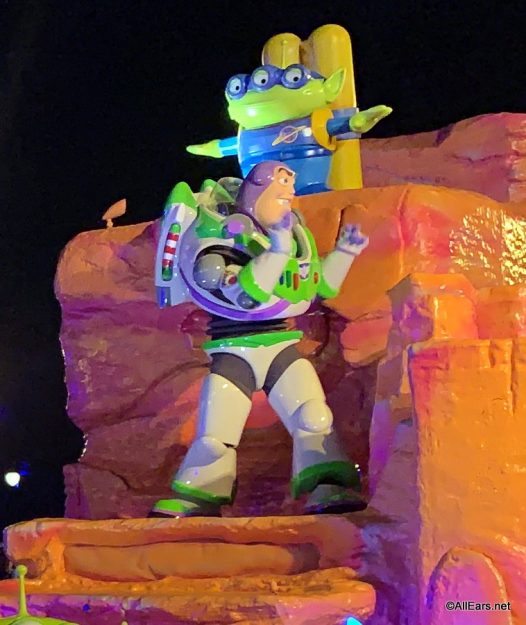 And you've gotta make an effort to catch the nighttime ride of the Headless Horseman! He opens the Parade a few minutes early, so be settled on the Parade Route before his nightly trot.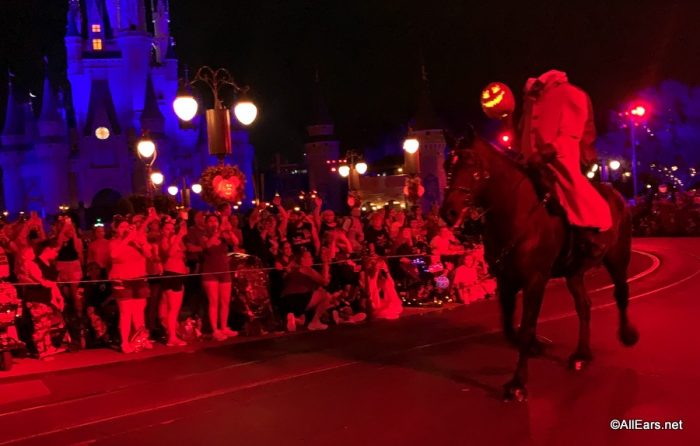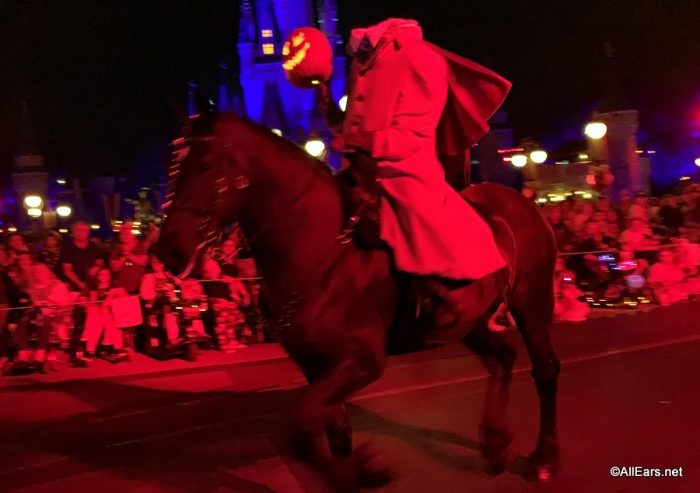 And you can't forget the Big Cheese and friends — how cute are they in their new costumes?!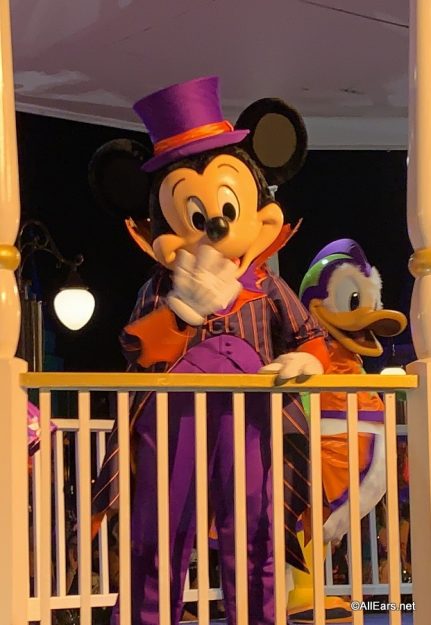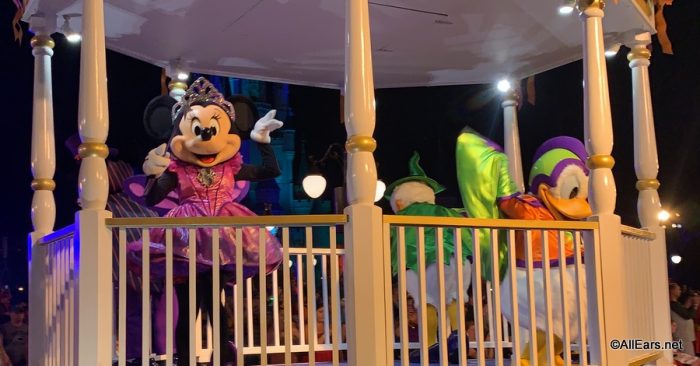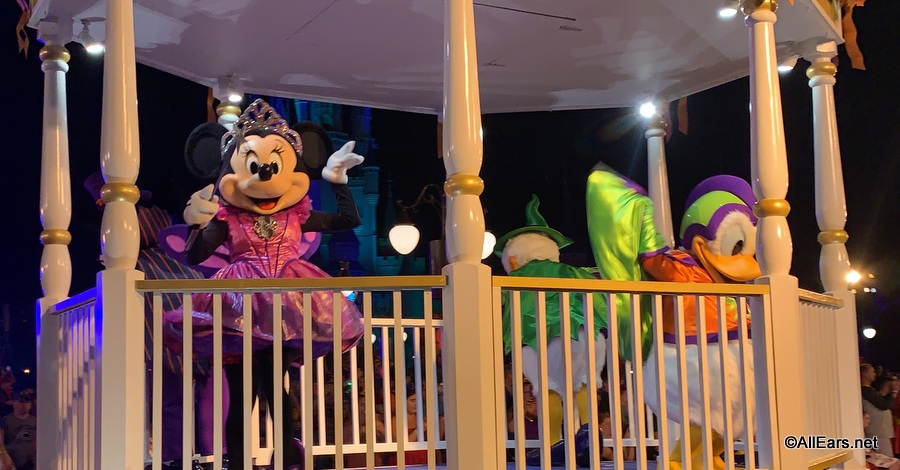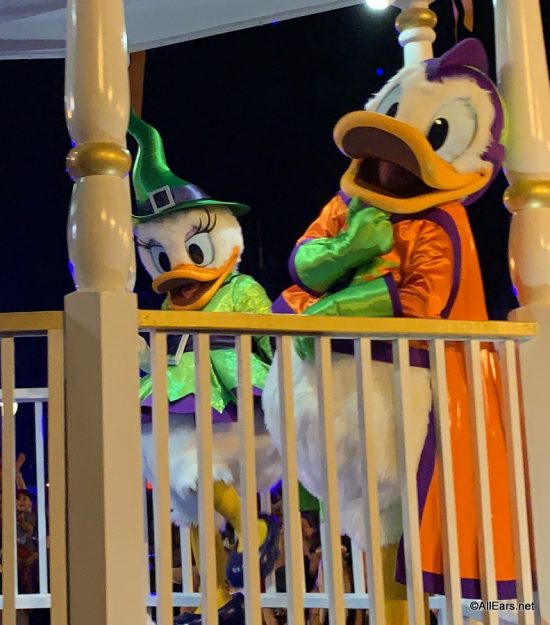 Little ones really enjoy the Storybook Circus Disney Junior Jam (7PM to 12AM) in Fantasyland where the pint-sized party gets kids boogying with Disney Junior stars like Doc McStuffins, Fancy Nancy, and Vamperina!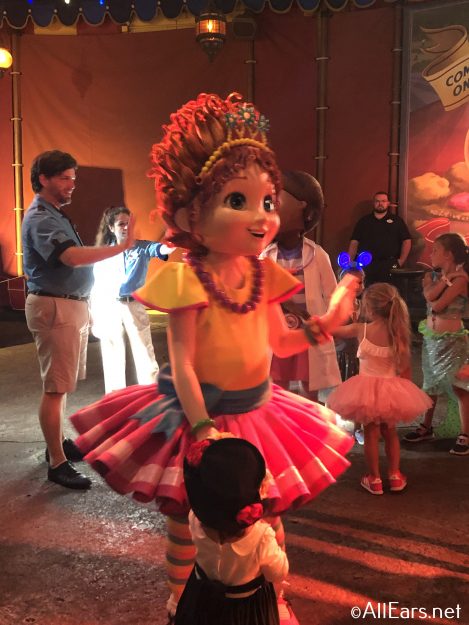 And fun for kids doesn't stop there! In Frontierland, Cactus-Flower Cate will gather kiddos for the "Frontierland Costume Promenade" just before the parade starts each night! That's two opportunities for kids to strut their costumed stuff!
You can also boogie with your favorite monsters at the Monsters Inc. Scream-o-ween Dance Party (7PM to 12AM) in Tomorrowland!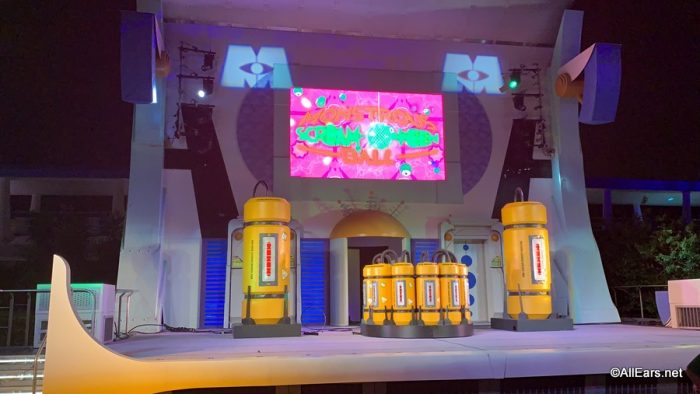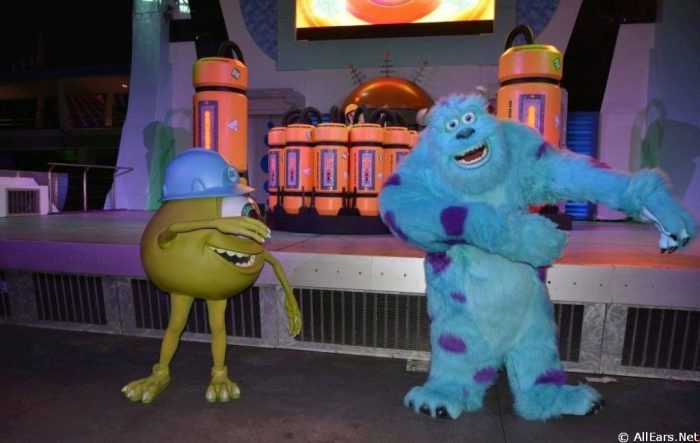 There is yet a third dance party inside Cosmic Ray's Starlight Cafe — the DescenDANCE party! Click here to read more about this new offering!
One of the biggest entertainment highlights at the Halloween party is the chance to meet rare characters, like Stitch in his Elvis costume!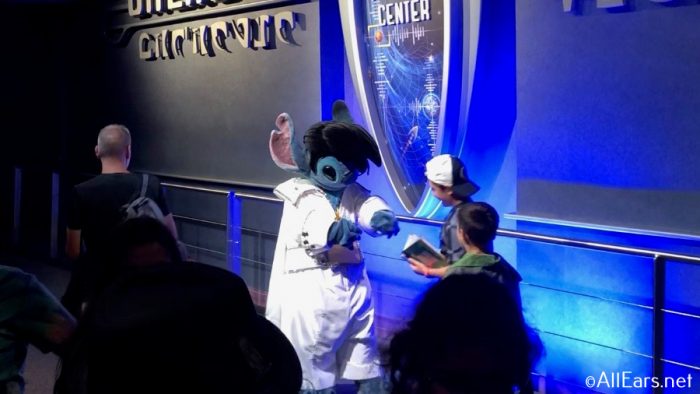 You will also find Jack and Sally from A Nightmare Before Christmas, all Seven Dwarfs, Moana, and several Disney villains out and about! (Just to name a few.) During our Party we spotted the Queen of Hearts with Tweedle Dee and Tweedle Dum as well as Tarzan and Jane!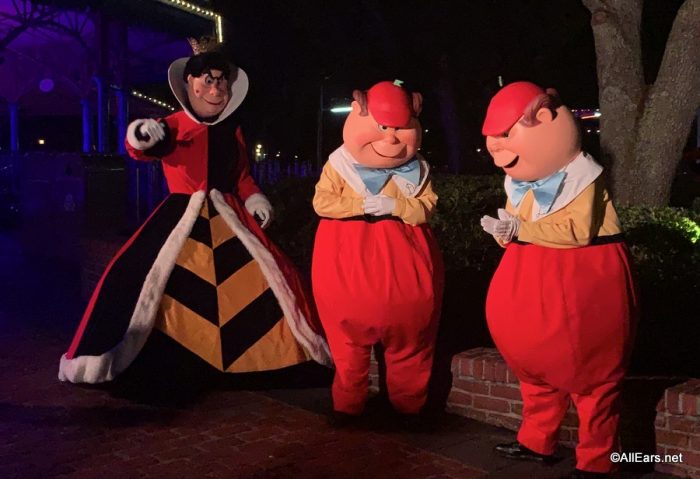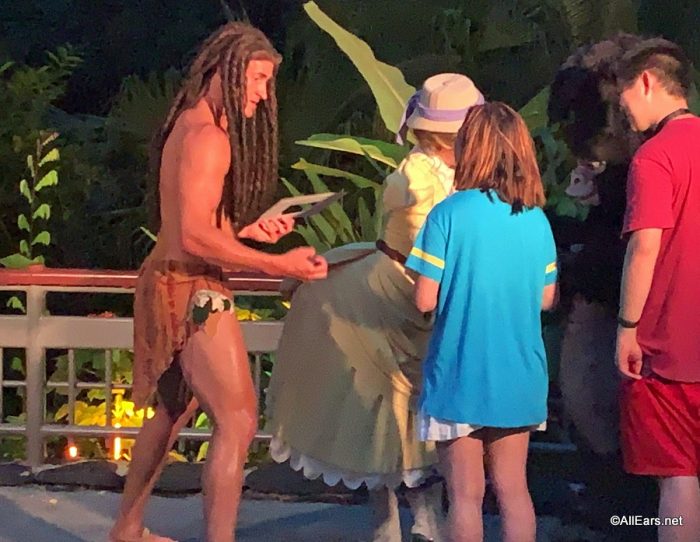 Keep in mind, these character meets are VERY popular — some of them garner a several hour wait. If there is a particular character(s) that is a must-meet for you, we highly recommend heading there at the very beginning of the party, as they will likely cut the lines before the event is over.
For this year's Party, a few attractions got a Halloween overlay! Head to the Mad Tea Party for lighting effects that incorporate riders into the colorful action!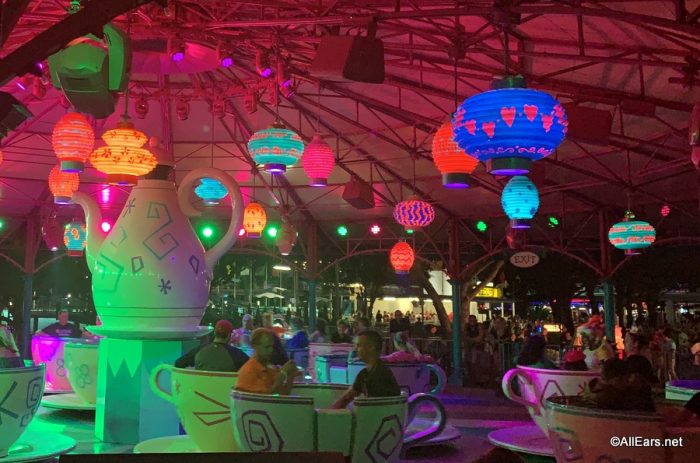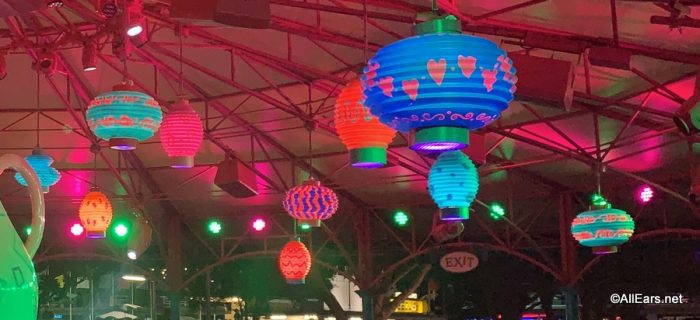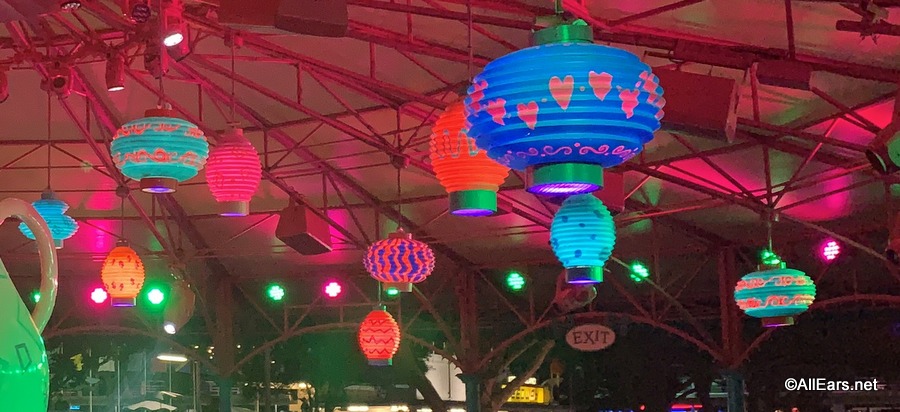 In addition to the awesome lighting, Mad Tea Party spun to spooky tunes. We even heard "Grim, Grinning Ghosts" at one point! Added bonus: wait times were low for this ride every time we passed by!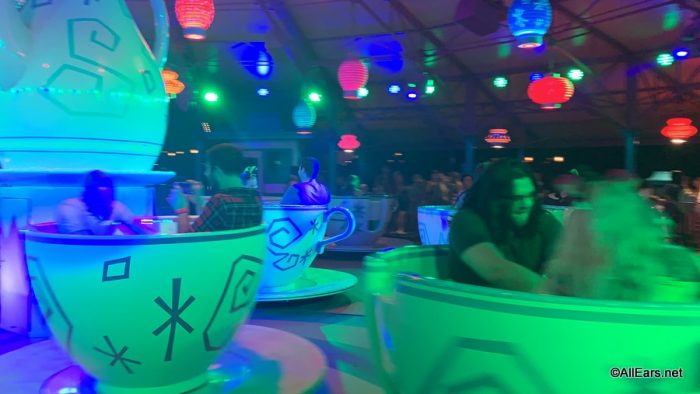 Pirates of the Caribbean is peppered with real pirates (much like it was during the Villains After Hours!), so let your little ones know those pirates are going to be a little more life-like than usual!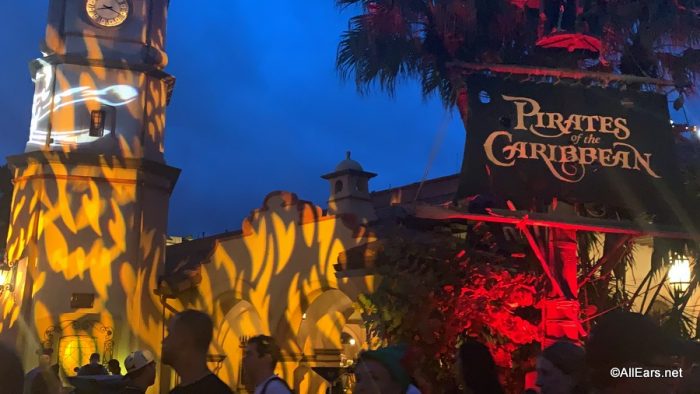 This is an ALL NEW adventure just for the Party! We spotted this pirate in the queue…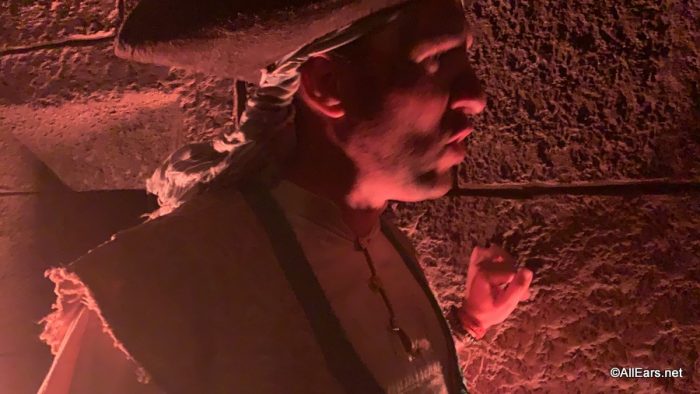 …and several pirates throughout the ride!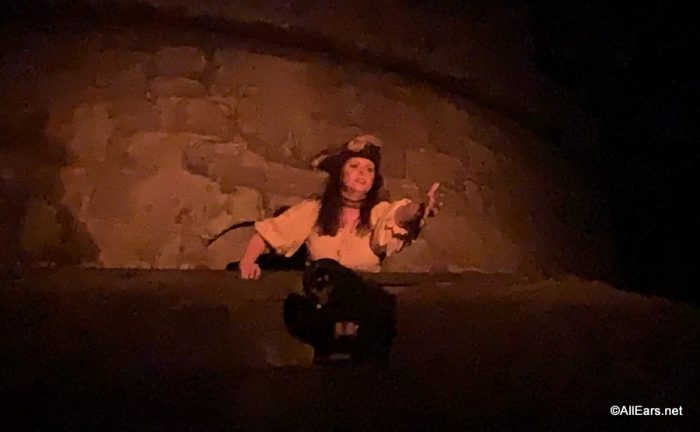 It's fun, and the pirates were great (especially one in the queue who had a fun sense of humor), but the line was about 30-45 minutes for most of the party. For young pirate fans, this will be a real highlight. But for others, you'll have to decide if this is something you want to wait for.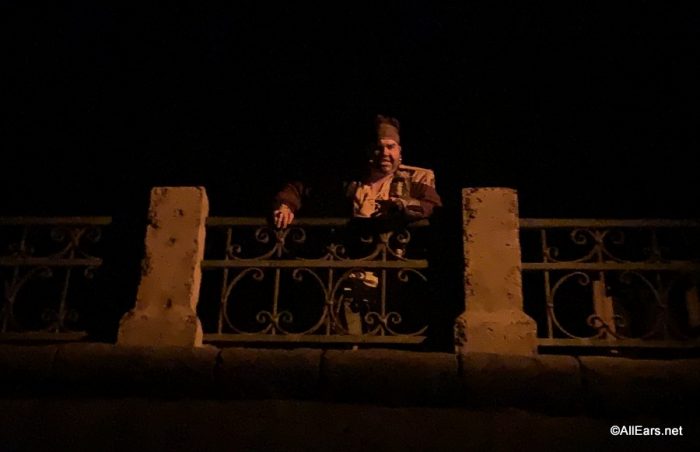 Over in Tomorrowland, the lights have largely been turned out on Space Mountain, where the ride takes place in pitch blackness and features a new soundtrack!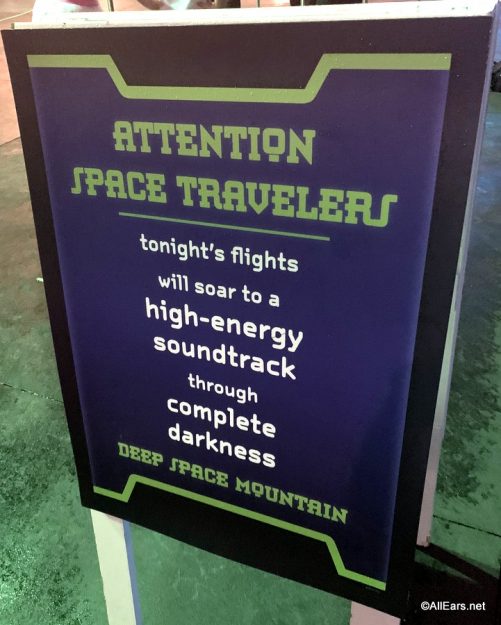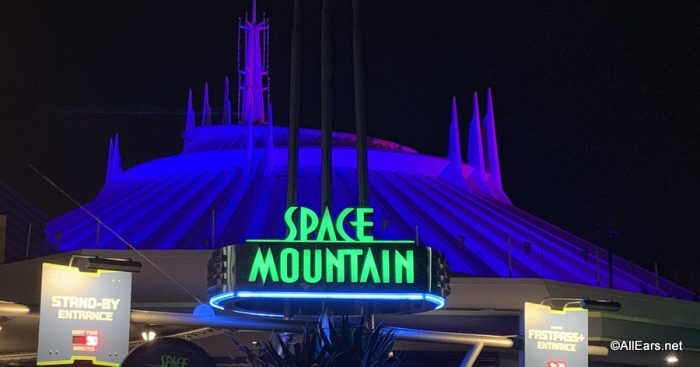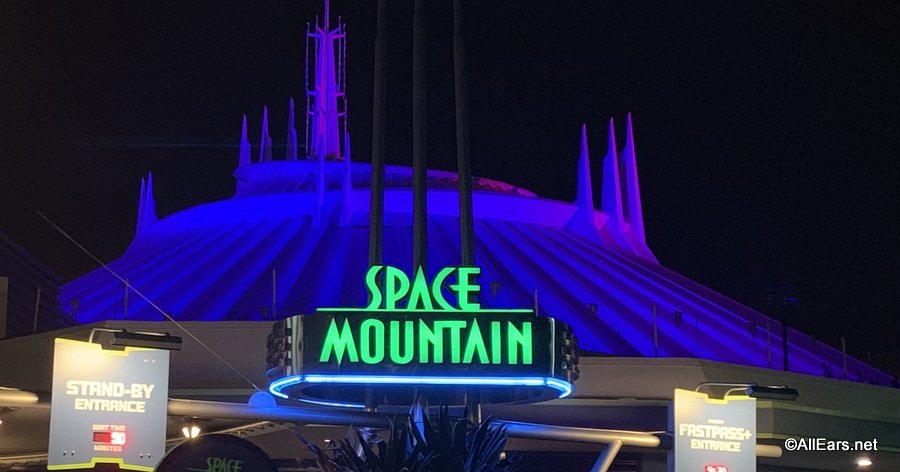 Space Mountain is REALLY fun in the pitch-black, but the line was an hour long for a lot of the Party. Keep that in mind when planning out your Party priorities!
Still in Tomorrowland, Monsters, Inc., Laugh Floor, has also gotten a Halloween twist, and if you follow the treat trail to Monstropolis, you'll find monsters chatting with party-goers, trying to learn more about the holiday!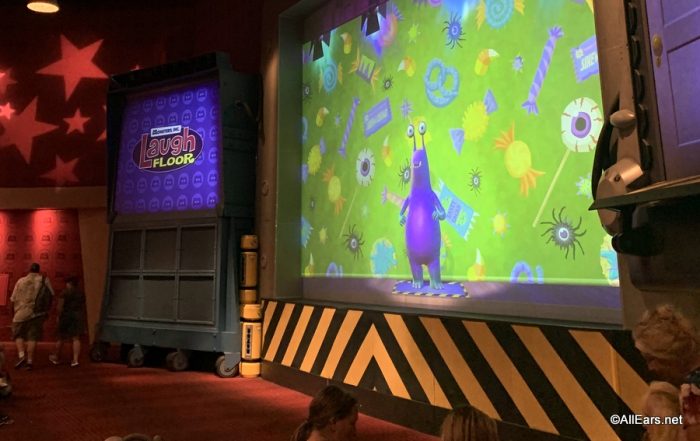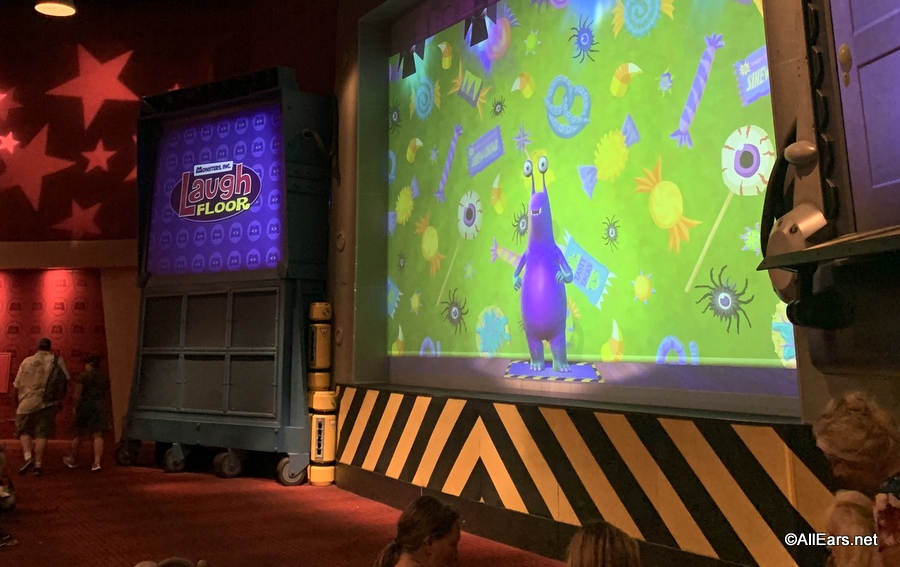 We really enjoyed this — there was lots of candy to be found and the show is ongoing, meaning you can stay for as long (or as little) as you'd like! Mike and Sully fans will love this perk!
Of course, the Haunted Mansion is the place to be for happy haunts every day of the year, but they kick it up a notch during the Halloween Party!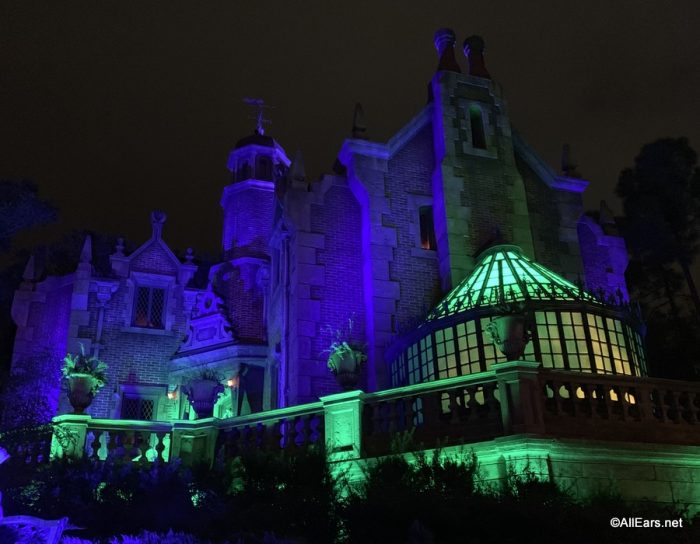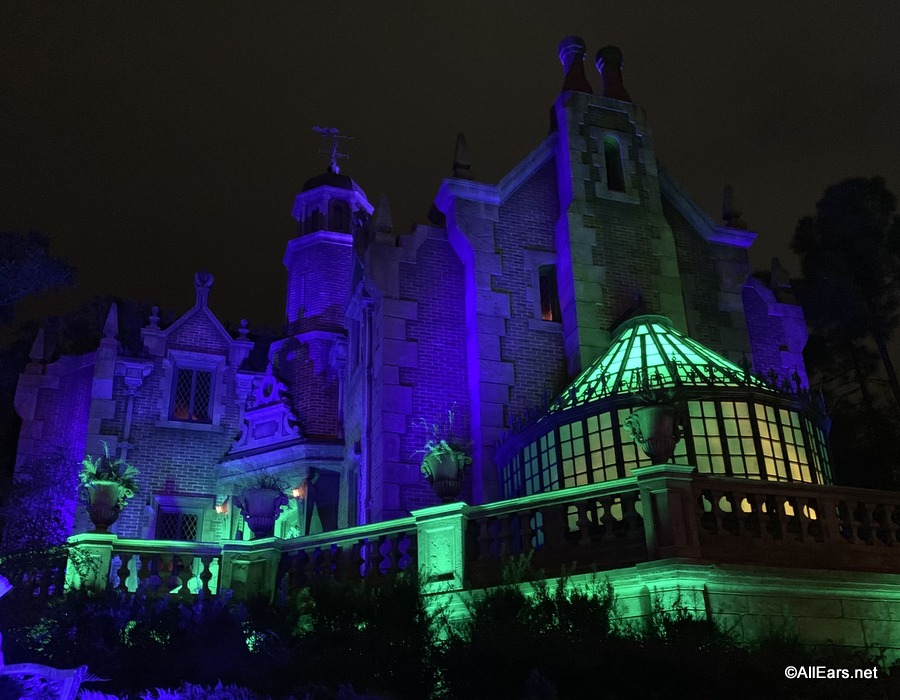 The Maids and Butlers have added some ghoulish delight to their looks…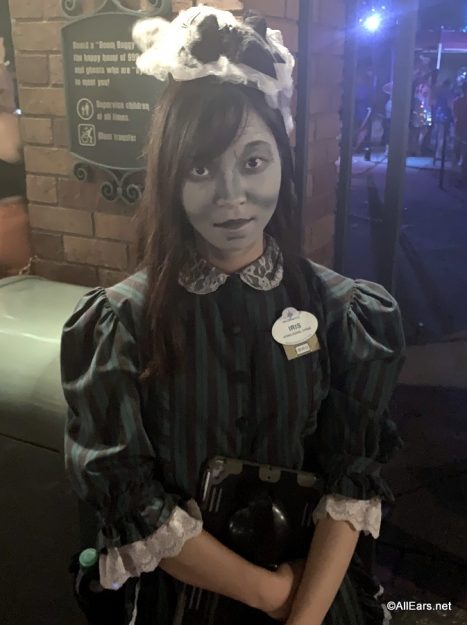 …and you can chat with a REAL ghost on the lawn of the Mansion!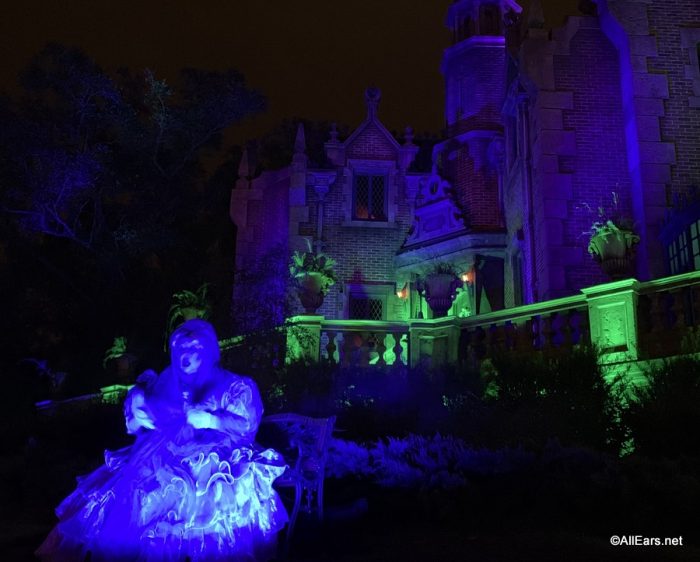 New in 2019, the 14-year-old HalloWishes fireworks spectacular beloved by guests has been replaced by a brand new fireworks show called "Disney's Not-So-Spooky Spectacular"!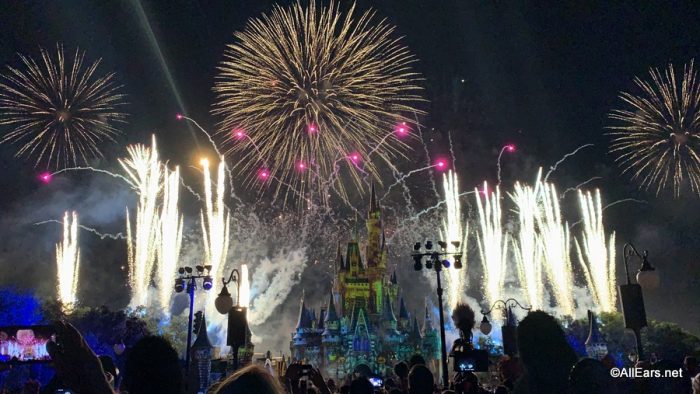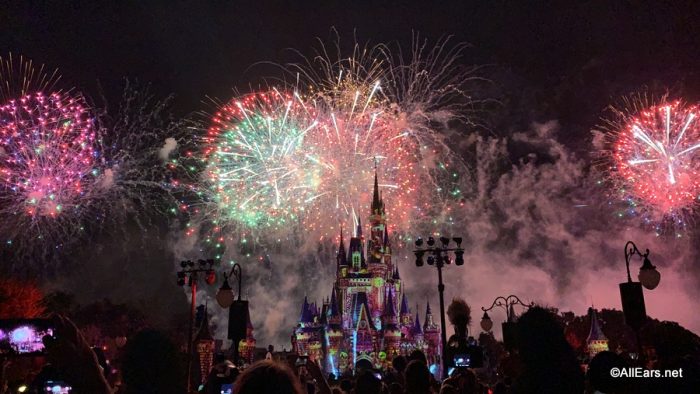 The Not-So-Spooky Spectacular (10:15PM) uses fireworks, projections, and lasers to share a not-so-spooky story told by the show's host, Jack Skellington!  It also incorporates favorites like Mickey Mouse, Goofy, and a few Disney Villains.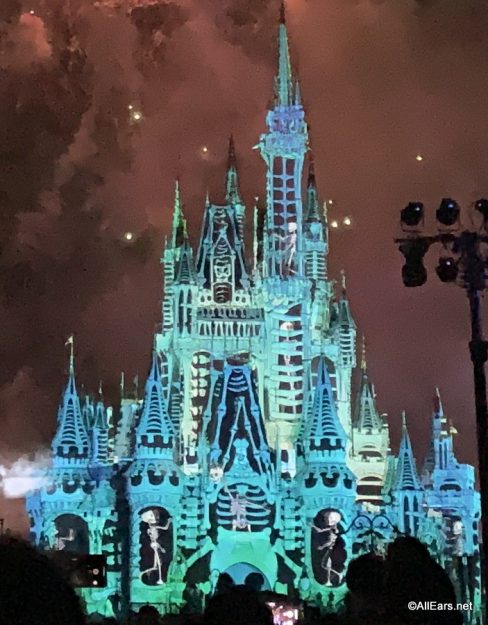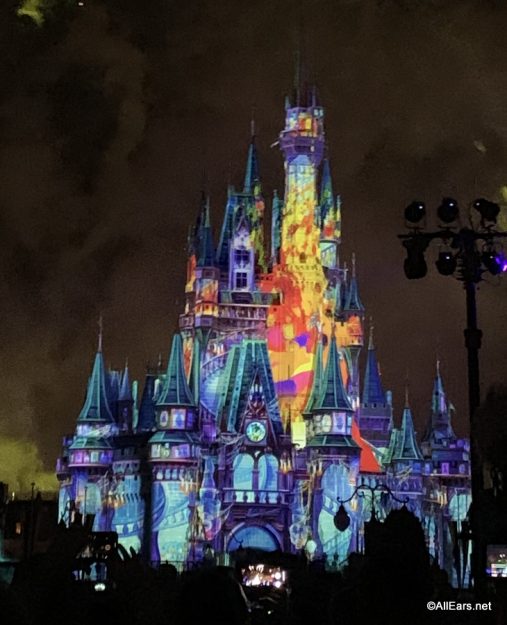 The show is beautiful, and the projections are top-notch. There are TONS of fireworks as well, so you'd be able to see the show anywhere. That said, the story won't make as much sense without seeing the castle, so we recommend grabbing a spot on Main Street or in the Castle Hub.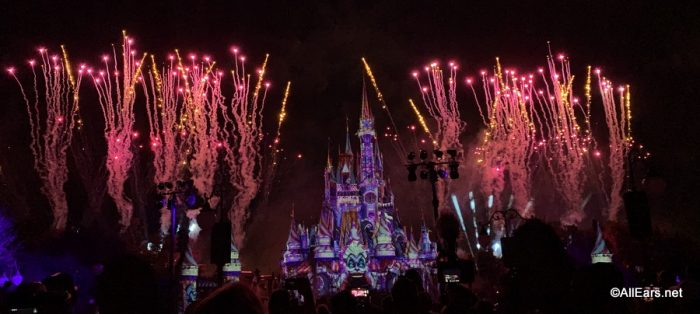 This new show is truly spectacular… or SPOOK-tacular, as the case may be! Definitely don't miss this one!
Mickey's Not So Scary Halloween Party Food
It's not a Disney party without some specialty treats, and Mickey's Not So Scary Halloween Party has a slew of Party-specific menu items that you'll want to sink your teeth into! Check out the full list of Halloween eats here!
Party-Specific Halloween Treats
This year's Party includes some new and returning treats that are exclusive to Party-goers.
The Jack Skellington Push Pop cake has returned this year, and is joined by a gluten-friendly Sally Push Pop cake. In the Jack version you'll find chocolate cake, vanilla buttercream, white and dark chocolate crisp pearls, and dark chocolate curls.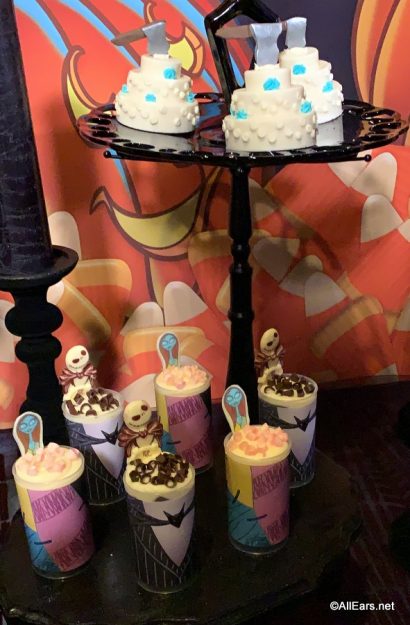 The Sally Push Pop is made with gluten-friendly vanilla cake, buttercream, and strawberry crisp pearls. You'll find both of these on the snack carts near Cinderella Castle.
Also pictured above: Constance's For Better or For Worse Wedding Cake at the Liberty Square Popcorn Cart is not for the faint of heart since it is topped with a chocolate axe! Beneath the axe is a citrus cake with raspberry cream, glacage, and buttercream pearls and flowers.
Sleepy Hollow is sticking to its theme with the Headless Horseman Cheesecake.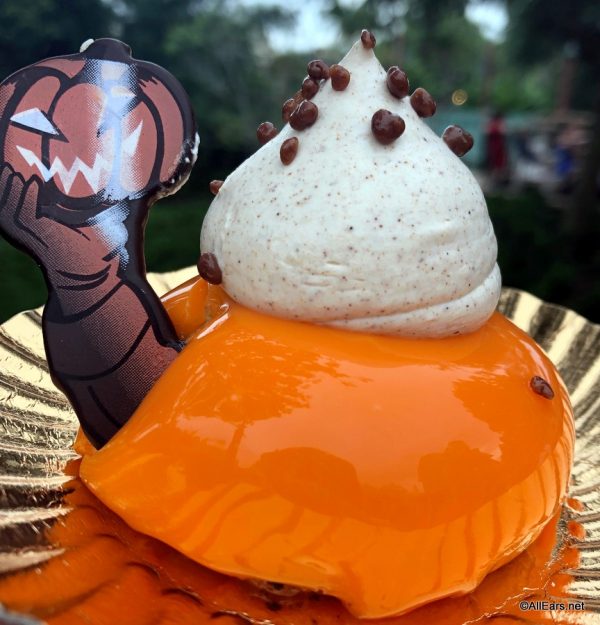 The name is a little misleading however, as it's a chocolate cake layered with pumpkin mousse, chocolate crunchies, and an orange glaze — less cheesecake, more mousse. This is topped off with an arm holding a pumpkin head!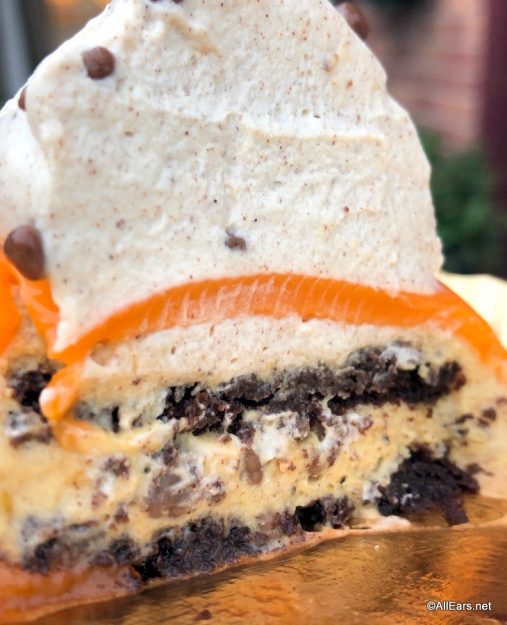 Also at Sleepy Hollow, the Chocolate Mickey Waffle Sundae, this year with pumpkin gelato! This was our favorite treat of the night! The gelato is fantastic!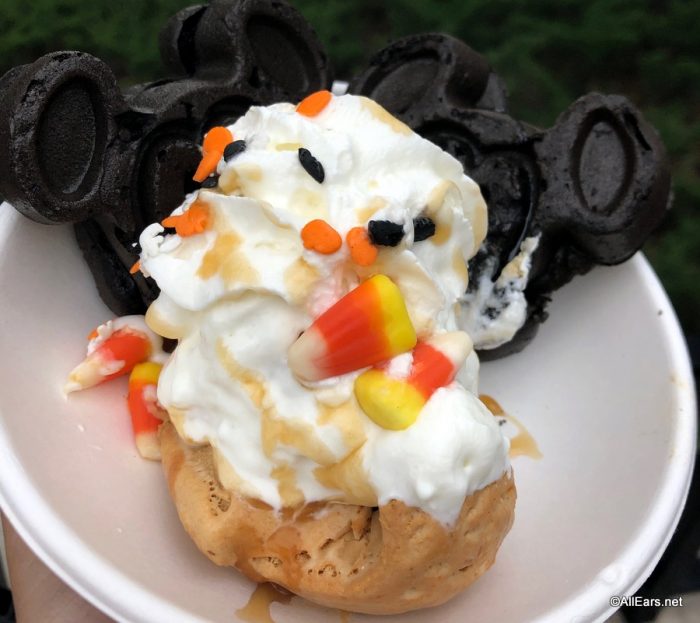 Cosmic Ray's Starlight Cafe has a Lots-O-Burger that's topped with strawberry-bacon jam and a refreshing drink called the Berry Blaster.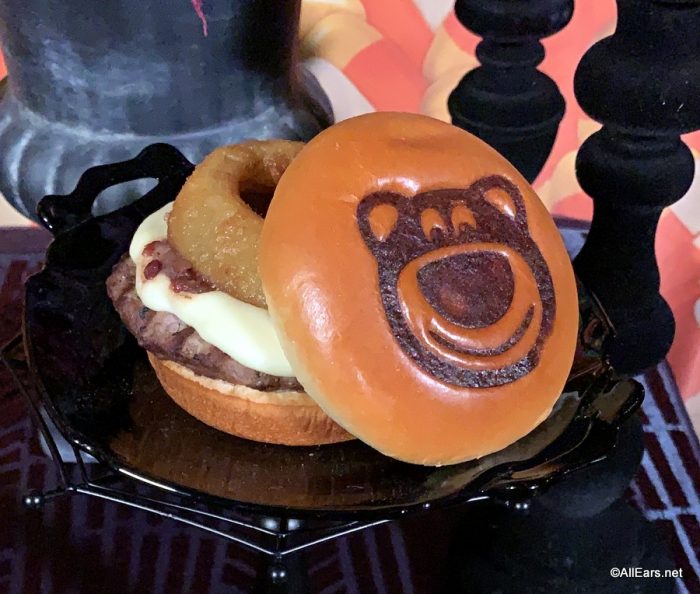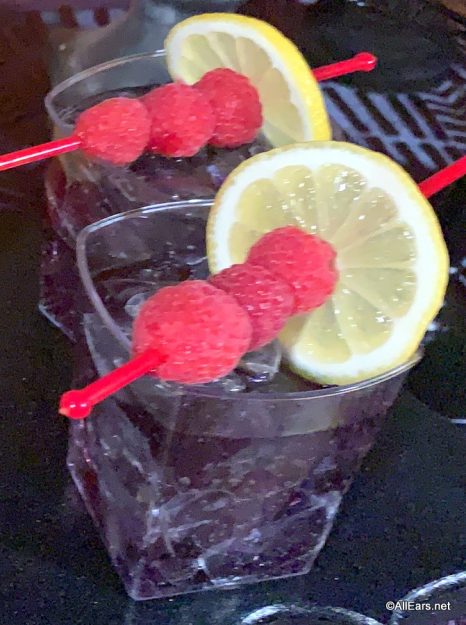 Over at Aloha Isle, guests can quench their thirst with the Pirate's Horizon.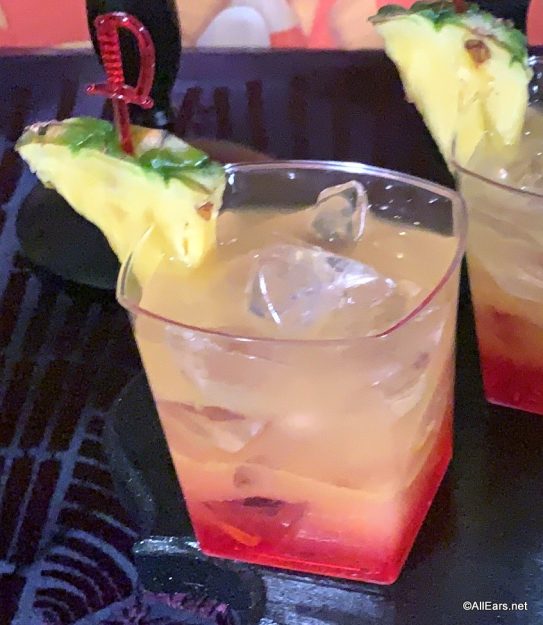 And Casey's Corner has a sweet slushy called Now Begin Thy Magic Spell. It's a fruity combination of cherry slush, passion fruit, and other juices.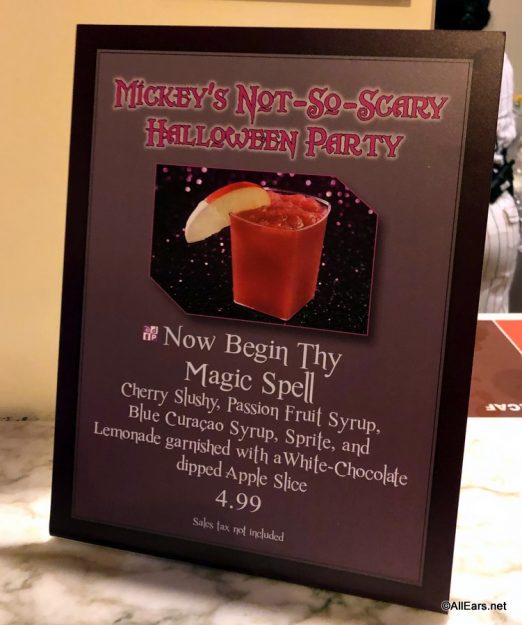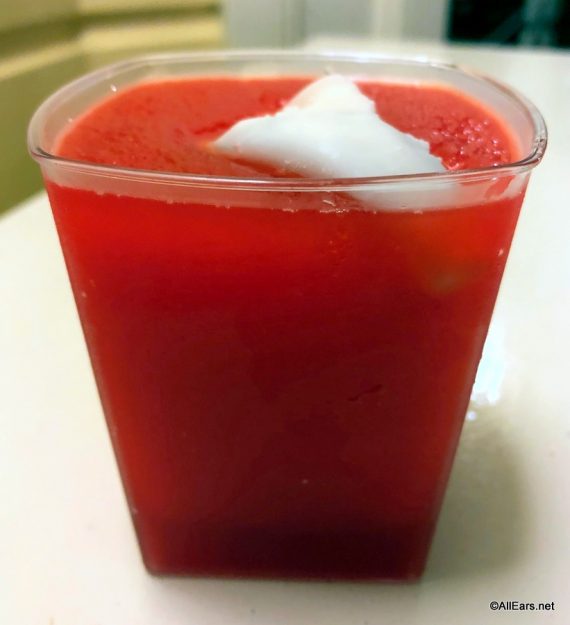 Other Party-exclusive eats and drinks include Hades Nachos and Billy's Worms 'n' Dirt at Peco Bill Tall Tale Inn and Cafe, a Caramel Pretzel, Cinnamon Donut Holes, and a Frozen Apple Cider at Golden Oak Outpost,  a Snake Eyes drink at Storybook Treats, and Hades Hatred at Cool Ship.
And don't forget: there's candy!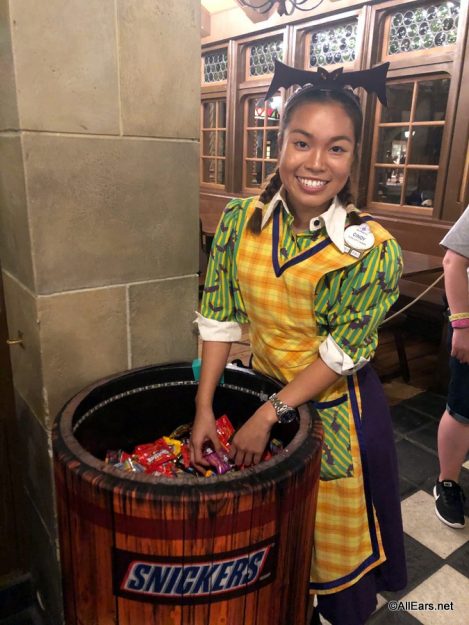 Lots and lots of candy! 😉 (And it's included with your party ticket!)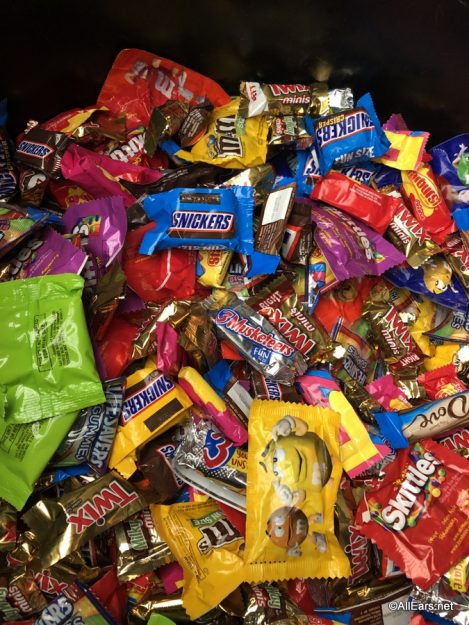 Magic Kingdom also offers a few all-day treats available at the Party and to regular Park guests during regular Park hours!
All-Day Halloween Treats
Main Street Bakery (Starbucks) is home to the Amuck, Amuck, Amuck Cupcake featuring the Sanderson Sisters. The cupcake is described as a trick or treat candy cupcake, which in reality is a vanilla cake base with peanut butter chips, chocolate candy bits, and toffee in it.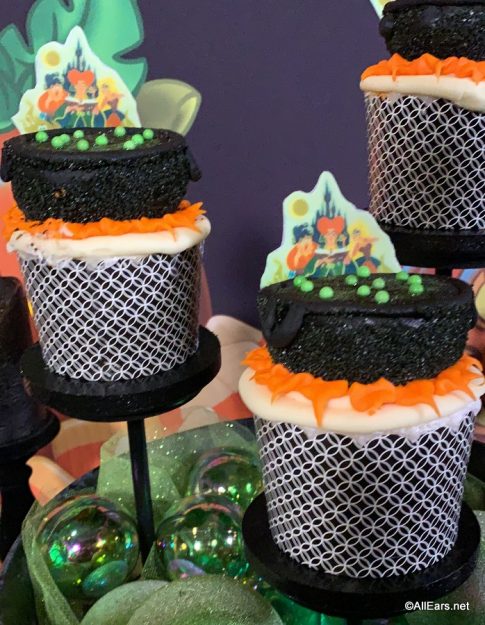 As if the cake alone isn't enough, it is filled with caramel, iced with chocolate buttercream, and topped with a chocolate cauldron made of cake and black buttercream.
Alright pumpkin spice devotees — this one is for you!! The Pumpkin Spice Milkshake at Auntie Gravity's is just that. But, best of all — it's topped with marshmallow candy pumpkins and whipped cream and comes with a giant Mickey-shaped marshmallow!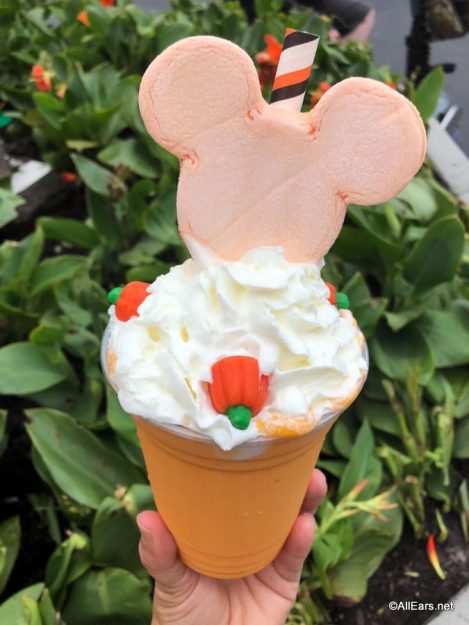 There's a Pumpkin Spice Soft Serve Sundae is also available all day and comes with pumpkin spice soft serve topped with candy corn and caramel sauce. Note: Disney states the milkshake is gluten-friendly, but as always, confirm before ordering. Which one will you choose?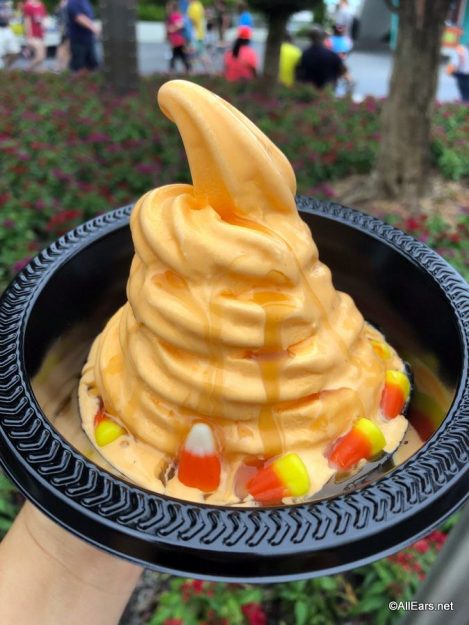 In addition to these treats, all-day guests can find a Mickey Cinnamon Roll drizzled with orange glaze and topped with a chocolate spider at Main Street Bakery, a Donald Duck-topped chocolate brownie at Casey's Corner, and a lime soft-serve Maleficent Cone at Storybook Treats!
Mickey's Not So Scary Halloween Party Exclusive Merchandise
If you're looking to collect a souvenir or two so you can remember your ghoulish delight at the Party, look for some Mickey's Not-So-Scary Halloween Party-exclusive merch including pins, shirts (and a light-up vest!!), and MagicBands.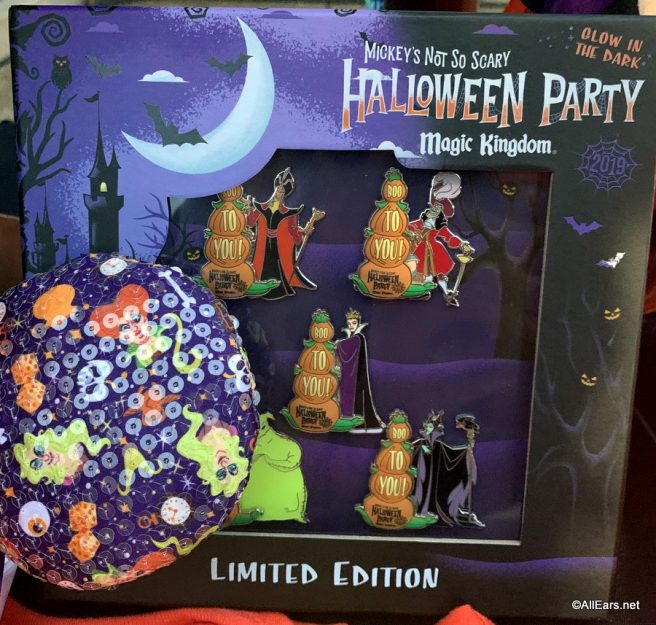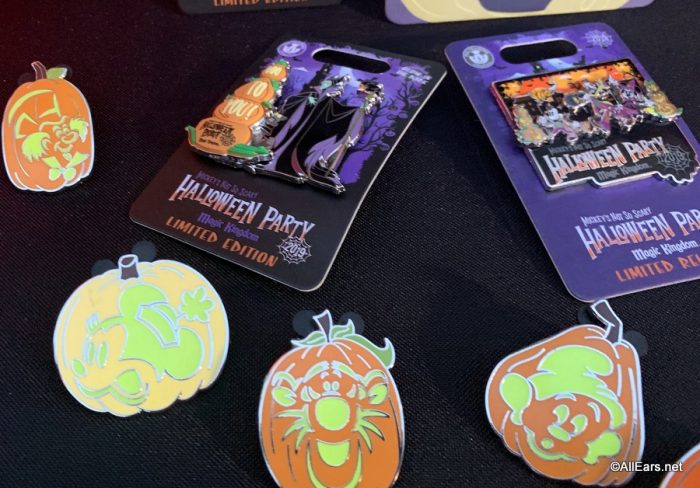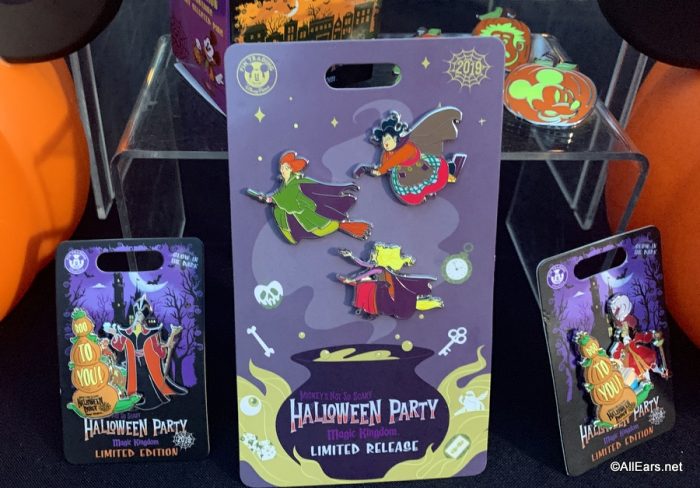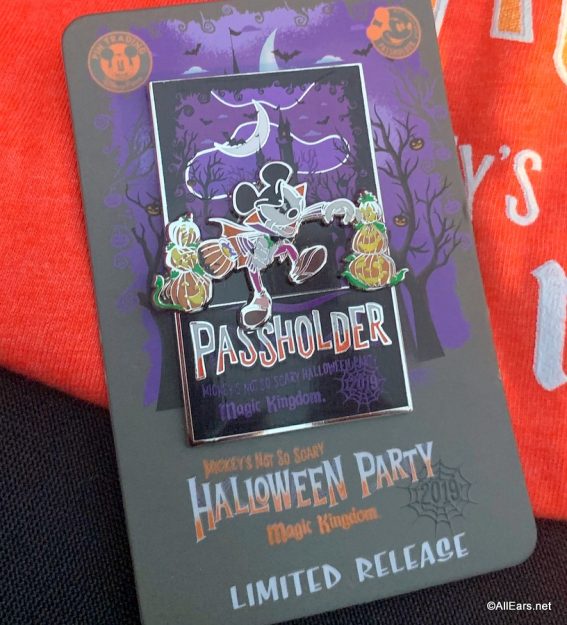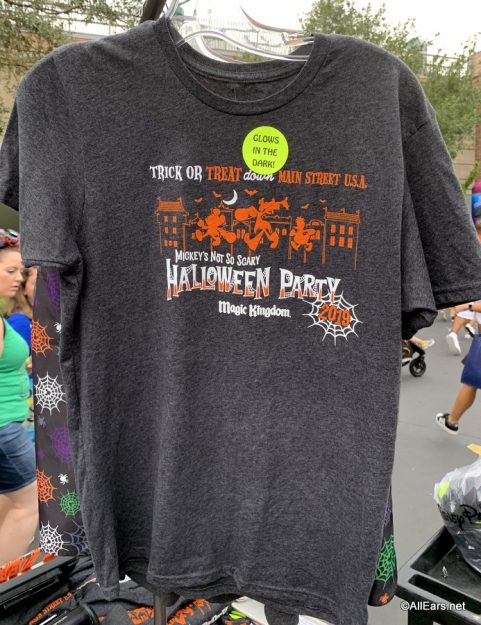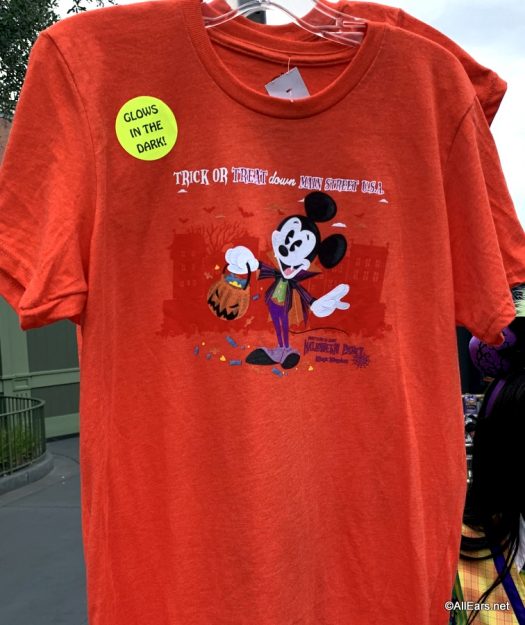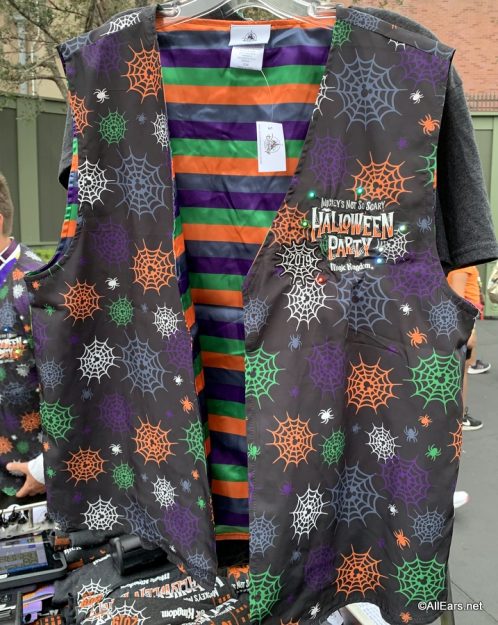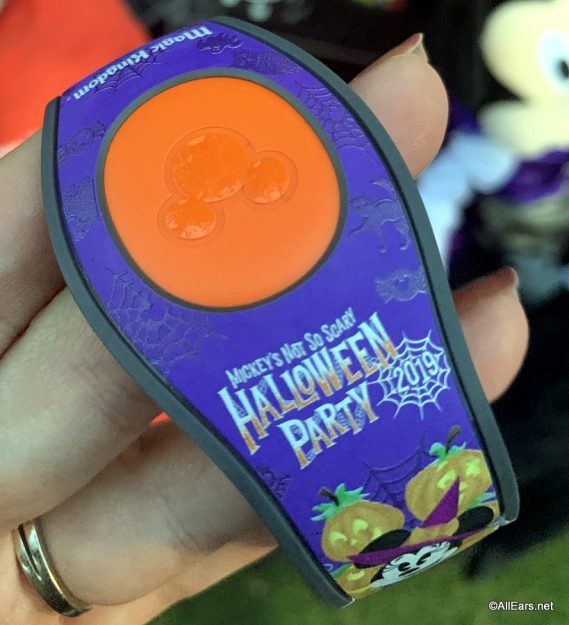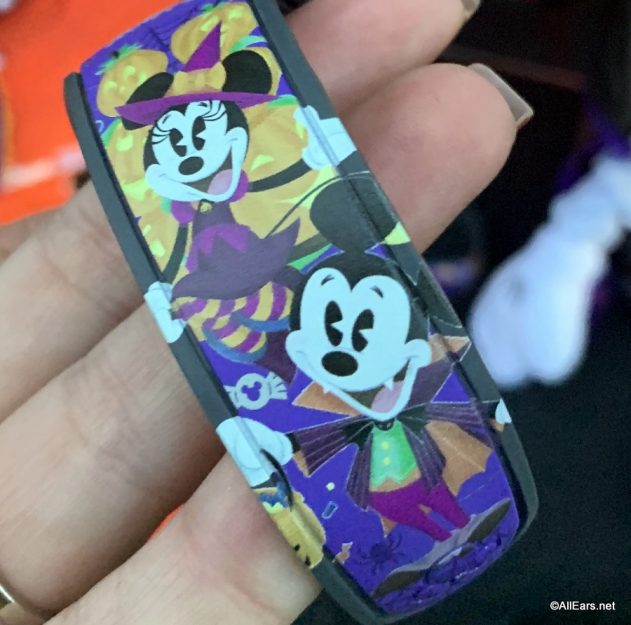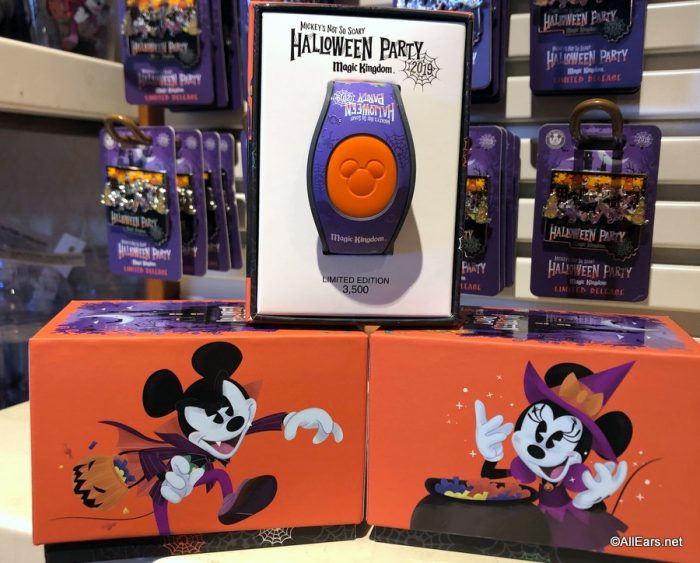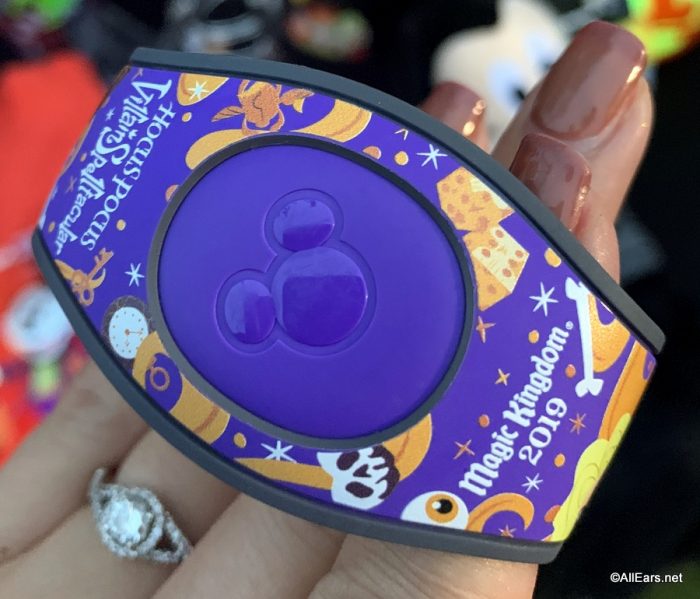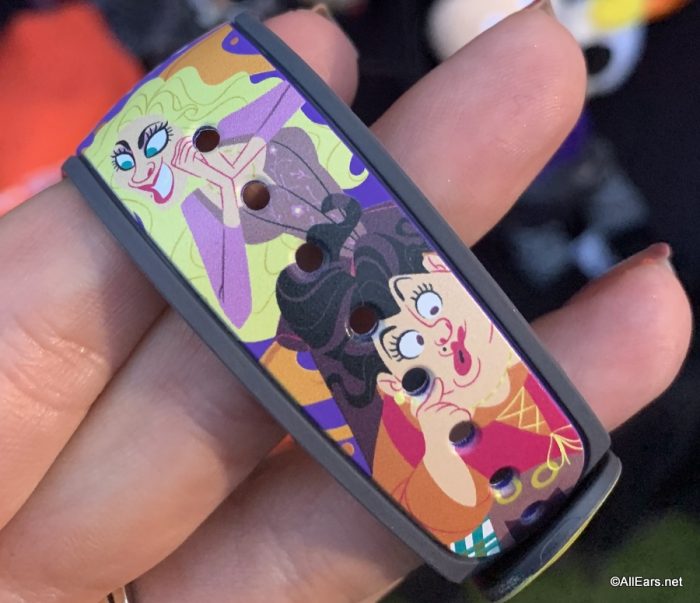 There's also a Hocus Pocus spirit jersey sure to light up your spirit and plush you can cuddle all the way home!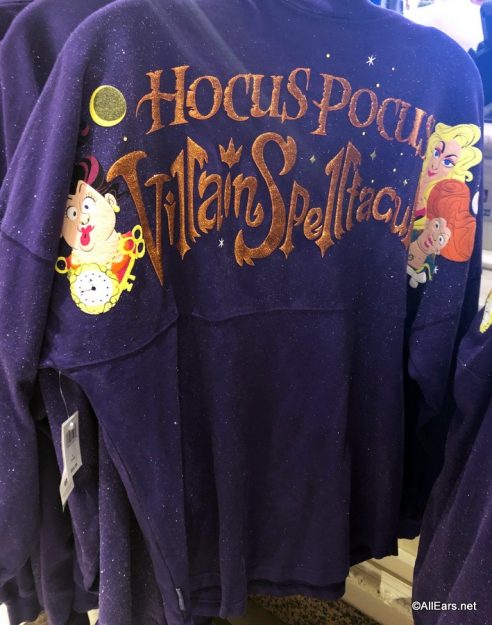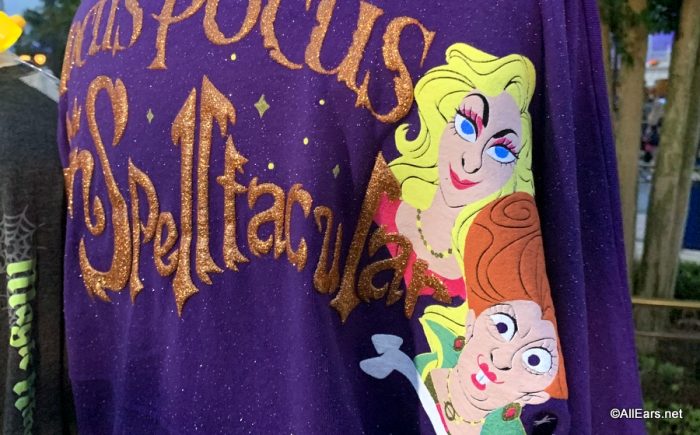 These plushes are available throughout the Halloween season (not just at the Party), and we think they are too cute!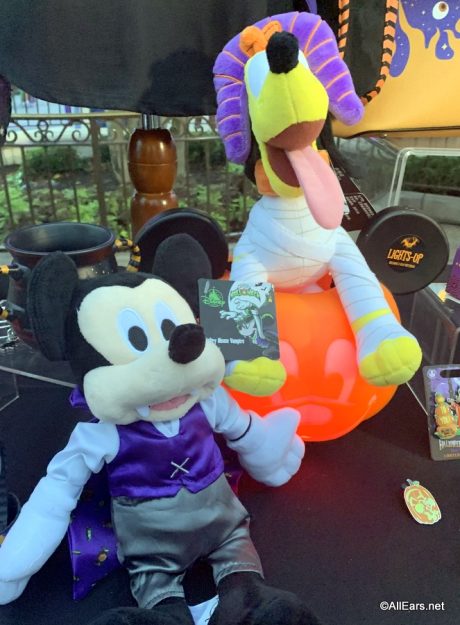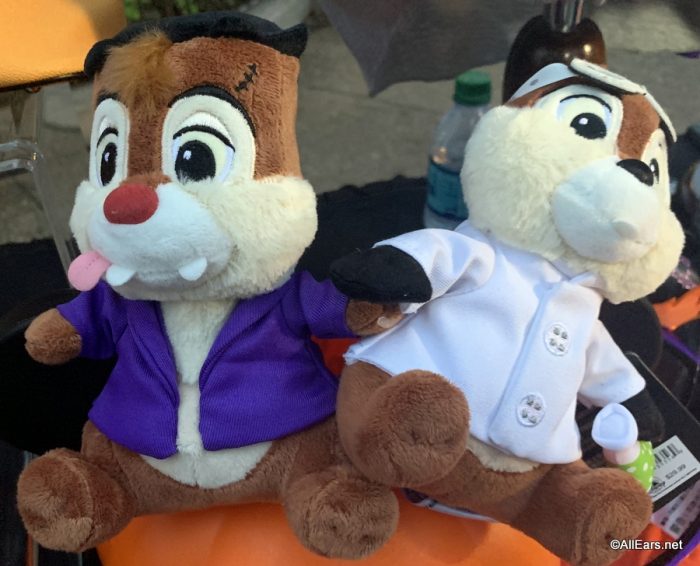 If you like your souvenirs to serve as vessels for food and drinks, the Party has you covered, too! There are three popcorn buckets — Oogie Boogie, the Mickey Pumpkin Balloon, and Phineas (the mid-size Hitchhiking Ghost) — and two sippers — Jack Skellington and Ezra (the tallest Hitchhiking Ghost.) Gus (the shortest Hitchhiking Ghost) is a dessert holder.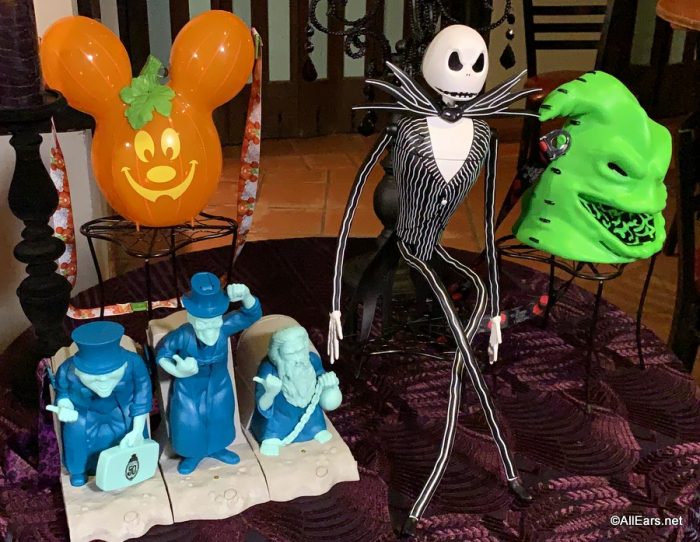 Coveting the trio of Hitchhiking Ghosts? Head to Pecos Bills to grab Ezra and Phineas (who is also available at the Liberty Square Popcorn Cart), and then go to Golden Oak Outpost to find Gus. Note that these were very popular, so you'll want to be quick about getting your hands on them.
Mickey's Not So Scary Halloween Party Overall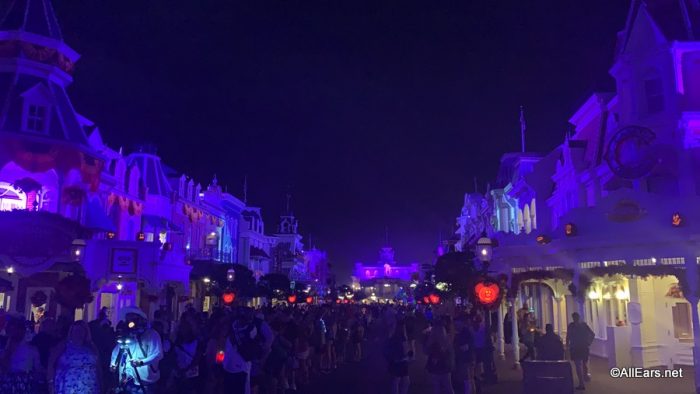 Mickey's Not So Scary Halloween Party is one of the most-anticipated events of the year. The entertainment is incredible — with the Hocus Pocus Villain Spelltacular and Mickey's Boo-to-You Halloween Parade being some of our favorites of any performances all year long.
The exclusive merchandise and treats are fun add-ons, and we love filling our candy bags while Trick-or-Treating. The addition of the Halloween overlays on select attractions is fun — we especially enjoyed Space Mountain and the new Monsters, Inc., Laugh Floor!
There is a lot to do, so make sure to prioritize what's most important to your family when you attend! Overall, this is a frightfully fun event that we continue to enjoy year after year.
Read the latest about Mickey's Not So Scary Halloween Party!
Be sure to follow @allearsnet on Instagram and Twitter!
Click below to subscribe to the AllEars® newsletter so you don't miss any of the latest Disney news!

Disclaimer: AllEars.net was an invited media guest to Disney World's Mickey's Not So Scary Halloween Party. This did not affect our opinions, however. Our opinions are our own.