It's only September, but Walt Disney World's Halloween season is in full swing!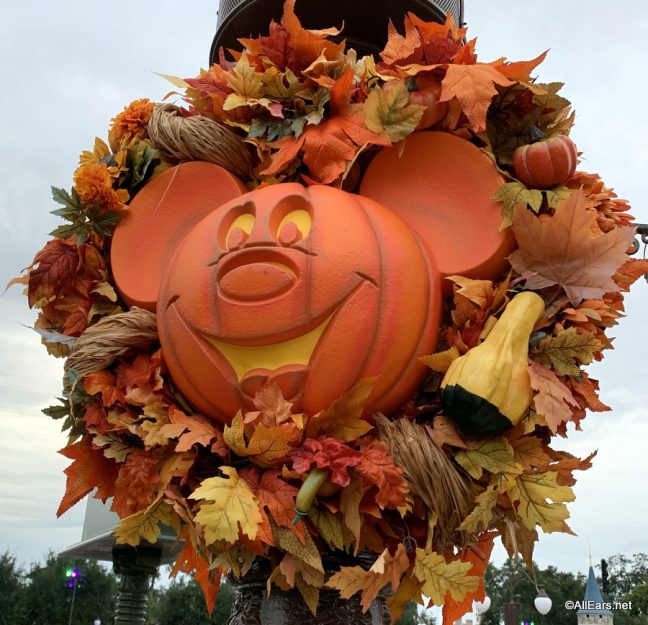 Mickey's Not-So-Scary Halloween Party kicked off in Magic Kingdom on August 16th (you can read our full review of the party here), and we've checked out allll the Halloween treats.
Some of those Halloween treats are available all day, but some are exclusive to the Party.
Let's dig into our eight favorite snacks at this year's Mickey's Not-So-Scary Halloween Party!
Halloween Treats Available All Day
1. Donald Duck Brownie
If you're looking for a simple but yummy treat, you can find the Donald Duck Brownie at Casey's Corner. This dessert is as straightforward as it sounds — it's a brownie topped with a Donald chocolate piece. If you have a picky eater or someone who loves chocolate in your crew, this one is sure to please! (And how cute is Donald Duck?!)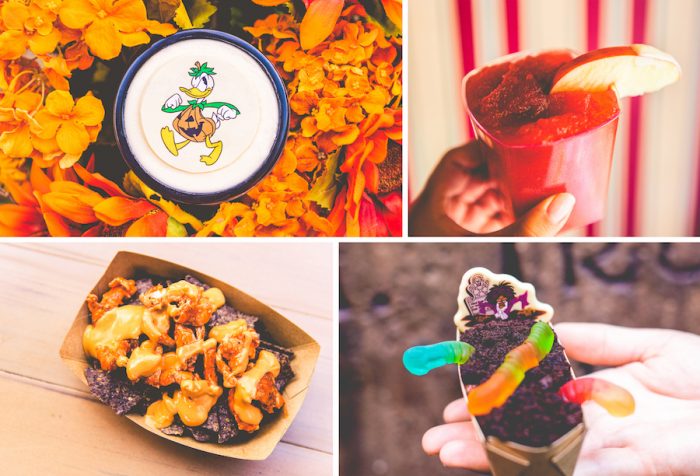 2. Maleficent Cone
Returning from last year's Halloween season is the fan-favorite Maleficent Cone, which you can find at Storybook Treats.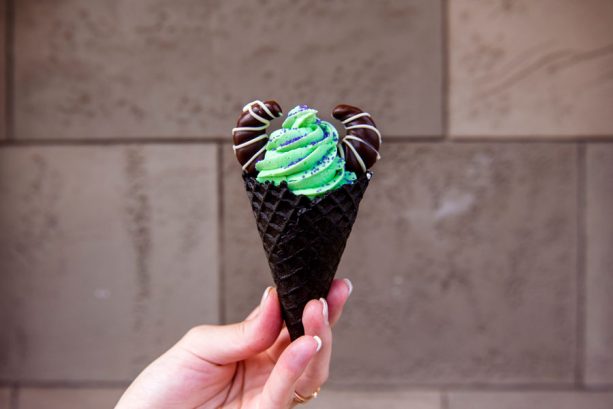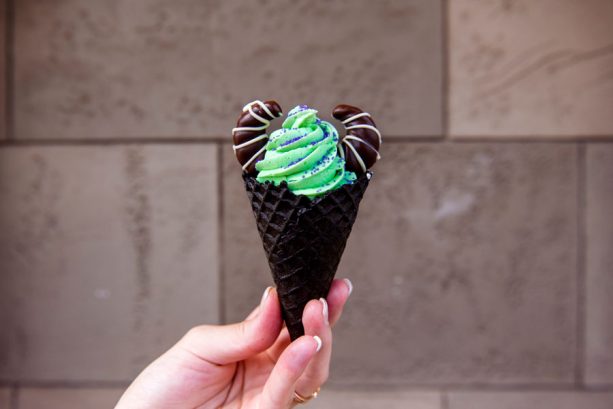 The black waffle cone is filled to the brim with lime soft-serve before being topped with chocolate horns. If you're a fan of citrus flavors, you will likely love this treat! (Bonus: it would look great on your Instagram. 😉
3. Pumpkin Spice Sundae
Pumpkin spice lovers, this one's for you! The next time you're in Magic Kingdom, head on over to Auntie Gravity's Galactic Goodies for the Pumpkin Spice Sundae.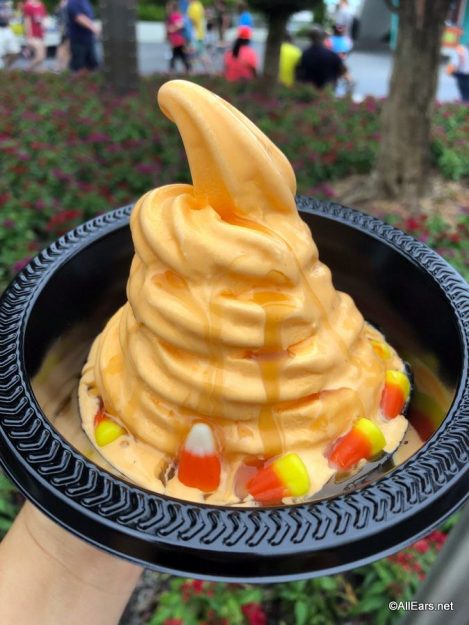 This dessert consists of pumpkin spice soft serve ice cream (!!) doused with caramel sauce and topped with candy corn. It's basically fall in a sundae, right?? We loved this dessert, and if you enjoy pumpkin spice, you'll likely enjoy this as well! While you're there, you should totally check out their Pumpkin Spice Milkshake too.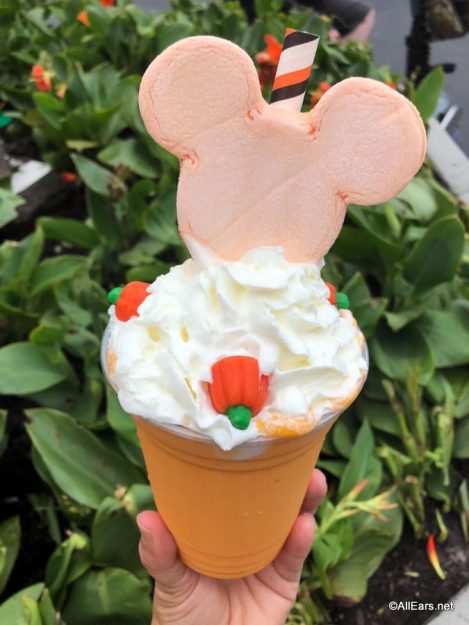 4. Amuck Cupcake
The Amuck Cupcake, which you can grab at Main Street Bakery, makes it onto this list on looks alone. This over-the-top cupcake is made with candy-flecked cake batter, and it's filled with caramel sauce and topped with a cake cauldron and a Sanderson Sisters white chocolate piece.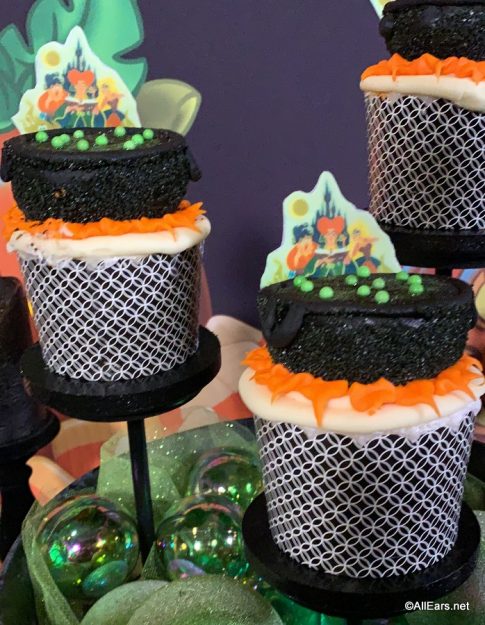 We say this makes it on the list on looks alone because this cupcake was SUPER messy to eat. The cupcake sort-of fell apart when we cut into it, and the black cauldron cake was not friendly to our teeth. But it IS a sight to behold.
Party-Exclusive Treats
5. Constance's For Better or For Worse Wedding Cake
At the Liberty Square popcorn cart, you'll find Constance's For Better or For Worse Wedding Cake, which is a citrus cake filled with raspberry Bavarian cream, covered in mirror glaze, and accented with buttercream pearls and flowers. The final touch is a frightening chocolate axe. This treat is both creative and yummy!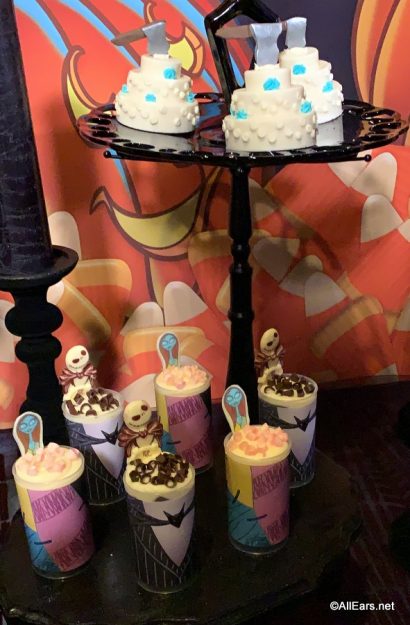 6. Jack and Sally Push Pops
Also pictured above are the Jack and Sally Push Pops, which we found at snack carts near Cinderella Castle.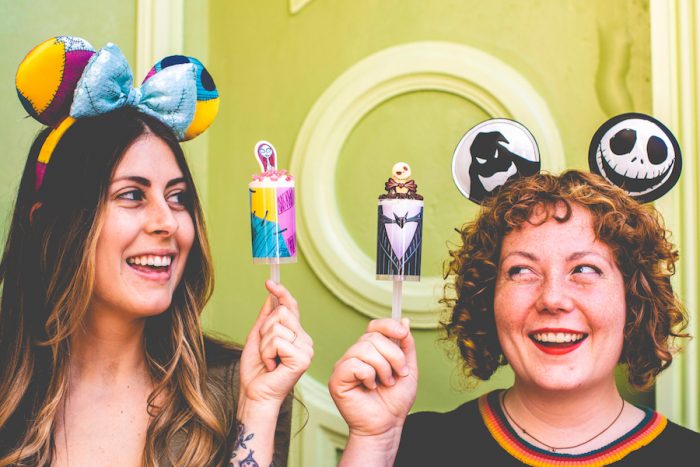 The Jack Skellington Push Pop returned from last year's event, and in it, you'll find chocolate cake, vanilla buttercream, white and dark chocolate crisp pearls, and dark chocolate curls. The new Sally Push Pop is made with gluten-friendly vanilla cake, buttercream, and strawberry crisp pearls. You'll find both of these on the snack carts near Cinderella Castle.
7. Pirate's Horizon – Aloha Isle
If you find yourself in Adventureland, you may want to grab the Pirate's Horizon from Aloha Isle. This drink features pineapple, orange, and passion fruit juices and a wedge of pineapple.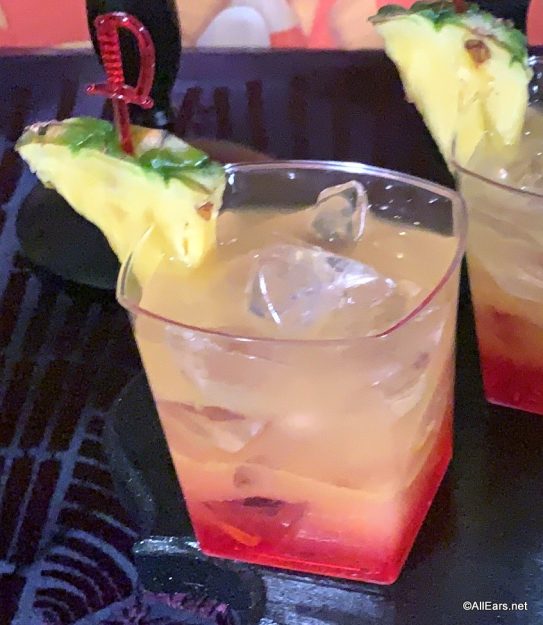 This drink was pretty sweet, but we thoroughly enjoyed the tropical flavors of the Pirate's Horizon! If you need a quick thirst-quencher, this would be a good option.
8. Chocolate Mickey Waffle Sundae
Our FAVORITE treat from Mickey's Not-So-Scary Halloween Party is the Chocolate Mickey Waffle Sundae, which you can find at Sleepy Hollow in Liberty Square.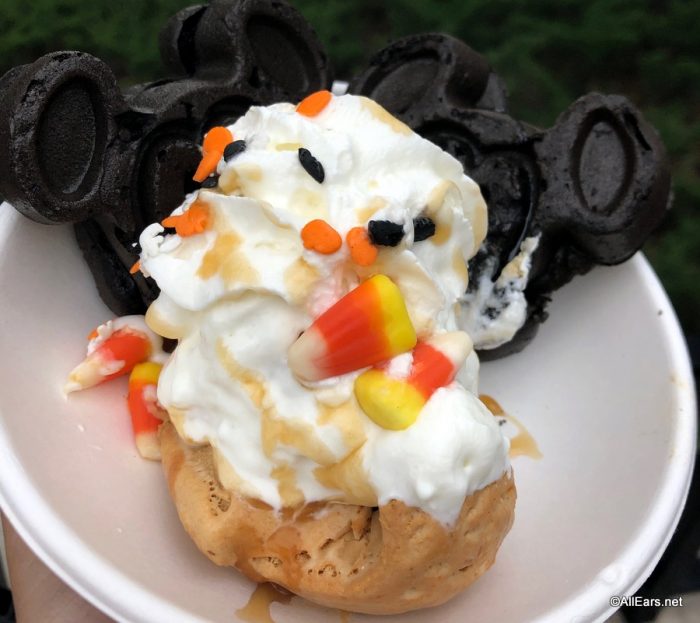 While we didn't taste a whole lot of chocolate flavor coming from the waffles, we LOVED the pumpkin gelato! Overall, this is an awesome Halloween treat.
These are just a few of our favorite Halloween treats from this year's Party! What's your favorite treat at Mickey's Not-So Scary Halloween Party? Let us know in the comments below!
Be sure to follow @allearsnet on Instagram and Twitter!
Check out our YouTube Channel for reviews, news, information and more!
Click below to subscribe to the AllEars® newsletter so you don't miss any of the latest Disney news!