The 8th Annual Swan and Dolphin Food and Wine Classic
returns this weekend, October 27 – 30, 2017.
The 8th Annual Walt Disney World Swan and Dolphin Food and Wine Classic approaches quickly! This is, by far, the largest classic ever. Each year sees the addition of a new component and 2017 is no different. This year, the Classic will introduce "The Bubbles Lounge."
The Bubbles Lounge, a secluded, whimsically themed area showcasing sparkling beverages, including champagne and sparkling wine, was inspired by Lawrence Welk and his champagne style.
Returning for the second year is the Sunday Bubbles Brunch. This lavish brunch will feature traditional and not-so-traditional items prepared by award-winning chefs. One glass of champagne or a specialty mimosa will be included in the menu price, along with the option to upgrade to bottomless champagne and mimosas at the time of seating.
Tony Porcellni, Director of Food and Beverages explains:
Returning this year are two great themed areas: Chinatown and Carnival Corner. Do not miss either of these — the food is yummy. If you don't enjoy fish, ask for the pork dumpling without the sauce. It is a big favorite of mine!
Luciano Sperduto, Assistant Director of Food and Beverage tells you about the fun in the Carnival Corner.
And wait, there is more! Thirteen seminars will help you expand your knowledge of wine, beer, spirits and sake. Learn how to choose the right beverage and how to pair it perfectly with your meal. The Swan and Dolphin certified sommeliers will teach you what you need to know to choose the perfect bottle for the perfect occasion and the perfect meal. You'll walk away with the ability to impress at your next dinner outing.

Kristian Laplante, director of restaurants gives you a quick rundown:
The Swan and Dolphin Food and Wine Classic by the Numbers:
** More than 60 food and beverage stations.
** 40 different dishes over the course of the weekend from Italian to BBQ.
** 11 educational seminars each day before the causeway opens
** 4 special themed areas: Chinatown, Carnival Corner, Beer Garden and Bubbles Lounge
** Live entertainment with three different acts, including the ever-popular Atlantic City Boys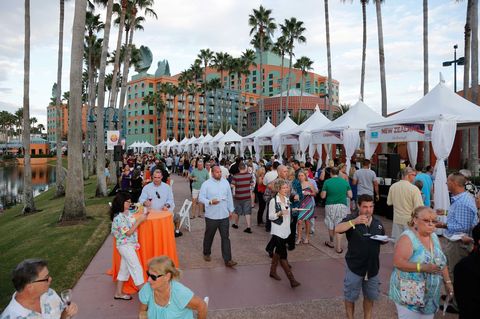 Here's the best recommendation I can give you — for seven of the eight years of the Classic,Linda and I have purchased our own tickets for the causeway and seminars. This year we also bought tickets to the Sunday Bubbles Brunch. (I have also been invited to a few of the media previews, like the one this week. Sometimes AllEars.Net is offered a media pass and Kristin Ford uses that to attend with her husband.)
So what are you waiting for? Tickets remain for Friday night, both Friday and Saturday seminars and the Sunday Bubbles Brunch. https://www.swandolphinfoodandwineclassic.com/
Hope to see you there!