Years, and I do mean years ago, I took the Backstage Magic Tour of Walt Disney World. We got to do some really cool things and I always remembered how much fun it was. The tour took us to Epcot, Magic Kingdom (no Animal Kingdom then), the Disney MGM Studios and behind the scenes at several Cast Member locations.
Much has changed in all those years, and recently I have been wanting to take it again, especially with the American Adventure component. I kept promising myself once the temperatures in Central Florida cooled down, I'd sign up. It is easily seven hours and by the time you are done, you are ready to rest and put your feet up for a while.
Here's how it is currently described:
"Enjoy a one-of-a-kind VIP look at the inner workings of Walt Disney World Resort on an amazing 7-hour journey through the Magic Kingdom Utilidors, Creative Costuming, Walt Disney World Central Shops and more. Tour participants are among the select few who receive an exclusive look into the artistry, technology, mechanical marvels and backstage stories that go into producing world-class Disney experiences."
The timing could not have been more perfect when a couple weeks ago in my inbox the following appeared: INVITATION: Join us for Backstage Magic! Yes, I had been selected to experience the Backstage Magic Tour by Walt Disney World. I should note that Adventures by Disney (AbD) actually runs the tour.
Recently, I took the tour and I can tell you it is a whirlwind of a day and worth every moment.
Our guides, Amber and Pieter, were awesome, full of facts and tidbits, and they made sure we stayed on time. There were only a couple rules, "Don't ask how many or how much." And absolutely no cell phones out while backstage. In fact, we were given small notebooks to jot down things to remember because we couldn't take photos of everything.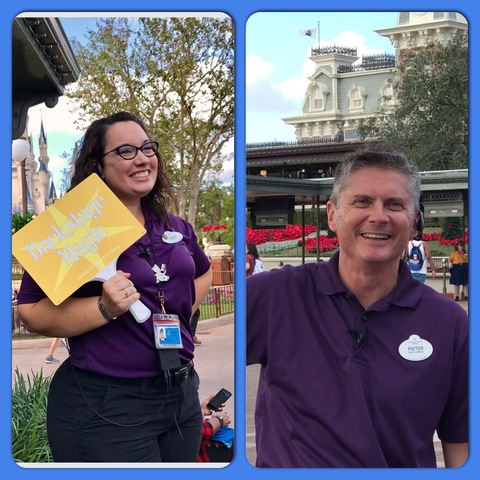 Meandering backstage, we learned tidbits about Future World including everything from a brief history of Epcot to the many Disney color paint palettes.
Soon we were at the American Adventure! Learning and seeing the magic work behind the scenes was fascinating, and we were very lucky and got an up-close and personal look at Ben Franklin. (Please note the up-close look is not available on all tours). Did you know that in the Declaration of Independence scene with Franklin and Thomas Jefferson the words Declaration of Independence are written on each of the "earlier versions" that are crumpled up on the floor? That's just in case someone with a telephoto lens takes a picture!
Next, we spent about 40 minutes in Creative Costuming. The outside door has a small awning that says: "The Hanger." Clever, don't you think?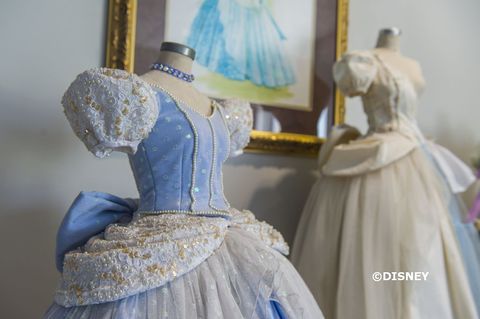 We learned all kinds of things about Cast Costumes, like there are four categories – Operational Cast Members, Entertainment, Equity Performers and the Audio Anamatronics. There is even a reference library wall that has swatches of cloth for each costume. When I took this tour years ago, cast members were not allowed to bring their costumes home; they were stored and cleaned at Walt Disney World. That has changed quite a bit, as Operational Cast Members are allowed to take them home now.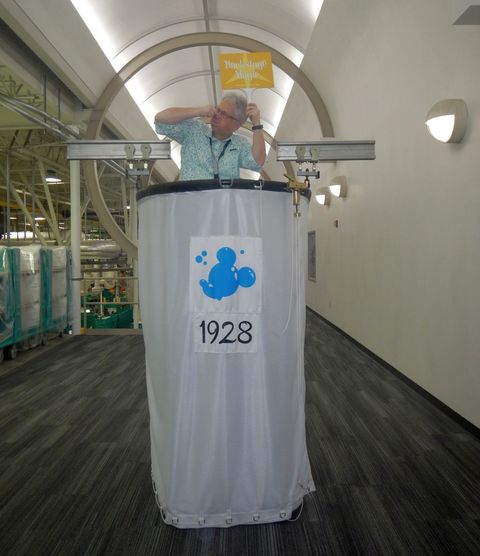 Next stop was Textile Services. I could write about all the cool things we learned, but then you may not need to take the tour. (Or maybe at this point my handwriting became illegible!) On to Laundry, which you probably wouldn't think of as fascinating, but it truly was. Those laundry carts you see at all the Disney Resorts? They get transported to one of the laundry facilities where the contents are emptied, cleaned, sanitized, wrapped in plastic and returned back into service. Guess what the No. 1 item is that's found mixed in with the laundry? I'll tell you at the end.
We had a very fun photo op here. In fact, there are three or four photo ops along the way that you won't find anywhere else. (Hint: maelstrommalestrommaelstrom)
By this point in the tour, I know my stomach was growling, and I think several others were too!
The folks at Whispering Canyon at Wilderness Lodge took great care of us. Lunch began with the yummy corn bread, followed by the All You Can Eat Skillet and ended with a specially made cobbler with vanilla ice cream. Of course, a visit to Whispering Canyon is not complete without some shenanigans.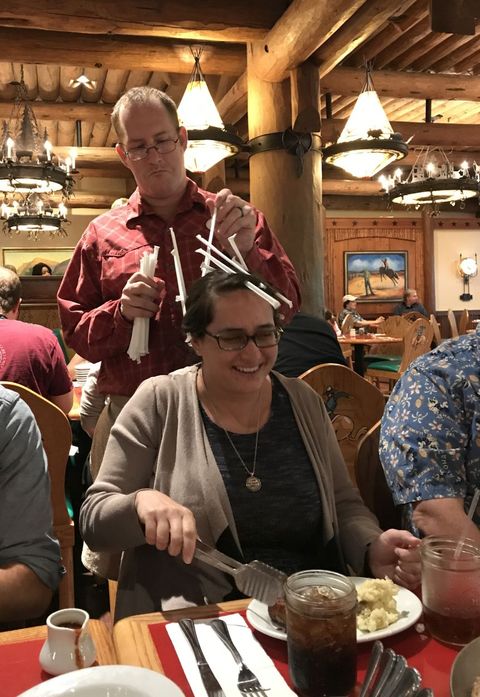 Two stops left, and they were both huge — Central Shops and Utilidors. The Central Shops are in this ginormous warehouse with lots of separate areas such as Welding, Metal, Assembly, Scenic, Inspection and everything else in between. This is like candy for the eyes for Disney geeks as you get to see whatever is being worked on like a hippo from the Jungle Cruise and a chassis from Expedition Everest. Also, during this part of the tour we learned a great deal about the Audio-Animatroncs.
Last but certainly not least was our tour of the Utilidors at the Magic Kingdom. Underneath the Magic Kingdom is a 1.3-mile utility corridor with 29 stairwells leading up to the Magic. Also located here is the AVAC (automated vacuum collection) system where all the trash goes. It was revolutionary in its time, but later proved to not be cost effective.
And then all of a sudden our tour was done. Wow! I can't even begin to tell you all the tidbits and facts we all learned, and my note-taking could barely keep up to the narrative. There is much more I could share, but I don't want to spoil some of the magic you will want experience.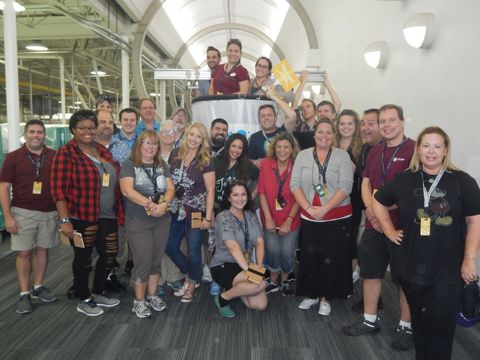 We had a bus that took us from place to place. As we couldn't take photos our guides made sure to take lots of photos of us in various locations. Our belongings could stay safely on the bus. There was also plenty of cold and room temperature water as well as snacks. The guides, like all AbD guides, took great care of us.
At the conclusion, we each received an Adventures by Disney pin for the Back Stage Magic Tour.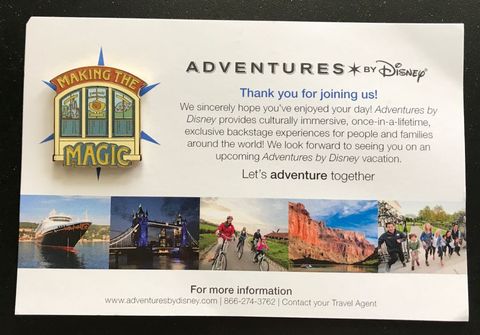 Oh, and that No. 1 item found in the laundry? The remote control from the TV.
Ok, so the big question, would I spend $275 for a seven-hour behind-the-scenes tour of Walt Disney World? My answer is yes. As I wrote in the very beginning, I was considering signing up. As a Disney fan, I loved all the details and tidbits that were shared. I love seeing what goes on behind the scenes of all the various areas of the park. There are numerous unique experiences you won't get on any other tour. My one suggestion for the tour designers would be to add a behind-the-scenes tour of Tower of Terror or Haunted Mansion!
If you do this tour, make the most of it by asking all the questions you can think of. After all, you are dedicating a full day to the experience!
To book the Backstage Magic Tour call 407-WDW-TOUR (407-939-8687). Guests must be at least 12 years of age to participate in this tour. Read the Know Before You Go section on disneyworld.disney.go.com! Lastly, there is a lot of standing and walking.
Disclaimer: I was a guest of Walt Disney World. However, my opinions are my own.