Recently I had the opportunity to preview the new Three-Course Menu that will be offered at Tutto Italia this summer. Tutto Italia is located in Epcot's World Showcase in the Italy pavilion.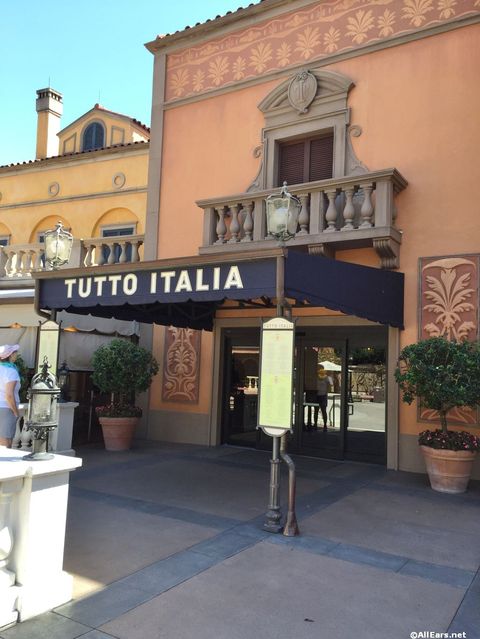 This summer special menu will debut on May 3 and be available until August 31. The lunch includes one appetizer, one main course, one dessert and a soft drink (Coke, Diet Coke, Sprite, ginger ale, iced tea).
The meal begins with Tutto Italia's home-made bread and olive oil service.
The appetizers are: Antipasto, Insalata Mista, Caprese or Minestrone soup. (The photos are in the same order.)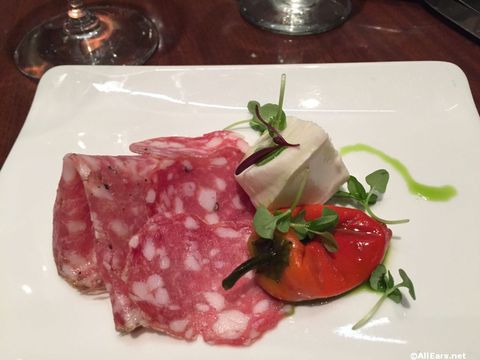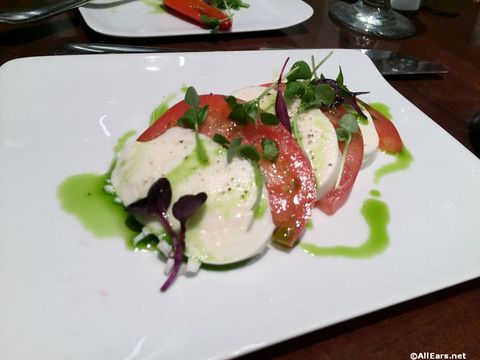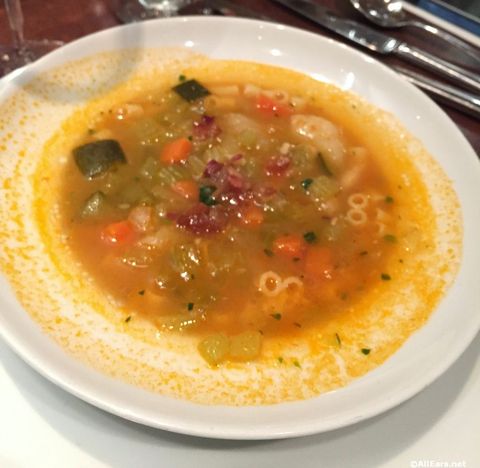 I selected the Antipasto, which included sopressata, finocchiona, roasted pepper, and ovolini mozzarella. This was excellent and I believe the appetizer to select! Each item had wonderful flavor! I also tasted the Caprese Salad and it was very good.
The main course really offers foods for a variety of tastes. Your choices are: Scaloppine di Pollo (chicken), Filetto di Sogliola (sole), Caesar Salad with Chicken, or Spaghetti. (The photos are in the same order.)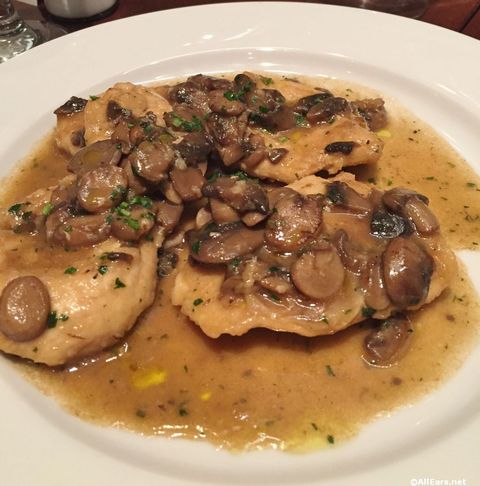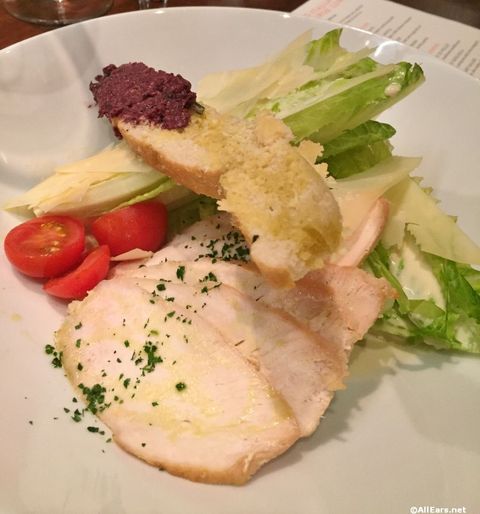 I went with the tried and true Spaghetti and Meatballs. The pasta was good and there was plenty of it. Everyone seemed to enjoy their selections.
Soon it was time for dessert. There are three yummy desserts to choose from: Cannolo, Tiramisu, and Gelati (chocolate, vanilla, or stracciatella, which is a chocolate chip). The desserts are all winners as far as I am concerned! I thought the gelato was particularly flavorful. I should mention we were given small portions of several desserts offered at Tutto Italia.
Bottom Line: If you are looking for a full-service lunch in Epcot this is a very viable option and in my opinion well worth the $27. I did not leave hungry. Selecting an appetizer and entree off the regular lunch menu would cost you $29 alone and not include the dessert or beverage.
It is priced competitively with other Prix Fixe lunch menus in Epcot — Chefs de France, which offers a three-course lunch special for $25.99 and Restaurant Marrakesh, whose fixed price lunch runs $28.99.
If you want a full-service dining experience for lunch in Epcot and enjoy Italian food, give it a try!
Particulars: The three-course experience is $27 +tip/tax per person. Reservations are recommended. Substitutions are not allowed. If you have special dietary needs, talk to a manager before ordering. The three-course lunch WILL be part of the Disney Dining Plan.
For more information about Tutto Italia, check out our Dining Section which includes menus!
DISCLAIMER: I was a guest of Tutto Italia to preview this new lunch offering. My observations and opinions are my own.