To all who come to this photo trivia game, Welcome! Along the way, the photos can make us relive memories and see details Walt's Imagineers put into everything we love in Walt Disney World!
Thank you, Players, for all your notes, your stories and memories, even pictures, and videos. And always, always, always for being here, playing the game!

Now for Challenge #427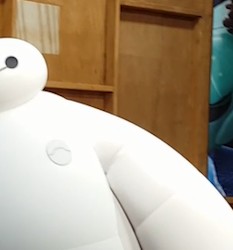 And here's the answer: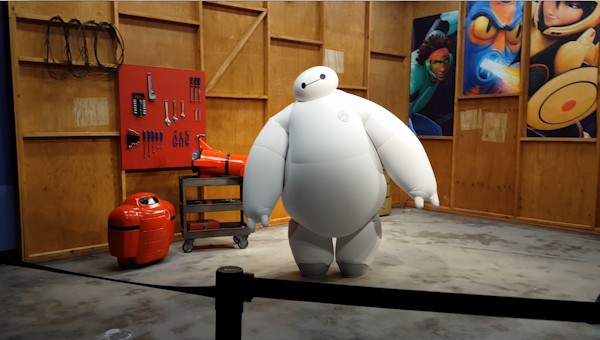 Copyright © Erin Blackwell
Hello, Baymax! He and I met at the Character Spot in Epcot! I love him, he's a sweetheart! He's still there, so if you haven't seen him yet, you still have a chance! Be prepared, though: it is FREEZING in there!
Jeff Blank, ooooo! Putting ideas in my head! And I will start looking for the movie. 🙂
Speaking of videos, I loved it, Mickey Eckert! That was amazing!
Kristi Strembicki was the first to send in the correct answer! Congratulations to Kristi and to all our winners this week! Donna Frank, Carol Ney, Theresa Rucando, Jim & Lorie Sonnen, Linda Ranatza, Evanna Huda, The Kertes Family, Mary Beth Tarbet, Eric Berger, Grumpy's Groupies, Carol Baranowsky, Al & Kerry Ganter, Kyra, Luis Rodriguez, Margaret Convery, Belicia, Scott C., The Parker Family, The Modecki's, Paula Massarelli, Josh Weiss, Team Hill, Joseph M. Zafia, Arlene Vicek, Joseph M. Zafia, Jennifer Pichert, Doug Olson Family, Claire Gregory, Diane Curfman, Sharon Pierce, Kris Nixon, Sharon Pierce, Michael & Jackie Mclucas, Jennifer Bowling, Sharon Powell, Samantha Salvo, Ken Savage, K Beasley , Dee Dee Kenney, Janet Spiess, Ken Jobin, The Gunnels Gang, Lyn Johnson , Tara Weaver, Duskin Henard, Olszak Family, Maureen And Warren Handy, Joann Albrecht, Gloria Martin , Hunter Armstrong, Sands Family, Rhonda Dishong, Mike Malampy (Malampy Benco Family), Melissa Such , Erin Loring, Bob & Kathy Mckim, Andrew Carrieri, Ron Nufranick, The Long Family, Tricia Petty, Jennifer Rowell, Jen Tremley, Lori Rienhardt, Deb Gallo, Carla C, Lisa Liu, Jennifer Crumley, Chris, Gretchen And Katie Barnes, Mike O'brien , Karen Ramirez, Krista Serpi, Bruce Hinterleitner, Vera And Izzy Williams, Matt Wildey, Judy Simonsen, Hobbes And Snorky, Steve Knapp, Deb Ragno, Carol Schierbaum, Paul Scimeca, Linda College, Paul Dickson, Bill Schmid, Frances Donahue, Kara D & Jay R, Lee Anastasi, Smitty, Adolph And Kimberly Timm, Tommy Montgomery, Evald Olson, Ed Adams, Tammy Warmouth, Mark Donahue, Les Whitten, Janet T Thorn, Julie And Carol Wickware, Ed Suscreba, Stefanie Vandiver, Kenny, Stefan Owens, Jodi Cook, Tom Koval, The Tisdale Family, Beth Mcmeekin, Vickie Barca, Vicki Britt, Mike Haeberle, Nan Amor, Mike Amor, Ruben O'meara, Bonnie Jean, Herb Miller, Team Bonnie Sye, Susie Howard, Les Stewart, Kathy, Brooke And Kennedy, Todd Johns, Laurie Walker, Todd Johns, Angela Johns, John Warner, Phyllis, Matt Cofone, Toni, Mark Hardy, Jeff Blank, Kerri Coggins, Carolyn Como, Jeremy Hardy, Colleen Ringer, The Holmes Family, Karen Costa, Tricia Noble, Tricia Noble, Karrie Duffey, Matt Holley, Jenn Steele, Brian Richmond, Matthew Frey, Melody Odonnell, Josette Gabel, Jared Orth, Scott Greenbaum, Jason Steinmetz, Erin Hammer, Scott Sangston, Jim Mis, Tim Johansen, Jason Skow, Emma Ramsey, The Rider Family , Melissa Littman, Michelle Palazzo, George Mundy Jr, Mark Proper, Jamie Poynton, Vanessa Gordon, Caroline Burmester, Melesia Love, April Haddock, Jeremy Reichelt, Mickey Eckert, Barclay Bakkum, Janet Peirano, Antoinette Leblanc, Rebecca Keenan, Tracy Discher, Don Purney, Jackie Graebel, Sue, Annie Snodgrass, Jane Johnson, Gallagher Family, Chris Kelly, and Caitlin Lewis!
__________________________________ _____________________
Challenge #428 Where in the world is this?
We are outside the parks! This is relatively new, meaning it's a little over a year old. So if you haven't seen it for yourself, you can find our pictures on the site!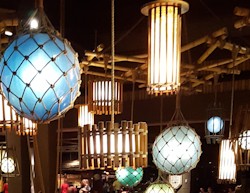 Do you know? Do you have a guess? Please send in your answer, before the end of the day on Thursday, April 14th, by clicking on the blue box below.
Please do not post answers using the Feedback Form link at the bottom of this post.
See you soon, Players!


_______________________________________________________________________
Everyone who sends in a correct answer to a Where in the World Challenge this month will be entered in a drawing at the end of the month for some special AllEars® goodies!