I am back with another edition about Disney Food Photography. It has been a year since a wrote that last article about phtographing the foods at Walt Disney World and beyond. This time I want to talk about how I include little extras which add interest or help to tell a story.
First, it is always a good thing to get close to your main subject. At Teppan Edo in Epcot's Japan pavilion, the food is prepared right in front of guests. Using a short zoom lens, I was able to get in close to one of the wonders of any meal there, the Onion Volcano as it was erupting. The softly focused guests in the background add a fun element.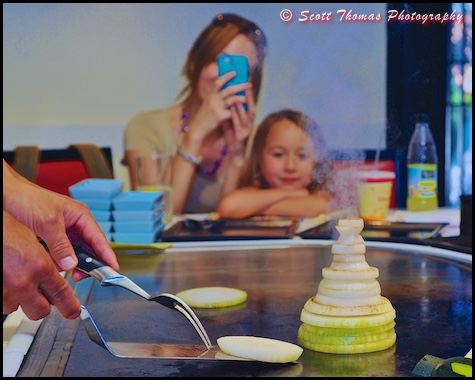 Onion volcano erupting at Teppan Edo restaurant in Epcot's Japan pavilion.
Nikon D700/24-120VR, 1/100s, f/5.6, ISO 400, EV 0, 52mm Focal Length.
Restaurants at Disney can have cluttered backgrounds with guests dining and tables waiting to be bussed. Using bounce flash, you can pull your subject out of the background. When I dine at Kona Cafe in the Polynesian Village Resort, I get Tonga Toast. My Son-In-Law prefers the Big Kahuna Breakfast. Using a person traveling with you adds interest and delights your family and friends.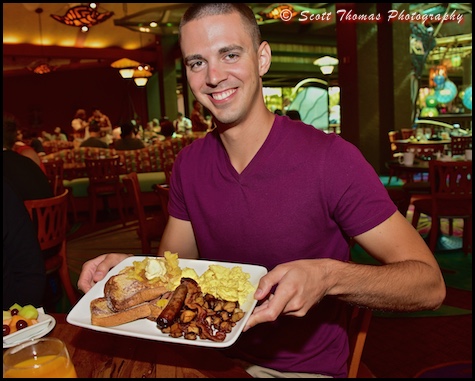 Big Kahuna breakfast entree at the Kona Cafe.
Nikon D750/28-300VR, 1/60s, f/5.6, ISO 900, EV -0.3, 28mm Focal Length, Bounced Flash.
Not every time do I take a photo of food inside the location I purchased it from. Especially if it is a beautiful morning in Magic Kingdom's Fantasyland. There, I got one of Gaston's Tavern's warm cinnomon rolls and a cold milk to wash it down with. I placed the food on an outside table and used a wide focal length to include the entrance to the quick service restaurant in the background.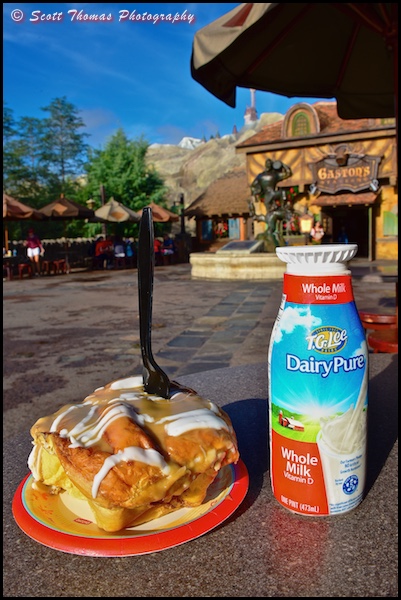 Warm cinnamon roll and cold milk from Gaston's Tavern.
Nikon D750/28-300VR, 1/125s, f/16, ISO 180, EV +0.3, 28mm Focal Length.
I have a lot of fun photographing the food and restaurants at all Disney venues. For one thing, people do not mind you doing it in Disney restaurants as most people are doing the same thing with their cameras and smart phones. Secondly, I enjoy people telling me how my photos help them consider eating at a particular restaurant on their trips to Disney parks and resorts. I hope you do to.