As "Star Wars" fans surely know, the newest movie, "The Force Awakens," was released on DVD and Blu-ray this past week. And that has many of us eager to enjoy the film again at home and perhaps escape to the Death Star or the Millennium Falcon, depending which side you identify with.
Young children have the opportunity today to take on their favorite "Star Wars" personas at Disney Store locations nationwide, which are hosting a free Star Wars Adventure Event for children ages 3 and older. "Join the Resistance and take part in defense training with Stormtroopers, Millennium Falcon flight training and more," according to the official description. The Star Wars Adventure Event will take place at 10:30 a.m., 11:30 a.m. and 12:30 p.m. Central Florida's only Disney Store at Florida Mall will be offering the event. Lineups are not allowed more than 30 minutes before the event begins.
For older children, like my own, the "Star Wars" celebration will be centered on a family movie night. We'll pull out the sleeping bags and blankets and pop popcorn for the experience. Of course, my husband and I will pause the movie at certain points to tell the kids what it was like when we saw the original "Star Wars" movies in theaters in the 1970s and '80s.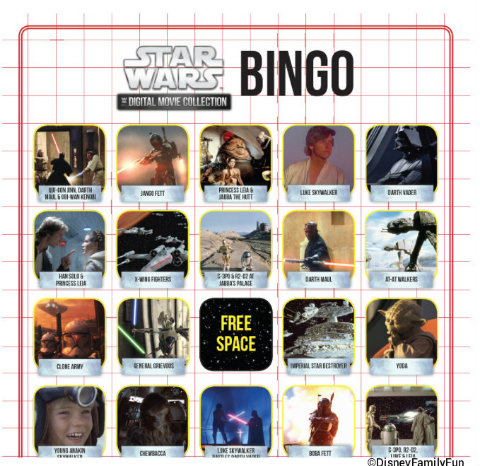 But I also found some clever Star Wars-themed ideas on the Disney Family Fun website that I plan to incorporate in our evening, as well. Families can print out Star Wars Bingo cards and use their own coins or pebbles for markers. But instead of calling out a letter, players will mark a character's image the first time he or she is spotted on screen. I like this idea because it might help maintain interest in a movie for family members who have already seen it and have different levels of devotion to the franchise.
Disney Family Fun also offers simple recipes for Star Wars themed desserts, too, that go beyond just a cupcake. How about an R2-D2 Berry Parfait? I know my daughter will love this treat, and it's healthy, too! Here's how to create your own droid dessert:
1. Start by putting 3-4 spoonfuls of vanilla yogurt into the bottom of the jar.
2. Next, put a layer of blueberries. Try to keep the layer of blueberries even from the front to the back so your layers stay straight.
3. Put another layer of vanilla yogurt (2-3 spoonfuls), then another layer of blueberries.
4. You'll need one more layer of vanilla yogurt (2-3 spoonfuls), then 1 more layer of blueberries.
5. Now, you'll need to make the vanilla yogurt gray for the top (and last layer) of yogurt. In a small mixing bowl, scoop 2-3 spoonfuls of vanilla yogurt. Add 5 drops of blue food coloring, 5 drops of yellow food coloring, and 5 drops of red food coloring. Mix the yogurt and coloring together until you get a nice gray color.
6. If the gray looks too dark, add 1 spoonful of vanilla yogurt at a time until you get a light gray color.
7. Then, put 2-3 spoonfuls of the gray vanilla yogurt as the top and final layer of your parfait.
8. Take a napkin, wrap it around 1 finger, and clean off a small space near the front of the jar.
9. Place a raspberry or strawberry in the clean space you just made. Your R2-D2 Berry Parfait is complete!
10. Optional: Place the lid on the jar. Take a piece of blue felt and place it on top of the lid. Trace the top of the lid onto the felt. Cut out the circle you just made on the blue felt. Take a piece of tape and tape it to the top of the lid.
Of course, if you are in Orlando and want to immerse yourself in the galaxy far, far away, Walt Disney World is the place to go. Disney's Hollywood Studios is home to the Star Tours simulator attraction, which has a new sequence from "The Force Awakens"; Jedi Training Academy, where young padawans can find out if they can command The Force and challenge Darth Vader; Star Wars Launch Bay, where guests can meet Chewbacca and Kylo Ren; the new stage show "Star Wars: A Galaxy Far, Far Away," which debuted last week; and the night-time fireworks, "Symphony in the Stars: A Galactic Spectacular."
For those in a shopping mood, there is plenty of merchandise at Disney's Hollywood Studios, but visitors can also check out the Star Wars Galactic Outpost store at Disney Springs — without paying for Disney admission or parking. Can't make it there? The Shop Disney Parks app sells 140 Star Wars-themed items directly from the parks. I recently ordered a BB-8 dress and mouse-ears hat for my daughter and they arrived within days. The process was so much easier for me than running around the parks looking for the correct size.
Another unique Star Wars shopping opportunity exists next week at ESPN Wide World of Sports at Walt Disney World. The runDisney Health & Fitness Expo will be held there April 14 to 16 in conjunction with the inaugural Star Wars Half Marathon — The Dark Side weekend. The expo is free and open to the public. Hours are 10 a.m. to 7 p.m. Thursday, 9 a.m. to 7 p.m. Friday and 10:30 a.m. to 4 p.m. Saturday. There will be race-specific merchandise on sale, as well as vendors who sell running gear and all sorts of Star Wars items.
Finally, Star Wars fans got a glimpse into the future of the franchise when the trailer for the next movie, "Rogue One," was released Thursday. "Rogue One: A Star Wars Story" is a spin-off that takes place just before the original "Star Wars" movie. And isn't that the perfect excuse for another family movie night to watch the original trilogy?