The cover of a Freedomland guidebook, with a map of the park.
CHUCK SCHMIDT / Still Goofy about Disney
AllEars.net Guest Blogger
If imitation is the sincerest form of flattery, why wasn't Walt Disney bursting with pride and joy after learning that a former trusted colleague had built his own version of a Disneyland-style park on the East Coast in the early 1960s?
Freedomland USA was located in the Baychester section of The Bronx, New York City's northern-most borough. It was the brainchild of a man named Cornelius Vanderbilt Wood [C.V. for short] and was open for just five seasons, from 1960 to 1964. Despite its relatively short lifespan, Freedomland is fondly remembered by its legions of passionate fans.
C.V. Wood was a key figure in bringing Walt Disney's dream of building a family-oriented theme park to reality in the early to mid-1950s. As Disneyland's General Director, Wood was in charge of purchasing most of the land for the park in Anaheim, Calif., as well as hiring many key personnel who would have both an immediate and long-term impact on Disneyland and, years later, Walt Disney World … people like Van France and Admiral Joe Fowler.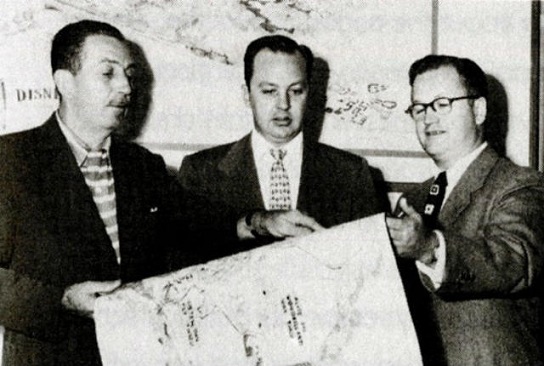 From left to right, Walt Disney, C.V. Wood and Buzz Price look over plans for Disneyland.
Before Disneyland, Wood worked for the Stanford Research Institute, the highly respected organization which helped [thanks in large part to an analytical genius named Buzz Price] with the site selection of Disneyland.
As close as Walt Disney was to his brother Roy, C.V. Wood was, in many ways, just as close. In fact, when Wood hired Van France [the two had worked together during World War II] to help train all the future Disneyland employees, he told him that "Walt treats me like a son."
However, in the months after Disneyland opened on July 17, 1955, the relationship between Wood and Disney soured. There has been much speculation over the years as to why Disney showed Wood the door in early 1956, among them: He might have been embezzling money … He took too much credit for Disneyland … Two head-strong individuals like Disney and Wood could never coexist …
To me, the most logical explanation is that when Walt created WED Enterprises [the forerunner of Walt Disney Imagineering] to assist him in building Disneyland, he unwittingly divided his company: There were the people on Walt's side, all the artists and creative people, and then there were the people who were loyal to Wood. This division just wasn't healthy for the company Walt had founded. After Wood left, he was banned from being mentioned in any and all historical Disney accounts.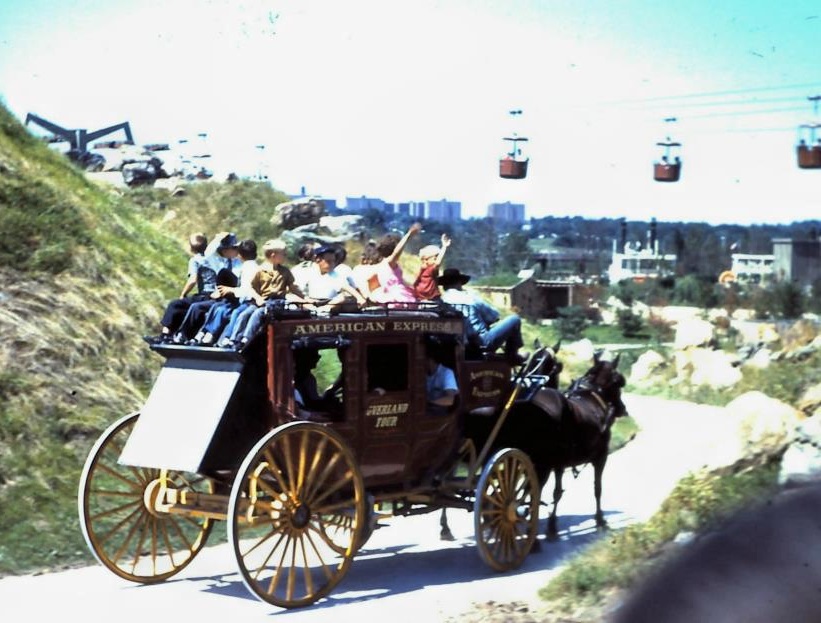 Young cowpokes sit on top of a horse-drawn wagon during a ride through the Wild West at Freedomland. [Courtesy of Mike Virgintino]
Suffice it to say that Wood learned a lot while working for Disney during the months leading up to Disneyland's opening and he took that knowledge with him during his post-Disneyland days. He formed a company called Marco Engineering and started developing theme parks of his own. Easily the most noteworthy was Freedomland. In designing that park, he managed to lure several former Disneyland employees to the East Coast to help him breathe life into his vision … among them, Van France.
The basic premise of Freedomland was to depict the story of America in family-friendly, entertaining fashion. The park was designed roughly in the shape of the United States and was divided into seven themed sections – Little Old New York (representing the years 1850-1900); Chicago (and the year 1871, featuring the Great Chicago Fire); The Great Plains (from 1803-1900); San Francisco (1906, the year the earthquake hit), The Old Southwest; New Orleans (Mardi Gras), and Satellite City (The Future).
As you might expect, there were many Freedomland attractions that were influenced by Wood's Disneyland experience. There were numerous boats sailing on the waters of the property, including two sternwheelers; there was a train ride that went around the park; there were ore buckets that gave you a bird's eye view of the excitement below, and horse-drawn vehicles traveled up and down Freedomland's main thoroughfare, which was lined with stores and quaint shops.
That thoroughfare, located in Little Old New York, greeted visitors with a heavy dose of days-gone-by nostalgia as they walked through the ticket booths and entered the park. The area had a very Disneyland/Main Street U.S.A. feel to it.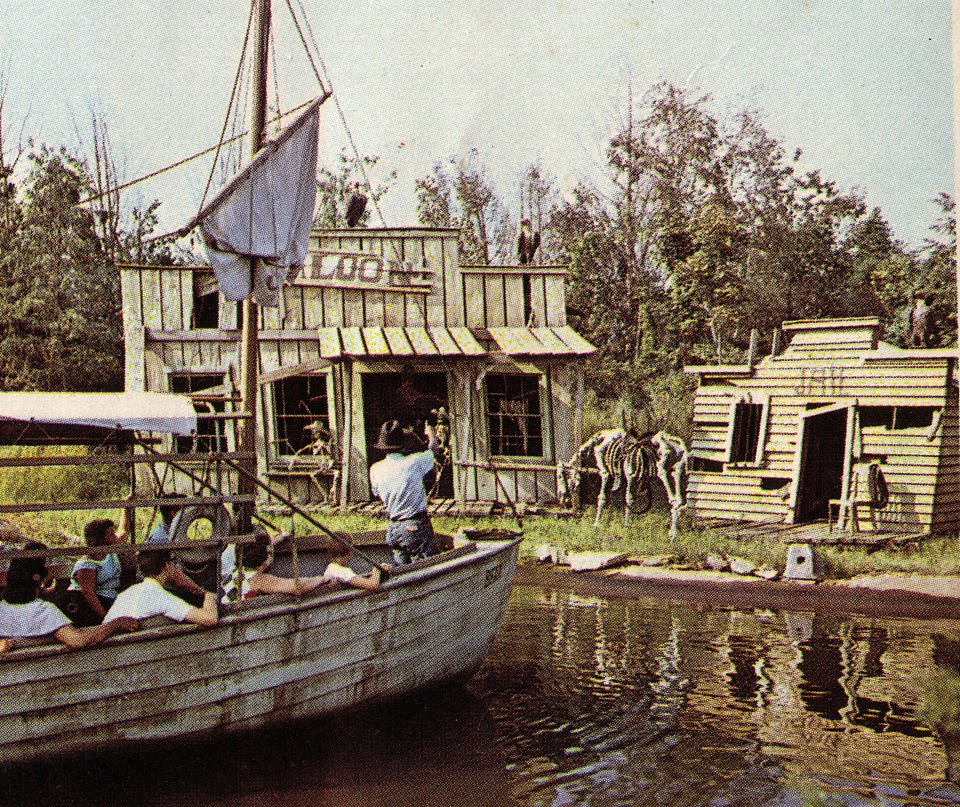 The Fur Trapper's ride through the great Northwest at Freedomland USA. [Courtesy of Mike Virgintino]
In fact, Wade B. Rubottom, who had designed Main Street U.S.A. in Disneyland as a member of Disney's prestigious WED Enterprises, was lured away from Disney by Wood's Marco Engineering firm and he directed Freedomland's design and layout, particularly the quaint Little Old New York section.
Freedomland, which legendary TV host Ed Sullivan referred to as "Disneyland's equal" during a segment shown on his popular variety show, possessed its own unique qualities. Macy's had a replica of its world-famous Harold Square store in Little Old New York, while across the street, Eastman Kodak operated a camera store. The Bank of New York set up a real branch in Freedomland and, in addition to conducting financial business, it was the site of lively political debates reminiscent of the 1800s. There even were staged bank robberies from time to time. The area also featured an ice cream parlor, vintage 1890, and a working brewery, hosted by Schaefer Beer.
The rest of the park gave guests a number of memorable experiences, including a Civil War-themed attraction; a rumbling, tumbling earthquake ride; a fur trapper's river ride through the Northwest [featuring a wise-cracking skipper], and a horse-drawn wagon ride through the Wild West.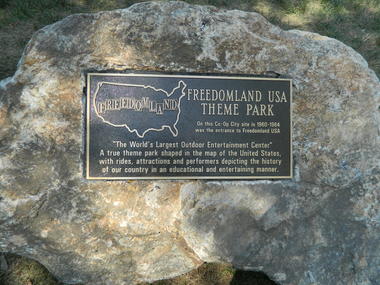 The plaque dedicated in honor of Freedomland is located near the former entrance of the park in The Bronx, New York. [Courtesy of Mike Virgintino]
Although it lasted just five seasons and closed more than 50 years ago, Freedomland's flame still burns brightly in the hearts and minds of those who visited the park. They even borrowed a phrase coined by Van France in his training guide and call themselves Friendly Freedomlanders.
In August of 2013, after a years-long effort by many of those Friendly Freedomlanders, a plaque was placed near the entrance to the park, in large part to show the world that C.V. Wood's vision had not been forgotten.
The plaque reads:
On this Co-Op City site in 1960-1964 was the entrance to Freedomland USA. "The World's Largest Outdoor Entertainment Center." A true theme park shaped in the map of the United States, with rides, attractions and performers depicting the history of our country in an educational and entertaining manner.