Tom Sawyer Island is a huge playground for kids (and adults like me). Not surprisingly, Disney placed some cool Hidden Images here. Let's start at the very back of the island, at Fort Langhorn. What do you think of this image? It's hanging on the left side of the outside wall of the Blacksmith's shop inside the fort. At the far left of the wall, markings on the side of this lower piece of horse bridle gear might form an upside-down classic Hidden Mickey. (Thanks to Jason Gall).

This next Hidden Mickey has been in place for a few years. It's on a handrail along stairs to one of the Rifle Roosts. Climb the stairs to your immediate right after you enter the fort and walk across the right upper walkway to the far right Rifle Roost. On top of the right handrail, about halfway up the steps to the top of the Rifle Roost, there is a Hidden Mickey created by: a wood knot, an additional mark, and an indentation in the wood. In the photo, the Hidden Mickey is sideways to the right.

In Old Scratch's Mystery Mine,

look for this image of Goofy on the wall. Halfway through the mine, bright shining gems embedded in the wall form a side profile of Goofy. He's looking to your right.

On the raft back to the mainland, don't miss this Hidden Mickey in the rocks. Across the river from the Tom Sawyer Island docks, look at the right end of the bridge in Frontierland for three rocks that form a classic Mickey. They're located halfway between the last two vertical posts that support the handrail, about one foot down from the top of the rocks. The Hidden Mickey is in the second row of rocks from the top. (It's also visible from the Liberty Square Riverboat.)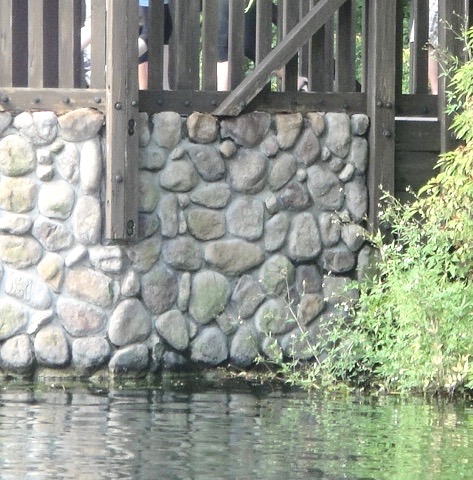 Whenever I'm in Frontierland, I like to check out the Hidden Tinker Bell. Walk across from the entrance to the Tom Sawyer Island rafts to an exit from Big Thunder Mountain Railroad – the exit closest to the Standby line entrance. A cutout in the reddish rock along this exit walkway resembles a side profile of Tinker Bell. She's behind the fence and between two metal carts, and she faces to your left.

Enjoy the search!
Looking for even more Hidden Mickeys? Have one to report? Visit Steve's website at: http://hiddenmickeyguy.com/